Return to the Home Decorating & Design Forum
|
Post a Follow-Up
---
| | | |
| --- | --- | --- |
| Do any of these 4 crypton fabrics work? | | |
Posted by
celticmoon
(
My Page
) on
Fri, Feb 8, 13 at 12:15
For the Florida nest, will be reupholstering this $75 pair of Lee couches.

The end result will be sort of like the picture below with two long low back pillows, probably minus the nailhead/tufting/grain sack Frenchie bits. Plus colorful pillows, throws.
After looking at a zillion colors, this is my second round of Crypton samples. I am trying to find a light colored neutral fabric. Might be good to warm up my palette (EK Alexander Blue paint, drapery fabric as shown, MCM swivel chair upholstery with the darker Crypton tweed on the left is underway)
This is 'khaki'. It has a great soft texture.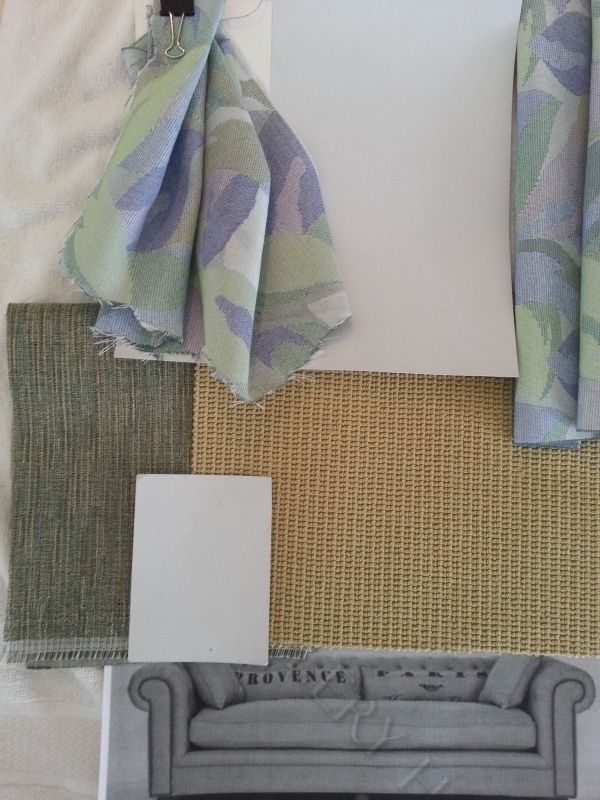 this is 'natural' maybe too pink or yellow or gold or something?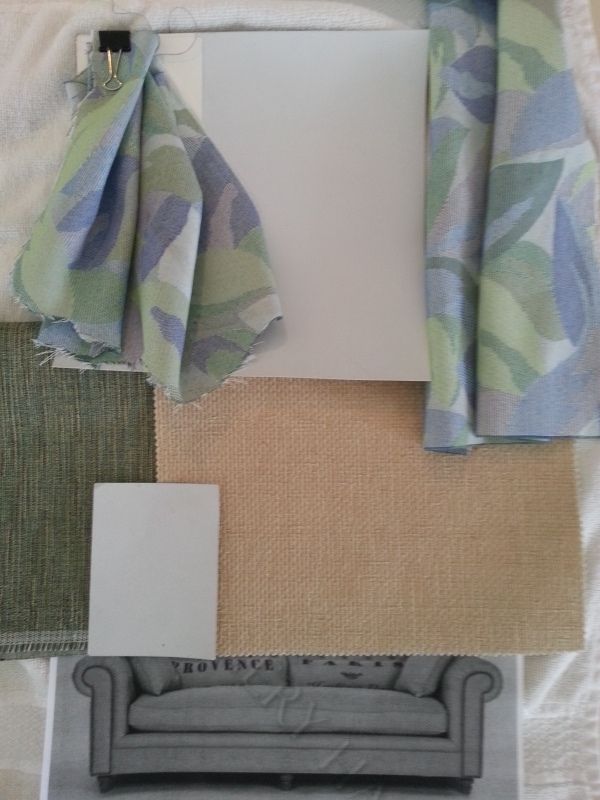 This is 'sand'. Lightest, but also pinky. It pulls that light mauve-y color in the fabric - maybe that makes for good balance with the paint?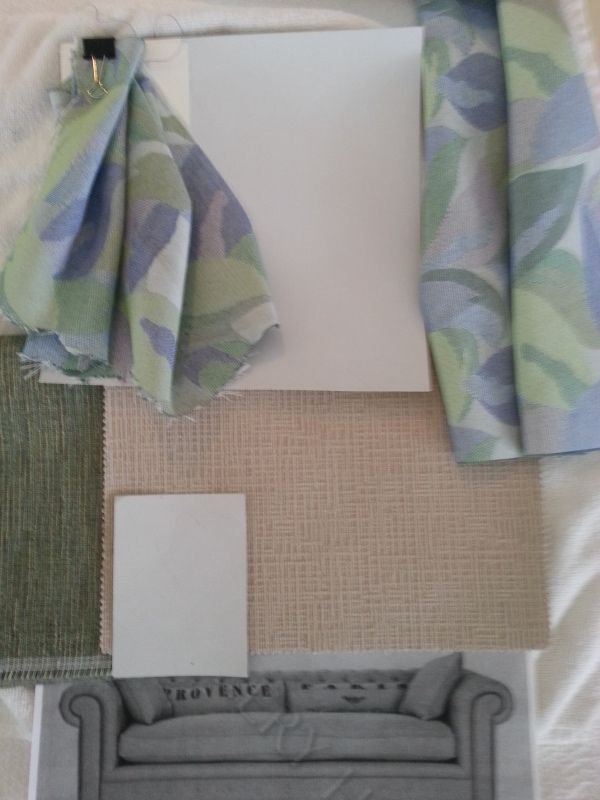 This is 'lichen'. Too deep, too much green? The yellow tone seems to fight with the cooler greens in the drapery fabric...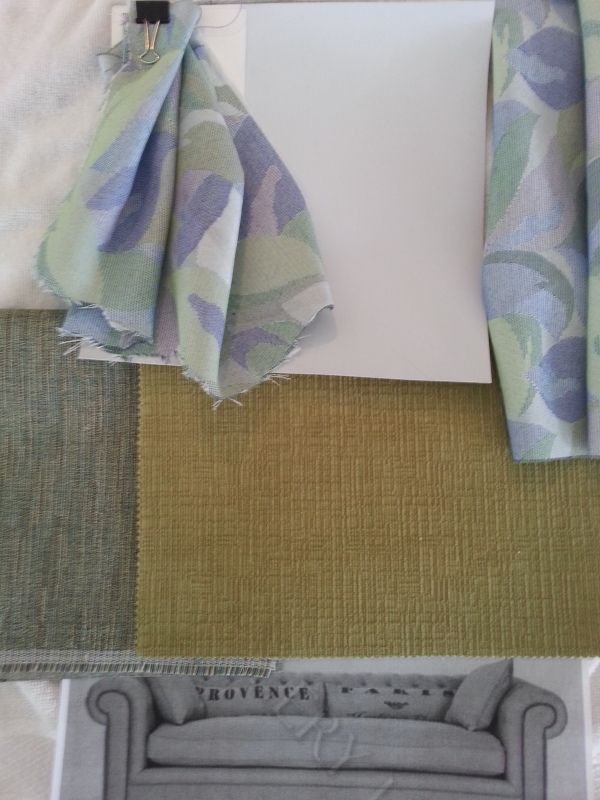 I don't know.... The lighter Cryptons seem to be pinky or yellowy, nothing in a very light blue grey or pale green. (The Cockatoo herringbone is too 'wool suit' like and isn't railroaded.) There are blues, baby blues and royals, but that would be maybe too much blue...a diffferent paint then? Arggh.
I'm leaning toward the khaki - but worry I am influenced by liking seagrass rugs. The sand is lightest and could be most neutral. That has appeal. I'm not upholstering twice, and I'd like to work in some brightly colored painted pieces...green shelving, indigo desk....
Are my thoughts on these color interactions way off? What do you think? Keep looking? I have time.
---
Follow-Up Postings:
| | | |
| --- | --- | --- |
| RE: Do any of these 4 crypton fabrics work? | | |
I like the punch of the last gold but it really depends on the whole room or if you want things more on the pastel side. It would have to be balanced throughout.

Of course we can't see colors well out here anyway!
---
| | | |
| --- | --- | --- |
| RE: Do any of these 4 crypton fabrics work? | | |
Yes it looks good but it will be more attractive if some home furnishing fabrics will also on it,,so i know some online stores which have many home furnishing fabric
see more on www.kochartex.com
---
| | | |
| --- | --- | --- |
| RE: Do any of these 4 crypton fabrics work? | | |
I've never experience Crypton on furniture, only dog beds. You do realize the fabrics do not breathe, so built in breathing holes need to be installed or else you'll be trying to sit on puffy cushions.

The dog begs DD2 purchased did not have air vents, and became very puffy. She had to leave unzipped a bit for the dogs to get on them - especially her tripod dog, who ended up inside the bed and they all eventually were eaten by another dog.
---
| | | |
| --- | --- | --- |
| RE: Do any of these 4 crypton fabrics work? | | |
Check out Sunbrella furniture fabric. I have read good things about the durability and comfort.
Here is a link that might be useful: Sunbrella Furniture Solids
---
| | | |
| --- | --- | --- |
| RE: Do any of these 4 crypton fabrics work? | | |
Sand. The others have a yellow cast.
---
| | | |
| --- | --- | --- |
| RE: Do any of these 4 crypton fabrics work? | | |
I can't comment on the colors, but I LOVE the texture of the khaki.
Allison0704 raised a good point--All I could picture was a poor little "tri-pawed" jumping on the pouffy dog bed and bouncing off! Not a good trait in a sofa, either!
---
Post a Follow-Up
Please Note: Only registered members are able to post messages to this forum.
If you are a member, please log in.
If you aren't yet a member, join now!
---
Return to the Home Decorating & Design Forum
Information about Posting
You must be logged in to post a message. Once you are logged in, a posting window will appear at the bottom of the messages. If you are not a member, please register for an account.
Please review our Rules of Play before posting.
Posting is a two-step process. Once you have composed your message, you will be taken to the preview page. You will then have a chance to review your post, make changes and upload photos.
After posting your message, you may need to refresh the forum page in order to see it.
Before posting copyrighted material, please read about Copyright and Fair Use.
We have a strict no-advertising policy!
If you would like to practice posting or uploading photos, please visit our Test forum.
If you need assistance, please Contact Us and we will be happy to help.

Learn more about in-text links on this page here