Return to the Home Decorating & Design Forum
|
Post a Follow-Up
---
| | | |
| --- | --- | --- |
| This is horrible, I need HELP!! please | | |
Posted by
twosit
(
My Page
) on
Mon, Feb 24, 14 at 11:56
We are doing a long distance renovation of our new very small lake cottage. We have a huge stone fireplace, when we removed the ceiling to open things up we exposed a slanted brick chimney.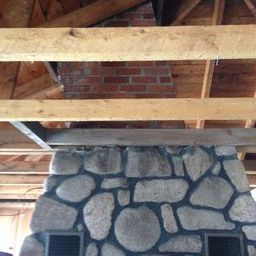 We found a picture of something we thought might look good and our contractor started working on it. This was the inspiration picture http://www.pinterest.com/pin/550283648191028041/
The contractor just sent a picture of the fireplace partially done. I know he plans to add trim etc., but I don't see any way for this to look ok.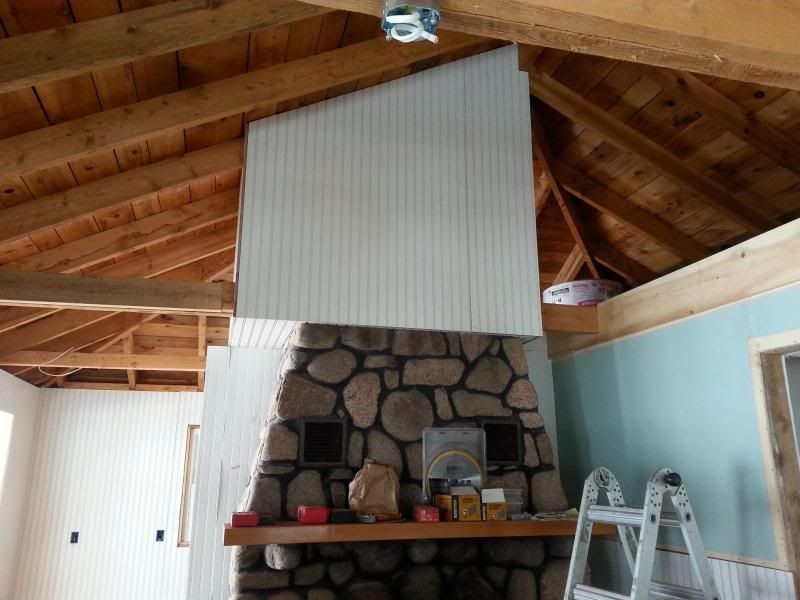 Right now I am considering removing all the beadboard and just leaving it naked.
Any ideas on what to do to fix this? How do you think it would look if we did the whole upper part in beadboad across where the ceiling would have been.
Any and all ideas would be really appreciated.
Here is a link that might be useful: other pics in Wilson way project
---
Follow-Up Postings:
| | | |
| --- | --- | --- |
| RE: This is horrible, I need HELP!! please | | |
Here is your inspiration pic below.

Are you replacing the ceiling, or will it be open, as we see it now? I'm not sure what you mean when you ask ' How do you think it would look if we did the whole upper part in beadboard across where the ceiling would have been.'

The bead board isn't down to the mantel level as in your inspiration photo, which makes that part look odd, too. Your inspiration has a flat ceiling, which helps the look a lot. I think if you did a bead board ceiling (if that is what you are asking) and the builder brought the bead board down to the mantel as in the pic below, you'd be fine. Did you plan to have the mini 'barn door' look and the mantel made like the inspiration photo also?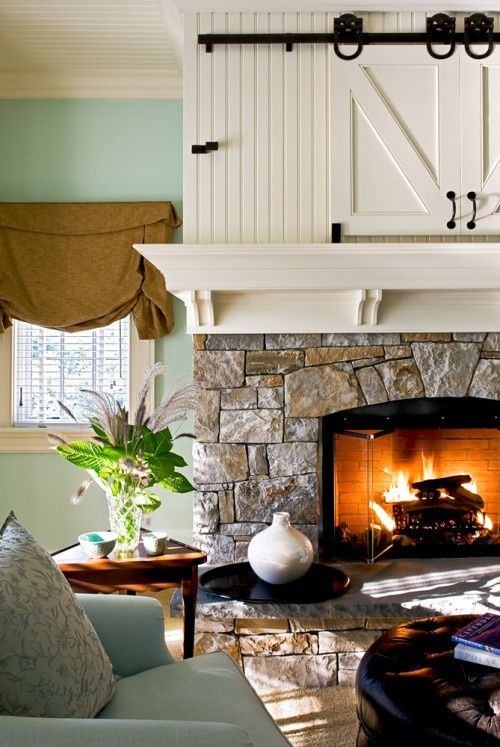 ---
| | | |
| --- | --- | --- |
| RE: This is horrible, I need HELP!! please | | |
Edited: now that I have seen your inspiration picture I understand better what you are doing.

Is the reason that you didn't continue the stone all the way up that the stack is diagonal and not straight up?

Couldn't you have the stone go closer to the ceiling? In the picture it looks like you could make the fireplace look straight until it gets close to the top. Is that right?
This post was edited by Faux68 on Mon, Feb 24, 14 at 12:28
---
| | | |
| --- | --- | --- |
| RE: This is horrible, I need HELP!! please | | |
oh man. I can't believe a contractor did that.

Question: will you be using your house during cold seasons? And will you have air conditioning? I ask because heat and AC will go right through that roof.

What you might consider doing is replacing ceiling from the top of the river stone (where it was before) and back into the kitchen, and leave the living area open. Maybe even create a sleeping loft in that area, with a ladder, and add a trap door to the ceiling in the kitchen area to create an attic space for storage.
---
| | | |
| --- | --- | --- |
| RE: This is horrible, I need HELP!! please | | |
I think you should try to mock up a few options. To look like your photo, bring the wood down to the mantel, but then I think you also need to chop up the expanse of beadboard with another horizontal line, eg like the black line made by barndoor hardware.
---
| | | |
| --- | --- | --- |
| RE: This is horrible, I need HELP!! please | | |
I am sorry that it is not turning out the way you envisioned!

In order for it to be anywhere close to your inspiration, the beadboard needs to start at the mantel. Because of the slant of the chimney that you exposed, anything that is built to cover it up will be at least as wide as the base of the fireplace.
I agree with covering up the angled portion of the stone fireplace and make the whole thing as wide as the base. I would also put a different material on the wall to the left and right of the fireplace in order to make the beadboard stand out. Painted drywall is what I would do. Right now the beadboard wall behind the fireplace looks like a temporary partition.
---
| | | |
| --- | --- | --- |
| RE: This is horrible, I need HELP!! please | | |
Thanks for the responses so far. Looking at it we also thought paint might help, but not nearly enough. We will not be using it in the dead of winter--just those fringe months.

I am hoping that wall sticking out behind looks temporary because they just stuck an additional 5" on to hide back of new kitchen cabinets.

We were planning on leaving the ceiling open in the great room and living room.

Do those vents cause a problem if we bring it down to the mantle? We knew we would have to add something horizontal...we liked the look of the barn door hardware..

Any suggestions on what I can use to do a mock-up?
---
| | | |
| --- | --- | --- |
| RE: This is horrible, I need HELP!! please | | |
I think the barn doors slide open to reveal a TV, fwiw.

The best thing for a mockup, Photoshop, may have a steep learning curve. Graph paper is not a terrible start if nothing else. I used Word but if you aren't familiar with it, it's probably not that easy to use, either.
---
| | | |
| --- | --- | --- |
| RE: This is horrible, I need HELP!! please | | |
In all honesty, the difference between the existing conditions and the inspiration picture are so different, that I think it is going to be extremely difficult to achieve any sort of resemblance. Especially without a set of detailed drawings of how it's supposed to happen. Even then it's trying to turn an apple into an orange.

If you want an open ceiling, I would try to tie the two parts of the chimney together with a similar material or at least stucco the top of the chimney into a color and shape that continues on what was started with the stone.

This is probably the last thing you want to hear, but since you already don't like the way it looks, I am putting that out there.
---
| | | |
| --- | --- | --- |
| RE: This is horrible, I need HELP!! please | | |
Thanks ineffablespace. I have a feeling you might be right. I think the beadboard is not going to look good at all.
---
| | | |
| --- | --- | --- |
| RE: This is horrible, I need HELP!! please | | |
I do think it's a gorgeous fireplace. It adds to the cozy cottage charm, and if you're not set on your inspiration picture, then I wouldn't cover it up.

What about removing the brick and installing a decorative flue? Something like in this picture.
This post was edited by geokid on Mon, Feb 24, 14 at 14:38
---
| | | |
| --- | --- | --- |
| RE: This is horrible, I need HELP!! please | | |
close. it. back. up.
With all the different roof planes it will never look "at rest".
Start with a plan next time, not just "lets wing it".
Maybe raise the ceiling 10" so you can beam or coffer it.
Casey
---
| | | |
| --- | --- | --- |
| RE: This is horrible, I need HELP!! please | | |
There's one issue with the fireplace in your first picture - it basically says "my top half was hidden so my builders used cheaper material (brick) to construct the part that was hidden." Now you have exposed the disconnect.

Breathe deeply and relax; no need to fret; you have a ton of options - the first choice you have to make is if you are willing to live with the split OR want to try to make the fireplace the same from top to bottom. (I won't mention taking the whole thing down and rebuilding it.)

For making it the same from top to bottom, there's a few possibilities: Do you actually have a brick fireplace and the stone is applied to it? If so, the stone could be removed and new stone applied from top to bottom. If that's too expensive, a thin transition course (like a band of limestone or even wood of similar color to the mantel, could be used and then apply similar, new stone to the top half. Another option would be to stucco the entire thing. That might not look good in a regular home, but for your cottage it could work (the gingerbread/hansel & gretel look). The cheapo option would be to paint the masonry top to bottom the same color. I would hesitate to do that. You could box in the entire fireplace with drywall or the beadboard, such that only a small rim of stone around the original fireplace opening would be visible (or apply a new stone). See the link below, only do the makeover in reverse. Of course, you'd lose the stone or you could apply all new stone top to bottom so you end up with a squared off fireplace and chimney.

If you decide to live with the split, there are also many possibilities, although your contractor took the most billy-bob approach. There are better options. If the brick part is in reasonable shape (e.g. no snot joints, although even there, a mason could repoint it if needed), create a transition band. On the blue wall, you've got the joist exposed - bring the wood around the room and create a band of similar width around the fireplace as a transition to the brick. Finish it to the same color as the mantel (or replace mantel to same finish). You could stucco only the top half. You could also paint the top half, but I hesitate again to suggest that. From examples online, it seems best to bring the transition to the mantle, which could be done with stucco or paint. (See the photo I've included below.) There's that nice picture above of the stone fireplace with the decorative flue. Or cover (i.e. apply to the surface, not box it in, so you follow the chimney contour) the brick with a hammered copper type material or maybe wood cabinetry. For such, it might be best to bring it down below the current ceiling level. Of course, you could close up the ceiling again as well.
Here is a link that might be useful: Do this in reverse
This post was edited by DreamingoftheUP on Mon, Feb 24, 14 at 20:28
---
| | | |
| --- | --- | --- |
| RE: This is horrible, I need HELP!! please | | |
The barn door is a charming treatment, but it doesn't fit your fireplace. You need to take the time to think about what makes something you like work and whether it fits your situation. These are just too different. You don't have a wall for it to die into and it would be so large that taking it down to the mantel would be essentially adding a wall of beadboard in an open space just to deal with the small section of chimney way up overhead. I also fear the large rock will look way out of scale when more than half is covered up.

I think less is more here. Sometimes the best thing to do with quirky or unexpected is to embrace it. Not sure if it is feasible to remove the brick and replace with a decorative flue, but that is certainly one way to embrace it and it certainly seems fitting for a cabin. Doesn't have to be copper -- could be black and more rustic or probably whatever you wanted. I would find out if that is an option.

Another would be to transition to a smaller stone , perhaps putting in a row of brick shaped pieces (still stone) to create a transition since you can't make it gradual now.

You might simply paint the brick to match the ceiling so it fades away visually.

I would think about how to make your lemonade and do less -- at least until you have a more solution you have thought through, mocked up, tested and know it really works.

I don't think I would rush into anything, especially long distance. Take a few deep breaths and figure out how to make lemonade from your lemons. Don't panic. Having a quirky chimney is not necessarily a bad thing.
---
| | | |
| --- | --- | --- |
| RE: This is horrible, I need HELP!! please | | |
Thanks so much for all the responses. We will definitely be putting this part of the project on hold until we get back up there. It is funny, I absolutely love stone fireplaces--had one in our primary home that we had custom built. I've struggled with this fireplace all along because the scale is just too large for the space...and that hideous white beadboard box certainly just made it look even larger.
I did come across a picture last night on Houzz that is similar to what some of you are describing.

---
| | | |
| --- | --- | --- |
| RE: This is horrible, I need HELP!! please | | |
Take off the beadboard piece and leave it as is, then paint the new ceiling a medium tone and paint the brick to match. The eye will read it as one solid. After all, brick only adds interest to a cottage, in my opinion. That being said you could even paint it all white.
---
| | | |
| --- | --- | --- |
| RE: This is horrible, I need HELP!! please | | |
Huh. In your album the backside stone looks completely different (wall behind the range). Is it the same stone, but the grout is not dark? Is it possible to go with that lighter grout? It is a much calmer look I think, and might 'play better' with solutions for the upper chimney part.
---
| | | |
| --- | --- | --- |
| RE: This is horrible, I need HELP!! please | | |
Celticmoon, you are correct it is not the same stone. The other side is granite blocks with a grey grout that is much more pleasing to the eye. I posted on the fireplace forum shortly after we purchased the house to get advice on how to change the grout.
I am going to remove the white beadboard and start fresh. I think my goal for this summer will be to change the color of the grout and figure out how necessary the fireplace is. We'll go from there
---
| | | |
| --- | --- | --- |
| RE: This is horrible, I need HELP!! please | | |
I really like that rustic porch picture. I think you could pull that off and as a bonus add some insulation.

Who ever said remodeling and decorating is fun is . . . Well, not me.
---
Post a Follow-Up
Please Note: Only registered members are able to post messages to this forum.
If you are a member, please log in.
If you aren't yet a member, join now!
---
Return to the Home Decorating & Design Forum
Information about Posting
You must be logged in to post a message. Once you are logged in, a posting window will appear at the bottom of the messages. If you are not a member, please register for an account.
Please review our Rules of Play before posting.
Posting is a two-step process. Once you have composed your message, you will be taken to the preview page. You will then have a chance to review your post, make changes and upload photos.
After posting your message, you may need to refresh the forum page in order to see it.
Before posting copyrighted material, please read about Copyright and Fair Use.
We have a strict no-advertising policy!
If you would like to practice posting or uploading photos, please visit our Test forum.
If you need assistance, please Contact Us and we will be happy to help.

Learn more about in-text links on this page here