Return to the Home Decorating Forum
|
Post a Follow-Up
---
| | | |
| --- | --- | --- |
| Chair rail in dining room - darker color on top or bottom? | | |
Posted by
jamaraz
(
My Page
) on
Sun, Feb 14, 10 at 11:53
Hi. I am planning on putting a chair rail in my dining room. I would like to either paint the walls 2 different colors or perhaps paint and wallpaper. Does the darker color or wall paper go on top of the chair rail or on the bottom?

The dining room chairs I ordered are tan with some red tones. It is a muted design. I still need to get a rug and window treatments. The painter is coming to paint other rooms in my house and I would like him to paint the dining room as long as he was here. I don't know what I will pick for the rug/windows but I know it will be reds/gold/greens/browns. I am putting raised paneling in my hallway and I would like my dining room to have some "heft" to compete with the heaviness of the raised paneling. I was thinking of a color combo of BM cork and tapestry gold. I would then paint my hallway desert tan. My husband wants to paint the dining room a dark red or burgundy. I would consider this or else a wallpaper. I know I want stripes or paisley in my window treatments. Any suggestions or pictures would be extremely helpful.

Thanks!
---
Follow-Up Postings:
| | | |
| --- | --- | --- |
| RE: Chair rail in dining room - darker color on top or bottom? | | |
I am not a fan of doing 2 colors with the chair rail, but that;s just me. Here's what i did. I painted my walls one color then the ceiling a darker color. I really had to step outside the box on this one but glad I did. It's my favorite room in the house. I almost chickened out and went with the lighter color on the walls, but went with my gut feeling. I think the 2 golds you chose would work well like that.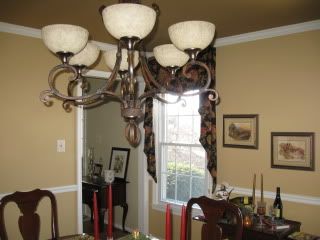 ---
| | | |
| --- | --- | --- |
| RE: Chair rail in dining room - darker color on top or bottom? | | |
Growing up, we had the darker color below the chair rail and a lighter color on top (yellow over green with white crown, chair rail, and baseboards). I always thought it was very pretty.
---
| | | |
| --- | --- | --- |
| RE: Chair rail in dining room - darker color on top or bottom? | | |
I don't have any chair rails in my home now, but plan on including them in my garage when I convert it to a game room with an English Pub decor. I always thought if you did 2 tones, the darker tone was below, so that the area above the rail was the light one to open up the top of the room. Or dark below and a patterned paper above. Denali's room is beautiful too. :-)
---
| | | |
| --- | --- | --- |
| RE: Chair rail in dining room - darker color on top or bottom? | | |
I prefer darker on the bottom because darker colors read as more heavy to me.
---
| | | |
| --- | --- | --- |
| RE: Chair rail in dining room - darker color on top or bottom? | | |
I agree with lukkiirish about darker looking heavier.

But, I have seen walls done in either dark on the bottom
or light on the bottom. I think it depends on the
size of the room, is the bottom part of the wall the color
of the trim... Lots of options to think about.
Here are some ideas.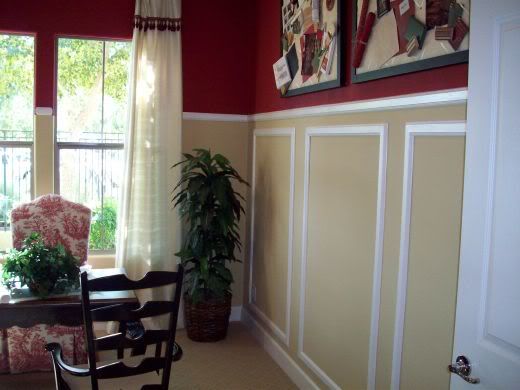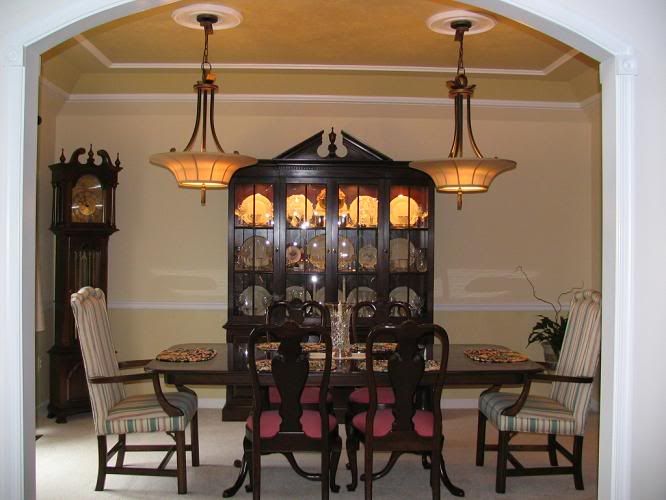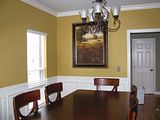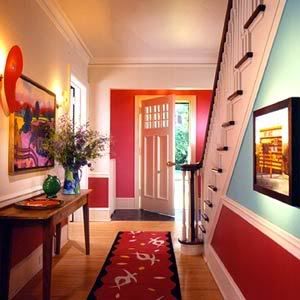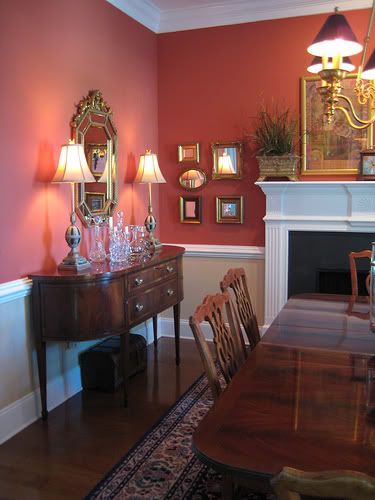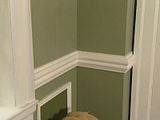 ---
| | | |
| --- | --- | --- |
| RE: Chair rail in dining room - darker color on top or bottom? | | |
Well, that's a great question! It seems to me to come down to personal preference-- neither way is "wrong." My sister-in-law has probably the most beautifully decorated house of anyone I know IRL, and she has red above and cream below. On the other hand, I just had an interior decorator (who is a friend, with confirmed great taste b/c I've seen her house) tell me in no uncertain terms that the darker color needs to go below. Something about heaviness.

I think if you decorate as if you had confidence in your choice (even if you're still not sure), it will look wonderful.
---
| | | |
| --- | --- | --- |
| RE: Chair rail in dining room - darker color on top or bottom? | | |
I'd prefer darker on bottom unless you were doing picture frame moulding on the bottom, then white is very traditional.
---
| | | |
| --- | --- | --- |
| RE: Chair rail in dining room - darker color on top or bottom? | | |
I think it's definitely a personal preference thing, but to me, darker colors (colors with more weight) belong on the bottom. Anytime it is opposite (you see this with housing siding a lot) to me it looks like the house/room is going to fall over. The exception is as noted in one of those photos above with the wainscotting painted in white.
---
| | | |
| --- | --- | --- |
| RE: Chair rail in dining room - darker color on top or bottom? | | |
I have chair rails in my dining room. Darker color on the bottom. The bottom is actually RL River Rock. I don't know if there is a right or wrong to it, but I like the look.
---
| | | |
| --- | --- | --- |
| RE: Chair rail in dining room - darker color on top or bottom? | | |
If Magnaverde were to read this post, he'd reply with pics from the White House, where he has (in past posts on another forum) shown us that dark is on top at least in some rooms there.
---
| | | |
| --- | --- | --- |
| RE: Chair rail in dining room - darker color on top or bottom? | | |
I would think it's a matter of preference, but I could be wrong. We have both in our home. The DR has color on top, white white chair rail and picture frame moulding on the bottom. I personally love it. In our kids' playroom, we have the color on the bottom and above the chair rail is white. We were thinking more of little hands and keeping the walls clean, in that room though! :)

I think it really depends upon the color combos that you choose. Have you tried SW designing plan or some site similar, to get an idea of what you do and don't like? I think I'd start there. Or take a pic of the room and if you have something as simple as Paint, you can do your own mock up perhaps. Good luck!
---
| | | |
| --- | --- | --- |
| RE: Chair rail in dining room - darker color on top or bottom? | | |
"In olden days a glimpse of stocking was looked on as something shocking, but now, G*d knows, anything goes..."
Those immortal words & the jazzy, syncopated tune that accompanied them are by the late, great Cole Porter, whose business it was to be attuned to all the latest fads & foibles of the fashionable set, and these days, it's kind of the same way with the question of chair rails & where to put the dark color, too. People remind me all the time that "There are no rules!"
Please. There are always rules, and just because a lot of people ignore them--or never bothered to learn them in the first place--doesn't mean they don't exist, and like the judge says, ignorance of the law is no excuse. Knowing how (and when) to break a rule is one of the skilled decorator's greatest tricks, but in order to make it work, you first have to know the rules. Otherwise, it's meaningless. Decorating without rules is like playing tennis without the net: what's the point?
Of course, we live in a free country, so people can put the dark color below the chair rail if they want, but doing it that way is a fairly recent development, dating not much further back than the time the time Madonna wore her bra on top of her sweater, setting off a tacky (and, fortunately, short-lived) fad among the middle-schoolers in the town where I used to live. That's kind of what I think of whenever I hear someone proclaim "There are no rules!"

The Green Room at the White House after Theodore Rooselvelt's renovations.
Anyway, that dark-color-on-the-bottom bit took off after somebody on one of the early cable decorating shows did it that way, and since then, it's become common, but historically speaking--especially when it's traditional decorating you're talking about in the first place--it's all wrong, and for a good reason. Here's the thing: in decorating, most "rules"--if you take the time to do any research about them--originated with simple practicality & common sense.
Historically, dark paint (or fabric, or wallpaper)--that is, the expensive stuff, what with the high cost of pigments--went on the upper walls because that's where people would see it, not down below the chair rail, where it would not only be below eye level--especially when seated at a dining table--but where it would also be partially obscured by furniture pushed up flat against the walls, which is where the term "straightening a room" came from.
If the woodwork--including the chair rail, which was there not for aesthetics but to protect expensive materials & fragile plaster--was painted at all in such a room, it was generally painted white, because white paint (or lime wash) was cheap & it could be refreshed easily when it got dingy.
Anyway, that's the logic behind the traditional dark-above-light-below color distribution. Even if the specific reasons for that distribution no longer apply, the look still seems right, especially in a traditional decor. If a designer (or decorator) decides to ignore historical precedent for one reason or another, that's one thing, but if he or she is truly unaware of it, I'd start to worry, because such historical background is part of the traditional education in the field. Ignorance of that of thing would be a big red flag to me. Kind of like the be-jeweled & be-scarfed "designer" I met at a suburban decorator showhouse who--totally without irony--referred to blotchy mess of a would-be Venetian plaster wall as having "a lovely faux-pas finish." It was the funniest thing I'd heard in a week.
Regards,
MAGNAVERDE
---
| | | |
| --- | --- | --- |
| RE: Chair rail in dining room - darker color on top or bottom? | | |
Would have been even funnier had she known what she was talking about...
---
| | | |
| --- | --- | --- |
| RE: Chair rail in dining room - darker color on top or bottom? | | |
I would say darker on the bottom personally. It really depends on your colors how much light is in the room and what kind of accents you're going with (tablecloths,drapes,...etc. Please post photos of whatever you decide to go with.
Here is a link that might be useful: tablecloths
---
| | | |
| --- | --- | --- |
| RE: Chair rail in dining room - darker color on top or bottom? | | |
BTW, the watermelon-pink-&-sea-green color scheme in the 6th photo that Boxerpups posted above looks just as striking in that stair hall as it does in the room that surely inspired it, the Drawing Room at Lansdowne House in London, designed by Robert Adam in the 17OOs, and currently installed in glory at the Philadelphia Museum of Art. So much for the silly idea that people used to be "afraid of color."

When I said that it's important to know how & when to break the rules, I was talking about rooms like this.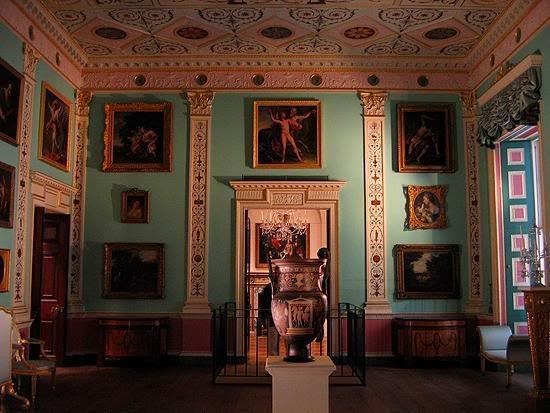 Magnaverde Rule No. 12: History has all the answers. All we have to do is look them up.
Regards,
Magnaverde.
---
| | | |
| --- | --- | --- |
| RE: Chair rail in dining room - darker color on top or bottom? | | |
Thanks for all of your help. I'm still not 100% certain which way I will go. I am putting raised paneling in my hallway (white) and I want the dining room to feel balanced with the raised paneling. I will eventually put wallpaper in place of the darker color so it is really just a place holder for now.
---
| | | |
| --- | --- | --- |
| RE: Chair rail in dining room - darker color on top or bottom? | | |
WAIT...I followed a rule and did something right, lol?
When I said that this was what I wanted in our DR, everyone tried to talk me out of it~
Good luck, Jamaraz with your decision. :)
---
| | | |
| --- | --- | --- |
| RE: Chair rail in dining room - darker color on top or bottom? | | |
| | | |
| --- | --- | --- |
| RE: Chair rail in dining room - darker color on top or bottom? | | |
Hi Jamaraz,

I like darker below the chair rail. I also love the colors you are considering. I have them in my home. I used the BM Ivory Ttusk on that card for the trim. It looks great. My dining room is Ralph Lauren Balmoral Red with BM White Dove wainscoting on the bottom half of the wall. I like the red a lot but I would also love the Tapestry and Cork combo. Putting the Desert Tan in the hallway will make everything blend nicely. Desert Tan is a great color that looks great with so many other colors. Good luck and let us know what you decide!
---
Post a Follow-Up
Please Note: Only registered members are able to post messages to this forum.
If you are a member, please log in.
If you aren't yet a member, join now!
---
Return to the Home Decorating Forum
Information about Posting
You must be logged in to post a message. Once you are logged in, a posting window will appear at the bottom of the messages. If you are not a member, please register for an account.
Please review our Rules of Play before posting.
Posting is a two-step process. Once you have composed your message, you will be taken to the preview page. You will then have a chance to review your post, make changes and upload photos.
After posting your message, you may need to refresh the forum page in order to see it.
Before posting copyrighted material, please read about Copyright and Fair Use.
We have a strict no-advertising policy!
If you would like to practice posting or uploading photos, please visit our Test forum.
If you need assistance, please Contact Us and we will be happy to help.

Learn more about in-text links on this page here