Return to the Home Decorating & Design Forum
|
Post a Follow-Up
---
| | | |
| --- | --- | --- |
| Master Bedroom Help | | |
Posted by
chilibeans
(
My Page
) on
Tue, Feb 4, 14 at 11:08
Good morning! We have recently moved into our new house and, while I like to take my time making decorating decisions, our master bedroom needs attention pretty quickly. As you will see in the photos below, we have no window treatments yet- which may not be a huge issue for some given that we are on six and a half acres, but I get a little weirded out when I wake up in the middle of the night and start imagining weirdos looking in on us while we sleep. Ha. Just creeps me out... On the other hand, I like the view over the pool and, because we are in a rural area, we have a great dark sky view of the stars at night through the windows in the bump out.
Anyway. Our last house had windows that went almost to the floor and using panels on the windows was an easy decision (and I like simple, rather plain panels in general). But for this room, I don't know what to do for the windows. I have seen lots of great ideas in the awesome window treatment thread, but I really need some new eyes to tell me which kind of window treatments I should use in this room. Also, note that in the bump out area there is not a lot of room beyond the window trim. Any suggestions for window treatments?
I'm also open to any and all suggestions for the room in general. Everything can be changed; this is just what we brought from the last house and I'm not really attached to any of it. The chest in the bump out is a family thing and I had the movers put it there because I didn't really know where else to put it. It can be moved out of the room. I hate the side tables; they will be replaced whenever it can find something I like. The same with the lamps... The bedding can go, too. Pretty much nothing HAS to stay, other than the ceiling fan (we are in south Louisiana and I have to have lots of air circulating- hence my additional table fan).
Any help is greatly appreciated!
(Phone pictures- to me they are right side up, but if they are upside down to you, let me know!)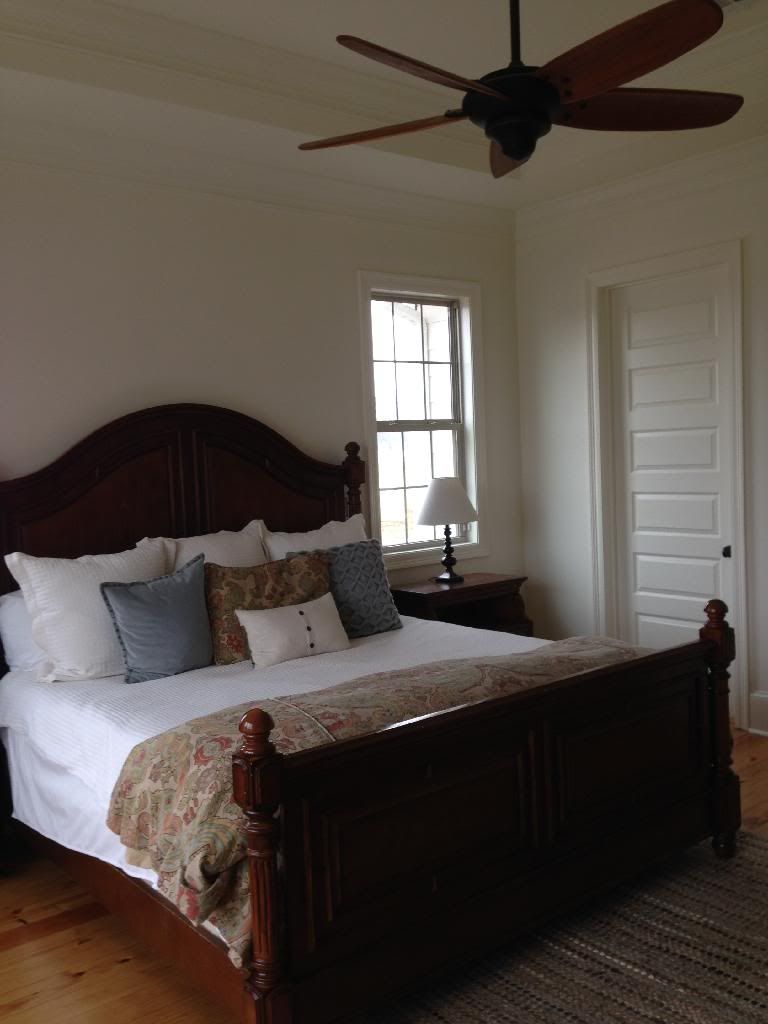 The framed picture of my kids (below) is sitting in front of a door to the back porch (brick visible through the door window is the porch fireplace). It doesn't belong in this room. I just haven't decided where to hang it in the house yet. I have other artwork and photography I can use in this room. I was waiting to figure out the windows and bedding (if it changes) before "going shopping" among my 'collection'.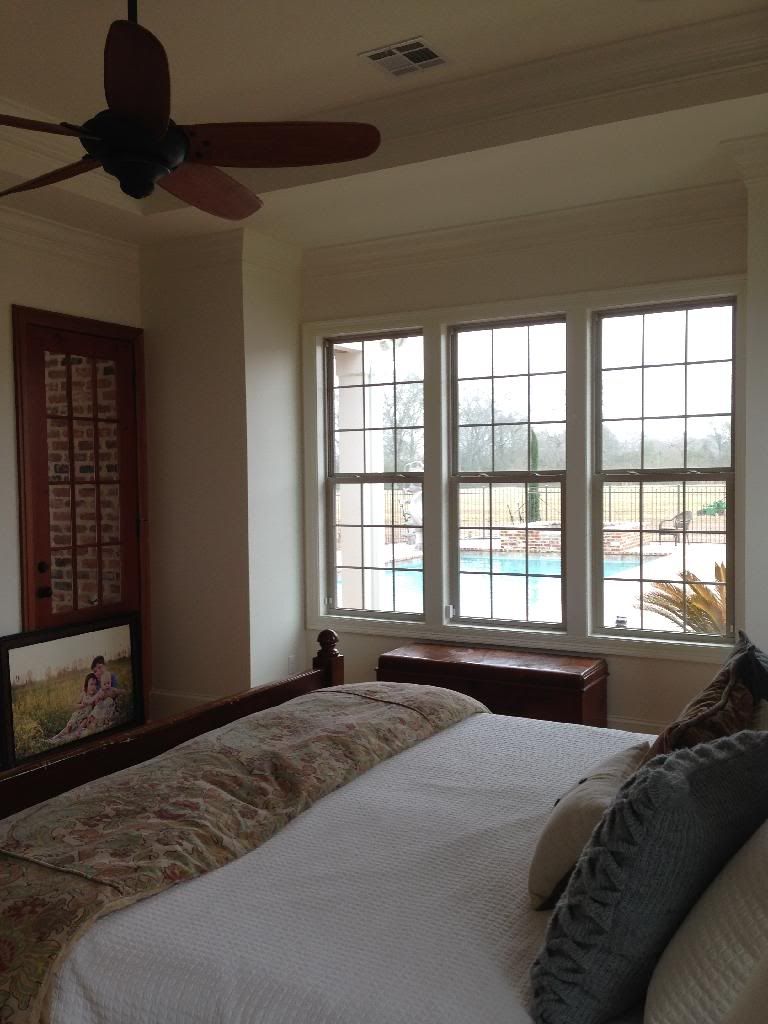 Oh, one more thing- we quite like white walls and would rather make our decor work with white than add color to the walls. We find it peaceful with the white. (Walls are BM Linen White)
Thanks again!
This post was edited by chilibeans on Tue, Feb 4, 14 at 11:16
---
Follow-Up Postings:
| | | |
| --- | --- | --- |
| RE: Master Bedroom Help | | |
I'd do bamboo blinds to start. I like the room very much as is.

If you fall in love with bedding or a rug, then let that dictate the soft part of the window treatments.

How lovely!
---
| | | |
| --- | --- | --- |
| RE: Master Bedroom Help | | |
I love everything about your room, especially the contrast between the white walls and the darker wood furnishings and floor. If you want to keep the look clean lined, I would probably use inside mounted shades made of either a fabric that is close in color to your trim or of bamboo or wood. You could even do a top down/bottom up option.
---
| | | |
| --- | --- | --- |
| RE: Master Bedroom Help | | |
I would do plantation shutters. That way, you can close the bottoms for privacy at night but keep the tops open so you can see the sky. They're also nice looking!

Love the arts&craft closet door.
Here is a link that might be useful: Top and Bottom Plantation shutters
---
| | | |
| --- | --- | --- |
| RE: Master Bedroom Help | | |
Although, plantation shutters might not work on a 3-panel window.

Top-down blinds, like in fun2BHere's bottom pic? I have them in one of my bedrooms for privacy purposes. They're nice looking.
---
| | | |
| --- | --- | --- |
| RE: Master Bedroom Help | | |
Or, if you like the plantation shutters you can put them on just the bottom windows, for privacy and style, and have two for all three windows.

Maybe also paint the door white to match the rest of the woodwork. It would also make the brick behind it look great!

(white fan? Although fan can go with your wood furnishings)
Here is a link that might be useful: Bottom only shutters on multiple windows
This post was edited by Tibbrix on Tue, Feb 4, 14 at 11:47
---
| | | |
| --- | --- | --- |
| RE: Master Bedroom Help | | |
I cannot open these pictures...looks like they just take me to the photobucket page....
---
| | | |
| --- | --- | --- |
| RE: Master Bedroom Help | | |
Sorry, joaniepoanie. I am posting from my phone and they appear embedded in the post to me. We haven't been able to get internet at home (!!!) because the local provider is "capped out" (ugh!) so I don't have a way to check how it looks on anything other than my phone. I will upload the three pictures I included directly to this post and the next two. Hope that works. Thanks for looking!

And thanks to everyone else, too! I have some follow-up questions to your suggestions but will have to come back in a bit for those. Thanks again!
---
| | | |
| --- | --- | --- |
| RE: Master Bedroom Help | | |
Lovely room!!! :)

Yes -- another vote for bamboo blinds (perhaps look for lined ones) with panels -- which could be simple fresh white sheers for the cooler months -- and heavier linen ones for the cooler months.
The current furniture and bedding really does suit the room at this time -- so perhaps could be used in a guest room in the future?? What kind of décor do you like?
---
| | | |
| --- | --- | --- |
| RE: Master Bedroom Help | | |
| | | |
| --- | --- | --- |
| RE: Master Bedroom Help | | |
| | | |
| --- | --- | --- |
| RE: Master Bedroom Help | | |
You could use a draw drapery treatment so that it is closed at night and open during the day. All it requires is a traverse rod and drapery. As for the photo, I'd place it in the bedroom. It looks like you have several walls that would be suitable. As stated by others, blinds would also look great. I love your style.
---
| | | |
| --- | --- | --- |
| RE: Master Bedroom Help | | |
I like room darkening roller shades and a valance over top to hide them. I would do just a valance and a chain driven shade in the nook. I would do the valance with one panel on each side of the bed, drawn to the side away from the bed for an asymmetrical treatment.
---
| | | |
| --- | --- | --- |
| RE: Master Bedroom Help | | |
Thanks everyone for the suggestions! Before anything was in the room, I thought shades of some kind inside the window would look right but I wasn't sure. Your ideas have been very helpful!
One of the things I don't understand about bamboo shades (and shutters) is where to get them? Do you mean the kind they have at lowes? Or is there a better place to get them? What if I wanted shades that match the trim? Where do you get those? I had looked at places like pottery barn, but their offerings didn't seem to fit my windows.
Also, I was thinking I needed to switch the duvet at the foot of the bed with one that had white/cream in the pattern. Ideally, I wanted to find something with green and white since I've used that a lot elsewhere in the house and like the look of crisp green and white with white walls and warm wood. But so you think that not having browns in the pattern (like I have now) will make the wood seem too stark of a contrast? Or would it work? I will include a picture of a pillow I have on my couch with the shade of green I am envisioning. However, I haven't seen a duvet like this, so if anyone has, please share. :)
Lastly, don't you think I need something else in the bump out? Chair(s)? Something else? I don't know what to do there.
Thanks again!
And here's the picture of my couch pillow that I was thinking of finding a similarly toned duvet for the foot of the bed:
This post was edited by chilibeans on Tue, Feb 4, 14 at 14:43
---
| | | |
| --- | --- | --- |
| RE: Master Bedroom Help | | |
Actually that picture makes the green look darker than it is. Let me try again...
I think this one is a little more accurate:
---
Post a Follow-Up
Please Note: Only registered members are able to post messages to this forum.
If you are a member, please log in.
If you aren't yet a member, join now!
---
Return to the Home Decorating & Design Forum
Information about Posting
You must be logged in to post a message. Once you are logged in, a posting window will appear at the bottom of the messages. If you are not a member, please register for an account.
Please review our Rules of Play before posting.
Posting is a two-step process. Once you have composed your message, you will be taken to the preview page. You will then have a chance to review your post, make changes and upload photos.
After posting your message, you may need to refresh the forum page in order to see it.
Before posting copyrighted material, please read about Copyright and Fair Use.
We have a strict no-advertising policy!
If you would like to practice posting or uploading photos, please visit our Test forum.
If you need assistance, please Contact Us and we will be happy to help.

Learn more about in-text links on this page here