Return to the Home Decorating & Design Forum
|
Post a Follow-Up
---
| | | |
| --- | --- | --- |
| please help with curb appeal | | |
Posted by
autismmom
(
My Page
) on
Wed, Feb 5, 14 at 10:59
The house has to stay this color, I recently painted front door and garage green (would be ok to change that). Looking for inexpensive ways to add more curb appeal to the front of my house . Backyard is actually very nice already.
---
Follow-Up Postings:
| | | |
| --- | --- | --- |
| RE: please help with curb appeal | | |
It's kinda hard to see the house, actually, Can't really tell the shape or the colors or the materials well. Perhaps if you could take a closer photo with the sun shining on the front of the house so it's not in shadow?
---
| | | |
| --- | --- | --- |
| RE: please help with curb appeal | | |
Where are you located? Blacktop driveways look cleaner and hide a lot more sins.

Also looks like the driveway is shady (??). Maybe plant some hostas along the sides? Rake up the leaves and put mulch down to give it a richer, cleaner look.
---
| | | |
| --- | --- | --- |
| RE: please help with curb appeal | | |
| | | |
| --- | --- | --- |
| RE: please help with curb appeal | | |
Do you think I should paint trim around the windows a different color? We are in Florida.
---
| | | |
| --- | --- | --- |
| RE: please help with curb appeal | | |
Hi,

I might start with the landscaping. I know I often have a bias toward keeping anything in my yard that is healthy and growing, but sometimes things overgrow their space and no longer work.

So if I were you, first I would figure out waht to remove and how to rework my landscaping?
---
| | | |
| --- | --- | --- |
| RE: please help with curb appeal | | |
Landscaping! I would tear out everything in the front of the house and start over.
Work on the lawn. If the driveway is shady then you would need plantings there instead of dead grass.
I imagine you don't do blacktop in your area, but I agree that it would look nicer.
At closer inspection, some of the trees look tired and maybe need to be replaced, but understandable if you don't want to go through the expense of tree removal.
---
| | | |
| --- | --- | --- |
| RE: please help with curb appeal | | |
Trees are pretty. Maybe just a good pruning? Will help with their health as well.

Can't get a good look at the windows in any of your pics in order to answer your trim question.

I would start working on the health of the lawn, though.

Learned the other day that black driveways and Florida are not a good mix! I'm in the northeast, where all paved drives are black.

Some color via flowering plants would be good.
---
| | | |
| --- | --- | --- |
| RE: please help with curb appeal | | |
You could use a few solid shrubs for foundation planting along with what you already have such as dwarf alberta or colorado blue spruce, about 3 of them, 1 on each side of the house and one in the center, interspersed with a few azalea and rhododendron bushes for spring color. Also about 2 -3 hydrangea bushes for color all summer. Whatever plants or shrubs you choose in the end, please research them for height and width before putting them down. You seem to have some light for these shrub requirements. As for the shutters, a nice contrasting color would do wonders to brigthen up the area. As well, for some quick color, you can do an edging of impatiens or begonias. A good idea is to do a sketch of the area on paper and then fill in with the shrubs according to height, width and bloom times. You'll have lots of fun doing this project! Good luck!
---
| | | |
| --- | --- | --- |
| RE: please help with curb appeal | | |
I would paint the window trim to match the garage door or white to lighten it up.

To add more curb appeal, I would either
1) add a simple short trellis above garage door or
2) create some depth by painting the trim or the boxes/or raised panel on the garage door 25% darker or lighter. This, however, places attention on the garage door and not the entrance and I don't think that is what you want.

For the front, I would get smaller/shorter edge than what you have and add colorful plants leading to the front door. You need to draw the eye to the front door - which in my opinion, I would want it to have more glass( not cheap, though).
Other than that, I like it.
---
| | | |
| --- | --- | --- |
| RE: please help with curb appeal | | |
I would take out the 2 trees right in front of the house and the low hedge next to the walkway. Redo the landscaping and add color. I would never have guessed FL from the photo.
---
| | | |
| --- | --- | --- |
| RE: please help with curb appeal | | |
I agree that the front landscaping needs refreshing to play up the house better. Perhaps trim the walkway hedge to half it's current height so it doesn't obscure the house as much but still retains the dark green curve. Keep the magnolias, though! Maybe some landscape lighting might add some drama. How about a large garden ornament or a water feature?
---
| | | |
| --- | --- | --- |
| RE: please help with curb appeal | | |
Please snap a photo with a tighter view of the front walkway and front area around the door. If you can, stand closer to the that larger bed by the tree -- and shoot the photo from that point.

Sweep and pick up the leaves on each side of the driveway.

Trim the hedge under right-side-windows -- just to tidy it up. Mulch around that bed.

Add mulch and bright seasonal flowers in clumps under the short hedge (on the left-hand-side of the front walkway). It is very overgrown -- and could be removed -- BUT planting around or even adding low pots of colorful grasses or plants might disguise that flaw.

In the small bed around the standing lamp -- take out the left-hand bush AND the right-hand bush -- then add bright seasonal flowers -- and mulch over the bed.

I do like the color of garage door and the front door! :) Just be sure to add large pots of colors by the front door.
---
| | | |
| --- | --- | --- |
| RE: please help with curb appeal | | |
If these are recent photos, I'm certain the grass will take care of itself in the next couple of months.

Agree with trimming the right hedge, cleaning beds, adding flowering bedding plants (perhaps in a few weeks if you still have danger of frost) and mulch. You could add some flowering plants below to tie in with the other beds (below).

Clean up and mulch the planting to the left of the driveway. Not sure where there are leaves if that should be grass or part of the bed, but define the bedding areas with your mulch -- add borders if needed.

In the middle (right of the garage and left side of the walk) I agree that it is very overgrown. You could try teacats idea of trimming them way down, but not knowing what kind of bush they area and just looking at the trunks, I'm doubtful that you can get something that will look good or grow in the way you need it to. I'm with chispa on pulling out the hedge and probably one or two of those smaller trees. They block much of your view of the house and the bed itself. It was probably good when planted but has overgrown the space. It's hard to know what the smaller trees look like when leafed out, but it looks like the center one would probably be enough without crowding the house or walk. Add a low border planting and some taller (medium height -- not too tall) color or texture planting behind that. You might use a birdbath, statuary or other decorative feature in that bed.

To the front of that walk, continue the bed on the other side of the walk to go around the tree and curve down towards the driveway.

Planter pots by the front door and by the garage door will add color and feel welcoming. You could use trellises in or behind the pots or patio trees beside the garage door to get some height.

I'd also look at a larger lantern either side of the garage door. Power washing the driveway will help brighten it. You can rent or buy a power washer. Landscaping can be expensive if you have to hire out, but if you can DIY, all of this can be done rather modestly.
---
| | | |
| --- | --- | --- |
| RE: please help with curb appeal | | |
I would cut down the hedge by the path to the front door and remove the trees that are hiding the front of your house.

I don't agree with the advice to rip everything out. It looks like you have a gorgeous hosta, some nice fern, possibly some nice trees to work with.

Some of the plants surya55 recommends might not do well in Florida. I'm not sure I would plant hydrangea in my front yard in Florida - it would need to be watered all the time and I would never be able to water it enough. Hydrangeas might be better in a cooler climate a little farther north. I love them in Atlanta. I'm not sure I would put a rhododendron in the mix either. Be sure and talk to someone familiar with Florida and get a variety that takes the heat there if you decide on rhododendrons. Like hydrangeas, I love rhododendron here in Atlanta. I'm not familiar with Colorado Blue Spruce, but it just sounds like something that wouldn't do well in Florida.

I agree with surya55 that azaleas do well there and add lovely color. Also impatiens and begonias.

Why don't you try the Florida gardening forum for plant selection suggestions? They ought to know which plants would do well in your location. There are many lovely things you can plant there. I adore Miss Huff Lantana in Florida.

Definitely wouldn't blacktop a driveway in Florida.

I think your house is pretty and cleaning up/upgrading the landscaping would make a big difference. Take pictures to a local plant nursery when they're not busy and see if they have a landscape architect working there who can help you. A good independent plant nursery will often have knowledgeable people working there who can give you good suggestions for bed placement and plant selection for free if you're buying the plants there.
---
| | | |
| --- | --- | --- |
| RE: please help with curb appeal | | |
What about going the opposite direction with garage door - something darker, more unobtrusive, make it recede. It's just a garage, nothing architecturally interesting. window trim/house doors could be a lighter or harmonious shade with garage door color.

Then, just focus on the area shown in your second photo and redesign the bed between the curving walk and the walls to your house. Take out that big, solid square hedge (yew?)- it is a wall, a visual barrier. What are the three bare branched shrubs back there behind the hedge and the 2 green ones? Those could conceivably be the backdrop or the structure for your new garden bed. The idea is to make that whole little corner into one cohesive well designed bed with color and interest throughout the seasons.

Try posting over on one of the garden forums - you'll get lots of advice from people knowledgeable about your specific climate AND also what might work stylistically with your house. I agree with above poster that it doesn't look like Florida - or anywhere in particular.

Oh the only other thing I noticed was the grouping of plants closest to you in the 2nd picture. What are those? They look kinda weedy with just the few of them standing there - the space needs to be some sort of more clearly defined bed, or maybe moved elsewhere. Perhaps they would fit in into the new bed next to the door.
No to the idea of "ripping everything out." Why? Save what can be used.
---
| | | |
| --- | --- | --- |
| RE: please help with curb appeal | | |
Ditto the landscaping. The first thing I would do is rip out the hedge. Then reassess the space and replant with something staggered and low-growing. Amend the soil in the meantime to get it healthy. Since you are in Florida, timing is important or it will get too hot, as you well know, to do much. Limb-up the low branches on the trees to let in more light and air. On the right side of the doorway, just keep those shrubs trimmed for now (not in flat hedge form but natural shape). I can't tell what they are. A local nursery can advise on new plant material. Hosta probably won't do well in your zone unless you have really deep shade. And I agree with those who have said to add mulch to tidy up the beds.
---
| | | |
| --- | --- | --- |
| RE: please help with curb appeal | | |
You might want to have the (cement?) driveway pressure washed, that will make a huge difference. In the area's that are shaded and the grass doesn't grow maybe think of some ground cover beds, there are some nice ground cover options here in Florida. I would make a point of mixing textures, shades, colors. The ole prominent road facing garage door…paint it the same color as the house but do a semi gloss or gloss depending on the paint brand sheen. Buy some bigger nicer garage wall lights (I'm going through that now). I cannot see your front door well; you will feel good about picking a color you like in a semi-gloss or gloss. Do some planter boxes or planters near front door with flowers and pressure wash the walkways. The thing to concentrate on first is cleaning everything, and then drawing attention away from garage door by painting it the same as house color in a gloss and then figuring out a way to make the entry the focus. To start, take out at least half of the hedge by front door.
Good luck, it will all look very pretty when you are done.
---
| | | |
| --- | --- | --- |
| RE: please help with curb appeal | | |
May I ask why you want to improve the curb appeal? I think that is a fine home, and maybe some trimming on the landscape could be done. The first thing I would do is sweep the driveway, and improve the yard around it. I like your place, and those trees are probably a blessing in the summer :)
---
| | | |
| --- | --- | --- |
| RE: please help with curb appeal | | |
I would never cut down those trees. The hedges perhaps. But simple trimming of plantings can make a big difference and give a plant new found beauty.

Is there a porch railing? Not knowing the other houses, my first thought was one along with some garage door hardware and lighting on each side. A wandering path between the trees to the front?

I also think the photos are not doing the house justice. This is when posters are hesitant to share them with the comments made. Some of the comments seem a bit harsh. Come to my house and the wind has not helped my driveway with leaves, soil and mulch blown around. The grass probably only needs some nourishment from winter mos, even in Fl and appears to be a very large yard.

It is a great house to work with...and without tearing things out..
---
| | | |
| --- | --- | --- |
| RE: please help with curb appeal | | |
The two big trees some wish for you to take out are magnolias, right? Magnolias are special: fabulously fragrant and beautiful flowers, lovely glossy dark green leaves, handsome trunk, adds variety to an otherwise monotonous bright yellow green landscape, provides dense shade. Save the magnolias!
---
| | | |
| --- | --- | --- |
| RE: please help with curb appeal | | |
Just from what I can tell, for starters I would remove the hedge along the front leading to your front door. They block the rest of the plantings in that bed and give a closed off feeling. I would also remove those plants sitting by themselves on the front lawn in picture 2....they don't relate to anything and to me look off just sitting there by themselves. Yes to a blacktop driveway (if you can swing it and if it's appropriate to your area), to pruning the trees, and fertilizing the lawn.
---
| | | |
| --- | --- | --- |
| RE: please help with curb appeal | | |
DON'T, DON'T, DON'T take out the magnolias. They are probably 30 or more years old and will be gorgeous come spring and summer. You have some excess, what looks like, pine trees that started as saplings/volunteers that need removing. Take them out. They only serve to take the energy from your beautiful trees. Keep the canopies raised on the magnolias. Take them up some now. They are evergreen in your area, so you can do that at this time. About the shrubbery at the front....you can take that down by a third to a half between now and March, March 15. I would do that. I might even take it down by more than half. You will see what a huge difference that will make. Then paint the areas you think might need it. Are those azaleas alongside the house? If so, DO NOT cut them back until after they bloom around Easter. Then you can cut them back by half or take them out if you do not like them. You have some other shrubby stuff that I would take out going from your front door to your garage, but be careful in case that is holding water back from your house. Check to make sure that is not a barrier for water going into your vent holes in your house.

I don't know your zone but you can cut anything back by one-third beginning about February 15 to March 15 without fear of too much damage. Check with the master gardeners in your area. That is what they do. If I lived near you, you could call me and I would be willing to advise you. However, since I don't and don't know you, call your county agent for wise advice. He/She will put you in touch with the master gardeners in your area. Good luck. Your house is very nice.
---
| | | |
| --- | --- | --- |
| p.s. about magnolias | | |
MAGNOLIAS. Don't listen to anyone who would tell you to take them out. Anyone knowledgeable of landscaping would never advise you to do that unless they are stopping up your drains and undermining the slab of your house. Those magnolias at this stage are probably worth thousands, if not tens of thousands of dollars.
---
| | | |
| --- | --- | --- |
| RE: please help with curb appeal | | |
To me it's easier to start with a clean slate. There are endless things you could do with plantings and a door color to make the entry area nice. Use this to add stuff to.
---
| | | |
| --- | --- | --- |
| RE: please help with curb appeal | | |
Love jterrilynn's clean slate. Definitely keep the trees!!!

Do you have a greenhouse in your area? Not a large big box store that sells plants, but a real greenhouse? It is definitely worth it to have them come out and make up a plan. They will talk to you about your preferences and the maintenance level you prefer as well as determine the right plants for which exposure. It's worth the cost to eliminate the headache of trying to figure it out on your own. Usually they will give a discount if you buy the plants from them. Another benefit is that having a plan to follow means you can do what you can each year as your budget allows.
---
| | | |
| --- | --- | --- |
| RE: please help with curb appeal | | |
Different strokes for different folks, I guess. I love magnolias and think they are wonderful trees, but I wouldn't hesitate to take one down if it was not placed well in my yard. Especially a magnolia. Not a Little Gem magnolia, but a regular magnolia. Magnolias get huge. I have a neighbor with 2 beautiful magnolias, but they are right smack in the middle of his yard in front of his house. While they were lovely and mid-sized 21 years ago, they are enormous and take over the entire yard now. They're not pretty in that context anymore.

I love magnolias more toward the side of my home or in the back, but I would cut one down right in front of my house in a heartbeat.

I agree they are wonderful trees and one of my absolute favorites. Their leaves are beautiful to decorate with at holidays, they smell fabulous and their blooms are beautiful. And best of all, they are the greatest climbing trees for kids ever and every kid should get to climb in a magnolia tree.

However, in the interest of full disclosure, I confess I am enormously prejudiced and highly opinionated about magnolias (and gardenias). I hate raised canopies on magnolias. I grew up in a neighborhood and small town full of magnolias, and everyone I knew kept their magnolias with leaves all the way down. Raised canopies on magnolias just look.....wrong....to me. If you are leaving a magnolia for your kids, don't raise the canopy. They make such awesome private play places for kids with the leaves all the way down the trunk.

I feel the way Patricia does about gardenias and banana shrub. I don't know if I'd ever rip out a happy gardenia. Not the old-fashioned kind.

And upon further reflection, I would absolutely leave a big ole magnolia with leaves all the way to the ground in place, even in the center of my yard, if I had kids of tree-climbing age.

Have fun whatever you decide!
---
| | | |
| --- | --- | --- |
| RE: please help with curb appeal.... | | |
Those don't look like magnolias to me. Maybe I just can't see well enough?

Anyway, I agree with geokid that it would be well worth the money to get a plan done.
---
| | | |
| --- | --- | --- |
| RE: please help with curb appeal | | |
I would also consider a small interesting bench under that window if there is room.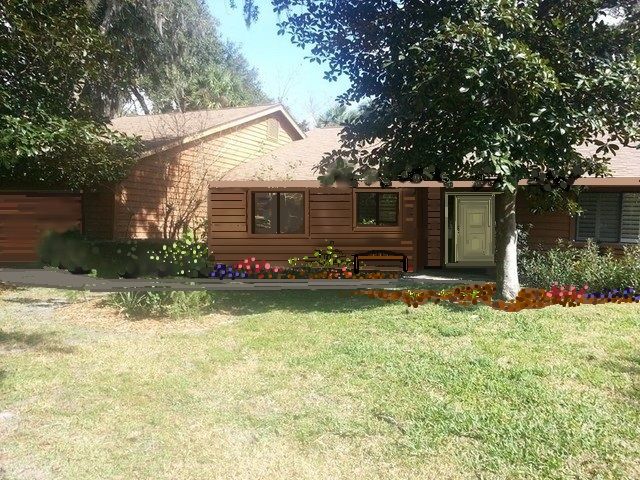 Edited to add, note the seat color in the bench is the vibrant color of fresh mulch and the legs and other are in a bronze to jive with your window frames. If you could find a used bench it would be a fun project. I should add that there is a reason I put the bench in a size that would fit under the window shown. Your windows are different height (not a bad thing) so it's all a bit of a trick of the eye thing with giving a balance.
This post was edited by jterrilynn on Thu, Feb 6, 14 at 22:59
---
| | | |
| --- | --- | --- |
| RE: please help with curb appeal | | |
Whether the large trees are magnolias or not, I may be missing something, but I haven't seen anyone say they should be taken down. There are three smaller trees or overgrown shrubs in front of the windows to the left of the front door that could be crepe myrtles. There is also a large bush, small tree that grows here -- in the hibiscus family, that it reminds me of. But right now they are scruffy sticks and when they leaf out it looks like they would block that side of the house completely -- view from the exterior and light on the interior.

Jterrilynn's mock up shows why everyone is saying 2 or all 3 of those should come out. She left one on the left and put in color plantings in front of it. Now you can see the house, there is color and the tree/bush adds some interest by adding height in the background. I pictured it a little differently with possibly leaving the center one to be the height between the windows, but either way. The one on the right is too close to the walk and door, so it would be the first to go. I hate pulling things out, but bushes especially can become overgrown and need thinning or replacing. Of course, after this winter, I think we are going to have to pull out some things that got frizzed.
---
| | | |
| --- | --- | --- |
| RE: please help with curb appeal | | |
Yes the trees are magnolias and the tree next to the garage is a crepe myrtle so that will look good once it blooms. I am pouring over every comment in this thread, I cant thank you all enough for your help!! And love the mock up photo, this is great. We have lived here 20 years and you just get used to the way things look, its hard to be objective. Thanks again :)
---
| | | |
| --- | --- | --- |
| RE: please help with curb appeal | | |
I would paint the door a bright color maybe turquoise. Paint the garage door two shades lighter than the house. and clean out some of the planting beds leading up to the house so it opens the space up and lets the eye draw naturally threw it to the front door.. Maybe move some of those daylilies up to edge the sidewalk up to the door.
---
| | | |
| --- | --- | --- |
| RE: please help with curb appeal | | |
I would paint the front door in gloss Sherwin Williams Hearts of Palm. When you first open the can you may freak a little. However, keep in mind how shaded that area is and how that will affect the way it's seen from the road (in a good way). When this color dries it will be the perfect bit of color at the door to mix with your different color plantings and mulch. The garage door does not need extra attention so I would paint it the same color as the house but in a semi-gloss or gloss. You could paint the bands around the windows the same house color but in a gloss. Believe it or not these subtle changes will make a big difference.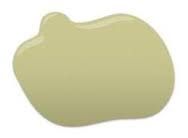 Edited to add, or, you could go one shade lighter than Hearts of palm and try Rice Patty.
This post was edited by jterrilynn on Thu, Feb 6, 14 at 18:35
---
| | | |
| --- | --- | --- |
| RE: please help with curb appeal | | |
The purpose of foundation plantings was originally to hide the foundation of the house which might be concrete or blocks and two or three feet high. This house and many others today don't need foundation plantings as they are sitting very low to the ground. A low slung house like this one looks better without them. The foundation, if it shows at all, is probably not at all unattractive. It goes against tradition but try it. Your house is very nice and will look much more open and hospitable without the unneeded "skirt".
---
| | | |
| --- | --- | --- |
| RE: please help with curb appeal | | |
Excuse me for interrupting but seep holes need foundation plants to absorb the water that could flood the house. I know from very expensive several-thousand dollar expenses.
---
Post a Follow-Up
Please Note: Only registered members are able to post messages to this forum.
If you are a member, please log in.
If you aren't yet a member, join now!
---
Return to the Home Decorating & Design Forum
Information about Posting
You must be logged in to post a message. Once you are logged in, a posting window will appear at the bottom of the messages. If you are not a member, please register for an account.
Please review our Rules of Play before posting.
Posting is a two-step process. Once you have composed your message, you will be taken to the preview page. You will then have a chance to review your post, make changes and upload photos.
After posting your message, you may need to refresh the forum page in order to see it.
Before posting copyrighted material, please read about Copyright and Fair Use.
We have a strict no-advertising policy!
If you would like to practice posting or uploading photos, please visit our Test forum.
If you need assistance, please Contact Us and we will be happy to help.

Learn more about in-text links on this page here