Return to the Home Decorating Forum
|
Post a Follow-Up
---
| | | |
| --- | --- | --- |
| Can you mix brown and black? | | |
Posted by
chocolatebunny
(
My Page
) on
Tue, Feb 15, 11 at 10:58
I *think* I can mix brown and black but I thought I would get more opinions. :)

Our kitchen opens to the family room. We have a lot of tuscan colors and I am really getting tired of them.

What I want to do is get rid of the red tablecloth and replace it with a brown one. I like this one from Bed Bath and Beyond. It is the same brand as the red one currently on the table.
Anyway, the furniture in the family room is black and beige. I think I can just treat the black as "neutral" and get away with the brown tablecloth. I would like to go with no tablecloth at all but DH says our kids are too messy to do that. He is worried the wood table top will get ruined.
Since I took this photo I took down the valance and added long olive green panels. I should take a new photo.
Any opinions appreciated :)
---
Follow-Up Postings:
| | | |
| --- | --- | --- |
| RE: Can you mix brown and black? | | |
Yes, definitely. And you've already got caffellatte-colored walls in your dining room. I think that tablecloth would go very nicely.

Btw, I like your colors, but I wouldn't characterize them as particularly "tuscan".
---
| | | |
| --- | --- | --- |
| RE: Can you mix brown and black? | | |
Yes, you can. The other day I read a thread regarding a black, brown, cream color scheme. Cool! It's a master bedroom, but I think you'll get the idea ... I'll link it below.

I found the link again by using the search +brown +black. Much of what comes up that way won't be specific enough to your plan, but there might be some old threads there for gleaning further ideas.
Here is a link that might be useful: Brown, black, cream color scheme
---
| | | |
| --- | --- | --- |
| RE: Can you mix brown and black? | | |
I'd just make sure there was plenty of light if I was going to put in a LOT of dark colors of any shade.
---
| | | |
| --- | --- | --- |
| RE: Can you mix brown and black? | | |
Thanks. This side of the house faces west so we get plenty of light in the afternoon.

Glad to hear that my colors aren't too tuscan. For some reason I just want to repaint everything but I am getting the kabosh from DH. :(
---
| | | |
| --- | --- | --- |
| RE: Can you mix brown and black? | | |
Yes, I wear brown and black.
---
| | | |
| --- | --- | --- |
| RE: Can you mix brown and black? | | |
Brown and black are neutrals so do mix well. I would be concerned with how dark the tablecloth is. There are already a number of large dark pieces in the space (black seating, tv, chest, the olive curtains). I think a warm green, picking up the olive tones of the curtains would look good, not too dark maybe in the mid range. It would look great with your fireplace and the woods of your dining set and cabinetry while connecting with the olive in the family room. Not so good with the accent wall but it sounds like you might be repainting. (I'd skip the accent wall next time. The space will flow better as a whole more simplified.)
---
| | | |
| --- | --- | --- |
| RE: Can you mix brown and black? | | |
i think the brown looks fine with your other colors, including the black...
if it were me though, i would get a patterned tablecloth---i've ordered a few crate and barrel tablecloths(they have some nice patterns) that have been on clearance and love them-nice quality imo.
---
| | | |
| --- | --- | --- |
| RE: Can you mix brown and black? | | |
Why do you even need a table cloth? Why not pretty runner or placemats? Then again, I only use a tablecloth "for company".....
---
| | | |
| --- | --- | --- |
| RE: Can you mix brown and black? | | |
Since our dining room is used as the kids' playroom, the kitchen is the only table the kids have to do homework, crafts, eat, etc. My kids aren't the neatest either so I wind up washing the tablecloth on a weekly basis. I would love to go without the tablecloth but I don't want to be on the kids all the time about being neat. And I don't want DH to freak out the first time there's a ding in the table.

I took a picture with an older green tablecloth I had. It also shows that I rearranged the furniture slightly. The humidifier on the right is just for the winter. I think the green looks better than the brown probably would.
Thanks busy bee for the Crate and Barrel suggestion. I love the Marimekko designs but they are a bit pricey for me.
There are a few on the outlet I really like though:
Lumimarja (am I just asking for trouble with a light tablecloth?):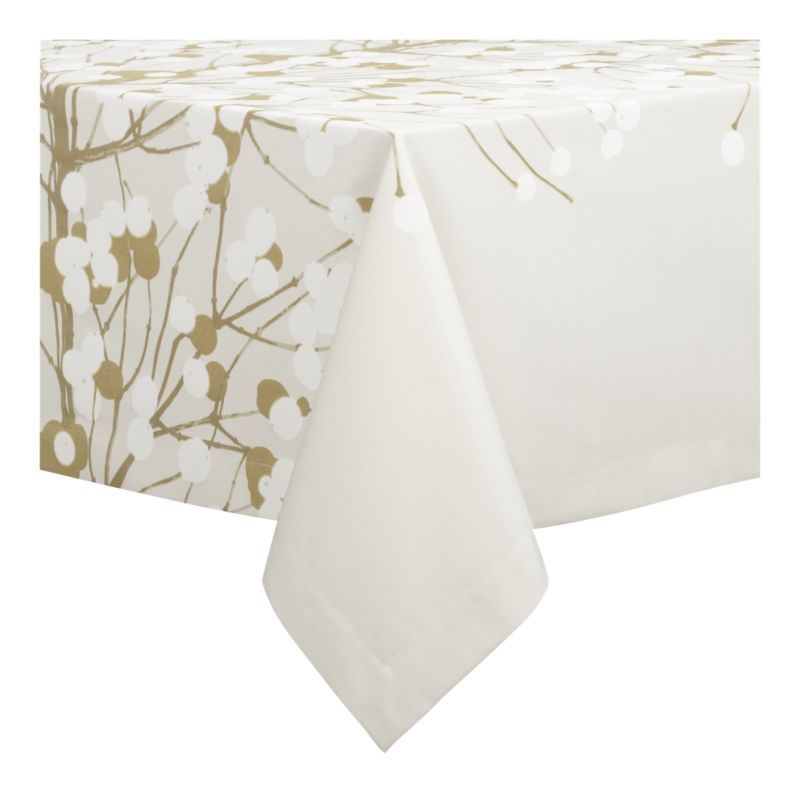 Hedwig: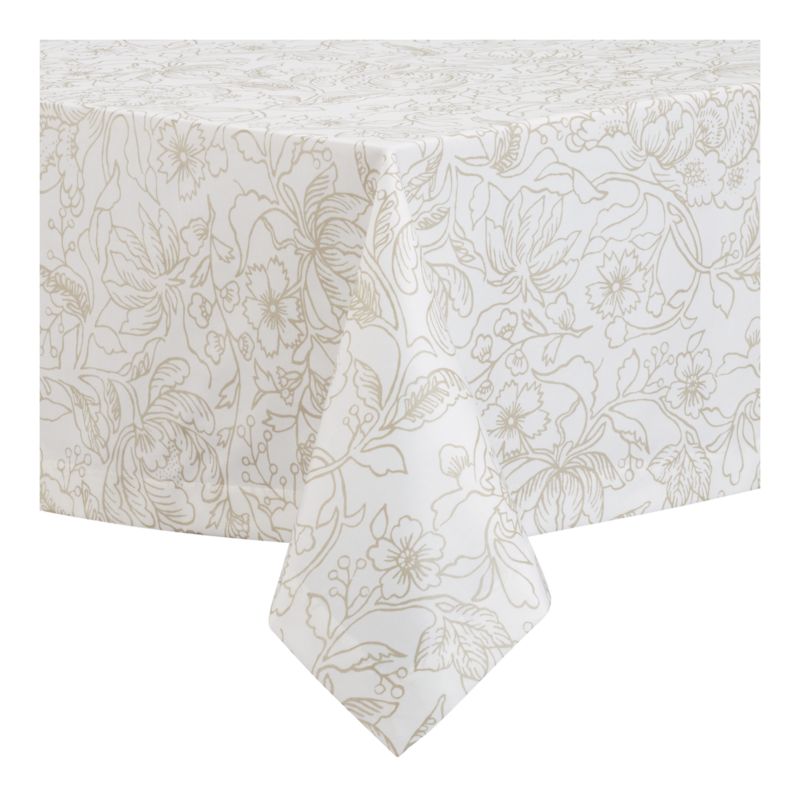 Lepo Olive: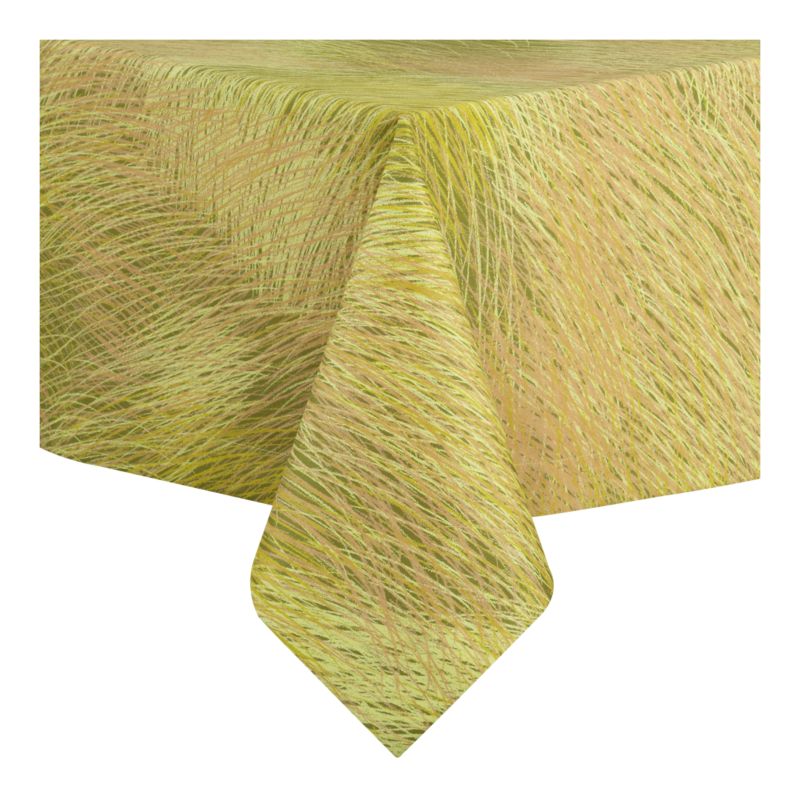 Thoughts?
---
| | | |
| --- | --- | --- |
| RE: Can you mix brown and black? | | |
hmmm...i'm not sure i love the lepo olive, tho i think it would go nicely with your colors and i think the bit of print would give it some interest...and, it might look better in person-like i've said, i have ordered a few and have been very happy with each of them-print and quality! there are no reviews on the lepo that i saw describing the print...

the hedwig says it's specifically stain resistant, so out of the 2 whites, that is the one i would try.

did you look at the la botte floral?? kindof bold, but really pretty and great for spring...and it looks like it would go in your room as well...
i even kindof like the flora...more of a fall color scheme, but so cheap...!
---
Post a Follow-Up
Please Note: Only registered members are able to post messages to this forum.
If you are a member, please log in.
If you aren't yet a member, join now!
---
Return to the Home Decorating Forum
Information about Posting
You must be logged in to post a message. Once you are logged in, a posting window will appear at the bottom of the messages. If you are not a member, please register for an account.
Please review our Rules of Play before posting.
Posting is a two-step process. Once you have composed your message, you will be taken to the preview page. You will then have a chance to review your post, make changes and upload photos.
After posting your message, you may need to refresh the forum page in order to see it.
Before posting copyrighted material, please read about Copyright and Fair Use.
We have a strict no-advertising policy!
If you would like to practice posting or uploading photos, please visit our Test forum.
If you need assistance, please Contact Us and we will be happy to help.

Learn more about in-text links on this page here