Return to the Home Decorating Forum
|
Post a Follow-Up
---
| | | |
| --- | --- | --- |
| Need help picking a lighter warm neutral paint! | | |
Posted by
aurora_sb16
(
My Page
) on
Thu, Feb 9, 12 at 10:38
Just painted my entire house Tobacco Road formula from decor chicks blog... turned out way darker and more gold than any picture of tobacco road on the internet! (got it at sherwin williams) I was hoping it would be lighter and less gold with more tan! It looks good in my kitchen, but aweful in my living room! And everyone on the internet says it goes with anything... this really doesn't. I am deciding between Plantation beige, Pittsfield buff, Tobacco road at 50%, or just trying to get the millenium tobacco road from Lowes which seems to be more tan than gold. (To repaint the living room)
These are pics from my house, but they really don't show how gold it is on my walls!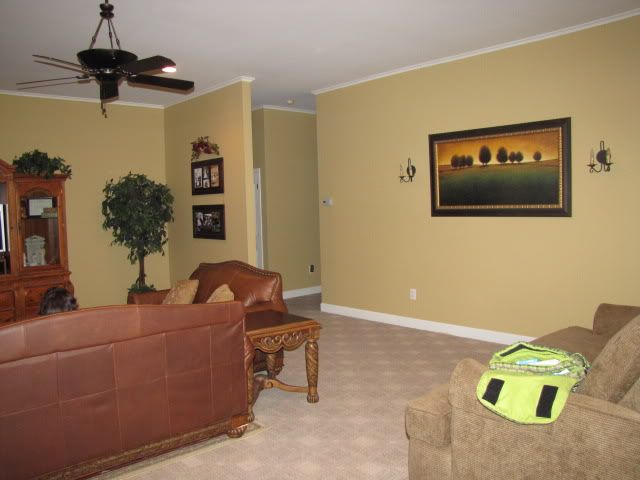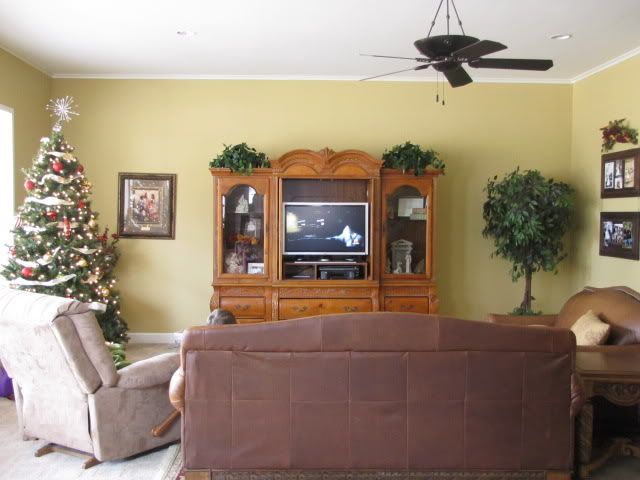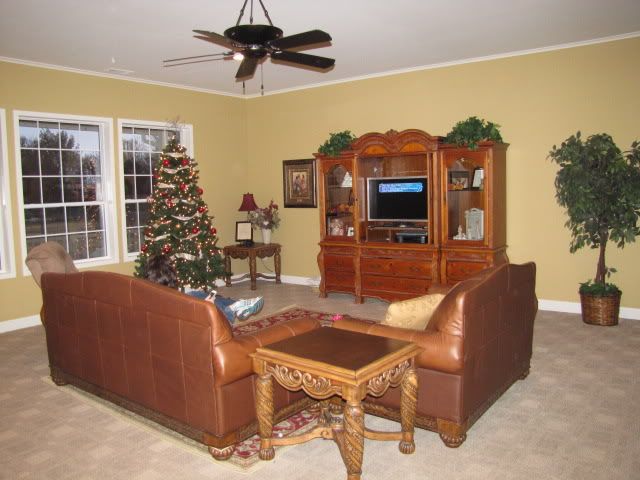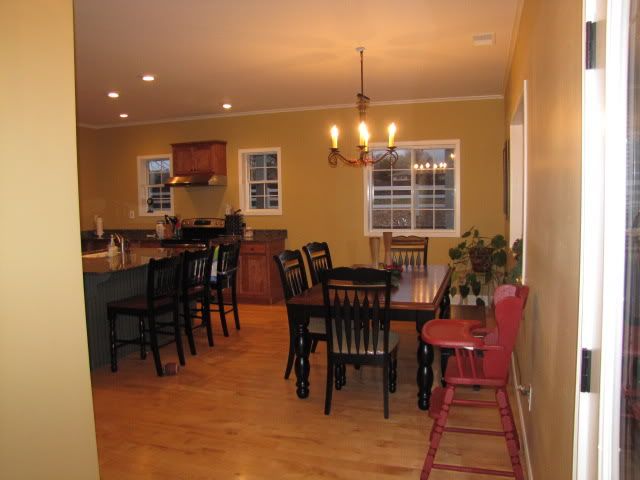 ---
Follow-Up Postings:
| | | |
| --- | --- | --- |
| RE: Need help picking a lighter warm neutral paint! | | |
I agree, it looks gold, 70ish gold. Thanks for posting your pics,I'm looking for a color for my Living room and dining room, and Tobacco Road was on my list...

Right now I'm considering;
Behr Autumn Glow or Spiced Beige or Toasted Cashew,
Pittsburgh Paints Navajo White or Almond Brittle,
Sherwin Williams Navaho White or Maison Blanche or Fragile Beauty.
---
| | | |
| --- | --- | --- |
| RE: Need help picking a lighter warm neutral paint! | | |
Take a good look at SW Believable Buff. It is "lighter and less gold". Very pretty, neutral.
---
| | | |
| --- | --- | --- |
| RE: Need help picking a lighter warm neutral paint! | | |
Hi there,

I don't have a paint color to recommend to you but I wanted to point out that your carpet has a pinkish undertone, and, your hardwood floor has a yellow undertone. As long as you are choosing a paint with either a yellow undertone or a pink undertone one or the other room isn't going to look good.

Might I suggest going either really light, like cream, or maybe head in a different direction, like green which would go with both undertones? A warm grey could work too but I have virtually no experience with choosing grey paint colors so I cant advise a specific color.
---
| | | |
| --- | --- | --- |
| RE: Need help picking a lighter warm neutral paint! | | |
OOH! Angrea is right - green would be nice!
---
| | | |
| --- | --- | --- |
| RE: Need help picking a lighter warm neutral paint! | | |
We are really enjoying our SW "Cherish Cream". It changes subtly depending on the light. Idon't have photos, but I'd suggest you take home a small amount of it and give it a try. The SW "samples" don't always match the actual paint color, we have found. Good luck.
---
| | | |
| --- | --- | --- |
| RE: Need help picking a lighter warm neutral paint! | | |
Actually I think the tobacco road looks great with your furniture, and it looks good in the kitchen too. The only thing that isn't working is the color of the carpet with all the other furnishings. How about putting down some larger rugs. I see you have a rug there with some red in it, how about a larger carpet with more red? Red would look great with that scheme you have going!
---
| | | |
| --- | --- | --- |
| RE: Need help picking a lighter warm neutral paint! | | |
The color itself looks beautiful on the walls. I think it is the carpet that is making everything look off. Like andreadeg mentioned, it seems to have pinkish undertones (the carpet) and when you mix different undertones in one room, everything starts to look "dirty" for lack of a better word. If you want to steer away from golds, maybe sample some beigey colors that do not clash with the pink undertones in the carpet. I used a SW color in my last house called Familiar Beige...it might work with that carpet.
---
| | | |
| --- | --- | --- |
| RE: Need help picking a lighter warm neutral paint! | | |
I just had the same problem - sample of TR mixed at Sherwin Williams and it's very gold looking. I recently had SW match Behr Raffia Ribbon (which is a less gold / more tan) and it looks more like the pictures I have seen online of TR. One blogger even says the TR she had Home Depot mix up is an exact match for the Raffia Ribbon paint chip. May I ask what color you ended up repainting your home?
---
Post a Follow-Up
Please Note: Only registered members are able to post messages to this forum.
If you are a member, please log in.
If you aren't yet a member, join now!
---
Return to the Home Decorating Forum
Information about Posting
You must be logged in to post a message. Once you are logged in, a posting window will appear at the bottom of the messages. If you are not a member, please register for an account.
Please review our Rules of Play before posting.
Posting is a two-step process. Once you have composed your message, you will be taken to the preview page. You will then have a chance to review your post, make changes and upload photos.
After posting your message, you may need to refresh the forum page in order to see it.
Before posting copyrighted material, please read about Copyright and Fair Use.
We have a strict no-advertising policy!
If you would like to practice posting or uploading photos, please visit our Test forum.
If you need assistance, please Contact Us and we will be happy to help.

Learn more about in-text links on this page here