Return to the Home Decorating & Design Forum
|
Post a Follow-Up
---
| | | |
| --- | --- | --- |
| I've Got The Yell-ows! | | |
Posted by
Baroo2u
(
My Page
) on
Mon, Feb 10, 14 at 10:16
I've left this room for last because the existing wall color is a real screamer--I don't want to open the door, much less spend hours in there painting! The previous owners were trying to brighten the (smallish, north facing, lots of reflected green from trees) room, but it didn't work. I really want to avoid making the same mistake!

I have some amazing charcoal sheer fabric for full length curtains, plus I'd like it to work with my orangey pine/oak pieces that have been banished from the rest of the house.

I was thinking BM Maple Syrup or Roxbury Caramel for the walls, the charcoal curtains, and a dusty aqua or turquoise accent color--Wythe Blue, maybe? Any thoughts or suggestions? Too dark? Just plain wrong?
---
Follow-Up Postings:
| | | |
| --- | --- | --- |
| RE: I've Got The Yell-ows! | | |
Quickly hide it with a "high-hide white primer" - one really good coat, or two less good coats until the yellow glow is gone. That color will glow though almost any color you apply.

Those colors you mention are probably too dark, although it would be warm and cozy. A paler buff would be better, into the warm creams.
---
| | | |
| --- | --- | --- |
| RE: I've Got The Yell-ows! | | |
If the room is dark and north facing, I don't think charcoal sheers will help any. I agree, paint the white primer and then see what colors are truly in the room...hard to tell with all that yellow.
---
| | | |
| --- | --- | --- |
| RE: I've Got The Yell-ows! | | |
I think both the Maple Syrup and Roxbury Caramel could have a tendency to do the same thing because they also have yellowish tendencies on my monitor, and yellow is obviously a tricky color in the light you have.

Prime it all out and then choose. I think that it is hard to "warm up" a room that gets cool light, particularly with yellow...that doesn't seem to work in my experience.

I would try Warmerversions of cooler colors. I had a north facing room that I used a very warm blue green grey and it looked much cooler in that room but was a pleasant color for it. It was much warmer on the swatch than in the room, so it will really be based on what happens in your own room.
---
| | | |
| --- | --- | --- |
| RE: I've Got The Yell-ows! | | |
If you really want to use those charcoal sheers how about pairing them with crisp white side panels, then paint the walls a light warm grey, keep the ceiling white, and accent with a punch of yellow with the accessories. Use bright white bedding. ?
---
| | | |
| --- | --- | --- |
| RE: I've Got The Yell-ows! | | |
| | | |
| --- | --- | --- |
| RE: I've Got The Yell-ows! | | |
I should mention that the white blinds will be coming down, and that the sheer charcoal fabric would be used only as a side panel, never closed...no need for privacy. I definitely agree, if they were closed the room would be a cave! I'll post a pic of the fabric tonight.

I'll work at getting the room primed but unfortunately you all have valid points--I LOVE caramel & cocoa colors but never get to use them, lol!

Hostanista, I like your idea of a warm grey--it meshes with Ineffable Space's suggestion to go with warm versions of cool colors. Though I'm not sure what a warm green, blue or aqua (another fave!) would look like...

Lazygardens, I'll look at creams & buffs for inspiration to get me through several coats of primer.
---
| | | |
| --- | --- | --- |
| RE: I've Got The Yell-ows! | | |
Ok, here's a photo of the charcoal fabric for the side panels...it's hard to photograph, since it reflects light differently lying flat than hanging, so the color looks off. It really IS nice, you'll have to take my word on that!
---
| | | |
| --- | --- | --- |
| RE: I've Got The Yell-ows! | | |
Are you familiar with BM Wish? I have that in my bedroom and it looks like it would be very similar to the circles in that fabric -- a cocoa or caramel and cream kind of color with just a touch of gray that softens the color. It has a soft richness but it isn't too dark. I have something similar but a little different (it started as a different color and we had to adjust it for the light -- or lack of) in our hall powder room with no windows. I love the way it turned out. I do think that BM paint has more life to it than other paints and may reflect more light. I don't know if that is true, but it seems to be inthe rooms where I have used it and 2 of them do not get a lot of light.
---
| | | |
| --- | --- | --- |
| RE: I've Got The Yell-ows! | | |
Good eye, Lascatx! What a neat color--did you have it mixed in Aura paint or regular BM regal? I have a difficult time getting Aura in my area, but I'm thinking the paint formulation might be critical with that color...I'm already scheming on how to squeeze a trip to the city for a sample into my day! What's 3 hours of driving in the name of fabulous decor?

This forum is so dynamic, I love it! Every new post builds on the previous ones--it's like Tag Team Decorating : )

Here's a new question: what type of bulbs/lighting will boost the light and neutralize the cold color temp without going too yellow? Is that even possible?
---
| | | |
| --- | --- | --- |
| RE: I've Got The Yell-ows! | | |
Have you tried the GE Reveal light bulbs? They do not have yellow undertones. It is marketed as having "true light."

You mentioned orangey pine/oak furniture for the room. Wouldn't caramels and apricots be too close in color to those?
---
| | | |
| --- | --- | --- |
| RE: I've Got The Yell-ows! | | |
bbstx, you're right about caramels being too close in color--wasn't thinking! That's why I need this forum, lol!

Do GE reveal bulbs come in compact florescent? It's getting hard to find incandescent bulbs...
---
| | | |
| --- | --- | --- |
| RE: I've Got The Yell-ows! | | |
I have to chime in and say that I do have Roxbury Caramel in a half bath with no windows and it works. But it is used for more of a dramatic effect with a vanity with a copper sink and ORB finishes. We have a medium tone oak floor (not red or orange). You get the idea. It still might work for you if it doesn't clash with the orangey finishes you want to use. I tried several different samples before I chose this color with existing cabinetry and the floor, so I totally understand the need to proceed with care in choosing your color scheme here. Beautiful fabric, btw.
---
| | | |
| --- | --- | --- |
| RE: I've Got The Yell-ows! | | |
I just saw the question and I can't get to the can right now to check it, but I am pretty certain it is the Regal paint. Did you know you can order paint samples from BM on their website? Haven't done it but saw the option there.

As for bulbs, I like the Cree LED replacement bulbs that are a natural light or daylight and the krypton bulbs I have in my chandeliers. They seem to have the cleanest color. I was using Reveal before those.

I know they haven't come down in price as much as CFs, but I'd encourage you to look at LEDS. Some of the most reasonably priced ones I've gotten have been at Home Depot (they vary by store -- if I drive east they are more than if I drive to the other store to my west) and Costco. I like them better than CFs and like that you don't have the disposal issue you do with CFs. I tried a CF bulb in my under stairs closet to see if it would work there where it is lower and nearer your head when you step in. It was okay only for a short while. It dimmed and got very yellow. I had another one in a lamp that came from my parents' house and it was also yellowish.
This post was edited by lascatx on Wed, Feb 12, 14 at 0:34
---
| | | |
| --- | --- | --- |
| RE: I've Got The Yell-ows! | | |
Thanks, Lascatx! I was wondering about LED's, I'll check them out at Costco next time I go. I'm looking for ways to improve the light quality in that room.

I'm overthinking the grey, probably because I still have trouble seeing greys & cool color--although warm & bright colors have become easier to perceive. I'm afraid if I paint a cool color or grey, I'll never be quite sure where the walls are--it's one of those "objects in mirror are closer than they appear" things. In a small room, that can be painful, lol! It also helps if the the white trim pops against the wall color--that way if the wall color is indistinct, I can look at baseboards, window & door trim to get a fix on the walls. BM Wish seems like a fairly pale grey--would warm white trim work, and also pop against it?

My sister told me there was an article in HGTV magazine about chartreuse & lavender both working with orang-y tones and charcoal. I know I can see clear, yellow greens. Is there such a thing as a "warm" lavender?

Sorry to be so indecisive--I was a combat engineer b4 I was injured, so I've always been analytical, but I was more decisive b4!
---
| | | |
| --- | --- | --- |
| RE: I've Got The Yell-ows! | | |
I suppose that there are cooler and warmer variations in all colors and tones, but it's all relative too. A "warm" lavender would be one with more pink to it while a cooler one would have more blue and lean towards the periwinkle side.

I don't 'have any issues with taking a few days or even weeks to figure something out. In fact, I like to go back and look at a possible choice at least a second time because I like so many things that I can love something I don't really want to live with. If I go back and look again, still love it, then I know it will be a choice I can live with.

Wanted to mention that Wish is listed as a neutral on the BM website and the swatch appears more gray -- at least this morning. Other times, I think it has more beige. It definitely leans towards beige in my room. It is the paint color on the bottom. The ceiling color was remixed so much we don't know what it is.

---
| | | |
| --- | --- | --- |
| RE: I've Got The Yell-ows! | | |
If you need brighter colors and something to go with orange-ish wood, what about this
The color swatch shown with it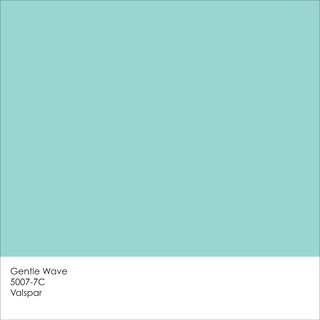 The houzz article accompanying the photos mentioned using complementary colors. This is the designer's interpretation of orange and blue.
---
| | | |
| --- | --- | --- |
| RE: I've Got The Yell-ows! | | |
Wow, bbtx, you must've read my mind--I was looking at colors like that yesterday! Last night I looked at the orange-y antique in question and realized the finish is truly an awful color: orange pine with a biloous green cast. I've had it since my grandmother died, it was made in the 1850's or so by a cabinet maker relative. It hasn't been refinished since about 1970 when my mom stripped it. G-ma fthought it looked "naked" and painted the top & front panels with OX BLOOD MILK PAINT (her own recipe) to "brighten it up."

Now, I adored my G-ma, and have lugged this heavy piece of furnitue aall over the country for years in a twisted form of ancestral worship because mother told me it's a family piece and selling or painting a family piece will earn me a lightening bolt from heaven. And I'm just now thinking "Wait--WHAT??" I'm talked to my older sister last night and SHE'S like "OMG, you took that seriously?"

Long story short, (sorry!) aforementioned sister is visiting this weekend and we're going to examine options re: cleaning/refinishing/refinishing or painting this piece so it plays nicely with others an doesn't restrict my decor choices quite so much!
---
| | | |
| --- | --- | --- |
| RE: I've Got The Yell-ows! | | |
Well, if Mom and Gma hadn't already put their stamp on it, I'd caution you about messing with the finish on such an old piece. If it ever had value as an antique (and someone who is more antique savvy than I will have to chime in on that), their refinishing it changed that. It is a family piece. You are part of the family. Put your stamp on it. Paint that sucker if that is what you want to do!
---
Post a Follow-Up
Please Note: Only registered members are able to post messages to this forum.
If you are a member, please log in.
If you aren't yet a member, join now!
---
Return to the Home Decorating & Design Forum
Information about Posting
You must be logged in to post a message. Once you are logged in, a posting window will appear at the bottom of the messages. If you are not a member, please register for an account.
Please review our Rules of Play before posting.
Posting is a two-step process. Once you have composed your message, you will be taken to the preview page. You will then have a chance to review your post, make changes and upload photos.
After posting your message, you may need to refresh the forum page in order to see it.
Before posting copyrighted material, please read about Copyright and Fair Use.
We have a strict no-advertising policy!
If you would like to practice posting or uploading photos, please visit our Test forum.
If you need assistance, please Contact Us and we will be happy to help.

Learn more about in-text links on this page here