Return to the Home Decorating Forum
|
Post a Follow-Up
---
| | | |
| --- | --- | --- |
| New house - need window treatment ideas | | |
Posted by
karen.iz
(
My Page
) on
Sun, Feb 26, 12 at 9:54
We just moved to a new house, and I feel like the family room needs some sort of window treatment to warm it up. Not worried about privacy - it's a wooded lot behind us. Can you give me some suggestions?

There are three big windows in the family room, and then a smaller window in the stairwell on the other side of the room. Next to the family room is the kitchen, with a wall of windows there, too, so I'll have to tie them in somehow.

Thanks! Any other suggestions welcomed, too. :)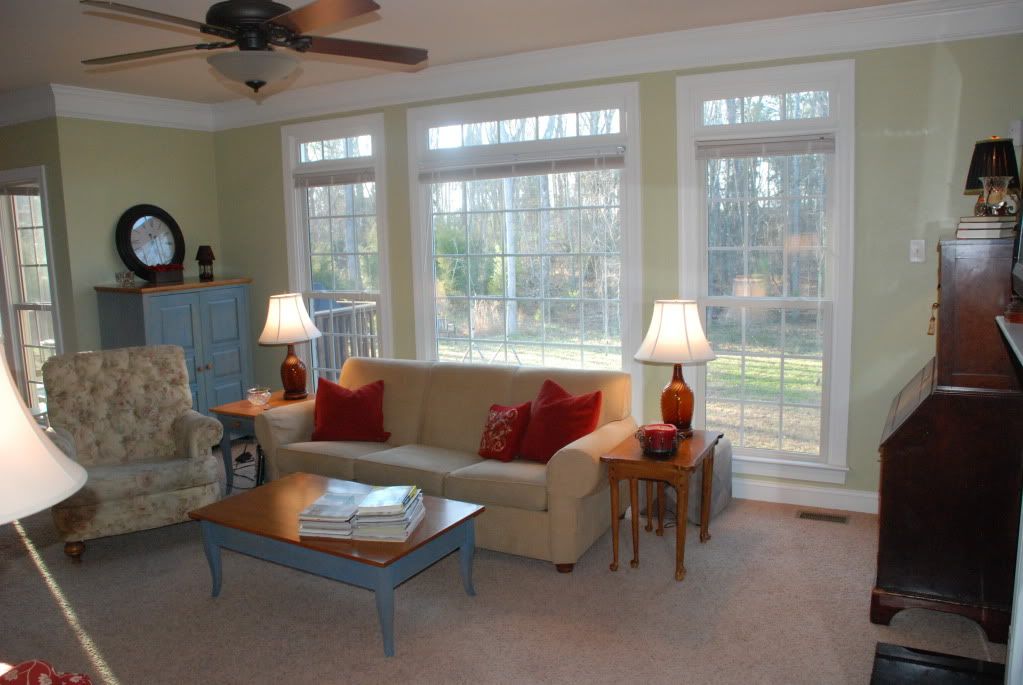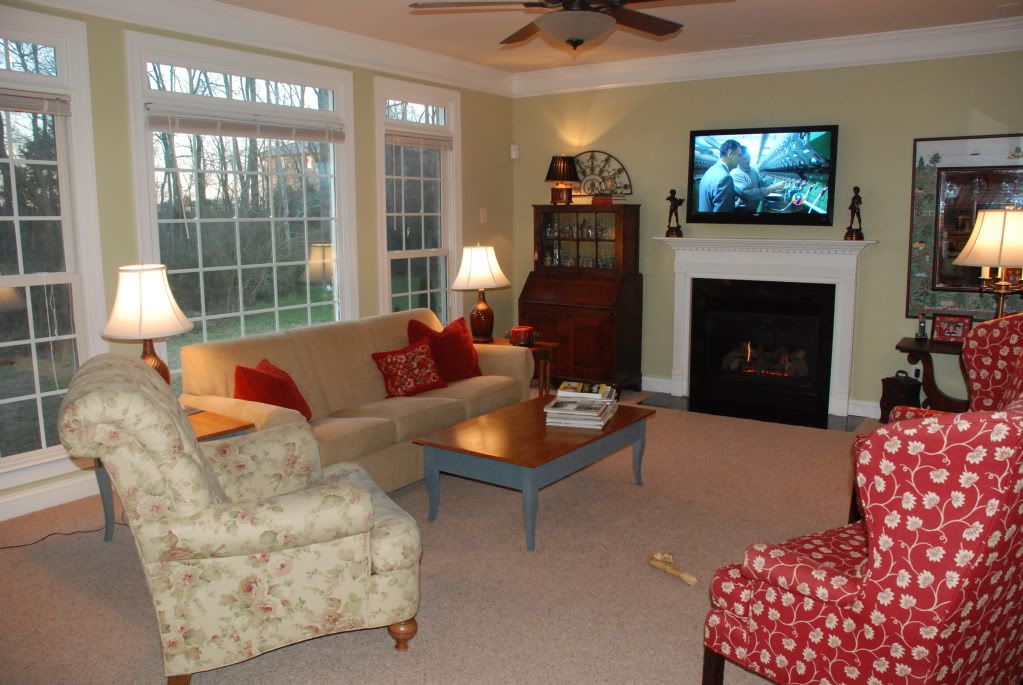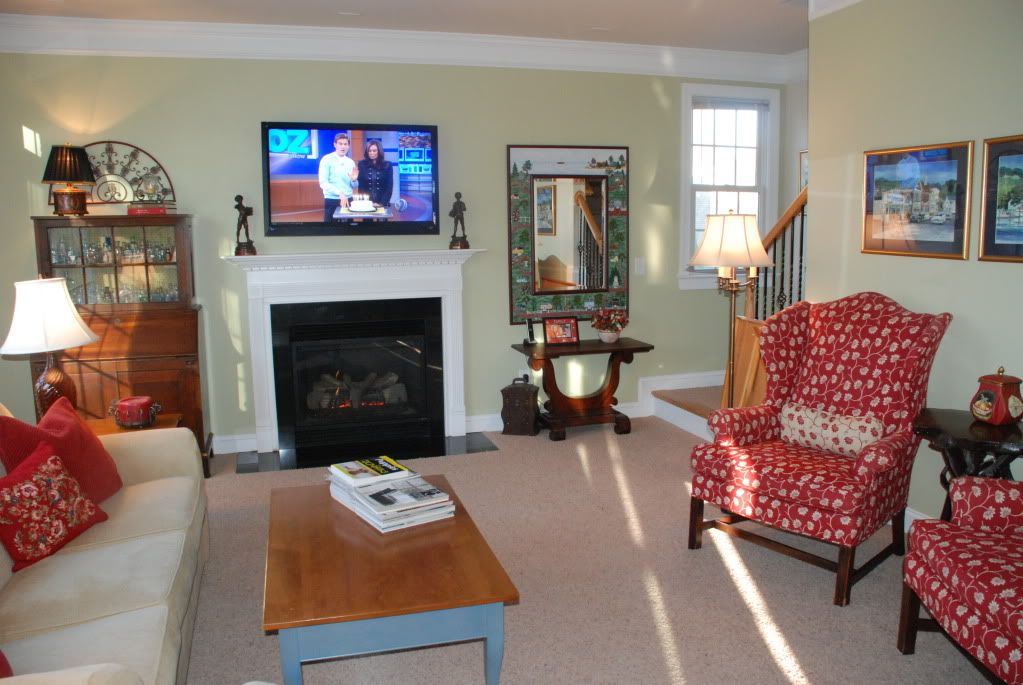 ---
Follow-Up Postings:
| | | |
| --- | --- | --- |
| RE: New house - need window treatment ideas | | |
What a beautiful home! Your windows made my heart skip a beat and I just showed the first picture to my DH - he isn't easily impressed but he loves that shot!

Oh, wait - you wanted window treatment ideas......

During the day, I'd want it as open as possible. It looks as if you have some kind of shade or mini blind now and I'd stick with something like that that disappears when open. But at night, large expanses of black glass can feel cold and uninviting, especially if you're in a climate that actually does get cold. The trick is finding a type of covering that can accomplish both. Certain types of roman shades fold up smaller than others, and that would be my choice. Not sure of the proper name, but I think of them as pencil pleat roman shades. If you picture the way a cellular shades draw up and stack tight, that's what I'm picturing, but of course, with fabric the stack height is going to be bigger. I'll get a picture for you in a bit. Nothing fussy, texture not pattern. Keep the focus on the view when open and in the room, not the window coverings, when closed.
---
| | | |
| --- | --- | --- |
| RE: New house - need window treatment ideas | | |
Can't think why you think you need anything over those wonderful windows. I would spend any money you might spend on draperies on putting some lighting in the woods to enhance your night time view.
Linda C
---
| | | |
| --- | --- | --- |
| RE: New house - need window treatment ideas | | |
We also have a wall of windows looking into the woods. Ours are bare. Even at night we think the black glass is nice. We live in Wisconsin! Do you want wt to actually keep out the cold, or for aesthetics?

I think that much in pleated or roman shades would not cozy things up at all, especially in neutrals. If anything at all, perhaps panels on the sides. Otherwise, drape the whole window wall and have them stack on the sides.

But I'd leave them just as they are. Beautiful. Simple. Glorious all on their own.
---
| | | |
| --- | --- | --- |
| RE: New house - need window treatment ideas | | |
Some of us like bare windows, others not. I can see curved soft roman shades on each of the windows. They would be installed at the same place as your blinds are.
I also like the option of panels stacked on the side, but with the potential to close them at night if you don't like the black glass look at night.
And if course, if you are a window treatment person, you can do the romans and then panels on the sides.
---
| | | |
| --- | --- | --- |
| RE: New house - need window treatment ideas | | |
wow.. so pretty!! I have always used curtain drapes and never had naked windows, but I'm so attracted to them in magazines.. as well as with your home! beautiful!

Anyway, I'm working on the same issues, and everyone here said "wait.. live in the house a while". We have been living here for 1 month (owned the house 10 months and worked on it always everyday). I really didn't want to "live with it" so, I bought valances.. thought they looked "okay" but decided after seeing so many houses without anything, to return them. So, they are without anything right now.. I may change my mind - but for now, I like it with nothing, and I'm going to take GWebber's advise.. live with it for a while!
---
| | | |
| --- | --- | --- |
| RE: New house - need window treatment ideas | | |
Your room is so pretty. I didn't want to cover my windows in my family room either, but when I finally got new furniture I felt like I needed some fabric as well.

I still have a lot of light coming through.

After
Before
---
| | | |
| --- | --- | --- |
| RE: New house - need window treatment ideas | | |
Lovely room!

I live on a large acreage so privacy is not an issue for me either and we lived with few WT for the first 10 years. However, I felt most comfortable at night with the outdoor lights on to mitigate the 'black hole' appearance and I could still see a lovely view of our yard and trees - especially magical in the snow. Those high power lights do cost in electricity tho and I only do that on one side of the house for a couple of windows that are not fully covered now. I have panels that can be pulled on the other windows.

I think Roman blinds are one of the nicest, simplest treatments for windows such as yours. Leave the clerestory windows bare and only hang the Roman blinds on the lower ones as the venetians are now.
---
| | | |
| --- | --- | --- |
| RE: New house - need window treatment ideas | | |
What a beautiful home! I'm sorry, I don't have suggestions for window treatments since I like to leave them bare unless privacy dictates otherwise.

Any chance you know the name of the paint color? I love it.

Apologies for jumping on to your thread to ask a question myself. You have a discerning eye so whatever you choose will no doubt look terrific. Enjoy your new home.
---
| | | |
| --- | --- | --- |
| RE: New house - need window treatment ideas | | |
We've been in our house for nearly 7 years and I still haven't decided on window treatments! In fact, after reading the previous posts I think I'll leave them bare. We have a private, lovely treehouse type of view and I've never been bothered by the darkness at night, probably because often there is some moonlight.
---
| | | |
| --- | --- | --- |
| RE: New house - need window treatment ideas | | |
Red what is your family room paint color? I am also interested in Karen's. Thanks!
---
| | | |
| --- | --- | --- |
| RE: New house - need window treatment ideas | | |
I would put up one long rod across all three windows(extending beyond the windows) and put up panels on each side that you could close if you needed to. The panels should just cover the side moulding so that most of the panel is on the wall and does not cover up your beautiful view.

You could also add panels between the windows if it still doesn't feel warm enough or doesn't look right.

We have those transom windows in our home and I used rods and panels.
---
| | | |
| --- | --- | --- |
| RE: New house - need window treatment ideas | | |
I'm no help at all because I love it just as it is! You have a gorgeous room -- wonderful taste and I love your windows!!
---
| | | |
| --- | --- | --- |
| RE: New house - need window treatment ideas | | |
I don't have any suggestions as far as an actual treatment goes but I love your room!

I'm in the middle of making my own valances with a heavier fabric too. My Mom is a seamstress Super Star and when I told her I was thinking about skipping the lining, her advise to me was don't. She said that in addition to the fact that it does protect the fabric from UV rays, it also provides a more polished look and helps them hang better. Just figured I'd pass that on since we're both in the same boat. :c)
---
| | | |
| --- | --- | --- |
| RE: New house - need window treatment ideas | | |
Thanks, everyone. We've been in the house for 7 months, and although I love the windows, it still feels unfinished to me. I like both the roman shade idea and the panel drapes. Maybe I'll put up some pictures of the kitchen windows and see what you think should be done with those.

For those who asked, the paint color is Benjamin Moore's Dried Parsley. I had it in my old house and was thrilled that it looked nice in this house as well.

Thanks again for your help!
---
| | | |
| --- | --- | --- |
| for Red_Lover | | |
Red_Lover,

I love your valances - they're gorgeous, and perfect for your windows. I would love those on my kitchen windows, I think. Thanks for sharing!!

Karen
---
| | | |
| --- | --- | --- |
| RE: New house - need window treatment ideas | | |
karen, what a lovely house! I think panels look great on windows like yours, but I can't tell if they would be in the way of your furniture or not. It looks like you can pull the sofa out a little or trade places with the chairs. Here's an idea for you:


I'm not showing a rod just for the sake of time in drawing, but also because you don't have a lot of room. I'm giving a link to my blog that shows a home without room for a rod and our solution. It actually saved a lot of money.
Here is a link that might be useful: idea for not using a rod
---
| | | |
| --- | --- | --- |
| RE: New house - need window treatment ideas | | |
Karen, thanks for the paint name. I find green paint to be particularly difficult to pick, though green is my favorite color. I'm going to pick up a Dried Parsley sample and try it out. Good luck finding just the right window treatments for your lovely space!
---
| | | |
| --- | --- | --- |
| RE: New house - need window treatment ideas | | |
That is such a beautiful room! I love the cabinet and the coffee table with the blue finish on it! Those are amazingly beautiful windows and during the day are breathtaking, I bet! I am not sure I can really add any suggestions for covering them at night - in our family room, I lived for a year and a half with nothing on the windows and at night it felt creepy - we have woods in the backyard as well but it felt creepy without anything covering the windows. We ended up getting Plantation Shutters - pricey but beautiful and I love them. During the day they let in as much light as you want - at night they completely close and you feel cozy inside without the blackness of the windows. I don't have a pic to post at the moment though. Sounds like you wouldn't want shutters though - it sounds like you want something minimal during daytime.
---
| | | |
| --- | --- | --- |
| RE: New house - need window treatment ideas | | |
Beautiful- and the way you have it laid out is cozy and inviting. I like the idea of drapes/curtains just at the outside edges of the windows, not blocking any light at all. I wouldn't even make them closeable- I'd just hang them on the wall.

Renee
---
Post a Follow-Up
Please Note: Only registered members are able to post messages to this forum.
If you are a member, please log in.
If you aren't yet a member, join now!
---
Return to the Home Decorating Forum
Information about Posting
You must be logged in to post a message. Once you are logged in, a posting window will appear at the bottom of the messages. If you are not a member, please register for an account.
Posting is a two-step process. Once you have composed your message, you will be taken to the preview page. You will then have a chance to review your post, make changes and upload photos.
After posting your message, you may need to refresh the forum page in order to see it.
Before posting copyrighted material, please read about Copyright and Fair Use.
We have a strict no-advertising policy!
If you would like to practice posting or uploading photos, please visit our Test forum.
If you need assistance, please Contact Us and we will be happy to help.

Learn more about in-text links on this page here