Return to the Home Decorating & Design Forum
|
Post a Follow-Up
---
| | | |
| --- | --- | --- |
| How should I decorate this big room with a vaulted ceiling? | | |
Posted by
SkylarKDM
(
My Page
) on
Mon, Feb 4, 13 at 9:35
I have no idea how to decorate the living room/dining room of my house. I am open to any suggestions! We have decided to put some money into painting and redecorating, but we'll keep most of the furniture (maybe replace the dining table though, or buy something for storage - there is a major lack of storage in here!).

It's an open concept house with a vaulted ceiling that raises to a point halfway along the shared wall for the living/dining room. It's a split entry, with the rail over the stairs just behind the long couch. The kitchen is just off of the dining room, but it is not an eat-in, so we eat at the dining room table. I love the light in the room, but have no idea how to decorate it.
Here is the living room. We used to have the long couch along the big wall, but recently switched things around. I'm thinking about putting a fireplace where the photo table is. As you can see, we haven't painted, and we have no artwork. The high ceiling throws us off - I have no idea what to do for paint and art arrangement.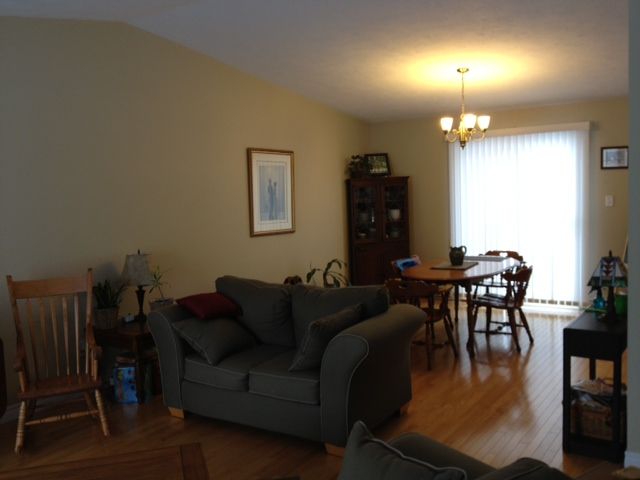 Here is the view from living room to dining room. I love the painting, but the frame needs to be changed, and it's all wrong in that location (we used to have the photo table under it). But what to do with that huge wall? I also think the chandelier is too high and I'd like a change. I like built-in benches for breakfast nooks, but not sure if that would look good in this space.
Here is another view of the dining room. We have 2 small kids and no playroom, so we have an easel and play kitchen along the back of the kitchen counter (a messy area right now!). There are sliding doors to the patio behind the vertical blinds.
Any thoughts? I'm open to any and all suggestions! I'm happy with the decorating in the other rooms of my house, but hate the layout and decor in here - there must be something that can be done!
Thanks!
---
Follow-Up Postings:
| | | |
| --- | --- | --- |
| RE: How should I decorate this big room with a vaulted ceiling? | | |
You have a great start. Your floors are very nice and I love the wall color and the open feeling.

Just off the top of my head:

- I would get some bigger rugs to help ground the room and define the two spaces. I would use some color but not anything too dark or wild.

-Look at sofa height buffets or bookshelves to put behind the sofa. You can use it for storage and put some nice decorative things on top.

-I would also think about a new light fixture for over the table. Something that has some more ooomph. be sure to hang it lower than the one you currently have.

-The wall above the rocker looks a little bare. Again, I would look for something that has some oomph.

Good luck and post update pictures. I'm sure you will get many great suggestions.
---
| | | |
| --- | --- | --- |
| RE: How should I decorate this big room with a vaulted ceiling? | | |
The rise in your ceiling is so gentle that I don't think it needs to be featured. If you are choosing a soft neutral color for your walls, I would paint the ceiling the same color, to make the shape of the walls seem more natural.

Your room needs better lighting almost everywhere, and I agree that you need a larger, lower chandelier over your table. I'd also recommend the following steps, before you make a big investment in furniture.

Move the big picture toward the corner cabinet, so that its center lines up with the center of the table, and hang it lower, so that the top of the frame lines up with the top of your china cabinet. If your corner cabinet is not a valuable antique, paint the inside to match the wall, which will lighten the look of that corner. Take everything off the top of it, too.

Try shifting your loveseat another foot away from the wall, and move the console that is now along the long wall to stand behind the loveseat, facing into the dining room. Use that wall like an art gallery, and cover it with pictures you like, and your children's drawings in inexpensive frames.

Add a more substantial end table between the loveseat and the wall, with a larger lamp. Try shifting your larger sofa forward into the room, at least a foot away from the railing, add a skinny table behind it, and a nice pair of floor lamps to stand behind the outer ends of the sofa.

Find a big, rectangular mirror and hang that vertically over your drop-leaf table in the living room. It will open that wall visually, break up the space, and reflect light from the window into the room, as well as add some sparkle and glow.

Consider replacing the two unrelated shelf cabinets in that end of the room with a pair of very tall, slender bookcases painted to match your walls, perhaps with a deep contrasting color inside the boxes. Move everything that's now in and on top of your two cases, as well as all the photos on the table, into those bookcases, to unclutter the surfaces, and pull all those things into some sort of order.

Then you'll have room to put a lamp on that table as well. Those changes should pull your nice things together better, and solve the light issue, and then you will know what else you want to do.
---
| | | |
| --- | --- | --- |
| RE: How should I decorate this big room with a vaulted ceiling? | | |
Thanks for the great suggestions! I will try rearranging things a bit to see how they look. Other suggestions welcome also - we need all the help we can get! ;)

Any thoughts about paint colours? Because it is an open concept house, the living/dining room walls extend into the kitchen, hallway, entryway upstairs and downstairs (split level). It's intimidating to choose a colour or two for that big of a space!

Any thoughts on what to do with the empty wall next to the dining room table? It seems so bare there, and there is a fair bit of space between the wall and the table. I wonder about some kind of low console, cabinet or something. I find that big wall intimidating, and don't know how to hang art on it to separate the two rooms without having a big empty space in the middle of the wall - or perhaps that's what's needed! A mirror in the living room is a good idea. If we put a fireplace where the drop-leaf photo table is, I could put a mirror above that. Not sure where that table will go though, as it's pretty wide and deep. The china cabinet, drop-leaf table and dark console along the wall are family antiques.

Thanks for all of the advice!
---
| | | |
| --- | --- | --- |
| RE: How should I decorate this big room with a vaulted ceiling? | | |
Is the corner cabinet in dr precious to you, heirloom or? If not, I might move it elsewhere in the house or sell it and look for a larger cabinet to go where the painting is now or even further down toward the lr a bit. I think the whole area could use something a little more massive and not pushed into a corner. You could then hang art on either or both sides of it, if you center it in the dining room, or to the right of it if you have the piece offset, closer to the living room. You have room for a fairly large/tall piece, but you don't want to dwarf your table, either. There are tons of reasonably priced cabinets on Craigslist, maybe you could find one you think will work.
---
| | | |
| --- | --- | --- |
| RE: How should I decorate this big room with a vaulted ceiling? | | |
The problem with vaulted ceilings is that they make rooms appear larger than they actually are and force your eye up to the highest point. Unlike, say a room with an all over 9' or 10' high ceiling - the ceiling there is just high but your eye doesn't have a line to follow it up thereby accentuating the height. Make sense?

One option is to pretend that the ceiling is only 8' high but use more substantial pieces along the wall and to try to ground the space better.

It was mentioned to use higher bookcases at the LR end, if that isn't possible declutter the top and put a substantial piece pottery (not a really tall one necessarily) that will help take up wall space.

The light on the side table is too short and looks lost against the wall - again go taller and with something with a larger base.

The chandelier over the table is too high. If I remember lights should be hung 36"+/- from the table.

The picture is hung too high. When you are sitting down you are probably looking up at the picture thereby accentuating the height of the wall. Bring it down so you are almost looking at it at the 2/3 top part of the picture.

A larger area rug in the living room would certainly help to ground the room. Why is the coffee table and rug looked like they are skewed? It looks odd.

Your DR table is lost in your space and when you do buy a new one buy something substantial - I don't mean big (although you definitely have the room for something bigger), just something that won't look like it is floating away.

I think bronwynsmom suggested tightening up the sitting area of the LR and I agree. It helped when we did that with our LR that has a vaulted ceiling.

Vaulted ceilings are nice, but they are hard to decorate around. I know from experience.
---
| | | |
| --- | --- | --- |
| RE: How should I decorate this big room with a vaulted ceiling? | | |
We have the vaulted ceiling thing too, after living in our house for many years and feeling like it was all a bit drab and not really knowing what to do, we recently painted the two end walls in benjamin moore rattan and I am really liking it and regretting not doing it sooner.
---
| | | |
| --- | --- | --- |
| RE: How should I decorate this big room with a vaulted ceiling? | | |
You've already got many great suggestions here. I will second the bookcases suggestion but look for ones with a door at the base. It's great to stash kid's games, puzzles, art supplies, etc. Mix in some woven baskets; guests won't know what you store there, but kids and clutter just seem to go hand in hand at the age that your little ones are; the trick is to find creative and attractive ways to store it while maintaining easy access for them to use. Definitely use a console table (or even a buffet table, again with doors/drawers) behind the sofa. Larger rugs will help to route electrical cords for lamps to wall outlets.
---
| | | |
| --- | --- | --- |
| RE: How should I decorate this big room with a vaulted ceiling? | | |
So many great ideas - thanks a lot!

Now to go shopping and look at paint chips.. :)
---
Post a Follow-Up
Please Note: Only registered members are able to post messages to this forum.
If you are a member, please log in.
If you aren't yet a member, join now!
---
Return to the Home Decorating & Design Forum
Information about Posting
You must be logged in to post a message. Once you are logged in, a posting window will appear at the bottom of the messages. If you are not a member, please register for an account.
Please review our Rules of Play before posting.
Posting is a two-step process. Once you have composed your message, you will be taken to the preview page. You will then have a chance to review your post, make changes and upload photos.
After posting your message, you may need to refresh the forum page in order to see it.
Before posting copyrighted material, please read about Copyright and Fair Use.
We have a strict no-advertising policy!
If you would like to practice posting or uploading photos, please visit our Test forum.
If you need assistance, please Contact Us and we will be happy to help.

Learn more about in-text links on this page here