Return to the Home Decorating & Design Forum
|
Post a Follow-Up
---
| | | |
| --- | --- | --- |
| Using the dining room | | |
Posted by
lovetorenovate
(
My Page
) on
Tue, Feb 4, 14 at 9:30
I'm a big fan of the not so big house... although my house is pretty large. I like to use all the space that I have - and consistently find that our dining room is under utilized. I have a blended family of five kids (ages 7-15) - and we can seat 7 chairs at the kitchen island so we tend to have all our meals there - but I really would prefer sitting at a real table where we can face each other - the island is an L shape. The dining room table is used for sorting mail (we do have another room where we can sort mail - in the office which is just across from the entry).

Any ideas on how to use this room more often? I put some more casual chairs in there - but perhaps it's still too formal. Maybe I just need to make a concerted effort to use the space for dinners. Kids do homework at the kitchen island. The dining room is separated from the kitchen by the pantry and mudroom.

I'll try to post a photo this afternoon when I'm back at home.

Anyone else have this issue? Any recommendations?
---
Follow-Up Postings:
| | | |
| --- | --- | --- |
| RE: Using the dining room | | |
When we first moved into our house, our kitchen was tiny, so we had to do EVERYTHING in the dining room -- homework, crafts, eat all meals, etc. Several years later, we renovated and added onto the kitchen, so then we had an island w/ stools plus a kitchen table w/ chairs and banquette. The dining room sat empty and unused except for maybe 3 times a year. It was never a large, formal dining room, but our house isn't very big and it bothered me to have an unused room. We turned it into a library/dining room and now we use it every day (or at least I do). We have a round dining table, an upholstered settee, 2 "dining" chairs, a leather club chair (all arranged more or less around the table), two tall bookcases, and a bar cabinet in the room. The kids don't really use it much, although last year when DS had a weekly calculus tutor, they met there. I sit there every morning with my coffee and ipad, checking email. I often sit in there to read the mail or flip through the paper or magazines while dinner is cooking. We still rarely eat in there but it is one of my favorite rooms in the house. The bookcases are full of books as well as framed photos and souvenirs from trips, so it's a very personalized room.

I wonder if no one eats in your dining room because it seems far away from the kitchen? Could the kids do homework in the DR instead of the kitchen if it was set up the right way?

We are actually in the process of looking at alternate seating for our dining/library room for a number of reasons. This is the sort of chair I want to get...link below. Comfy seating is key to our room.
Here is a link that might be useful: chair
---
| | | |
| --- | --- | --- |
| RE: Using the dining room | | |
It'd be so nice to see a return to families sitting down at a table for dinner together. I think your goal and intention are admirable.

It's as simple as making a chore chart, and a different kid each evening has to set the table for dinner. People will eat where the settings are. If it's easier to serve the food in the kitchen, line the plates up on the island, put the food on them, and have each person carry their food into the dining room. Then have each "clear their place" when they are through eating.
This post was edited by Tibbrix on Tue, Feb 4, 14 at 10:35
---
| | | |
| --- | --- | --- |
| RE: Using the dining room | | |
If your kids are still young, I would say use the DR for dinner during the week and any meals you are eating together on weekends. I think the island is fine for breakfast during the week and lunch on weekends or if only some are home for dinner during the week. And once the teenage years hit, you're lucky to sit down to a meal all together period..as teens are always on the go and it seems they are just home to sleep!
---
| | | |
| --- | --- | --- |
| RE: Using the dining room | | |
If you want to use it for dining, then the solution is to use it. Figure out why it isn't being used...if it's just convenience then that's a matter of effort. But if it's lighting, uncomfortable chairs, too far from the kitchen, or if you don't want to have daily dining "mess it up", then that's something else.

I find it interesting that the mail sorting is done there...again people flow like water to the easiest spots...perhaps it's a location thing, or is it the office isn't conducive to mail sorting? Maybe you need to create a mail station elsewhere...in the mudroom?

It's also a function of what functions do your family need that they aren't getting in the rest of the house? I'm a big believer in making the rooms function for the family regardless of labels. For example, my GF had this unused DR and LR. Everyone lived in the eat-in kitchen and family room. She has a huge family for holidays (30-50 people) so I finally convinced her to swap her DR and LR....the DR is now a "reading parlor" and is so cozy and wonderful that people spend time there. Her LR is now the DR with a huge table in the middle to accommodate the holiday dinners and, as it's less used, can remain more formal with less wear and tear than the other rooms.

So skip the labels...make the rooms work for your needs.
---
| | | |
| --- | --- | --- |
| RE: Using the dining room | | |
Just start setting the dining table each night for dinner. If they want to eat they have to come into the dining room. We eat dinner in the dining room 6 out of 7 nights. We are not formal people. Our island is used for breakfast and lunches sometimes. Sometimes someone takes their breakfast or lunch into the dining room. While it can be very easy to just serve dinner on the island I make an effort to service it in the dining room almost every night.
This post was edited by debrak2008 on Tue, Feb 4, 14 at 11:12
---
| | | |
| --- | --- | --- |
| RE: Using the dining room | | |
Figure out why you don't use it. Temperature, lighting, seating. Solve those first.

Then just set the table there.

As for mail sorting, it's a chore I think we all resent. Do make sure to get yourself off of any mailing lists you can. Automate your bills. Read magazines on line. Reduce the mail stream. I'd also add a trash bin somewhere so that the initial sort takes place on the way from the mailbox into the house. Lots of mail we know immediately to be trash. Do not even let it in the front door.
---
| | | |
| --- | --- | --- |
| RE: Using the dining room | | |
Here's an excellent pin board from Pinterest-- featuring inspiration photos of dining room/library multi-use rooms ....... always helpful to see all of the different décor styles and ideas! :)
Here is a link that might be useful: Dining room - library combo room - Pinterest
---
| | | |
| --- | --- | --- |
| RE: Using the dining room | | |
IMO the degree of formality of the room should not play into whether it is used however using this room can be a good learning experience for your children. It can also be made fun for them without much increased effort by the parents. Perhaps if you start using the room for one dinner a week and make it special. Later, if you find it works for your family, you will want to use it more often.

Have children help with setting the table - if cutlery, etc. are closer to the kitchen these items can be placed on a tray and even a young child can carry everything to the DR table to set it. You likely will want to use a tablecloth or placemats to protect your table and make it pretty. Also one child could choose something to use as a centerpiece for that meal. You might have to make a list of choices for them from items you have. Doesn't mean you have to buy flowers but using a plant or candles, etc. may not be something you do at the kitchen island so it will be more decorative.

Set the table with wine glasses for all, parents may have wine and children juice or flavored sparkling water.

The menu does not need to be labor intensive but thinking about different ways of serving foods can make it more special. Serving buffet style in the kitchen as suggested is a good idea.

Parents can also, ahead of time, think of subjects to direct the conversation so the meal can be a learning experience for future social functions. Avoid discussions that may be uncomfortable for children.

Because my DH was a mil officer we often took the kids to the Officers' Mess for dinner where our expectations were that they would be more careful of their behavior and that environment encouraged that. Children can learn social skills at an early age when they are expected to. I see many people of all ages and walks of life who do not know the proper way to use cutlery nor how to behave in polite society. While I'm not a snob I think there are some habits that could be important in the future when young adults need to interact with people who will judge them on certain social skills. Teaching children these skills at an early age may well benefit them in the future.
---
| | | |
| --- | --- | --- |
| RE: Using the dining room | | |
Without a doubt, I am the most casual living person that I know when it comes to function. A dining room NEEDS to be close to the kitchen! Like open to the kitchen for me. If I have to carry food across a hall and thru other spaces, I will ONLY do it for very special occasions - not everyday life. That is just me. I also like a mult-purpose DR - mine is more like an extention of the FR on one side, kitchen on the other.

Teacats you always post the most interesting Pinterest sites. I always get in trouble when I start following someone's Pinterest :). I just had to click on the 3rd pic, 2nd row to check out book shelving flanking a window, which took me to Mod Vintage Life, where I had to scroll all the way to the bottom to a scrumptious looking Strawberry Cream Cake! Which of course took me to The Dedicated House blog!! And I was looking at SHELVING UNITS! Happens to me every time - I always make my way to the FOOD!

Just in case everyone doesn't follow the maize to recipes like I do - here it is! Sounds wonderful for Valentines Day!

Oops! We were talking about dining rooms....sorry!!
Here is a link that might be useful: The Dedicated House - Strawberry Cake
---
| | | |
| --- | --- | --- |
| RE: Using the dining room | | |
In our last house, the DR was, like most, relegated to grown up dinner parties, holidays, and meetings (volunteer stuff). It was equidistant to food prep.

The reasons we ate mostly in the kitchen:
- DR table was too large for 5; better for 10 or 12.
- DR had french doors to terrace and was sometime chilly
- White upholstery on the chairs
- Delicate aubusson pale rug on the floor
- I like the look of bare wood, so the (Stickley or Baker I don't recall) table was at risk.

In our new house, the DR has wonderful views and is my favorite room in the house. We have dinner there most nights ( I do not encourage its use for homework or crafts, both of which are often not cleaned up by dinner time). A few notes:

- we have casual furniture (this house is country) and removable chair pads
- no rug; a slate floor!
- nice lighting, dimmered
- table for 8, so not too huge

Temperature is also important. At the extremes, our DR can feel a few degrees too cool, especially if the room has been closed off all day (it has doors to the kitchen). DH makes a fire once in a while, which at least creates the illusion of warmth! Two walls are almost all exterior window, the other two are interior windows, so a polar vortex can bring a chill! A few days this year I had to allow the dreaded space heater to be used.

A friend of mine was trying to get her kids to use the DR more, and found the solution was to store the Girl Scout cookies there!
---
| | | |
| --- | --- | --- |
| RE: Using the dining room | | |
We have 3 eating areas and 3 living areas, so I just accept that some rooms will not be used all the time! I like having my DR always looking visitor-ready. The DR table is sometimes used for homework that needs room for spreading out or for large Lego projects ... as long as I'm not hosting a social or volunteer group that week. I guess I have a 4th eating and living area if you count the outside patio, which in So. CA is usable for a large part of the year, but we don't really hang out there unless we have guests.

I agree about ignoring room labels. We use the formal living room as our family room and vice versa. This means that DH can watch TV and I don't have to listen to it while I'm in the kitchen!
---
| | | |
| --- | --- | --- |
| RE: Using the dining room | | |
I have never been a fan of eating at an island or peninsula due to the fact that it is not conducive to conversation. We have a large kitchen table and always ate weekday meals there when the children were home. We use, and always have, our DR for weekends. Now that's it's just the 2 of us we eat nightly meals there with candles and cloth napkins.

The children were always allowed to use the DR table for school projects. I have protective pads that I used and then I'd cover it with a tablecloth.

I grew up in a home where too many things were saved for "special occasions". Nonsense! Use it! Enjoy it. Who is more special than your family?

My recommendation would be to simply try it. Encourage it and see how it works. You might be happily surprised!
---
| | | |
| --- | --- | --- |
| RE: Using the dining room | | |
Thanks for all the tips. Here are some photos. I'm open to suggestions. I think the dining room table may be part of the problem - it's very formal. I love the double pedestal style but perhaps something more rustic and casual would fit our family better. I had a different top on it for a while - but we didn't use it more so perhaps it's just a habit to fix. The bench/sofa type seating is a diy slipcover. I wanted something easily washable with my messy kids.
in this picture you can see the kitchen island in the distance (and my youngest son leaping around in the background):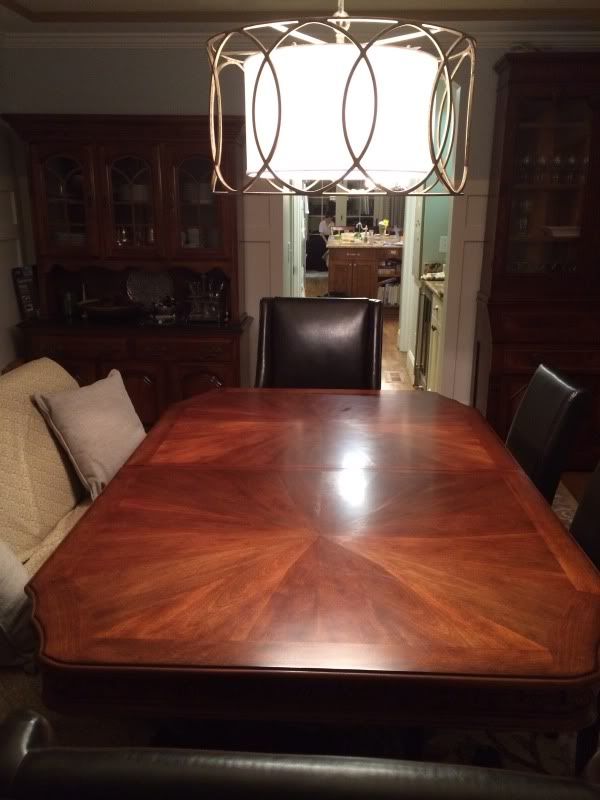 ---
| | | |
| --- | --- | --- |
| RE: Using the dining room | | |
tuesday, I'm with you. :)

I have a small house, with an L-shaped open arrangement, with the kitchen separated from dining by a peninsula, which is then separated by a pony wall from the living room. The dining room is in the angle. It's where I hang out, where I'm typing on my laptop this minute with a cat purring loudly on my lap. If someone other than my daughter is dining with me, we eat at the table. Otherwise, it's the peninsula or the coffee table. It's casual every day of the week at my house.

My dining room is bright, light and airy. I read here, do craft projects, pay bills. It can be a bit cluttered, but it's easy to clear the deck if I need to.

I can't see the TV screen from here, but if I have a game on, I can hear it.
---
| | | |
| --- | --- | --- |
| RE: Using the dining room | | |
I grew up always having family meals in our dining room and I was one of a family of eleven. I never thought about an alternative until I got involved here on GW.

These past 31 years of marriage, we've eaten in our dining room for pretty much every dinner (except Friday & Saturday movie/DVD nights with pizza or burgers) and every weekend breakfast, unless it's warm enough to eat outside.

I do love seeing dining rooms with shelves full of books, but as Mtnrdrdeux mentioned, when the kids were home still, I found that using the table for projects caused a lot of complaints from them when it was time to clear it for dinner. And, they liked to leave stacks for their stuff along the walls making for tripping hazards everywhere! Instead, I encouraged them to do their homework at the eating bar, at their desks in their rooms or in the family room.

Our table is 9 1/2 feet long, which is especially nice for our big holiday dinners here. It's a heavy mahogany one with carved edges. There is a large Oriental rug underneath, an antique sideboard and chest of drawers. So I would say the room definitely leans towards formal, but that has never, ever put a damper on our relaxed, fun meals we have in there (LOL!). Heck, my kids have grown up with candles lit for every dinner because I like them. We eat in our pjs at breakfasts; jeans, shorts or whatever for dinners. In my opinion, the tone of family meals is set by the family, not the formality or informality of the room. Since we only had our two kids at most meals, though, we just all sat/sit at one end of the table.

DD just mentioned dining rooms the other day, as she doesn't have one in her campus apartment and misses it. She told me that she'll always have these wonderful memories of our family meals together every night. That made me so happy!

So, my suggestion is to just make family meals happen in there. Hopefully your kids will have fond memories of them, too.
Lynn
---
| | | |
| --- | --- | --- |
| RE: Using the dining room | | |
LTR….here are a few things that jumped out at me. Maybe some light, fun artwork above moulding. Brighter, more interesting pillows on slipcovered piece, or a quilt thrown over the back for interest & texture. Get some nice heavier, washable mats which you can even leave on the table. I got some about 5 years ago in Napa area & they have lasted really well & we use them daily.

What do you have in your china cabinet? Could it house stuff you'd use for meals in that room to make it easy to set the table, etc. Dishes could be carried individually to kitchen or on a tray to go in dishwasher.

I have a friend who has a Thomasville dr set which she had a guy come in & "age" for her….literally created dents, etc in the finish with different items, even chains!! It did make the table look much more casual & I think they use it more when her family visits; otherwise, it's just the two of them eating in the kitchen or tv room. That seems a little drastic, though. I think you could make it more user friendly pretty easily, and agree with other posters….just use it!
---
| | | |
| --- | --- | --- |
| RE: Using the dining room | | |
Hmm. Your family sounds fun, your son looks fun, maybe you are not a dining room type of family. Your dining room does seem situated to be for more formal occasions. Have you thought about ditching the kitchen island for a kitchen table?
Then you could reconfigure the dining room for some other purpose perhaps.
If you really want people to start hanging out in the dining room the best way to do it would be to start hanging out in there yourself. Make a cup of tea or pour a glass of wine, its up to you, pick up a book, magazine, knitting, and plop down in the dining room. Where mom goes, kids follow.
---
| | | |
| --- | --- | --- |
| RE: Using the dining room | | |
That certainly looks like comfy seating, the size is not too big for 7, the lighting is good and generally seems very pleasant. As for artwork/decor suggestions that others have made, I doubt that would impact the kids' usage.

Can they put a plate and a glass of milk down on that table? If they can't, they will go where they can. To me, that is your issue -- the surface does not appear to be very forgiving, compared to what Id imagine of the island.

Also is the height and slope of the banquette good for the size of your kids and the table? That can be tricky.

I love the woodwork!
---
| | | |
| --- | --- | --- |
| RE: Using the dining room | | |
Get a table pad and some cloths so the table can be used but protected....
This post was edited by AnnieDeighnaugh on Wed, Feb 5, 14 at 0:02
---
| | | |
| --- | --- | --- |
| RE: Using the dining room | | |
I would suspect eating in the dining room is more work. What I know is where the food is people eat. I am not a fan of homes with kitchen eating and a dining room. I see no reason to furnish both or have that much SPACE dedicated to eating. Sure once or twice a year a FORMAL dining room would be swank--but that is a very $$$$$ twice a year then. As our kids move out I find myself more and more tempted to set the pony wall eat in kitchen. Our table sits a foot or two away...I have resisted. Sitting down at a table is important not only for an entire family but for a couple. You have a house full. SET THE TABLE. It is worth the extra work.
---
| | | |
| --- | --- | --- |
| RE: Using the dining room | | |
I think that maybe taking out some furniture and adding more lighting like some lamps would be a good start. Its a lovely room but looks like its really full and maybe if there was more space to move around it might be more welcoming to invite the family to use it. Maybe moving out the shorter china cabinet?

Also, if you really want to use it, then start serving meals in there and making a habit of it. I think that would be a great start.
---
| | | |
| --- | --- | --- |
| RE: Using the dining room | | |
As others have said, in order to use it, you just need to make the decision to have meals in there and then start doing it.
I agree wholeheartedly with putting down some placemats that can stay on the table and be used everyday. Get several sets and then rotate them through the laundry like you do your sheets and towels.
Next, in order to facilitate developing the habit of eating in the DR, take away one stool from the island and put it in the basement or attic or somewhere very inconvenient to drag back to the island. Now the island is set up for bkfast, snacks and someone who just wants to hang out, but it is no longer family dining space.
I too am firmly of the school that it is important for families to eat at a table together every day. Doesn't matter where that table is, but to sit down without TV, and in addition to eating it is time to discuss the day, the weather, politics, religion, and who is going to the dance with who. You're halfway there in that your family sits together every night. But I bet when you start sitting at a table conversation will flow better and you'll be more likely to linger over meals a bit.

PS, check out the boutis type placemats, they wash and wear like iron and protect the table
Here is a link that might be useful: Boutis_placemats
---
| | | |
| --- | --- | --- |
| RE: Using the dining room | | |
Your dining room is not overly formal, and I don't see that as a bar to children or families eating there. "Formality" is often a mom's excuse not to use a room because they don't want to mess it up!

We eat in our DR often. We have a stone floor, which makes cleaning easy, and I use thick white cotton tablecloths over the table for family dinners. When there are just two or three of us, I take at least one leaf out and we eat at one end of the table. We fill our plates in the kitchen and take them to the table, leaving the sideboard for a pitcher of water, wine (usually, lol), and a basket of rolls if we have them. We have a penninsula bar in the kitchen where no one has ever eaten, to my recollection, and a kitchen table that often has so many newspapers on it that it is EASIER to use the dining room than collect them all (and hear the protests, "I want to save that section". Or article, or ad, etc). So I guess you could say that the New York Times is largely responsible for our day to day use of the dining room, lol!

As for the OP, I think you just need to start using it. People do what is habitual...
---
| | | |
| --- | --- | --- |
| RE: Using the dining room | | |
Put a laptop on the table....
---
| | | |
| --- | --- | --- |
| RE: Using the dining room | | |
We eat in our dr almost every night. This allows our kids to leave their schoolwork and stuff at our kitchen table. Also when my mil was a sandy refugee here while her place was being repaired she could leave her bills etc there. I'm not usually so laid back about things like a messy kitchen table but I've gotten over it bc it is practical for now. We have a small island with two stools, great for coffee or a quick snack. I love our dr and so every night we light candles, pray before the meal, and enjoy good conversation. I use my silver because, why not?
---
| | | |
| --- | --- | --- |
| RE: Using the dining room | | |
| | | |
| --- | --- | --- |
| RE: Using the dining room | | |
You have plenty of great advice on this thread already, but I think a few of the suggestions are key.

- Remove paperwork & mail sorting from DR (which may entail changing the mail sorting routine or office environment)

- Make sure your table is friendly and usable for your family (which may entail getting a less formal, less delicate table or table top or using a pad & tablecloth)

- get the kids to set the DR table as part of meal prep

- if any of them are at a 'difficult stage' in terms of table conversation (moody teenagers, for example...) try going around with 'what was the highlight of your day?' Sometimes I think they also need to acknowledge the 'low point of the day'. Also try Table Topics; we've used it to great effect in the past - it can be quite fun and kids of all ages can participate.
---
| | | |
| --- | --- | --- |
| RE: Using the dining room | | |
My kids love dinner games and table topics. we have one fifteen year old (just turned) and suddenly he makes sarcastic comments about everything his dad and I say, but aside from that new development, they really are fun kids and enjoy having dinner together every evening. We rarely go out to eat, I guess that's what happens with a family of 7 - it's just not worth the trouble to eat out.

I love all the suggestions - and am so thankful for each of you taking the time to respond. I want some colorful easy care pillows in there, new placemats and napkins, and some artwork of our family vacations. I think that'll lend the right atmosphere. And it's true, I need to use that room too (move my laptop there - have coffee in there). And it's probably just laziness that has kept me from using the space more - and the "delicate" table top. I'll update you guys in a month with my progress - that should keep me accountable.
---
| | | |
| --- | --- | --- |
| RE: Using the dining room | | |
You should have a table pad and washable tablecloths. Then you need not worry about ruining your lovely table. My table is covered all the time because the top is unsightly and we need to re veneer it. I only buy inexpensive linen tablecloths on ebay. I throw them in the machine and I don't iron them.
Also my kids would never have lasted sitting together on a bench. I think individual chairs are better and more comfortable.
---
| | | |
| --- | --- | --- |
| RE: Using the dining room | | |
That last is probably half of it--at least. How can a room be THE dining room if eating in there is rather odd? Once family are used to it (via all the suggestions to just set it and serve there), it will become the dining room. For real.

The furniture should, of course, be up to family living, so everyone can relax. Dropping a fork won't gouge a trophy dining table, touching it won't leave visible marks, food dropped on the seats won't stain, etc. I don't know how many immaculate dining rooms I've seen that almost seemed designed to tattle with little fingerprints that the children had disobeyed and played in there, or even just run through.
---
| | | |
| --- | --- | --- |
| RE: Using the dining room | | |
Well, I have a formal dining room. I love to eat dinner with the nice china. I taught my daughter now 8 how to set the table. She then gets to "decorate" with flowers (sometimes fallen leaves!), candles, whatever she likes. We then enjoy dinners.
I also have a dinning set in the kitchen but our dinners in the DR are more fun and we tend to linger more. There is something special about eating in a pretty and formal setting- even when you are wearing pajamas.

Also, we have a 12ft table. We are 5! It is great to have room and be able to face each other.
---
Post a Follow-Up
Please Note: Only registered members are able to post messages to this forum.
If you are a member, please log in.
If you aren't yet a member, join now!
---
Return to the Home Decorating & Design Forum
Information about Posting
You must be logged in to post a message. Once you are logged in, a posting window will appear at the bottom of the messages. If you are not a member, please register for an account.
Please review our Rules of Play before posting.
Posting is a two-step process. Once you have composed your message, you will be taken to the preview page. You will then have a chance to review your post, make changes and upload photos.
After posting your message, you may need to refresh the forum page in order to see it.
Before posting copyrighted material, please read about Copyright and Fair Use.
We have a strict no-advertising policy!
If you would like to practice posting or uploading photos, please visit our Test forum.
If you need assistance, please Contact Us and we will be happy to help.

Learn more about in-text links on this page here