Return to the Home Decorating Forum
|
Post a Follow-Up
---
| | | |
| --- | --- | --- |
| I'd like to paint my son's room...what color on which walls? | | |
Posted by
grullablue
(
My Page
) on
Fri, Feb 11, 11 at 9:22
I hope this is ok to post here...I tried the paint forum...but someone suggested I try here for more input!

We would like to do an overhaul for my 9 year old son's room. He's had some ideas....but I didn't want to do something that he would outgrow in a year....so we finally came to an agreement. We'll use the two colors of his favorite NFL team, of which he has been a diehard fan for years already! As far as decorations to match, he already has more than he knows what to do with, that's for sure...
His bedroom (about 12x12) is located in a corner of our house, so there are two windows... at first I had considered alternating walls of each color...then I had considered having the two walls with windows one color, and the other two another. Or, just having all the walls one color...and perhaps painting some of the furniture in there (shelves, etc) the other color. What would you suggest? It's sure hard for me to picture without seeing it....and I just don't know how much would be TOO much, you know?

(We are in WI, and are Packer fans....so green and gold are the colors...)

I saw that Home Depot/Glidden Paints sells NFL colors...so I'm going to go check that out! Although a friend of mine, who's painted two houses, and repainted, suggested I stay away from Glidden and go with Behr (or Beihr?) This is a project I plan to start mid-late February...he's having a birthday party, then I'll start making a mess after that's over! I've been thinking further...and now considered too just painting all of the walls gold, with one green accent wall (the wall with the two doors, the entry and closet) I have so many options on where to use these two colors, or just go with one... but just not sure which one I want to go with.

I would really love some opinions....we know we're doing a Green Bay Packer theme. And he's very excited at the thought of painting his room.... I'm just not sure what to do. All one color? Alternating colors on walls? One accent wall? Hmmm...

I found a couple of lockers on Craigslist....4' tall, smaller than your typical school locker, but perfect bedroom size...and perfect for the theme...for cheap, and he loves them. We'll just need to paint them to match!

Thanks for any input!
Angie
---
Follow-Up Postings:
| | | |
| --- | --- | --- |
| RE: I'd like to paint my son's room...what color on which walls? | | |
First, I think that alternating wall colors would be too much w/ those very strong colors. Second, have you thought of a neutral color and then make the accents the green/gold? You can buy wall paper borders that are the colors/emblems of the faves. MY SIL has this in her basement rec room. Neutral walls and a border at chair rail height. It looks fun w/out being overwhelming.

If you still decide to paint the two colors, I like the idea of the three gold walls and the one green wall, the one w/ the doors on it. I can visualize that--except that the green color should be black..... Just kidding GB won fair and square.

I do think that Behr is a better paint than Glidden and most paint sellers can match just about anything. Love the idea of the lockers painted in the green.
---
| | | |
| --- | --- | --- |
| RE: I'd like to paint my son's room...what color on which walls? | | |
Yes -- another vote for the three walls in a gold -- and the third wall (and accessories) in green. Keep the big things simple -- and then add the fun through accessories!

Do consider adding lots of large cork bulletin boards to the walls -- try Target's office supply section. Easy to change out "stuff", fan items and photos.
---
| | | |
| --- | --- | --- |
| RE: I'd like to paint my son's room...what color on which walls? | | |
Well I bet your son is very happy with the outcome of the Superbowl game. I know we are. My hubby wasn't born in WI, but has been a die hard Packer fan since he was six. He even owns a little tiny piece of them. I can't see your son growing out of a Packer themed room. When we moved in to our new home over seven years ago my hubby was 50 and he insisted on the library be in Packer green. Made me take one of his hats with me to buy the paint.


Here's a close up of the photo of my hubby bowing and kissing the parking lot in front of Lambeau field.


Our son has an almost life size poster of Favre on his door all through his teen years. I didn't realize he'd kept it since he took it down before he headed to Iraq shortly before we moved from his childhood home, but found it in his closet here (he's married and a Daddy now) and there it was.

Okay now on to your questions of where to paint what color. One idea you didn't mention was to paint the lower half one color and the upper half the other color. That's what I'd do an either add a Packer boarder, chair rail or a mini shelf (with one by two) adding just enough room to put those big headed players that you can see in my hubby's collection.
Here is a link that might be useful: Green Bay Packer kids room
---
| | | |
| --- | --- | --- |
| RE: I'd like to paint my son's room...what color on which walls? | | |
Thank you so much for the input! On the borders.... we have really had a heck of a time with borders in the past...our walls are textured...and we sanded the texture down where the border would be...and still never got them to stay up. They would for awhile, but always eventually came down. (that was in his "Shrek" days!) He SO has his heart set on green and gold...the room is a light blue now. I have an image I'd made a few weeks ago to help me visualize (and to share, to get some ideas..) but i didn't have time to post it this morning before work, so I'll do it now. Nothing fancy...but I am glad it seems the votes so far are for the one accent wall, because I think that's the way I was leaning. I hadn't even considered the thought of a chair rail, with one color below, one above....I like the concept...but I'm afraid that may be a bit too much? I do like the idea though.

Keep in mind...when you see the pic, the blue on his "current" room is nowhere near what it really is. In fact, if I can include links here, I could share a link to a Facebook photo album that shows pictures of his room currently. It's just plain blue walls with a variety of stuff in there.

The bulletin boards! Great idea! He's got a set of mini pennants for each team, he liked to set them up, who's playing who each week...that would be a nice way to do it too! I've got ideas on other decorating ideas too...using PVC to make a goal post....maybe getting a used headboard (or having hubby make one) that looks like a scoreboard...

Just Gottabe, you have a nice collection of Packer stuff! Yes, we sure enjoyed the outcome of the game, was a nail biter though, that's for sure. I just ordered him a Packer Mr. Potato Head...have you seen those? They are absolutely ADORABLE! Definite collector item for the packer fan! Saw it on Amazon!

Glad to know someone else thinks Behr may be the way to go... my friend said the Glidden was watery, runny...but didn't go on smooth.

See....for years, I've wanted to do something like this for his room...while he's young enough to really get excited about it. I'm loving seeing him so excited. He's telling everyone...even told his karate instructor about it last week...DURING class...ha ha ha. Give him a few years, and it's not going to be that big of a deal, I'm sure...but I just wanted to do something like this while he's still at the age to get so crazy excited about it, ya know? So within reason, I'm taking his input too...

Anyway...here's that dumb little drawing I made with the paint program...just to help me visualize it. The bed will be moved because when we do this, we're also going with a different bed. He has one that kinda has to be in the corner now...it has a slide coming off it, and a "fort" underneath and out, and we're just going with a regular bed that can be positioned as I pictured.

And if you can see it...I also included a link to an album that has a few pics of his current bedroom.

Angie

Here is a link that might be useful: link to bedroom pics
---
| | | |
| --- | --- | --- |
| RE: I'd like to paint my son's room...what color on which walls? | | |
Oh I like Justgottabe's green--it's very pretty and not as bright as I was imagining. You can always move the bed around, I kind of like it where it is, as it looks like it gives him a bit more free space on the floor.
---
| | | |
| --- | --- | --- |
| RE: I'd like to paint my son's room...what color on which walls? | | |
I can completely see dark green walls - maybe one accent wall or two facing each other - with a much subtler / paler version of the green on the other walls (not a pastel of course, but more of a pale gray version of the green.) Then use the bright gold color for accents like shelves and the lockers (which sound terrific), pillows, etc. Are you handy with a sewing machine? You could consider the pale gray/green on all the walls, and make deep green drapes with gold trim. I guess I'd be reluctant to paint the walls too crazy... but then again it's just paint and you can always paint over it.

I think it's a great idea to get your son involved in decorating his room! My DS is 12 and loves his room... we hung his old bass guitar on the wall (looks cool!) and let him pick posters, etc. So it feels like home to him.

Some other ideas for your son's room:
We have this ball claw in DS' room (he has a ball signed by Urlacher) - you can find at Container Store or on Amazon:

And he picked out some cool hooks for hanging his baseball hats, and shelves for his trophies.
We swapped out all his drawer pulls with pulls that look like balls: baseball, football, golf, etc. (And one chili pepper... but that's another story!) We did this years ago and I keep offering to change them to something else, but he still likes them.
Have fun! I love working on stuff like this with the kids.
---
| | | |
| --- | --- | --- |
| RE: I'd like to paint my son's room...what color on which walls? | | |
I love the idea of three golds and 1 green but I think I would like the green on the bed wall or the wall opposite the doorway.

We used the NFL colors for a Dallas room for my son. My husband did it all and he did the blue on the bottom and stripes in the middle with grey on top. And V-ed the strips down on an accent wall and painted a big stair. It was a lot of work and I know it is not what you are looking for but I just thought I would show you for more inspiration. And it gives you an idea of how one color on top and one on bottom looks. Unfortunately I don't seem to have a picture of the star but you can see on the left side of this photo how the stripes start to go down.
---
| | | |
| --- | --- | --- |
| RE: I'd like to paint my son's room...what color on which walls? | | |
Oh I have so got to get the Packer potato head. That sounds adorable! Thanks. We have more than shown of Packer Collectibles, but that's all I felt looked good in the bookcases. I wanted to leave some room for books. Also have some framed items not on the walls.
Since you'll be painting three walls gold and one green, I'm with Tergar oh doing the bed wall or the wall you see as you come in the room in the green. And before I saw her son's room I was going to mention you could add a stripe in white (maybe the write on wipe off paint) in the middle between the two colors. That's a lot of extra work though.
I'm sure how ever you decide to do Alex (my son's name too) will love it since it's his favorite team.

---
| | | |
| --- | --- | --- |
| RE: I'd like to paint my son's room...what color on which walls? | | |
Tergar - Cool Room!

Chicagoans - thanks for posting the ball claw. We need some of those!!

Grullablue - My son's room is painted one color and we have some trim moulding about 12" below the ceiling line forming a border. The border is painted a dark green. It is a very nice way to add color to a room. It's just another way you could do it.
---
| | | |
| --- | --- | --- |
| RE: I'd like to paint my son's room...what color on which walls? | | |
I'm so glad I was directed to this forum! Thank you so much!! First off, I love the ball claw! Never saw one before!!

The bed....well, he's going to be 9 on Monday, and part of the reason I considered moving it like I did in the little drawing is because he doesn't make it himself because he can't seem to. It's a battle. If you saw the pics, he has a loft type bed...and he can't seem to make it while he's on it...he gets frustrated...and just can't do it. So I thought using a regular bed for now, and putting it that way, he could be a bit more self sufficient....but I do agree with having more room to play leaving it where it is. We can play with that one.

OMG I LOVE that Cowboy room!! Awesome job!!!! Are the football players stickers? Love the bed too.... you guys did amazing work!!! Wow...would love to see more!!

I will keep watching this post...the big party is tomorrow, and we have two out of state guests coming for the weekend (from Viking Country...lol) but I'll check when I can.

Thank you so much for the replies!! Oh...and I got the Green Bay Packer Mr. Potato Head today....it's SO cute!!!
Angie
---
| | | |
| --- | --- | --- |
| RE: I'd like to paint my son's room...what color on which walls? | | |
| | | |
| --- | --- | --- |
| RE: I'd like to paint my son's room...what color on which walls? | | |
I'd do the walls in green and the moldings in gold. It would be more subdued and easier to change out if he outgrows it.

For our sons' room, one wanted purple and the other green, so we chose close to Buzz Lightyear colors (wanted a boyish shade of purple, the Buzz Lightyear tones were more to that than them loving the characters in particular) and did 2 walls for each. Purple was on the east and west walls and green on the north and south. It made painting the corners much harder since each corner changed colors, but it looks really nice (when cleaned up, lol).

I think the Packers colors are great but you have to be careful that the gold is not too garish. That is why I'd minimize how much gold is used....
---
| | | |
| --- | --- | --- |
| RE: I'd like to paint my son's room...what color on which walls? | | |
I just googled "Green Bay Packers Rooms" to see if I can find you photos and I found this to be pretty funny. It's an ehow article that tells you step by step how to decorate your room in a Packers theme! Here's an excerpt:

"Place a small shrine to Vince Lombardi somewhere in your room. You could buy a poster of Lombardi and hang it on a wall, for example. Lombardi took Green Bay to five NFL Championships and two Super Bowls as head coach of the Packers in the 1960s. He is so famous that the trophy presented to a team when that team wins the Super Bowl is known as "The Vince Lombardi Trophy."
Here is a link that might be useful: Steps for a Packers Room
---
| | | |
| --- | --- | --- |
| RE: I'd like to paint my son's room...what color on which walls? | | |
re the potato head... I'll include the link below. It's great!! Just like the typical Mr. Potato Heads, there's changeable stuff included, which I didn't know...including a #1 finger... the back of his jersey says SPUD. Very cute! Price just went down since I ordered it too (Monday). Figures!!

That article was cute. Step by step...to the point... made me think of another idea I'd had....but would be pretty drastic.... indoor/outdoor grass carpeting!

His carpet in there now is like a light bluish gray now.

I like the idea of green walls with gold trim...only worry is it might make the room seem too dark? Although there's two windows in his room for natural light.

When I went to look at the Glidden NFL colors, they didn't have any samples, pictures, nothing. Just a tiny picture in a booklet. Wasn't big enough to picture. But since I may not go with Glidden, I may be able to get something elsewhere. My mom ordered him a nice Packer bedset for his birthday....I may use something off of that to get a colormatch with a different paint. I don't know exactly what the gold is going to look like yet...but it may be too much. This is the set she ordered....
http://www.amazon.com/Green-Packers-NFL-Comforter-Bedding/dp/B004B3PHAA/ref=sr_1_9?ie=UTF8&qid=1297522111&sr=8-9

And the potato head link...
Here is a link that might be useful: Mr. Potato Head
---
| | | |
| --- | --- | --- |
| RE: I'd like to paint my son's room...what color on which walls? | | |
I was wondering the same thing about the green as the main wall color - will it be too dark? Only because my son's room is the exact same size, also with two windows! I painted his room a dark blue color once and by the first wall, I knew I needed to go lighter. Anyhow, I was able to find a picture on line of a boys Packers room with Gold Walls, here you go: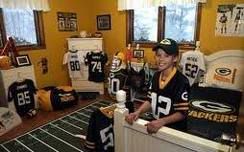 ---
| | | |
| --- | --- | --- |
| RE: I'd like to paint my son's room...what color on which walls? | | |
Thanks for the link to the Potato Head. He's just so darn cute! I'd see if Amazon will give you a refund for the difference or at least a credit, though it's not much, but.....
The e-How steps made me think of how we displayed an older Favre jersey in my son's room. I used a quilt shelf and slid the wooden bar through the sleeves the jersey and placed it back in the brackets on the shelf. The shelf was used to display all his Packer Collectables.
Similar to this.
The bedding your Mom is getting your son (live link below) is the best looking Packer bedding I've seen. I love the gold down the sides.
Here is a link that might be useful: Packer Bedding
---
| | | |
| --- | --- | --- |
| RE: I'd like to paint my son's room...what color on which walls? | | |
Have you thought of putting up a chair rail all the way around the room and painting the bottom part of the walls green with the top gold?
---
| | | |
| --- | --- | --- |
| RE: I'd like to paint my son's room...what color on which walls? | | |
I forgot to add that I'd steer away from Glidden if at all possible. I found some primer we had on hand and went to prime our master closet (over new sheetrock). I used 2 coats and still can clearly see the tape areas and spackle spots showing through much whiter.
I had heard good things about Zinsser in the paint forum, so I bought a 5 gallon bucket of that since we have so much more to do (ceilings included). I was stunned when I put one coat on the wall and it was total coverage. The difference was night and day. I imagine their paint is also less than wonderful in a similar way.
I went with Aura for most rooms and it is true that you can skip the primer and you get full coverage of color in 2 coats. I learned my lesson about quality paint/primer by seeing with my own eyes. I'd never use Glidden again.
---
| | | |
| --- | --- | --- |
| RE: I'd like to paint my son's room...what color on which walls? | | |
I agree, when she showed me a pic of that bedding, it was "THE" one! I'd been looking at different bedding sets, and none of them did much for me....that one did! It's PERFECT!

I like that gold room pictured...that's not bad looking at all! I hadn't even thought of a chair rail with one color above, one below, until someone mentioned it here....I'm not sure about doing it myself yet....but I'd like to consider it!

I like the idea of the quilt rack with the jersey!

A friend of mine suggested I stay away from Glidden as well....she used it the first time she painted her first house (she painted it twice). She tried that first, and a couple others, before she went with Behr paint, which she loves. I don't believe I'll go with Glidden, I'll do my homework and just have them color match whatever I do go with....thanks for another warning about Glidden though, just helps prove her point!

Angie
---
| | | |
| --- | --- | --- |
| RE: I'd like to paint my son's room...what color on which walls? | | |
My daughter and I recently used Glidden paint to cover over glossy red walls in the kitchen of her apartment. It covered beautifully. Maybe it has been reformulated recently. It was rated a "best buy" by Consumer Reports.
---
| | | |
| --- | --- | --- |
| RE: I'd like to paint my son's room...what color on which walls? | | |
Well, I've been talking to the hubby, my son, and my mom...and I think we might have come up with the plan.

We all seem to agree on the chair rail idea....bottom half green, top half gold...with some moulding/something in between.

How high up would you go? Hubby is in contruction, and familiar with wainscoting, and he says for that they go up 3 feet. So...I was thinking....if we went this route, would it be too gawdy (or really cool!) if we painted the floor trim gold to match the upper part of the wall? of course, then we'd have to think about the window and door trims too...might as well keep them all one color? Or paint the top half of the trims the opposite color. Would that look odd? Then hubby asked about the color of the rail/moulding....he said to go with gold, the color of the top half. Then I thought of white. Since we will be painting a big G logo on the wall, there will be some white there, and there will be white in his sheet set, and other things, and he currently has some white furniture in his room (planned to paint...) but would it look odd to have it white? Or should I have it one of the colors on the wall? I'm going to try to find pictures of two-tone rooms with a chair rail/moulding between the colors and see what others have done. I'm considering starting this project as early as next weekend perhaps. Of course I will share pictures during, and after the whole project is complete!

Angie
---
| | | |
| --- | --- | --- |
| RE: I'd like to paint my son's room...what color on which walls? | | |
Angie, I think you'll really like having the room painted this way. I think I'd paint the lower half green, especially if you are thinking of going with the green grass like AstroTurf for carpet.

The link to your son's bedroom is not longer working and I can't remember if the trim is now painted. If it is then I'd do the chair rail to match that. If it's stained, I'd also stain the chair rail.

We did wainscot in our library at one third the height of the walls, so that was 32 inches for eight foot ceilings.
Here is a link that might be useful: eHow wainscott height calculation
---
| | | |
| --- | --- | --- |
| RE: I'd like to paint my son's room...what color on which walls? | | |
I would paint all the trim, chair rail included white.
---
| | | |
| --- | --- | --- |
| RE: I'd like to paint my son's room...what color on which walls? | | |
My coworker just decorated her son's room in a Packer theme (and we live in the Chicago suburbs) and she got a lot of cool things for the walls on fathead.com. It's got the giant size player stickers for the walls plus other stuff. I typed in "packers" in their search box and saw very nice things.
---
| | | |
| --- | --- | --- |
| RE: I'd like to paint my son's room...what color on which walls? | | |
Well....I'd decided all the trim would be white...none of this mix and match stuff.... but hubby didn't like the idea of me painting the window trim. I'll either work with him on that, or just not paint the trim at all, and leave it oak colored. I guess the more I think about it....I don't want to paint the doors, really, I want to leave those, so maybe they'd look funny having everything else painted. I don't know. Gosh, I just can't believe how much there is to think about with this!! So we are now set on the chair rail, 1/3 of the way up the wall, with the green on the bottom, gold on the top. But undecided on the trim color. Either white or wood. But, I know it wouldn't look good unless we do all or nothing....and may not look good if we don't include the doors in the paint job... the trim on the floor is very plain. But the trim around the windows, hubby doesn't fancy having to replace back to wood if and when this gets outgrown.

I've seen Fatheads...they're very nice....but something like that is out of my budget! I plan on spending enough on this project...and these things are not cheap! Just the big G logo alone was $90 last I looked! Yikes! I can't imagine what they charge for the players stickers! I didn't even bother looking when I saw that price!
---
| | | |
| --- | --- | --- |
| RE: I'd like to paint my son's room...what color on which walls? | | |
If you are going to leave the rest of the trim oak, you should probably have the chair rail match. I have seen many homes with white trim and natural wood doors, if that is a concern.
---
| | | |
| --- | --- | --- |
| RE: I'd like to paint my son's room...what color on which walls? | | |
Well the pictures are showing up again for me and I see all the trim is a very nice oak. I with your hubby and wouldn't want to paint over the wood and then someday want it back the way it is now again. It's lots of work whether you refinish or replace them.

As you can see in the pictures I posted above there's a frame that's pretty close to your current wood trim and it looks fine with the Packer Green walls.

I too was shocked at the cost of the Fatheads. I'd check Walmart and other local stores that have posters. Our son decorated his walls with them and they looked great. Poster frames are pretty inexpensive or you can get the clips that they slide into for even less.

I bet your son is so excited. I hope he has a very happy birthday.
---
| | | |
| --- | --- | --- |
| RE: I'd like to paint my son's room...what color on which walls? | | |
yup, I'd have the chair rail match whatever the trim is. Looking at your pics, justgotabme, the oak looks very nice against the green....the white trim would have given me more options with his current furniture, I was thinking. He has shelves, a bookcase, and a bench with storage underneath that are all white....which I can still live white if I want, but would have looked nice with white trim, I think.

We have some posters just waiting to go into frames! If I can mat them, I have two larger poster frames (from old Shrek posters) that would work...otherwise, I know I got those quite cheap at Walmart years ago.

He IS quite excited...keeps asking when I'm going to start! Well...gotta get the paint first!

His birthday was yesterday (Valentines baby!) and I'm sure he could go on...but I'm completely partied out! We had a kid party on Saturday, and family over last night.

I really appreciate all of the input!
---
| | | |
| --- | --- | --- |
| RE: I'd like to paint my son's room...what color on which walls? | | |
Well I happen to love stained wood anything, but I think the white furniture will look just fine with it. I'd leave it alone. Beside his collectibles will show up better with the white than it would if you painted it in green or gold.

I'm glad to hear your son had a great birthday. What does he think about being born on V-day? I think it's pretty neat, but then I'm a girl. Ha ha ha.
---
| | | |
| --- | --- | --- |
| RE: I'd like to paint my son's room...what color on which walls? | | |
He thinks it's pretty cool his birthday is on Valentines Day for now....I'm sure as he gets older he won't think so! But we quit celebrating it the day he was born! It's now his birthday instead! ha ha ha

Plans got bumped up a week. I believe I'm starting the painting THIS weekend. Yikes!
---
| | | |
| --- | --- | --- |
| RE: I'd like to paint my son's room...what color on which walls? | | |
Well I have to agree with that. His birthday is more important than Valentines day. Our anniversary is today so other than wishes and extra kisses we don't do Valentines day either.
I'm sure you'll be happy to have the painting done. I love a newly painted room, but I hate the prep work and the actual painting, but boy it looks nice when it's complete.
---
| | | |
| --- | --- | --- |
| RE: I'd like to paint my son's room...what color on which walls? | | |
Happy Belated Anniversary!!!

You sound just like me....I hate the prep work and don't much like to paint either....but the completed product will make it so worth it! I had hoped to get a full day of prepping done today........ WI teachers are doing the sick-out thing, and I work for the school district...school's been canceled, however those who haven't called in sick are still required to report. I'm a lunch lady. What am I gonna do without kids?? =) All contract stuff.... I'm guessing tomorrow may be the same.

Oh well...his room is totally gutted now, with the exception of the bed, and a small bookcase that his alarm clock and air cleaner is resting on (he has dust allergies....hence the air cleaner!)
---
| | | |
| --- | --- | --- |
| RE: I'd like to paint my son's room...what color on which walls? | | |
Our anniversary is on April 15th, tax day, but sadly, we can't skip "celebrating" TD completely in favor of our anniversary, unless we want to go to jail for tax evasion, lol.
---
| | | |
| --- | --- | --- |
| RE: I'd like to paint my son's room...what color on which walls? | | |
lol....good point there dianalo....you're right, you can't! We really weren't huge into V-day anyway.... I'm not the flowers/jewelry type... a nice card would be alright.... but I remember one year he bought me a water tank (for our horses) for Valentines Day...and I was thrilled with that! I'm quite easy to please! And for Christmas...now that we have a kid, we don't usually exchange gifts, instead, we go out and buy something for both of us...or the house, family, sort of thing. One year, we got a flat screen TV with a bonus he got through work. We got a wii one year (kind of a gift for our son...but cost enough money, that was our "family" gift)...stuff like that. A set of pots and pans one year... this year...he got a programmable coffee pot. Ha ha ha. I dont' drink coffee, but guess you could still say it's "for the house!"

Back to the room....I'm going to attempt to make a line for the "chair rail" tonight. I've read it's usually about 1/3 up the wall. So...I'm thinking the best way is just to measure here and there, make a line, then "connect the dots." Hoping that'll do!
---
| | | |
| --- | --- | --- |
| RE: I'd like to paint my son's room...what color on which walls? | | |
Yeah I heard about WI teachers and other state workers today on the news. Not sure what you think, but if taking a deduction helped keep my state from going belly up, I'd do it in a heartbeat. But that's just me, I look at the big picture and figure that doing the right thing now might hurt me a little bit financially, but in the long run it might just keep me from having no job at all. Less money for chocolate now is so much better than the possibility of no money for chocolate later.
Dianalo, just do your taxes early, then don't worry and be happy.
My cousins 25th anniversary was on 9-11-01. She was so excited about it, but called me saying she was so mixed about celebrating after what happened that fateful day. I told her there was nothing wrong with celebrating their love, in fact that day needed all the love it could get.
We do the same thing with Christmas although my hubby always sneaks and gets me a little something. Like this year a web cam for my computer because our daughter had just left for S.Korea for a year so we can Skype. I guess I bought one for him too. LOL Funny how I didn't remember buying it.
Yes, back to the room....I'd suggest grabbing a level after you make a few dots because you'll want the actual trim to be installed level.

---
| | | |
| --- | --- | --- |
| RE: I'd like to paint my son's room...what color on which walls? | | |
I'm going to start to paint tonight. I'm a little nervous (and procrastinating...lol). The only thing left in the room is his bed frame.....everything else is gone. I've got the lines drawn on the wall for the chair rail (and where one color stops and the other begins...and have begun taping. I'm just waiting for some spackle to dry...where he had holes in his wall from a pet net he had up years ago. It's going to be a late night. I'd like to have all of the first coat of gold up before I go to bed. (the gold is the top color, green bottom...I figured it made sense to do the top color first, in case of drips)

By the way....some said the link to his pics sometimes did not work. I created a photo album where I'm just going to put pics.... I have before pics, and I also took some pics a couple days ago after I nearly had his room cleared out. We'll see what kind of damage I can do! =)
Here is a link that might be useful: Alex's bedroom
---
| | | |
| --- | --- | --- |
| RE: I'd like to paint my son's room...what color on which walls? | | |
Thank you for all the great GB Packer ideas for walls. My husband is currently painting away in our son's room as I write this. Three gold walls and one green. I am looking for any ideas/links to bedding. Not specifically GB Packer bedding, but something with the colors, having more of a pottery barn look. Trying to soften it up a little. It is a really small room and I think the GB Packer bedding will just be a little too much. Has anyone seen any type of comforter/quilt out there with those colors or stripes? Thanks for any help!
Nikki
---
Post a Follow-Up
Please Note: Only registered members are able to post messages to this forum.
If you are a member, please log in.
If you aren't yet a member, join now!
---
Return to the Home Decorating Forum
Information about Posting
You must be logged in to post a message. Once you are logged in, a posting window will appear at the bottom of the messages. If you are not a member, please register for an account.
Please review our Rules of Play before posting.
Posting is a two-step process. Once you have composed your message, you will be taken to the preview page. You will then have a chance to review your post, make changes and upload photos.
After posting your message, you may need to refresh the forum page in order to see it.
Before posting copyrighted material, please read about Copyright and Fair Use.
We have a strict no-advertising policy!
If you would like to practice posting or uploading photos, please visit our Test forum.
If you need assistance, please Contact Us and we will be happy to help.

Learn more about in-text links on this page here