Return to the Home Decorating & Design Forum
|
Post a Follow-Up
---
| | | |
| --- | --- | --- |
| Help me choose hardware for my wall unit | | |
Posted by
redroze
(
My Page
) on
Sat, Feb 1, 14 at 1:43
Would appreciate advice on hardware colour for a built in for our living room. We are doing a white painted bookcase/fireplace built in for our living room and I'm struggling with hardware colour for it. The attached dining room has sconces and a crystal chandelier in polished nickel. The coffee table we are considering is also polished nickel base with a marble top. There's a buffet in the dining room that's dark wood and I think we will do oil rubbed bronze for the hardware for a dark tone-on-tone look. Seems the obvious choice for the bookshelf would also be pol nickel, but the side table between the two chairs is gold metal - it's beautiful and we got a great deal on it. I've always loved the warmth of gold...now I'm puzzled what to do on the bookshelf wall unit. Gold or antiqued brass, or will that be too much? Or maybe oil rubbed bronze to tie in to the dining room buffet? We also have two lamps going on the console behind the sofa and I'm thinking we can do those in gold too so the gold side table isn't the only gold in the room.

Layout: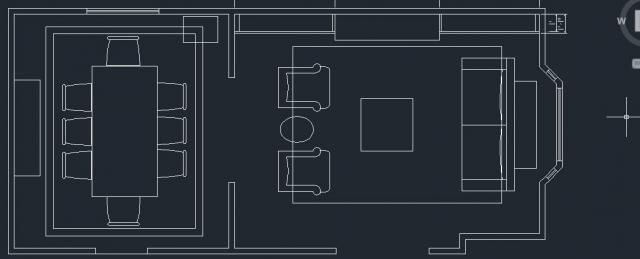 Wall unit in living room, will be painted Chantilly Lace, a white. Marble surround will probably be white thassos which has no veining: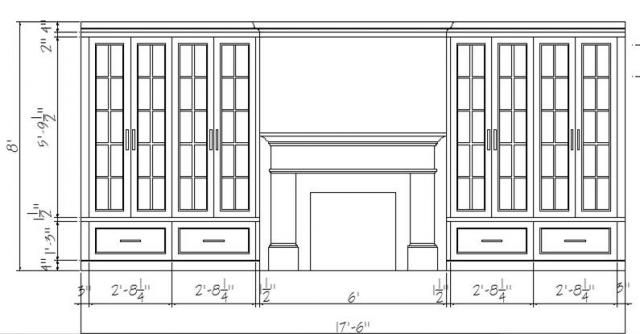 Coffee table for living room: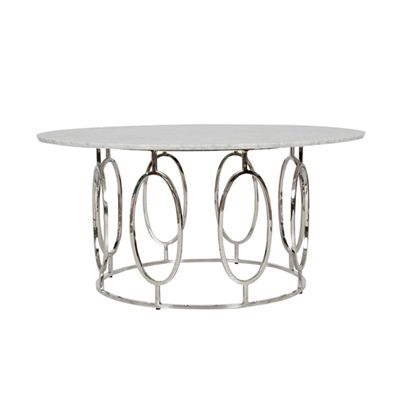 Gold side table: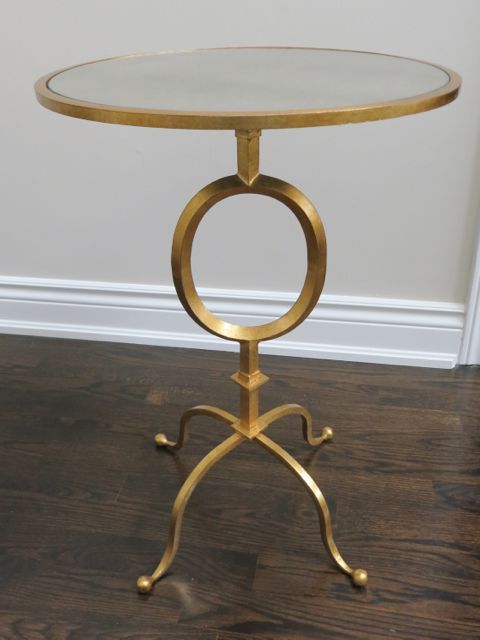 Here is a link that might be useful: Photo of the rooms wall colour Pashmina
---
Follow-Up Postings:
| | | |
| --- | --- | --- |
| RE: Help me choose hardware for my wall unit | | |
Maybe mix it up with some crystal pulls on the doors? You could nob to the bottom shape of the both tables and do a roundish/oval pull?

It's late... I can't sleep.
---
| | | |
| --- | --- | --- |
| RE: Help me choose hardware for my wall unit | | |
Is the coffee table the only silver metal in the family room? You could do the hardware in polished nickel to tie into the coffee table, your gold lamps to go with the end table.
I just painted my dining room BM Pashmina. I love it and it looks great with gold & silver.
---
| | | |
| --- | --- | --- |
| RE: Help me choose hardware for my wall unit | | |
Check out the SkyeVale collection from Schaub and Company. I'm not sure what finish you want, but the pulls have a touch of glamour that makes me think it would fit the style of your room. I used a mixture of the SkyeVale pulls (even more fabulous in person than on-line) and glass knobs from their Fire Collection and love them.
---
Post a Follow-Up
Please Note: Only registered members are able to post messages to this forum.
If you are a member, please log in.
If you aren't yet a member, join now!
---
Return to the Home Decorating & Design Forum
Information about Posting
You must be logged in to post a message. Once you are logged in, a posting window will appear at the bottom of the messages. If you are not a member, please register for an account.
Please review our Rules of Play before posting.
Posting is a two-step process. Once you have composed your message, you will be taken to the preview page. You will then have a chance to review your post, make changes and upload photos.
After posting your message, you may need to refresh the forum page in order to see it.
Before posting copyrighted material, please read about Copyright and Fair Use.
We have a strict no-advertising policy!
If you would like to practice posting or uploading photos, please visit our Test forum.
If you need assistance, please Contact Us and we will be happy to help.

Learn more about in-text links on this page here