Return to the Home Decorating Forum
|
Post a Follow-Up
---
| | | |
| --- | --- | --- |
| Pics Please! Drapes on windows w/radiators below | | |
Posted by
chestnut3
(
My Page
) on
Mon, Feb 21, 11 at 0:12
I'm trying to figure out what to do on the downstairs windows where privacy isn't an issue. I'd like to do panels but nearly every window has a radiator below it.
What did you do? I am going for a more casual/transitional look in our LR/FR/TVroom
Thanks!
---
Follow-Up Postings:
| | | |
| --- | --- | --- |
| RE: Pics Please! Drapes on windows w/radiators below | | |
I have radiators in front of my windows too, since its an old house. I usually have sill length curtains but thought I would try something else in the living room.The linen panels come in to the sides of the radiator and the sheers go behind. These are hot water radiators and don't get dangerously hot. The cabinet hides it a bit.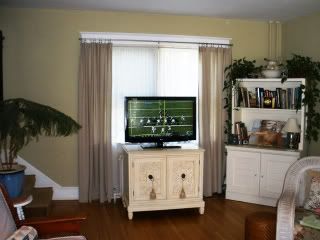 ---
| | | |
| --- | --- | --- |
| RE: Pics Please! Drapes on windows w/radiators below | | |
Chestnut, could you post a photo or two?

Coop - do you worry about the heat affecting the lifespan of the TV?
---
| | | |
| --- | --- | --- |
| RE: Pics Please! Drapes on windows w/radiators below | | |
Thanks Cooper. Here are 3 pics. The mini-blinds will be coming off of every window. Floors aren't done yet and nothing is painted yet either. And yes, in the third pic (a bedroom) The radiator is slightly off center below the right window. All of the BR rads are. Grrr.
DR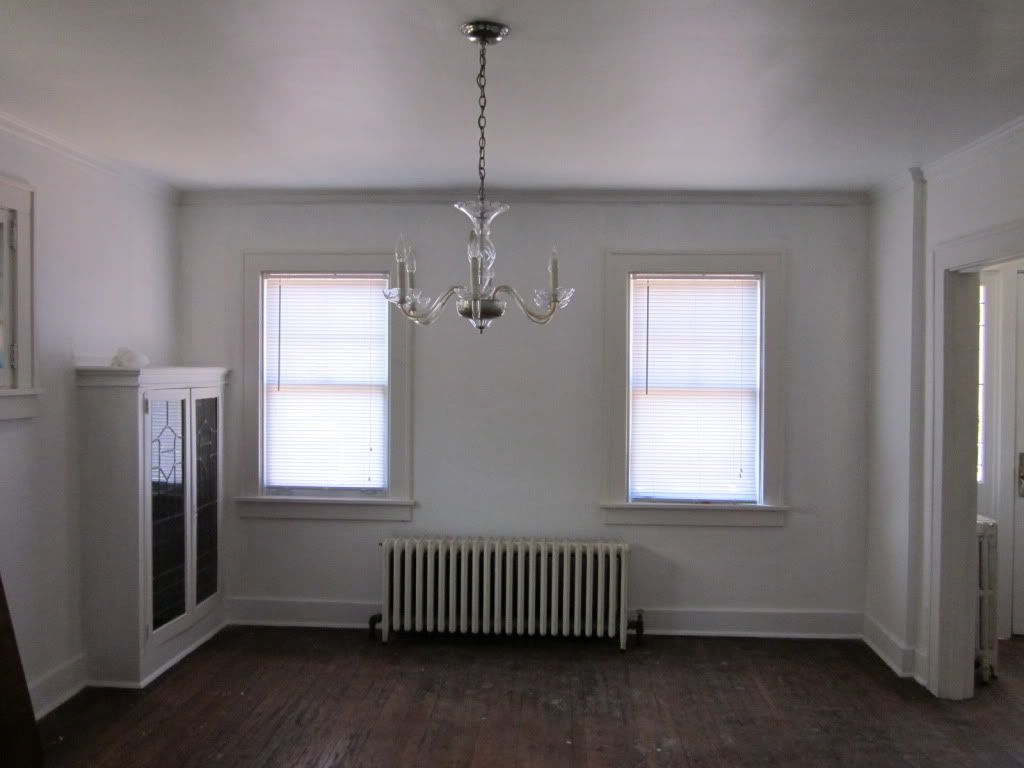 LR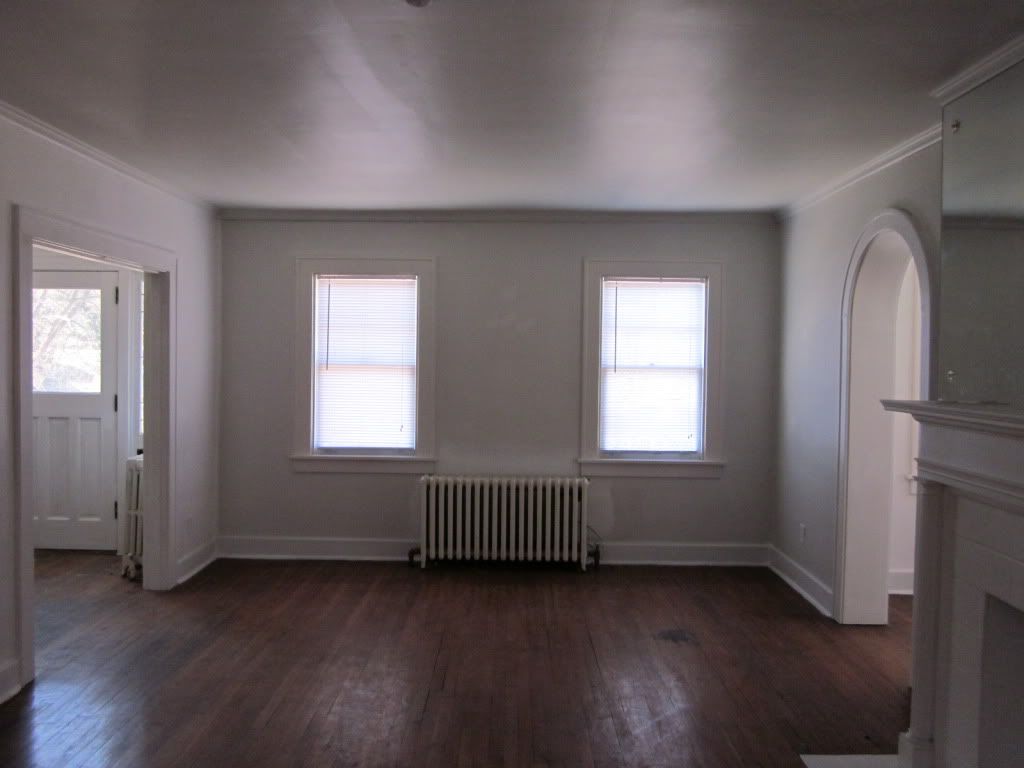 BR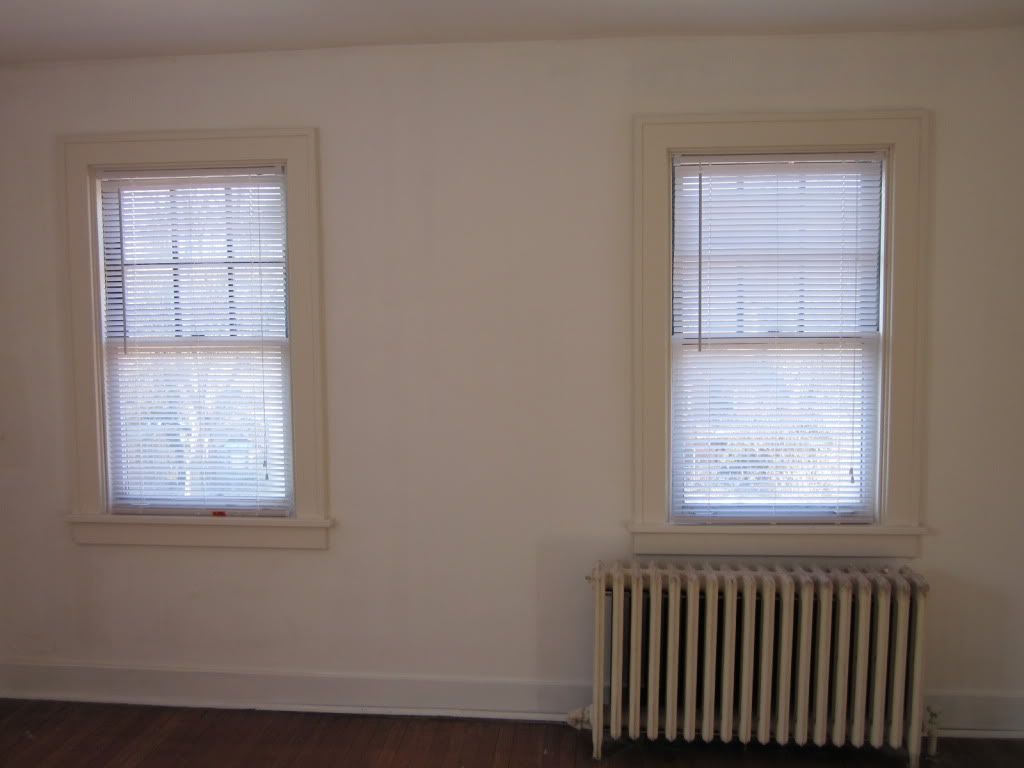 ---
| | | |
| --- | --- | --- |
| RE: Pics Please! Drapes on windows w/radiators below | | |
What an absolutely gorgeous house! In the living room you could certainly do full-length drapes with hold-back only to the outside. In dining room, the built-in would interfere, so I would say a sheer shade would look beautiful. Maybe a sheer with an embroidered pattern similar to the leaded glass in the cabinet. In the bedrooms, you could do full-length panels, with hold-backs on either side to clear the radiator. Have you considered radiator covers? If I find photos tonite, I'll post.
---
| | | |
| --- | --- | --- |
| RE: Pics Please! Drapes on windows w/radiators below | | |
Since privacy isn't a issue why not do just valances or sheer panels inside the window frame? If you place sheers inside the frame you can use pressure rods and you will get to enjoy the beauty of the window trim.
---
| | | |
| --- | --- | --- |
| RE: Pics Please! Drapes on windows w/radiators below | | |
I would put full length drapes pulled back to the left and right sides in the living room and dining room. In the bedroom, I would put sill length draperies or roman shades.
---
| | | |
| --- | --- | --- |
| RE: Pics Please! Drapes on windows w/radiators below | | |
Thanks gwbr54! It has great bones but needs LOTS of TLC. There were holes in the walls, a leaky roof, and many other issues that we have to take care of. This obviously absorbs a lot of the budget as well. I hadn't really considered sheers b/c I always think of those as part of the layered look w/drapes. But I guess I could do them instead of panels. I like the pressure rod idea too- Carol from NY- and that is certainly an inexpensive option! Gwbr54- I'm a novice at this so not sure what you mean by the hold-backs but if I'm correct in my thinking then the inside panels would hit the rad right? Or do you mean simply 2 panels- one on each side of the outer most part of the windows? Like one on the far left and the other on the far right? So the window edges closest to the rads have nothing? Can I do that? Not sure of "The Rules" haha. And as for upstairs, I'm planning on cellulose and/or other blinds for the kids' rooms, maybe with other things (valences?) as well but they are lower on my list of priorities at this point. Also, I have rad covers- they were in the basement in a storage room that had a pile of COAL!!! in it. Haven't dusted them off yet to see what they look like.
Thank you so much for your help!
---
| | | |
| --- | --- | --- |
| RE: Pics Please! Drapes on windows w/radiators below-sheers? | | |
Grandma- Yes I like Roman Shades. Are they functional too or do I put another blind that provides privacy?
How about these sheers, sill-length in the DR and maybe in LR too? Too blah? The pattern closely matches the leaded glass which is in the DR and also the LR. They aren't visible in these pics but there are 2 built-ins in the back of the LR identical to those in the DR.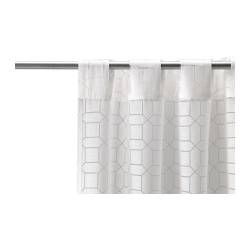 Thanks
---
| | | |
| --- | --- | --- |
| RE: Pics Please! Drapes on windows w/radiators below | | |
We had this situation in our last house. I dug up some pics. In one room we did sill-length sheers hung on a pressure rod with a valance above it. In the other, we used lace door panels (with rod pockets at both top and bottom) - we used 2 or 3 per window so they were sheered tightly and used 2 pressure rods to mount them. I liked both treatments.

I will attach pics of both below - in both picture, please ignore the wallpaper (it was from the previous owners and I never redecorated) and the plastic/desk in the doorway of the lace picture - we were stripping lead paint in the hallway on the other side of that doorway!).

IMO, it looks better to use sill-length or inside-mount treatments (like roller shades) when you have radiators below the window. I would be nervous about things melting or catching on fire otherwise. (Oh, and upstairs, where we had the same issue but more concerns about privacy, we used inside mount white wood blinds in one room and inside mount roller shades with valances on the kids rooms.)

---
| | | |
| --- | --- | --- |
| RE: Pics Please! Drapes on windows w/radiators below | | |
ONE SIDED HOLD BACK (hold back is the metal thing holding back the drape instead of a fabric tieback)
TWO-SIDED DRAPE, BUT VERY GRACEFUL HOLDBACK:
From a practical standpoint, you may need heavier drapes to help hold in the heat. But if not, I think sheer shades, with an outset mount, and hung as high as possible, could look fabulous. An outside mount would give a more substantial proportion to the window, which suits the public rooms. Even though the shade would cover the pretty window trim, the trim would still be visible through a sheer fabric. If you could use that sheer fabric resembling the leaded glass, all the better.
OUTSIDE MOUNT SHEER:

Another possibility is to hang sheers on swing-arm rods, which allow open or closed position. Here's OPEN:
And here is CLOSED:
---
Post a Follow-Up
Please Note: Only registered members are able to post messages to this forum.
If you are a member, please log in.
If you aren't yet a member, join now!
---
Return to the Home Decorating Forum
Information about Posting
You must be logged in to post a message. Once you are logged in, a posting window will appear at the bottom of the messages. If you are not a member, please register for an account.
Please review our Rules of Play before posting.
Posting is a two-step process. Once you have composed your message, you will be taken to the preview page. You will then have a chance to review your post, make changes and upload photos.
After posting your message, you may need to refresh the forum page in order to see it.
Before posting copyrighted material, please read about Copyright and Fair Use.
We have a strict no-advertising policy!
If you would like to practice posting or uploading photos, please visit our Test forum.
If you need assistance, please Contact Us and we will be happy to help.

Learn more about in-text links on this page here