Return to the Home Decorating Forum
|
Post a Follow-Up
---
| | | |
| --- | --- | --- |
| venetian plaster backsplash? pics? (Igloochic?) | | |
Posted by
walkin_yesindeed
(
My Page
) on
Mon, Jan 28, 08 at 23:53
A while back, someone posted here about cheap backsplash ideas. Igloochic suggested venetian plaster, and since then, I just can't get it out of my mind. It sounds super-easy, relative to installing other backsplash materials anyway (I am not crafty... the idea of purchasing a tile saw makes my DH convulse with laughter). And once it's coated with paste wax, seems like it'd be nice and waterproof, too.

The PO of my house installed plain almond 2x2 tiles behind the stove. They're in perfect condition, and I don't really feel like ripping them out. So here's how I was thinking of using Igloochic's idea: what do you think of finding some matching 2x2s in the same color, and placing them at random amid the plaster? Probably cream/off-white plaster, and I have Ivory Cream granite (I've also seen this identified as Tahoe Sand). Since the granite has a sandy background with black, grey, salmon and garnet flecks/movement, and since I have black appliances, I was thinking about a few black mosaic tiles scattered in (sparingly!) as well.

Has anyone seen this done? Igloochic's ideas tend to be gorgeous, and I'd trust her instincts, but I'd also love a pic as guidance if anyone has one handy.

Opinions?
---
Follow-Up Postings:
| | | |
| --- | --- | --- |
| RE: venetian plaster backsplash? pics? (Igloochic?) | | |
I love the look of venetian plaster, too. My cousin did it in her kitchen (sorry, I don't have any pics) in a pale blue. On the section of counter behind her sink, she has what looks like splatter marks all over the backsplash where water and/or food has splashed on it. It really takes away from the beauty of the plaster. It think what your have described would be pretty, but I'd ask about some sort of sealer that would make it cleanable.

Robbi
---
| | | |
| --- | --- | --- |
| RE: venetian plaster backsplash? pics? (Igloochic?) | | |
Venetian plaster isn't a good surface for a kitchen - it's just not tough enough. Paste wax wouldn't be enough of a protective coat, I'm afraid and would also likely 'activate' the pigments in the plaster while you apply it. You could do other types of faux finishes that could then get a true seal coat - that would work. There are finish coats in every sheen level from dead flat to high gloss.

As for scattering the tiles, whether you did them on VP or a plain painted finish, they're dimensional and won't give you a flat surface overall. I wouldn't want that on my backsplash. Are you picturing them as set into the VP? Most people think it's a thickly applied coating, but it isn't.
---
| | | |
| --- | --- | --- |
| RE: venetian plaster backsplash? pics? (Igloochic?) | | |
Walkin_YesIndeed,

'Fraid I have to agree with Dlm2000, VP isn't a good surface for a well-traveled area.

Meaning--backsplashes get a lot of use and abuse (at least they do in my household).

Having to wipe/wash down the backsplash after a few mixer malfunctions (don't ask), I would go with another inexpensive but more durable Faux Treatment for a backsplash --- and there are many!

Heck, my own bathroom (before this remodel we are in the midst of) had a Faux Tile w/Medallion wall and that shower was used twice and sometimes three times a day with no damage to the faux area.
I washed down that wall many times over the years and the faux tiles and medallion held up perfectly.

A good sealer added on top of a backsplash or damp location area that is done in a faux is what you need but putting a sealer over Venetian Plaster will take away that beautiful finish that makes VP what it is.

I've collected a few inspiration photos for myself as I'll be needing ideas for my own inexpensive backsplash in our bathroom (IF it ever gets done).
You are welcome to take a look-see and judge for yourself that there are many, many faux treatments that can be used as a backsplash, and will hold up so much better and be easier to maintain than a VP backsplash.
Here is a link that might be useful: Faux Inspiration Pics
---
| | | |
| --- | --- | --- |
| RE: venetian plaster backsplash? pics? (Igloochic?) | | |
Aw, darn. I really like the look of venetian plaster -- but the helpful posts here make me realize I've misunderstood its nature. DLM2000, I did think the VP was a thick coat of something, kind of like joint compound or stucco, so I thought I could lodge the tiles in it, sort of smoosh them in while the stuff was wet. (I believe smoosh is the technical term, though of course I could be wrong...)

I would love some suggestions and/or links re similar-looking treatments I could do and seal, seal, seal. Amity, I really like the grey one on the bottom row in your gallery (thanks for the link, very helpful) -- what is that?

A related question: last night, while doofing around on Google, I found someone who'd used joint compound to create what she called a European, stucco-like finish as a backsplash, and then she painted it. I'll see if I can find the link. For a DIY newbie, would this be a dumb move?
Here is a link that might be useful: joint compound+paint to imitate a plaster look?
---
| | | |
| --- | --- | --- |
| RE: venetian plaster backsplash? pics? (Igloochic?) | | |
walkin - I had a decorative painting business for years and had what I called my 'bread and butter' finish. Everyone wanted it, my partner and I could practically do it with our eyes closed, it could be done in tons of color combos and look fabulous - everything from super subtle and whisper soft colors to bolder, more in your face effects. I've written it out dozens of times for people over the years, but nothing recently. Hopefully I can lay my hands on the directions on one of my computers but if not it'll take me a bit of time to recreate. Be patient and I'll walk you through it. Oh, that's good - I'll 'walk' walkin through it - forgive me ;-)
---
| | | |
| --- | --- | --- |
| RE: venetian plaster backsplash? pics? (Igloochic?) | | |
Walkin,
I will defer to dlm's future instructions.....
But I did the joint compound in my previous house ALL over the walls in my kitchen - backsplash included. Easy as pie....just trowel it on & create the texture you want. I painted it all in a latex satin finish. It also would have looked very nice with a tea stain glaze over it, too. I had no problems with durability. I did this over awful, awful pink, mauve and baby blue wallpaper. Just scored it and troweled. It looked kinda neat b/c the scoring texture also came thru. I also did my powder room this way (covering simliar BAD wallpaper!!)

My neighbor did the same thing but just as a backsplash in her kitchen - no probs.

You might be able to even stick some tiles in it. I had some plaques that I hung up on the wall, thou. Cheap, resin ones from Hobby Lobby. Decorative plates would be cute, too.

SMiles:)
---
| | | |
| --- | --- | --- |
| RE: venetian plaster backsplash? pics? (Igloochic?) | | |
Dlm2000, I wait with bated breath! (: No, seriously, take your time. And thanks for offering -- much appreciated.

Johnatemp, really, was it idiot-proof? that's pretty much the only kind of project I can handle. And explain the tea-stain glaze: do I trowel, then create desired texture (how do I do that?), then wait till it dries, then prime, then glaze? With which product? And you think it might be thick enough to stick tiles in and have the final surface be flat? Did you seal it in any way, or use special paint?

In your powder room: did you do it over a whole wall, or just a limited area?

Thanks, you guys... you're actually making me think I wouldn't be insane to try this. (and if I do try, and I really mess it up, I can still hire a tile guy, right?)
---
| | | |
| --- | --- | --- |
| RE: venetian plaster backsplash? pics? (Igloochic?) | | |
I say if you really love the look than you should go for it! Trowel the plaster on, have fun with it. Paint it, glaze it then seal it. It will be fine. If you hate it later, you can repaint, or tile or beadboard over it. As for the tile over the stove, have you considered those decorative stick on images I have seen at home improvement stores? You could turn it into a feature with a beautiful, well chosen image. Also, decorative pieces of painted tin, or any other material can be easily hung over the tile. I have hung pictures on my tile with those self-stick small hooks. Don't think you are stuck looking at plain tile or that you need to put it in your plaster. It can simply be a backdrop for something else. Good luck.
---
| | | |
| --- | --- | --- |
| RE: venetian plaster backsplash? pics? (Igloochic?) | | |
walkin - just stopped in to tell you I haven't forgotten you and see you are indeed waiting! I'm distracted with bad health news from my sister but promise I will get this written out for you. This is not a textured finish -(personally I wouldn't want the texture on a backsplash because a smooth finish is just easier to clean) but it has visual texture and depth. ARe you still interested or do you specifically want a textured finish? It's a personal preference thing so if you have your heart set on texture that's fine - don't feel obligated to act interested!
Deb
---
| | | |
| --- | --- | --- |
| RE: venetian plaster backsplash? pics? (Igloochic?) | | |
Hi Deb: thanks for stopping by amid difficulties from your real life -- I appreciate it. (and stay warm: I was watching WGN out of nostalgia and saw you guys are having horrible weather!) I'd prefer a smooth finish, as you suggest. Thanks for whatever you have time to do, but please, don't make this much of a priority -- take your time.
---
| | | |
| --- | --- | --- |
| RE: venetian plaster backsplash? pics? (Igloochic?) | | |
Please believe that I am NOT trying to be snarky here, and I really do not mean this as an insult.

That said...please be very careful about a decision like this, especially if there's any chance you might be selling your house in the next few years.

I'm sort of the ideal buyer, as are a lot of us on this forum, because we can see past colors we don't like and other decorating differences...we can envision what we would do with the space. But, I have to say that one thing that would make me turn away from a house that was perfect in every other respect is the thought of having to scrape that venetian plaster off of the walls.

If you're not selling, or if the look is so popular in your area that people will flock to buy a house with it...then I bet you'll be able to make it look like your dream kitchen.
---
| | | |
| --- | --- | --- |
| RE: venetian plaster backsplash? pics? (Igloochic?) | | |
Hmm. Sapphirestitch, that's interesting. I'm not selling any time soon (i.e., in the next five years).

Is plaster, or just joint compound if I do that, any harder to get off walls or otherwise deal with than, say, a heinous tile backsplash? ie, previous owners of houses do a lot of stuff new buyers would hate. So is this worse than other choices? Would you look at a not-to-your-taste plaster backsplash and think, that's it, I'm outta here, as opposed to looking at a not-to-your-taste tile backsplash and thinking, I could do something with that?

IMHO, I'd much rather see plaster than ugly tile... but that's just me! (:

Not at all taken as snark or insult, btw, and I hope my response indicates that. I appreciate the comment -- makes me think.
---
| | | |
| --- | --- | --- |
| RE: venetian plaster backsplash? pics? (Igloochic?) | | |
walkin I found my file where I'd typed out instructions long ago for another board - thankfully 'cause I'd hate to have to do this again! Don't know what the word limit is here - I'll try and post but if it doesn't work you'll have to email me for directions. I'm giving you 2 directions for 2 different finishes and either one will work for a backsplash - subtle movement, easy to do (don't let the wordiness scare you, do practice boards and you'll see) and easily undone. Just prep as you would for any repainting, roll on new paint and it's gone. If you have any questions, email me - dlm054@gmail.com

Parchment Faux

This finish will work with any color(s) but to achieve the true parchment look, base color and glaze color should be only 2 to 3 shades different. Toned colors look the best to me, and you don't have to stick to the traditional yellow tones of parchment. Grayed greens look great, golds, terra cottas – even jewel tones look beautiful in this finish, although parchment will not be the word that comes to mind!

Application tools: I prefer cotton knit (like t-shirts) rags approx. 18" x 12" – no seams – they will show in the wall finish. If you have old white t's to tear up that's fine, or they are sold at HD and most paint stores. Do not us color t's.

Basic Technique : I like a darker glaze over a lighter wall color. So start with your walls based in the lighter of the two shades, use an eggshell finish. You want the glaze to be able to move on the wall a bit but not a lot – semi-gloss is too slippery. Mix your glaze and paint 3 to 1 or 4 to 1 and add extender if you are using latex paint. You need a long open time to get the really soft look of parchment. You will need tight fitting gloves for this and 2 buckets. Mix your glaze in a small bucket (1 gal) and place it inside a big one (5 gal). This cuts WAY down on splatters. You need two rags at a time to work this. Soak one rag with glaze – totally drenched – then carefully keep it within the big bucket and wring out a lot of the glaze. It needs to be wet, but not dripping. Open it up, grab one corner and hold the whole thing over your other hand. Put the end opposite where you are holding into the open palm of your empty hand. Slowly lower it and allow the rag to create its own folds – it should all rest on your open hand, no tails hanging out – this is called your 'rose'. Try this with a dry rag and you'll see just what I mean. Take it to the wall and start washing in circles – overlapping – cover an area about 2' x 3' irregular shapes – no square edges. With your dry rag (which is in your other hand at all times and scrunched up in much the same way) start patting over the edges of what you just applied and feather them out till they are very soft. Then work the interior of this area in the same way, only don't soften it as much and leave high and low, dark and light. What you are doing is disguising the circular marks of application and applying the texture of the parchment. Re-do your rose – you probably won't need more paint till you have done 3 sections – and do the next area. Start adjacent to but not touching what you just worked. Feather your new area back into the old and continue as before.

This is a good finish to do by yourself – you don't need a partner. Don't plan on taking a break until you finish one whole wall. There is a brown paper tape that has a light tack on one little strip only. Put this down the corner of the wall you are working towards (sticky part in the corner) and it will protect your next wall from getting smeared while you finish the first. If you do want to do this with someone, make sure you play the up-down game. One of you starts high on the wall and one starts low (same wall right on top of each other) when you get to the middle, the low man goes high, the high man goes low. This way, your different techniques will be thoroughly mixed up on each wall and it will look appropriate.

Terry Cloth Faux

Supplies: Paint
Glaze
2 2-1/2" or 3"chip brushes (can be purchased at Home Depot usually found next to the foam brushes, white bristles natural wood handle about $1 – chip means cheap to me)
Terry rags – can be purchased also at HD – should all be the same otherwise your treatment will change look every time you change rags. Wash & dry before use to remove lint.
Dampen your towels – not wet! – barely damp, and fold into a pad so that all hems are on the inside – you will refold as you work, but try to always keep hems out of your paint – they make lines.

Instructions: Mix your glaze 5: 1 or more glaze to paint. I just did my 28 x 18 kitchen/family room and used 5C glaze 1C paint, and I have close to 2C left – this technique does not use a lot. A standard size backsplash would only need a couple of cups total!

Technique: Use a chip brush and apply fairly random strokes of your mix to the wall in patches. You are going to put a stroke about 5" long, move over and down a few inches, angle a bit and do another stroke, move up and over, stroke again. You aren't reloading the brush each time – some strokes will have more paint, some less – that's ok. You want to work in an area of approx 18" but not square – keep it irregular. Very little paint is on the wall – almost like an abstract painting. Now, with your damp terry pad, tap into the edge of one of your strokes and keep tapping as you move the paint towards a bare place. Move in and out of your painted strokes, tapping the pad and moving the paint about. This probably sounds very complicated because there is no visual, but it's really a very simple technique. You are tapping, pouncing and ever so slightly sliding the paint around, but you should not see any sliding marks – this should look almost stippled. Don't totally even out the paint you stroked on – leave some areas a bit darker some lighter, but do totally eliminate the brush strokes. Fade your edges out to almost nothing – that makes it easy to blend in the next area. Use your chip brush, move over and up or down, and do it again. Keep moving all around the wall. As long as you always fade out your edges, your areas will blend. For a backsplash, you are obviously only moving sideways not up or down.

Corners, ceiling lines and baseboards (or cabinet/tile lines as the case may be): Load your chip brush tips only – very little paint is required – and gently tap the paint near not in the corner or ceiling. You should have worked your patches close to the corners by this time, but you couldn't get into them because the pad is too big. Now, with your clean chip brush, tap into the paint you just applied and move it to the corner in small pouncing motions. It should blend into your other areas perfectly. You don't want to leave your corners or they will look like a halo around each wall and you don't want them too dark and smeared or it will look like you didn't know how to handle corners. Corners, and ceiling lines are the give-away on an amateur job – that's where you need the most patience for any faux finish.

Making a sample first: On a poster board (approx.18 x 24) painted in your base color, paint a vertical swatch of your glaze mix (1 brush width and about 4 or 5 inches long) in the upper left corner, then another in the middle running on an angle as if from 10 to 4 on a clock, then another in the lower right corner kind of horizontal and a small one right above it because you won't have much paint on your brush by that time. Then put a bit more paint on your brush and put another towards the lower left corner. That's the type of coverage you start with in each area of your wall before you start pouncing with the terry pad. There is really very little glaze applied to the walls. What you are doing is thinning it out and moving it around. Keep varying the angles of the swatches but don't make yourself crazy about it - the distances are approx. and there shouldn't be any particular pattern to it.

Once you try this, you'll see how much the paint will get moved around and you'll know how much you need to apply to cover a given area. Remember it will dry a bit darker. It will also mellow as it dries - what looks harsh when you are done will be fine in the morning.
---
| | | |
| --- | --- | --- |
| good point | | |
Walkin, you make a very good point. I had not thought of how I would react to a bad tile backsplash.

Maybe my aversion to the venetian plaster is that I really don't know HOW one deals with getting rid of it! Can it be scraped off without having to redo the drywall?

Okay, let me amend my objection: I would find it hard to buy a house that had something attached to the walls that couldn't be easily removed without damaging them...whether that something be venetian plaster, wallpaper, ugly tile, or something else yucky that I haven't thought of yet. :)

I really do hope you can figure this out and get the look you want without it causing you any problems now or in the future.
---
| | | |
| --- | --- | --- |
| RE: venetian plaster backsplash? pics? (Igloochic?) | | |
Bumping up for walkin - don't know if you got back here or not to see the faux info.
---
| | | |
| --- | --- | --- |
| RE: venetian plaster backsplash? pics? (Igloochic?) | | |
Deb, here I am, and thank you so much! I'll confess that as a total novice I find it difficult to picture the finished product of either of those finishes. I'll need to give them both a try on posterboard and see how I do -- but I really appreciate the time and effort involved in posting them here.
---
| | | |
| --- | --- | --- |
| RE: venetian plaster backsplash? pics? (Igloochic?) | | |
I'll dig through my sample boards and see if I can get some pics for you. Do you have an idea of the color direction for your kitchen walls?
---
| | | |
| --- | --- | --- |
| RE: venetian plaster backsplash? pics? (Igloochic?) | | |
Walkin,
Here is a pic of my previous kitchen. I am sorry I don't have any close-ups. I used a sagey green that I could have just wiped the tea stain on top of.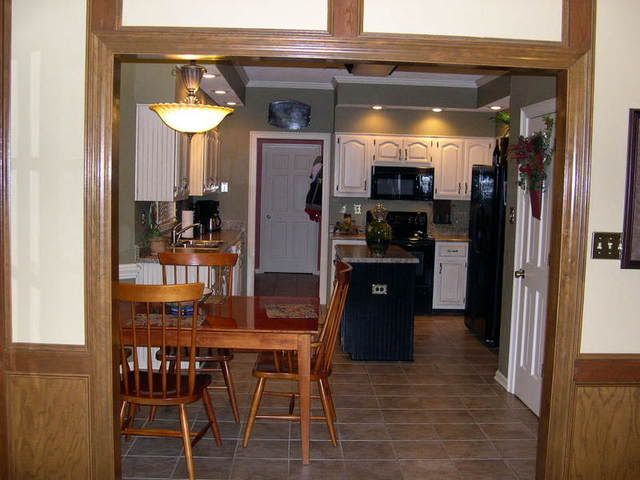 The hardest part was prep...(as always) taping the trim, cabinets, counters off. Then you just get a trowel and rotate your wrist to create the effect. You could try on a big old board to play around. Then I just painted regular latex - satin finish paint on top. The glaze could then be added with a cheese cloth - to get it in the crevices.
In fact, I went to a high end home yesterday for a b-day party in an older section of town. Their kitchen (very nice & upgraded cabs & appliances) had the same treatment on the walls!! They were a pretty yellow with a glaze on top. She had cream colored cabinets & travertine floors.
I am just throwing this out for you, as an option :)
Smiles:)
---
| | | |
| --- | --- | --- |
| RE: venetian plaster backsplash? pics? (Igloochic?) | | |
hi, i did the mortar compound finish on my walls-- they are not smooth, as you want-- but i loved them. they were easy and cheap to do. i glazed over them with a tea stain, just like was mentioned here in one room and in the kitchen i did a terracotta. both glazes i did in three hand mixed colors. i had to use this, as i was covering up BAD wallpaper from the '70's that refused to come off even with a professional steamer. i don't know how you would get this off other than sanding it, but if you're going to stay there a while, it might be worth doing something you love. easy for me to say that, but i am always thinking about resale and it keeps me from doing what i really want to do sometimes! it's a tough call. the joint mortar is thick, and you can control the thickness so you can probably put tiles into it if you want to.
mine were hard to wash, but then again, nothing ever showed on them because of all fo the texture and color--LOL.
---
| | | |
| --- | --- | --- |
| RE: venetian plaster backsplash? pics? (Igloochic?) | | |
dlm2000 - just found this information and would love to see some pics of your faux finishes. I have both formica and paneling to cover on my backsplashes and paneling on my soffits and desperately need some ideas!
---
Post a Follow-Up
Please Note: Only registered members are able to post messages to this forum.
If you are a member, please log in.
If you aren't yet a member, join now!
---
Return to the Home Decorating Forum
Information about Posting
You must be logged in to post a message. Once you are logged in, a posting window will appear at the bottom of the messages. If you are not a member, please register for an account.
Please review our Rules of Play before posting.
Posting is a two-step process. Once you have composed your message, you will be taken to the preview page. You will then have a chance to review your post, make changes and upload photos.
After posting your message, you may need to refresh the forum page in order to see it.
Before posting copyrighted material, please read about Copyright and Fair Use.
We have a strict no-advertising policy!
If you would like to practice posting or uploading photos, please visit our Test forum.
If you need assistance, please Contact Us and we will be happy to help.

Learn more about in-text links on this page here