Return to the Home Decorating Forum
|
Post a Follow-Up
---
| | | |
| --- | --- | --- |
| Beadboard wallpaper? | | |
Posted by
oceanna
(
My Page
) on
Thu, Jan 10, 08 at 23:09
Have any of you ever used the paintable wallpaper that is supposed to mimic beadboard? Does it have to be painted if you want white and it comes in white? If you used it, now that you have lived with it for a while, would you do it again?

If you haven't done it, but you have seen it in person (not just in a picture), were you fooled?

Thanks!
---
Follow-Up Postings:
| | | |
| --- | --- | --- |
| RE: Beadboard wallpaper? | | |
I do not understand why you would use beadboard wallpaper. they have thin primed beadboard in Lowes that is about $5 a sheet and I used it on my cabinets and I cut it with a straight razor.
---
| | | |
| --- | --- | --- |
| RE: Beadboard wallpaper? | | |
Oceanne, someone on this board did use it in her bathroom remodel, but I don't remember who it was. Did you do a search?

msjay2u, I need to check out that thin stuff. That could come in handy. Is it thin like luan or thinner?
---
| | | |
| --- | --- | --- |
| RE: Beadboard wallpaper? | | |
msjay, could you post a photo of your cabinets? I'd love to see them.
---
| | | |
| --- | --- | --- |
| RE: found thread, but gone | | |
Oceanna, I found the thread, but when I tried to click on it I received a message that said it was gone.

It was posted by sapphirestich July 28, 2007. The thread was entitled "First Room of Novalis Vinyl Plank Floor." I remember it because I was impressed with the beadboard wallpaper. If you want to search, put in Paper Wainscoting and it's the first one to come up on the list.
---
| | | |
| --- | --- | --- |
| RE: Beadboard wallpaper? | | |
Msjay thanks!

I will look for it. My cab doors are bizarro. I think they're made out of compressed industrial waste. I'd love to give them a face lift! Yes, please post a pic of your cabs!

Do they have thin sheets of plain panelling (no grooves at all) too? I have another application for that.

Here are my kitchen cabs with the handles in the middle. And my two bathroom cabs are the same junk. The PO must have gotten a deal on it. These were taken before I moved in. Sorry these are such bad pics -- the real estate agent took them with her phone. No, the kitchen wasn't pink; it was grey-toned white.

I can't afford to replace these cab doors but sure would like to do something to improve them.

The best thing about the kitch is the garden window.
The best thing about this bath is that box on the left of the vanity is a laundry chute to downstairs. :-) The cab is fake oak... the laundry chute is real oak. Should I paint them?
---
| | | |
| --- | --- | --- |
| RE: Beadboard | | |
Brutuses, yes I remember seeing that picture, thanks. I think it was Teeda (?) who reposted it recently. That's where I learned about it. I don't know whose it was, though, or if she still posts here. If I can do it in the real thing as easily as Msjay indicates, and as cheaply, I sure prefer that.

~~

To all...
I put up a whole lot of wainsotting all by myself in my last house. The hard part was getting the electrical receptical holes in the panelling correctly.

I would like to do this kind of panelling on my staircases (going up and down as you enter the front door):

(with thanks to the gal who posted this pic here)

I don't think that will be easy because of the angles on cutting the trim. Might be too much for my wee small brain.
Would it look stupid to do beadboard in the kitch and hall bath if I have this in the entry, LR and down the hall? Should I keep it all the same?
Would it look stupid in this house...
... to do beadboard in the first place? Or to do the other fancier kind?
I'm so confused about my house and my decorating! I'm just plain in the wrong house and that's not going to change. My LR is turning out to be pretty formal with the dark woods and fancy fabrics.
And maybe I'm a bit torn inside too between a more formal look and the charm of coattage decor. All that white furniture and all scares me in a climate that's grey and wet 9 months of the year, to tell the truth. So many of those white rooms are so pretty, but I'm afraid I'd feel like I were freezing all winter. Could my problem be my six planets in Libra? lol!
I dunno what to do with this place. Maybe I should keep the whole house more formal and do this fancier kind of wainscotting (I love wainscotting) up the stairs, in the LR, down the hall, and in my master BR? Maybe I should beadboard the whole thing? Maybe I should think of resale and people will probably be expecting all plain walls and some kind of fancy-dancy kitchen I can't afford on a little fixed retirement income?
---
| | | |
| --- | --- | --- |
| Brutuses | | |
Thanks, Brutuses! I'll look for it.
---
| | | |
| --- | --- | --- |
| Brutuses II | | |
I don't get it. If I put "Paper Wainscoting" in the search engine I come up with three gardening posts and that's all. I *never* can find anything with the GW search engine!
---
| | | |
| --- | --- | --- |
| RE: Beadboard wallpaper? | | |
Hi Oceanna. I've enjoyed many of your posts esp the cottage decor thread. Thanks.:-)

Your house is lovely! I think wainscoting/beadboard would go wonderfully!! I would use the wainscoting in the more public/formal areas you described, and do beadboard in the less formal areas for a more cozy relaxed look. I think white woodwork combined with color on the walls is a winner every time--very classic. Also, dark furniture in some rooms, along with white in others would be just fine. Just keep a common thread in each room to tie it all together! That's my $.02. Hope this helps in some way. I am sure whatever you decide will be beautiful!

Cheers,
Becky
---
| | | |
| --- | --- | --- |
| RE: Beadboard wallpaper? | | |
Thanks, Becky! You sure make me feel better. :-)

I'm with you on loving the white wainscoting (I'll learn to spell that word sooner or later) with the jewel tone colors above. It's a very strikingly pretty look, I think. I've saved a number of pictures like that in my files. Thanks for the vote of confidence. Knowing what's pretty and having the wherewithall (skills, energy, strength, time, money, help, etc.) to have it for one's self ... well, there's often a big gap in there, if you know what I mean. ;-)

Speaking of adding pictures, I just added a few to the Accessorizing thread in the Gallery. I posted what I have, as I just started collecting them recently.
---
| | | |
| --- | --- | --- |
| RE: Beadboard wallpaper? | | |
I Googled Beadboard wallpapers and found this picture. I am going to try this stuff as well, but would also love to see the thin stuff as well at Lowes.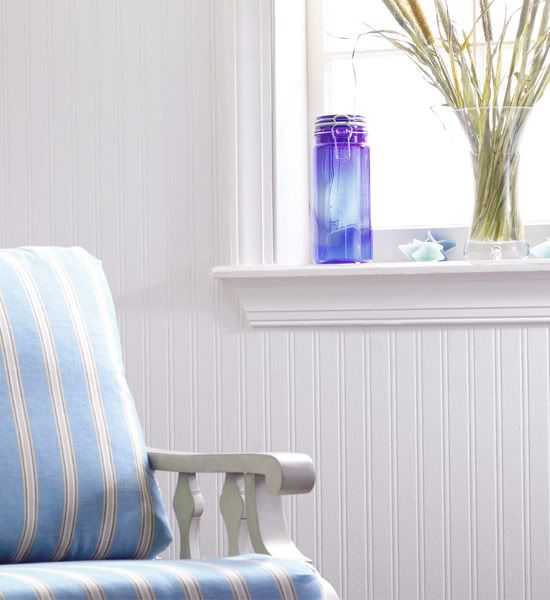 ---
| | | |
| --- | --- | --- |
| RE: Beadboard wallpaper? | | |
Here is the link to the bathroom forum that has information about the beadboard wallpaper. Scroll down to Dianar95's posts.
Here is a link that might be useful: beadboard wallpaper
---
| | | |
| --- | --- | --- |
| RE: Beadboard wallpaper? | | |
This isn't wallpaper or wood, but a faux paint technique using a squeegee(?) and some paint.
p.s. try typing in "faux beadboard" during a search.
Here is a link that might be useful: faux beadboard
---
| | | |
| --- | --- | --- |
| RE: Beadboard wallpaper? | | |
Here is a thought . . .what if you leave the cabinets as-is, paint the wall (maybe red?) but change the hardware ?

How long have you lived in your new house?
---
| | | |
| --- | --- | --- |
| RE: Beadboard wallpaper? | | |
Maybe if you only want to do a little room like a bathroom the wallpaper would be perfect. But I doubt it would wear all that well in a busy hallway with kids/dogs?

Don't you think it's odd that the handles are in the middle of the cabinet doors? If I move them to the normal location, how could I fill the holes and get it really smooth? They're bizarre doors; I don't think they're exactly wood.
---
| | | |
| --- | --- | --- |
| RE: Beadboard wallpaper? | | |
I just want to say this and I know Oceana has done a lot of do-it-yourself projects but the wallpaper/beadboard is very difficult to hang without depressing the grooves that make it look like beadboard. You will not be able to use a smoothing tool, since using that will "iron out" the indentions that make the pattern. Just so you have a heads-up. I would use lots of paste and a soft brush. I have hung quite a bit of paintable wallpapers before and it does take a little "working with it" to get it right without ironing out the impressions. In fact I did a Crabtree & Evelyn ceiling once. It can be done and quite easily but work with a piece of wood or something first before you try it on the walls. Just get the "knack" of it before trying it on your walls, because once it is up there, we all know how hard it is to take down.
---
| | | |
| --- | --- | --- |
| Oceanna! | | |
Did you try "paneling, judges panels."
---
| | | |
| --- | --- | --- |
| RE: Beadboard wallpaper? | | |
Oceanna, it is not hard to move those handles in the middle of the white cabinets if you have some identical white paint to cover the old holes.  You use wood putty - I used Elmers Carpenter Wood Filler.  You use a putty knife to smear it on, then sand between coats until it is flat and smooth. It may take a few layers. Then dab a little primer and paint the offending former holes.  You could move the pulls to the traditional postitions then. And, if you replaced with round pulls similar to this, you would only have to drill 1 new hole per cabinet door!!:

 
I am going to do just that next weekend. I found those pulls on ebay for about .75/each. I have used that company before and was happy with the product. They have all different metals (ORB, brushed nickel, etc.)
The key, though, is having the identical white paint.
---
| | | |
| --- | --- | --- |
| RE: Beadboard wallpaper? | | |
Patricia brings up a good point about application, but I just want to say that I have some of this paintable beadboard wallpaper, from Graham & Brown, where Mush picked up that beautiful picture. And while many paintable wallpapers are stiff paper with deeply embossed designs that can flatten out if you try to smooth them onto the wall, like Patricia has described, this product is a little bit different. It's very thick vinyl wallpaper, almost puffy-feeling, and the grooves don't flatten out. It's a little hard to describe, but it's a very durable product, wipeable and scrubbable and all that, and doesn't smash or ding or dent. It goes up just like regular wallpaper and is strippable if you decide you don't like the look later (easier than UN-installing real beadboard). I would say if you're interested in trying it, get a sample and stick it up on your wall, see if you like the way it looks. I think Graham and Brown sends free samples.
Here is a link that might be useful: Graham and Brown paintable
---
| | | |
| --- | --- | --- |
| RE: Beadboard wallpaper? | | |
amanda, thanks for the link. I just ordered a sample of the beadboard (free.) I think I may try it in my guest room.
---
| | | |
| --- | --- | --- |
| RE: Beadboard wallpaper? | | |
DD has this wallpaper in her kitchen and we didn't know it was wallpaper until we saw an extra roll in the drawer left by the sellers. It looks great!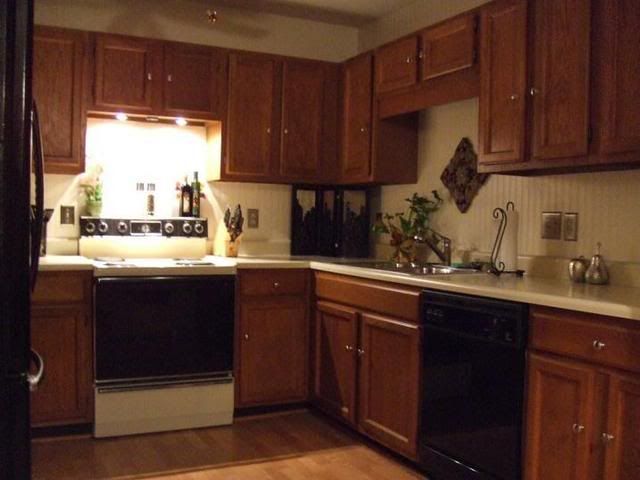 ---
| | | |
| --- | --- | --- |
| RE: Beadboard wallpaper? | | |
I have a friend who put up the beadboard wallpaper in her bathroom - it looks great, but I definitely wouldn't use it in a high traffic area. If you press your fingernail or anything else with an edge into it, it leaves an indentation that will never go away. I had considered using it myself, but once seeing hers, I'm not sure I will. As another commenter mentioned, it seems like it would be hard to hang since you can't press against it to even it out. I'll ask my friend how hard it was. Another thing to consider - if you want to hang a picture or anything else on the wall, you're creating a hole that can never be repaired.
---
| | | |
| --- | --- | --- |
| RE: Beadboard wallpaper? | | |
Patricia ~~

Thanks for the tips. I'd wondered about that, and also how well it would stick if only the grooves contacted the wall. Do you have a picture of your Evelyn and Crabtree ceiling? "Paneling, judges panels" here in the search engine? I just tried it and didn't get anything good. The search engine here drives me nuts; I never can find anything.

SnickySnacker ~~

Thanks for the tips about filling the handle holes. That knob looks great -- good luck on your project and don't forget to post before and after pics here, please.

Amanda ~~

Thanks for the info and the link. I've book marked it. Since you have some, do you think it looks real? Would you need to paint it after installing it? Did you use it and if yes could you post a pic, please? I will order a sample. Cool!

Caminnc~~

Thanks for posting the pic. It looks great! I would love to have it in my kitchen. I adore beadboard. It sure would be easier to cut away wallpaper for electrical outlets than to cut away real panelling -- and I've done both.

Laura ~~

Good point about hanging pictures and I wonder about durability, as you said. I wonder if there are more than one companies who make it and if all beadboard wallpapers are not created equal?
---
| | | |
| --- | --- | --- |
| RE: Beadboard wallpaper? | | |
Oceanna, the paper is completely flat on the back, so it is just like regular wallpaper with the embossed design only on the front. I wish I could describe it better than that! :)

I think it passes for real beadboard pretty well. I would definitely paint it, though, to match your trim. It's a little shiny unpainted, and kind of a dull warm white. We have not installed it yet, but I will take pictures when I do to share with the forum.

There are a few reasons we chose the beadboard wallpaper rather than wood paneling that might help you make your decision. First of all, to install real beadboard--either the tongue and groove individual planks or the pressed plywood sheets--you have to remove your baseboards and then replace them over the top of the paneling. That is a little more work than we want to do, when all we need is a decorative solution to covering some really beat up 100 year old walls. Also, the less expensive pressed plywood sheets are only four feet tall, which is fine if you're doing traditional chair-rail height wainscoting, but we wanted to go up at least five feet, if not the entire wall (12-foot ceilings), so the wallpaper works out better. I think it makes great sense for a lot of applications (ceilings, backsplashes, small areas, bathrooms, soffits, it's easily installed, it's easily removed, it's less expensive than wood).

This company has a lot of great inspiration photos of beautiful paneling, I especially like the "Cottage" style. And also the paneling going up a staircase that you mentioned.
Here is a link that might be useful: New England Classic
---
| | | |
| --- | --- | --- |
| RE: Beadboard wallpaper? | | |
We just hung some of the paper beadboard tonight! It went up very easy and so far looks great. We put it in our small 8 x 6 office off of the kitchen. We went to Lowes intending to buy the wood panels but saw this instead. My husband was thrilled with the prospect of not having to remove the baseboards. I'll try to post a picture once we install the chair rail. It's definitely a quick fix for "beat up" walls.
---
| | | |
| --- | --- | --- |
| RE: Beadboard wallpaper? | | |
Amanda,

Thanks for the additional information. I've done real paneling but this would be SO much easier and quicker, especially getting around tricky shapes, doing outlets and all. Also with paneling the outlet screws all have to be replaced as they're no longer long enough. I was so scared I'd get an outlet hole in the wrong position when I did it. I got them all right but it was tricky stuff, I thought. I had a bigger better work area then too.

I love the link... and like you love the cottage style best. Please post pictures of what you did!

Ncamy,

Wow sounds great! Can you post pictures, please? Did you find the beadboard paper at Lowe's? Or order it off the Internet? Or?
---
| | | |
| --- | --- | --- |
| RE: Beadboard wallpaper? | | |
Hi Oceanna,

Saw your message - I am the one who used beadboard wallpaper in my bathroom - LOVE it and it's so easy.

Lowes used to carry the Graham and Brown Super Fresco paintable wallpaper series, however it looks like they have been discontinued. I had to purchase it online from Creative Wallcovering - the wallpaper name is "paintable beadboard wallpaper".

I can't believe how easy it was - I did prime the walls first with wallpaper primer (Shieldz) as I was papering over builder grade paint which tends to soak up the paste. Once completed, I used lightweight spackle to cover any seam lines that were obvious. One coat of paint was all that was needed. EASY!! You will love it.

I did look at the paintable wallcovers that Lowes still carries, but the paper didn't seem the have the thickness of the SuperFresco brand. Also, I wanted the wider beadboard pattern.
You really can't tell that this is wallpaper.
Hope this helps - I will try to dig up more photos.
Diana
---
| | | |
| --- | --- | --- |
| RE: Pics - Beadboard wallpaper | | |
Here are a few pics: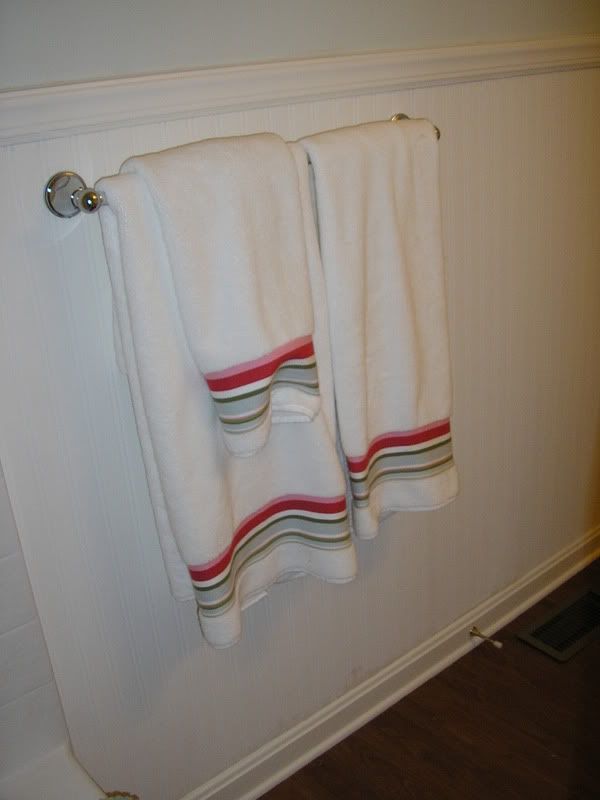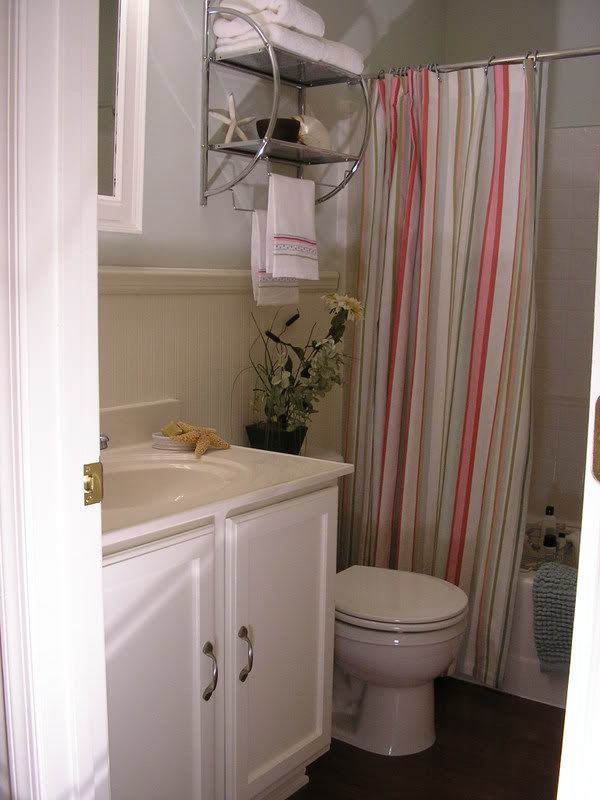 BTW, the sink cabinet was builder grade oak, so I painted it with Cabinet Coat paint and then glued door handles on the front. There was ugly sheet vinyl on the floor, so I covered it with Novalis plank peel and stick.
This was the most inexpensive remodel ever!
Diana
---
| | | |
| --- | --- | --- |
| RE: Beadboard wallpaper? | | |
WOW Diana! That is beautiful. LOL on gluing the hardware on the vanity. I got my free sample last week from Graham and Brown that amanda t posted above. I kept poking my fingernails into the paper to see if it would damage it and I couldn't.

I was thinking of putting this in my guest room and the basement staircase. You have inspired me.

I have a question. How did you attach the top moulding? (I am assuming you didn't use the glue gun?)
---
| | | |
| --- | --- | --- |
| RE: Beadboard wallpaper? | | |
LOL Kelly - I tried the glue gun - doesn't work! But I did glue it on using Lexel clear sealant (available at Ace) - it was what I had on hand. I then tacked a few nails in and taped it down until the glue had set. Don't tape on the wallpaper, however! This was really kind of a dumb method, but I was working on this project without a helper and was determined to finish it quickly.

I used a very lightweight molding - found at Lowes and HD - it's plastic and cuts very easily. Once painted, you cannot tell that it isn't wood.

Patricia brought up a good point - I haven't had any problems with dents, scratches, etc., but after reading her post I tried to scratch the wallpaper with my fingernail and it did create small cuts. These can probably be steamed out, or fixed with lightweight spackle.
However, based on my experiment, I probably would not use this in a high traffic area. This is a guest bathroom, and is only occasionally used.

Best of luck and thanks for the compliments!

Diana
---
| | | |
| --- | --- | --- |
| RE: Beadboard wallpaper? | | |
oceanna-
Sorry to break the thread but was wondering if this was your hallway picture (the one with the mirror)? If it is could you share with me the name of the color of the hallway? It is gorgeous! It looks like a cream-but not sure if it is showing the true color or not. It may be the very color I am looking for in my bedroom. Thank you in advance.
---
| | | |
| --- | --- | --- |
| RE: Beadboard wallpaper? | | |
Wow...I need to try this wallpaper in my kitchen. Very cute!
---
| | | |
| --- | --- | --- |
| RE: Beadboard wallpaper? | | |
wildlifephotomom, That picture belongs to Susans02 and I am pretty sure that is BM Monroe Bisque in her foyer.
---
| | | |
| --- | --- | --- |
| RE: Beadboard wallpaper? | | |
kmcg85,
Thank you so very much for responding to my question about the paint color. I certainly appreciate it.
---
| | | |
| --- | --- | --- |
| RE: Beadboard wallpaper? | | |
Diana,

I'm so glad you found this thread and thanks for posting here! It was seeing your thread that first gave me the idea. Your bathroom looks wonderful! Like you, I try to be independent and do everything myself (my son helps if I holler but I try not to holler any more than I absolutely have to). I really appreciate your sharing your tips and techniques. I was going to ask you how it's wearing. Would you dare to put it in a hallway, do you think? Would it withstand kitchen backsplash use?

Wildlife,
Kmcg answered you correctly in that the hall photo belongs to Susan02. I couldn't remember the name, but that's right. Thanks Kmcg.
---
| | | |
| --- | --- | --- |
| Oh Diana | | |
I have another question for you, Diana. Did you place your baseboards and chair rail over the top of the paper? Or did you try to cut it exactly? It seems the former would look good and the latter would be tough to do right.
---
| | | |
| --- | --- | --- |
| RE: Beadboard wallpaper? | | |
A little tip I picked up along the way about hanging pictures on wallpaper: cut a very small V in the paper. Peel it up with your fingernail. Put hanging nail in the area of exposed wall.

If you ever want to move the picture, just put a dab of glue on the paper V and glue it back down. It's usually nearly invisible.

Dianne
---
| | | |
| --- | --- | --- |
| RE: Beadboard wallpaper? | | |
Hi Oceanna,

LOL - sometimes I get stubborn and don't ask for help! Don't ask me about the time that I thought re-sodding a lawn would be simple (you have no idea how heavy grass can be)
Here are my thoughts regarding the paintable wallpaper. I don't think that it would withstand high traffic/heavy use areas where there would be the potential for dents and cuts. I have mine in a guest bathroom and am currently installing it in the adjoining bedroom. These rooms are only used occasionally.

However, it is a rather inexpensive experiment - I think that I only paid $25.00 per double roll at Creative Wallcoverings. You could order a sample and play around with it. I also think that the durability would depend on the quality/type of paint that was used. I used a flat wall paint because it was what I had on hand. I would think that in an area such as a kitchen, a satin or semi-gloss would be a better choice.

Regarding the installation - I glued/nailed the chair rail right over the wallpaper without any problems. I did not remove the baseboard; just papered the wall with about 2 inches extra hanging at the bottom. Then, using my razor and the wallpaper smoother, I simply cut the paper to fit. I changed the razor after 2 cuts - they get dull very quickly.

Just let me know if you have any more questions. I have learned so much from everyone here and I am glad that I can contribute something.

Diana
---
| | | |
| --- | --- | --- |
| RE: Beadboard wallpaper? | | |
Dianne -- that's a great tip about hanging pictures on wallpaper!

Diana --

Thanks. :) I've done a lot of wallpaper and you're right about going through razor blades like there's no tomorrow. I think I'd tend to loosen up the baseboards, then pound them back in without removing them all the way if I could get away with it.

Sod? You've got to be kidding if you try that alone. That's a huge job.

I feel the same as you -- the folks here are so helpful and generous. That's why I've been doing all those threads in the gallery -- to pay something back. There are a lot of gorgeous pics of beadboard and I drool over them. I absolutely love that look and always have. I've done real paneling before, but I'm not getting any younger. Shortcuts and easier ways look very attractive.

My concern about putting the wallpaper down the hall isn't cuts, it's dirt. Darned if a dog won't go down the hall with some goo on his whiskers and shake it off on the walls. I'm amazed at what I have to scrub off walls around here with four parrots and now down to three dogs.
---
| | | |
| --- | --- | --- |
| RE: Beadboard wallpaper? | | |
Hi everyone, I am in the process of remodeling my kitchen. My cabinets are solid wood except the ends which I think are made of cheap fiberboard-- they also used a cheap moulding on top-- i painted the moulding a rasain color to match the other trim in the room-- I was thinking of putting up beadboard on the ends of the cabinets and center island but was wondering about using the paintable wallpaper(beadboard) instead. Any ideas or suggestions??? Thanks for your help!!
---
Post a Follow-Up
Please Note: Only registered members are able to post messages to this forum.
If you are a member, please log in.
If you aren't yet a member, join now!
---
Return to the Home Decorating Forum
Information about Posting
You must be logged in to post a message. Once you are logged in, a posting window will appear at the bottom of the messages. If you are not a member, please register for an account.
Please review our Rules of Play before posting.
Posting is a two-step process. Once you have composed your message, you will be taken to the preview page. You will then have a chance to review your post, make changes and upload photos.
After posting your message, you may need to refresh the forum page in order to see it.
Before posting copyrighted material, please read about Copyright and Fair Use.
We have a strict no-advertising policy!
If you would like to practice posting or uploading photos, please visit our Test forum.
If you need assistance, please Contact Us and we will be happy to help.

Learn more about in-text links on this page here