Return to the Home Decorating & Design Forum
|
Post a Follow-Up
---
| | | |
| --- | --- | --- |
| Heresy? | | |
Posted by
mtnrdredux
(
My Page
) on
Mon, Jan 27, 14 at 22:03
I have a LaBarge Mirror in my garage for a few years now.
It is no longer my taste, and does not go in my current home or our new second home. I actually had two somewhat similar ones and used one in my lil' stone house.

Resale value is poor. My local consignment shop says they are overloaded with mirrors, and I can see that when I drive by!

I bought it probably 12 years ago? I think it was 1500-2000. So I would rather use it then sell it for like 200 or whatever.

Question? Would it be heresy to paint it white? I am thinking of using it in my girls bathroom at the beachhouse.

TIA
---
Follow-Up Postings:
| | | |
| --- | --- | --- |
| RE: Heresy? | | |
Maybe knowing whether painting your mirror is reversible would make your decision easier!

If removing the paint without causing substantial permanent damage is possible, it would give you the option of using it in its original condition should you ever change your mind. Otherwise, paint away...a beautiful mirror is just languishing in your garage now.
---
| | | |
| --- | --- | --- |
| RE: Heresy? | | |
Probably not what you want to hear, and of course its yours to use if you like, changed however you might like.

My first thought was though with no guilt trip intended, if it were mine and I didn't have the right place to enjoy it, I'd give it to someone who would enjoy it before I'd sell it for peanuts or lessen the value.

I've got plenty of nieces and nephews who couldn't buy a piece like that themselves yet, but would love it in their homes.
---
| | | |
| --- | --- | --- |
| RE: Heresy? | | |
Is it gilded wood? I don't think it would be heresy, exactly, but there would be a sort of gulp factor for me if I did it. We don't ever sell anything like that because DH doesn't want anyone coming to our house for it, and there are some things too nice to donate to goodwill--- they'd get pennies on the dollar for your mirror, which would be a waste, and you would still have to go out and spend money on a new mirror for your girls. So.... If the size and shape are just right, paint it. I think it could be a cool project for your kids to paint it white, then encrust it with shells. I could totally justify something fun like that, LaBarge or not!
---
| | | |
| --- | --- | --- |
| RE: Heresy? | | |
Make sure you use FPE--the mirror deserves the best!
---
| | | |
| --- | --- | --- |
| RE: Heresy? | | |
Vedazu; FPE?

KSWL, I don't know if it is literally gilt or just the style, my guess is it is "gilt style" I will investigate.

Seeker, hmm, that can be done?

Morz - The mirror fit well, i though, in my 1904 brick Georgian. It does not fit in my farmhouse colonial here in CT or in my Dutch Colonial "beachhouse" in Maine. I would love to give it away, but no one I know has a really formal home who would want it. I hope I don't offend but I don't think it's very ... youthful? And my nieces and nephews are all pretty young, and even the one who is out on his own ... doubt he'd like it and it'd be silly in his home.

This is not a great pic but you get the idea!

PS My DDs said we should try it as is first ... maybe they will like it?!
---
| | | |
| --- | --- | --- |
| RE: Heresy? | | |
Is that mirror gold? Wouldn't that work in the bohemian bedroom? Could you hang beads/necklaces on gold hook all around it and maybe a sari drifting over one corner. I'd at least try, before I painted it :)
---
| | | |
| --- | --- | --- |
| RE: Heresy? | | |
I love lavender -lass' idea! Add hooks to the frame where she can hang necklaces, headbands, bracelets, and other little things that strike her fancy. Keep it in the family! Maybe one of the girls will decide she wants it someday. ;)
---
| | | |
| --- | --- | --- |
| RE: Heresy? | | |
i would absolutely keep it and use it in any way i saw fit... if you sold it/gave it away, who knows what the next owner would do to it anyway!!!
repurpose/reuse!!
---
| | | |
| --- | --- | --- |
| RE: Heresy? | | |
I third the motion to use the mirror "as is" in the "den of iniquity" how lavender lass described.
---
| | | |
| --- | --- | --- |
| RE: Heresy? | | |
Definitely put it in the Den of Iniquity ... every iniquitous place needs an ostentatious gilt mirror to reflect the decadence.

Can you hang it portrait orientation as a dressing mirror for the girls?
---
| | | |
| --- | --- | --- |
| RE: Heresy? | | |
Now that I see the picture of your wonderful house, I changed my mind--don't paint it. All too beautiful. (Fine Paints of Europe--the oil/super glossy stuff)
---
| | | |
| --- | --- | --- |
| RE: Heresy? | | |
I'm with the others...boho chic for sure.
---
| | | |
| --- | --- | --- |
| RE: Heresy? | | |
Oh, yes, purple, gold, pink, faux fur?

---
| | | |
| --- | --- | --- |
| RE: Heresy? | | |
mtn, you get my vote for best thread titles!
---
| | | |
| --- | --- | --- |
| RE: Heresy? | | |
Nsoccermom,
That first room is great!

Lazy, Not really. The bevelling of the glass renders it un workable for that, not to mention the frou frou on the top. I found a better shot, below. It's the faceting (which you can barely see along the bottom) that makes the mirror IMHO.
I was originally thinking of it going on a bright pink wall in their BA, over this. That's whY i wanted to make it white.
Of course, now I found this on Etsy!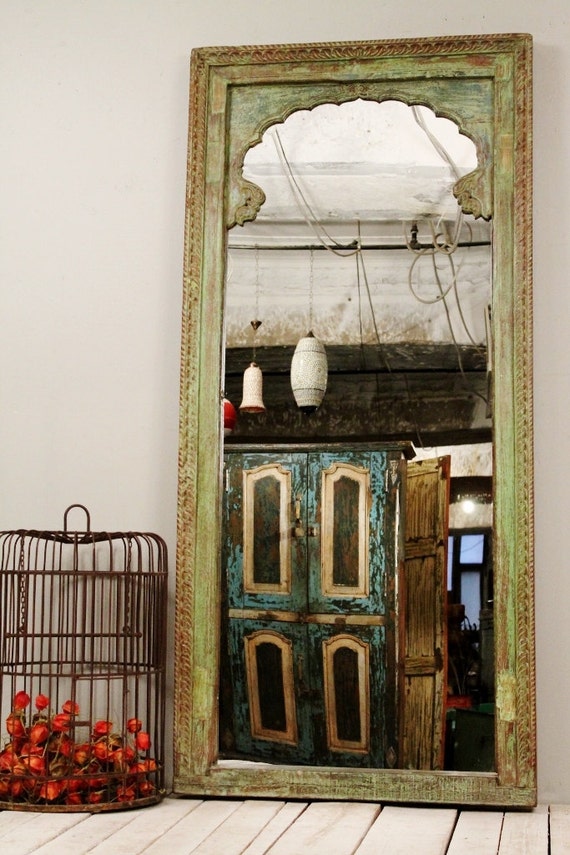 On second thought i want that one for me!
---
| | | |
| --- | --- | --- |
| RE: Heresy? | | |
Careful, that one from Etsy is obviously a magic mirror that makes whatever it reflects turn rustic (because the pristine white wall behind it doesn't seem to match with what shows in the reflection so it obviously must have transformed the reflection).

I'm not much for ornate, but I could really see that mirror with the gold frame on the bright pink wall - kind of playful in an over-the-top way. You might try it before painting it.
---
| | | |
| --- | --- | --- |
| RE: Heresy? | | |
ooh, a magic mirror! I could USE one of those. Good catch.

I agree it looks like I needn't paint the mirror, at least until we try it in situ.

Cloud_swift, Do I recall correctly that you are a koi maven?
---
| | | |
| --- | --- | --- |
| RE: Heresy? | | |
Can you donate it to some organization's fund-raising auction - an organization whose members might recognize the style, and, um, value and bid it up nicely? (Symphony, Library, College, Prep School, Hospital??)

Just donating it to the Habitat Re- Store might be a waste of resources. (Though gosh-a-mighty how flabbergasted would some lucky buyer be to discover it and snap it up for $50.)

Or you could carry it up to your attic and forget about it for 30 years or so. Then it will be like forgotten treasure to be eventually carried off in triumph to your (grand?)daughter's, niece's, 2nd cousin's or DiL's Formal-Period, grown-up house. And we all have a Formal Period in our decorating history, though few of us also have the scratch for La Barge mirrors at the same time, since one's Formal Period often occurs early on. If you don't need to recoup the money from this, crate it, stow it and invest your imagination in someone's future delight in having this "family piece" in their own living or dining room.

L.
---
| | | |
| --- | --- | --- |
| RE: Heresy? | | |
Liriodendron,

At our kids' school auctions there are often left over decor items, they tend not to go so well. Once I donated something (not decor) and it was going for so little that I bought it myself. LOL

You are so right about the formal period occurring "early on"! I bought this mirror shortly after we bought our first house. Partly because it was a formal house, partly because it was important to me to be "grown up", I bought a lot of things like this. Of course, now, instead of wanting to look grown up, I want to avoid the dreaded "old lady" look!
---
| | | |
| --- | --- | --- |
| RE: Heresy? | | |
Oh, I think that mirror could be smashing on a pink wall! I just love unexpected gold, glitz and sparkle.. the kinds of things that *could* be considered very serious in another room. You'll have to try it, as you've said. You'll know right away if it will work unpainted.

LOVE the Moroccan wall mirror too-- but I am with you. I'd claim that for your own room! If I had that mirror, I am sure I'd look as young and pretty as kate winslet in Hideous Kinky each morning! (Have you seen the movie?)

I nodded vigorously when I read your last post. I am in the process of undoing the purchases I made when I decided I needed a "grown up" home. I'd lost my way-- lost my style. Admittedly, it was a different home/different style (and I was not so young lol).. but still.
---
| | | |
| --- | --- | --- |
| RE: Heresy? | | |
Try it as is, then paint it. It's nice enough (although frou frou) but not like a super awesome excellent special one-of-a-kind item is it?

I might be tempted to take a hacksaw to the doodads before painting so I could hang it sideways.

And yeah, it would be perfect as is in a frilly girl's room. I'd also like it in an old fashioned grubby mudroom because it would be cheerful and silly there.

But don't feel you must save it intact for future generations.
---
| | | |
| --- | --- | --- |
| RE: Heresy? | | |
Nothing awesome about it except the original retail price. I think of the LaBarge as "1990s luxury hotel"; that's where I first saw them. There are tons of them out there.

Funny, at one time it was over the mantle in our MBR and DH always threatened to take tinsnips to the floral bits.
---
Post a Follow-Up
Please Note: Only registered members are able to post messages to this forum.
If you are a member, please log in.
If you aren't yet a member, join now!
---
Return to the Home Decorating & Design Forum
Information about Posting
You must be logged in to post a message. Once you are logged in, a posting window will appear at the bottom of the messages. If you are not a member, please register for an account.
Please review our Rules of Play before posting.
Posting is a two-step process. Once you have composed your message, you will be taken to the preview page. You will then have a chance to review your post, make changes and upload photos.
After posting your message, you may need to refresh the forum page in order to see it.
Before posting copyrighted material, please read about Copyright and Fair Use.
We have a strict no-advertising policy!
If you would like to practice posting or uploading photos, please visit our Test forum.
If you need assistance, please Contact Us and we will be happy to help.

Learn more about in-text links on this page here