Return to the Home Decorating Forum
|
Post a Follow-Up
---
| | | |
| --- | --- | --- |
| Our 'new' antique Secretary | | |
Posted by
oakleyok
(
My Page
) on
Sat, Jan 22, 11 at 19:37
My DH inherited this Secretary from his mother who passed away last Sunday. We went ahead and cleared out the valuables from the home in case it was broken into.

This belonged to dh's grandmother. My MIL was 80 when she died, so we have no idea how old this piece is. I'll probably post this on the Antiques Forum.

If any of you are familiar with this, please let me know. It's made of red oak. I haven't dusted it yet, but it's in pretty good condition.
With the desk part down: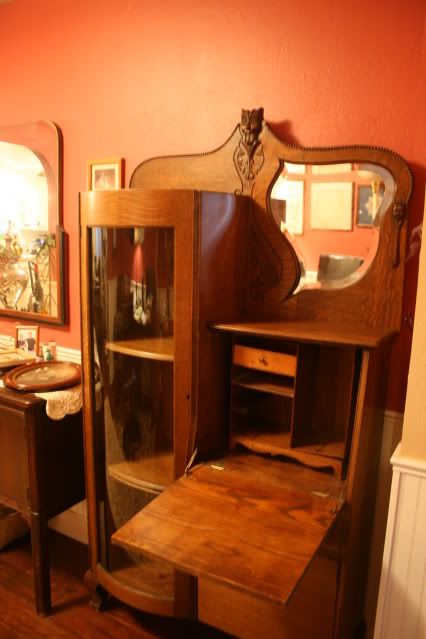 Carving at the top:
Carving at the side:
I "allowed" my dh to put his law books in it. :)
---
Follow-Up Postings:
| | | |
| --- | --- | --- |
| RE: Our 'new' antique Secretary | | |
That is a side by side secretary or secretary with bookcase or secretary with china cabinet. I've seen all 3 names. Those are some strange carvings though! I've never seen faces like that. Reminds me of a totem pool. Many times you see the typical foral or swirls for the carving. I'm guessing early 1900's.

Are you going to keep it in that spot?

tina
---
| | | |
| --- | --- | --- |
| RE: Our 'new' antique Secretary | | |
I'm sorry for the loss of your mother-in-law.

What an unusual piece! I don't know anything about antiques but it's obviously been well loved! I don't think I've ever seen a secretary with shelves on the side like that.
---
| | | |
| --- | --- | --- |
| RE: Our 'new' antique Secretary | | |
Good idea to get the valuable out of there quickly. I'm not sure how old it is, but it's gorgeous! Where are you putting it?
Lynn
---
| | | |
| --- | --- | --- |
| RE: Our 'new' antique Secretary | | |
Oakley, what a lovely and unusual piece of furniture! I'm usually not crazy about oak, but that secretary is the exception, and I'm sure will look lovely in your home. I can't wait to see what you put in it, and where you put it.
---
| | | |
| --- | --- | --- |
| RE: Our 'new' antique Secretary | | |
It's beautiful with just a hint of creepy! I love it!
---
| | | |
| --- | --- | --- |
| RE: Our 'new' antique Secretary | | |
I am so sorry for your loss. Losing a mom is horrendously hard on men, from what I've seen.

The piece is scrumptious! My guess is 1910-1920, based on some pieces I have. It looks fabulous against that red wall. Those carved faces will keep the evil spirits out of your home, btw. That was no doubt their original purpose.
---
| | | |
| --- | --- | --- |
| RE: Our 'new' antique Secretary | | |
LOL deedee! I've seen that thing a million times and never noticed until the other day the carvings on it.

It will be in my husbands office which used to be my sitting room. We need to change the paint color.

However we did move it to a different spot in the room after I last posted.

Quite a few people came over today and I asked each and every one of them if there is too much furniture along the wall where the secretary is. They all said no (even women, lol) and that it was perfect there. It really makes the room Victorianish, which was my goal in the first place. Except now my girlie Victorian accessories have to come down. :(

So I guess I won't be taking out any of the furniture in there.

DH will put some of his law books behind the glass, and he said I could decorate the top two shelves that are open and not behind glass.

I do want him to put my two English Pointer figurines behind the glass. He's thinking about it. :)
---
| | | |
| --- | --- | --- |
| RE: Our 'new' antique Secretary | | |
Oh I am so very sorry for your families loss Oakleyok.
That is a very beautiful piece of furniture. My Aunt Hazel had one very similar to it. There home was filled with oak antiques, but I'm afraid I can't help you date it. It's lovely though.
---
| | | |
| --- | --- | --- |
| RE: Our 'new' antique Secretary | | |
It may have be made by the Larkin company, which sold furniture through catalogs and also let people "earn" furniture as premiums for selling Larkin soap. Most (if not all) of their furniture was made of oak and was manufactured in Buffalo. They're very collectible, especially the more unusual ones. I've never seen one like yours, but I've seen Larkin side-by-sides with similarly shaped mirrors.

If there's a manufacturer's label on your desk (Larkin or not), it would be more valuable. Look on the back (but the back may have been replaced). Try googling "Larkin desk" for pictures and search eBay -- there's a lot of Larkin furniture out there, so you should be able to find plenty of pictures on the web. Also, check your library for these books:

Larkin Oak: A Treasury of Oak Furniture Given As Premiums By the Larkin Soap Company (Marcy Ayars, Echo Publishing, 1984)

Encyclopedia of American Oak Furniture (Robert & Harriet Swedberg, KP Books, 2000)

I have no idea what your desk is worth (I'm not a dealer, just a dilettante :-) after all), but it has a couple of features that should increase its value (compared to other similar desks). First, it has the original curved glass, which is more difficult and costly to manufacture than plate glass. (Without seeing it close up, I'm only guessing that it's original, of course, but when curved glass breaks, people usually don't replace it because they either don't know where to find it or it's just too expensive.) Second, it has the original weird-shaped mirror with the wide bevel. (Again, it's possible to replace a beveled mirror, but it would be expensive. Most people would have foregone the bevel.) Third, those carved faces set the desk apart. I'm wondering, though, if bookcase might have originally had another shelf or two - the shelves seem to be very widely spaced for books.

Btw, when you use the drop-down writing desk, I think you're supposed to pull out the top drawer a few inches to support the writing surface. At least some drop-down desks work that way -- you can tell if yours does by pulling out the drawer and seeing if there's a gap or not. I wouldn't trust those hinges to support the desk surface all by themselves.
Here is a link that might be useful: Article on Larkin furniture
---
| | | |
| --- | --- | --- |
| RE: Our 'new' antique Secretary | | |
No doubt about it, a gorgeous-piece-of-furniture type of secretary/cabinet. ;o)
---
| | | |
| --- | --- | --- |
| RE: Our 'new' antique Secretary | | |
It looks like a side-by-side in a gothic revival style. Coming in just under the wire as a true antique, 1910ish?
---
| | | |
| --- | --- | --- |
| RE: Our 'new' antique Secretary | | |
I like it. I agree with the others as to time frame -- 1910 or so. I agree with Palimpsest on the Gothic Revival feel -- especially the faces/masks. But I also think the carving to the left of the mirror and the shape of the mirror have a distinct Art Nouveau feel, and that had pretty much played out by about 1905. But that was mainly in Europe, and it probably took a bit longer to catch on over here. So 1910 is probably about right.
---
| | | |
| --- | --- | --- |
| RE: Our 'new' antique Secretary | | |
dilettante, thank you so much for the information. I just checked and I believe the drawer is supposed to support the desk. It will stay on it's own, but I can tell where it may not be very sturdy.

I'll try to do some research in the morning on Larkin furniture and hopefully I can find my desk online.

BTW, is the proper name for this a Secretary?
---
| | | |
| --- | --- | --- |
| RE: Our 'new' antique Secretary | | |
I see Art Nouveau with a bit of deco. Lovely pice, I love furniture with animal carvings!!
---
| | | |
| --- | --- | --- |
| RE: Our 'new' antique Secretary | | |
I'm sorry to hear about loosing your MIL. That is a lovely remembrance of her and looks to be in excellent condition. It's fascinating to learn more about it's possible history. Hope you learn more!
---
| | | |
| --- | --- | --- |
| RE: Our 'new' antique Secretary | | |
First...I'm sorry for the loss of your mother-in-law.
What an unusual piece this is~here's hoping you find out all about it.
---
| | | |
| --- | --- | --- |
| RE: Our 'new' antique Secretary | | |
I just checked and there is another shelf. DH stacked it on top of the bottom shelf until he can find some hooks for it. The shelves are adjustable.

It could also be a Rococo piece...whatever that is. Except for the knobs, the whole thing is in excellent condition.

I think it was made anywhere from 1890 to 1910.

I'm still trying to find out about the various carvings Larkin did on his furniture, so far I can't find one similar to mine. He even did Greek gods!
---
| | | |
| --- | --- | --- |
| RE: Our 'new' antique Secretary | | |
These things are hard to accurately date. One thing to consider is that furniture manufacturers would "refresh" an old design by adding a touch of whatever was in style. Go by the youngest design details, not the oldest.

I see a bit of an Art Nouveau style in the lines, and a bit of left-over Gothic in the carved dude, but the smoothly rounded drawer fronts and shelves are either early Art Deco/waterfall or very late "Empire".

It's interesting and useful.
---
| | | |
| --- | --- | --- |
| RE: Our 'new' antique Secretary | | |
Actually I think it's a pretty easy piece to date. It's art nouveau in style and the jesters are very typical art nouveau figures as well. The rococo influence is often found in art nouveau pieces, but the styling is simpler..soft and fluid like in the shape of the mirror. Very organic in form even when influenced by other period styles.

The period was at it's height from 1890 to 1905 so you are pretty much there with your dates.
---
| | | |
| --- | --- | --- |
| RE: Our 'new' antique Secretary | | |
It's not unusual to find gargoyles with their mouths hanging open, and sometime with their tongues hanging out. They were used frequently in European church decorations as symbolic of 'protectors'. I found one critter very much similar to the one on your piece. Perhaps something like it in architecture inspired the designer of your piece.
Here is a link that might be useful: gargoyle head
---
| | | |
| --- | --- | --- |
| RE: Our 'new' antique Secretary | | |
I too am sorry for your loss, but love that amazing secretary! The mirror is amazing! And I adore the bowed front! The creature on the top kind of freaks me out..but it would be a definite conversation piece!
---
| | | |
| --- | --- | --- |
| RE: Our 'new' antique Secretary | | |
Gargoyle! That's what it is. I love it since they were used as protectors.

I was also told it was made around 1900.

We'll never sell it but I'm curious as to what it's worth. I don't even know what to type in when I do a google search.

Any ideas?
---
| | | |
| --- | --- | --- |
| RE: Our 'new' antique Secretary | | |
See my answer on your cross post about this item.....
---
| | | |
| --- | --- | --- |
| RE: Our 'new' antique Secretary | | |
Just a little quiz, if no none feels offended. 1. What's the difference between Art Deco and Art Nouveau? 2. Which style appeared first? 3. What are some of the defining characteristics that would be a giveway as to which style it is?
My answers would be based on the book "AMERICAN ART NOUVEAU" by Diane Chalmers Johnson, two Sotheby's catalogs and various and sundry other books I have on American and European period furniture.
Your answers could be good or bad, right or wrong, it doesn't matter. Just something learned or discovered is the fun part.
---
| | | |
| --- | --- | --- |
| RE: Our 'new' antique Secretary | | |
I've actually seen quite a number of these, and our family used to manufacture them. This one gives me a bit of an "itch" though...

I'm guessing the back is a single sided ply. Any chance you could picture a back corner? The clincher for me would be the thickness of the back, type of material, and if it is recessed or tacked.

I would agree with other posters that it "appears" to be around a 1900's piece, but along with the finish and some other aspects, I'm kind of feeling a 1935-1950's repro.
---
| | | |
| --- | --- | --- |
| RE: Our 'new' antique Secretary | | |
There are absolutely no aspects of this combo I find unusual with a 1905 produced piece, at least from the pictures and descriptions.

Did anyone actually look a the link closely that LCapo provided? It is exact duplicate of the one the original poster provided. Right down to the hardware. The only thing missing is the tiny shelf, and that could have been a victim of time and use.

I know most furniture reproductions I've seen from the thirties through fifties avoided styles very popular in the first decade of the century because it just wasn't old enough to be considered quaint or desireable. It was, however, new enough to still be present in many homes and look terribly dated.

As an example mid-century modern is now enjoying popularity. Sixty years is long enough to be novel. But I don't think too many companies would want to reproduce a 1980s style. I don't think dusty rose paint or kitchen plaques with the word 'country' on them are going to make a resurgence anytime soon. Or even Mediterranin styled furniture, waterbeds and shag carpeting. But..........give it another couple decades. One doesn't ordinarily reproduce recent styles......there are too many originals still around in second-hand stores.

LCapo's link.....below.
Here is a link that might be useful: combination case
---
| | | |
| --- | --- | --- |
| RE: Our 'new' antique Secretary | | |
@colliope are you saying they will never reissue my Marie Osmond exercises for the mother to be VHS!? I'm DYING for a blu-ray transfer.
---
Post a Follow-Up
Please Note: Only registered members are able to post messages to this forum.
If you are a member, please log in.
If you aren't yet a member, join now!
---
Return to the Home Decorating Forum
Information about Posting
You must be logged in to post a message. Once you are logged in, a posting window will appear at the bottom of the messages. If you are not a member, please register for an account.
Please review our Rules of Play before posting.
Posting is a two-step process. Once you have composed your message, you will be taken to the preview page. You will then have a chance to review your post, make changes and upload photos.
After posting your message, you may need to refresh the forum page in order to see it.
Before posting copyrighted material, please read about Copyright and Fair Use.
We have a strict no-advertising policy!
If you would like to practice posting or uploading photos, please visit our Test forum.
If you need assistance, please Contact Us and we will be happy to help.

Learn more about in-text links on this page here