Return to the Home Decorating Forum
|
Post a Follow-Up
---
| | | |
| --- | --- | --- |
| Best Flooring for a Mudroom? | | |
Posted by
organic_smallhome
(
My Page
) on
Fri, Jan 18, 08 at 18:53
When we moved into our house 6 years ago, the mudroom has nasty old carpet in it. We replaced it with indoor/outdoor carpet. We must have been out of our minds--sand, snow, etc. gets tracked in constantly and keeping it clean--obviously--is impossible. Why we didn't lay a hard surface, instead, is beyond me. No lateral thinking skills, I guess. Anyway, what should we replace it with? Slate tiles? I have no idea!
---
Follow-Up Postings:
| | | |
| --- | --- | --- |
| RE: Best Flooring for a Mudroom? | | |
Heh. I know exactly whereof you speak, although our mudroom's indoor-outdoor carpet is in an area-rug format because the floors are so frickin' cold and you have to go through the mudroom to get to the laundry and downstairs toilet, and it does sop up the snow that the dog drags in on his long hair. :-) Although I hate sheet goods with a passion because of the repair issues, they are IMO the most practical for a mudroom, in a pattern that doesn't show dirt much and has minimal texture. I'd personally avoid slate because among other things ice-melters can do a doozy on natural stone. Grout is also evil IMO which would throw out any kind of tile in my book, but if you do go for something in the needs-grout genre (like a through-body porcelain tile, in a larger format to minimize the grout), save yourself some misery and just get a dirt-colored grout to start with :-) and keep it well sealed to avoid salt discoloration. (We didn't find epoxy grout to be worth the additional expense and installation hassle, so I wouldn't recommend it.)
---
| | | |
| --- | --- | --- |
| RE: Best Flooring for a Mudroom? | | |
When you say "sheet goods," Mari, do you mean linoleum? If so, that would be okay with me. We have new lineoleum in our kitchen. I'm resigned. :)
---
| | | |
| --- | --- | --- |
| RE: Best Flooring for a Mudroom? | | |
organic, do you know what's underneath the carpet? If it's something that's paintable, you could try that route, with a mat.
---
| | | |
| --- | --- | --- |
| Yup :-) | | |
Vinyl or linoleum, yes (vent mode on: it is one of my biggest pet peeves when people call vinyl flooring "linoleum" because they are not the same thing, not even close!). If the kitchen adjoins the mudroom, using the same flooring in the mudroom as you did in the kitchen would look dandy - and if the mudroom is as small as most, you might be able to get it as a remnant and save some bucks. :-)
---
| | | |
| --- | --- | --- |
| RE: Best Flooring for a Mudroom? | | |
Organic, if you're interested in sheet vinyl we recently installed Armstrong Cushion Step in the bath of our lake cabin. It is beautiful and comes in a variety of stone looks, wood, even a cork look! We chose the wood plank style, and everyone who has seen it thinks it's real hardwood. The stone was gorgeous as well, but the room was tiny with beadboard and we felt the wood went better with the cabin style.

I am planning to replace the mudroom floor of my home (it's currently covered in a builder's mistake--shiny white vinyl (grr)that we covered with indoor/outdoor berber)with the Armstrong Cushion Step. We had a contractor install it at the lake (part of a remodel), but it is really quite easy to install, so may do it ourselves in the mudroom. I'm going with a stone look (will butt against hardwood in the kitchen).
---
| | | |
| --- | --- | --- |
| RE: Best Flooring for a Mudroom? | | |
We are in the process of building and I am going with tile in the mudroom. I figure it's as kid-proof as anything. We are in the south, so not much snow/ice etc to deal with. Yes to the dirt colored grout. Dh's original idea was to do a cement floor...sloped towards a big drain in the middle. Then we could just periodically hose the whole thing down...heck, maybe we could line up the kids and hose them down too while we're at it!
---
| | | |
| --- | --- | --- |
| RE: Best Flooring for a Mudroom? | | |
Thanks, Mari. We actually do have some leftover linoleum--I'm hoping there will be enough because our mudroom is pretty small. Great idea!

teeda: Thanks for the good ideas. I'm a little leery of vinyl because it's not environmentally friendly and outgasses for a long time. Dh has serious allergies, so it's not really an option. But, you're right, they do amazing things with viny these days. :)

scwren: I think tile is beautiful, but it's a little out of our price range at the moment. Love the cement idea--it would be great for the animals, too!
---
| | | |
| --- | --- | --- |
| RE: Best Flooring for a Mudroom? | | |
We went with natural slate and have no regrets. I think they are 14" x 14" or 16's laid in a brick pattern with a darker grout. (not black but not just light gray) We have snow, dog, kids, etc. and it's held up like a champ AND masks the mess very well. In the winter, we have a couple nice looking rubber boot trays, but the reality with dog, kids, etc is that the floor can be soaked overnight and we haven't had any problems at all.

Only caution is to hire someone that knows what their doing on the install (vary colors, natural pattern and to prevent cracking). Slate naturally "slakes" (sp?) which means that little pieces can "slake" off. I was really concerned during the install, because there was a lot of slake taking the tiles out of the box, but it's been minimal/next to nothing since putting it down.

Asides from water and salt, a Costco purchased Tide (about 120 liquid cycles) hit the floor and COVERED IT. It was a royal PITA cleaning it up, but can't tell that it ever spilled.

I think the best thing about it, is the "hide" factor if you have kids and dog. If you go with something lighter it'll constantly look like it needs to be cleaned.

Good Luck
---
| | | |
| --- | --- | --- |
| RE: Best Flooring for a Mudroom? | | |
We have Daltile Continental Slate, in the beige color. Love it. It's a through body porcelain, so it is practically indestructible. And it's won't break the bank either. We got the 12x12 and set it on the diagonal so the room doesn't look so long and thin.
---
| | | |
| --- | --- | --- |
| RE: Best Flooring for a Mudroom? | | |
I have tile throughout this ranch house with the exception of the bedrooms. I miss my the look and feel of my wood floors in WI but I LOVE the easy care and good looks of the tile. Lucky for me, the owners of this rental house own a tile company so the tile was laid very well. The diagonally laid 18" square tile is centered in the room.

The "mud" room here is a laundry room with space for the cat litter. I sweep and mop this floor often.

Seal your grout to protect it against any stains. .
---
| | | |
| --- | --- | --- |
| RE: Best Flooring for a Mudroom? | | |
Parquet floors that are the same color as my other hardwood floors that adjoin the room but we decided parquet could be more easily replaced in case of an accident. So far, so good. We have had parquet in our mudroom/laundry rooms for years in several houses even with boys, dogs and cats.
---
| | | |
| --- | --- | --- |
| RE: Best Flooring for a Mudroom? | | |
I think vinyl is a great way to go. We have it in ours, and in a pattern that hides a lot of dog hair, dirt, etc. (which somemtimes is a bad thing). You don't have to worry about grout getting dirty, or wet things ruining the floor. This is what we have, and it looks like grasscloth which is kind of cool.
>
---
| | | |
| --- | --- | --- |
| RE: Best Flooring for a Mudroom? | | |
I can't stand 'plastic' flooring with all the scuffs and other marks, aside from the fact that I just don't like plastic. They also get damaged and the surface dulls and discolors. So, I can't imagine I'd ever do them.

Grout is a drag, too, but larger tiles sure help.

Concrete sounds good! Sealed.
---
| | | |
| --- | --- | --- |
| RE: Best Flooring for a Mudroom? | | |
organic, if that's real linoleum you have, it might not work so well. It is not recommended for places where there will be standing water. It will get mildewy and gross.
---
| | | |
| --- | --- | --- |
| RE: Best Flooring for a Mudroom? | | |
we have a ceramic tile that looks like travertine. it's got a fairly dark grout. we put heated floors in under the mudroom and love it. it's not all that expensive, we got the kit at costco (a mat that is laid on the floor plus thermostat, and all the wires) for about $300. my electrician grumbled a little bit - but it didn't take him more than an hour to install ($40). we love how great it feels when you take off your shoes to have the heated floor. i wish i had them under all my tile!
---
| | | |
| --- | --- | --- |
| RE: Best Flooring for a Mudroom? | | |
Organic
We have same as Sue - Continental Slate true body Porcelain tile = bulletproof! - Dh whined when I selected it - Now he loves it, NO maintenance -

It's in a complicated back door mud area - works really well - pricing was great too!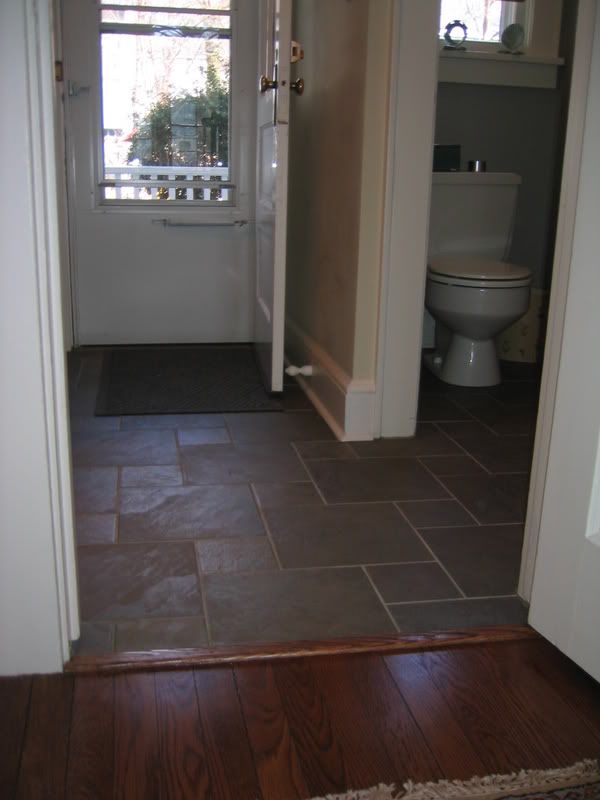 ---
| | | |
| --- | --- | --- |
| RE: Best Flooring for a Mudroom? | | |
jejvtr - What type of grout did you use, and how long has it been in ???

TIA
---
| | | |
| --- | --- | --- |
| RE: Best Flooring for a Mudroom? | | |
squirrel -
Hmmmmm pretty sure it's Mapei - I think I have it somewhere prob in garage -
It's been almost 2yrs - lot's of traffic, this is the only door we use - kiddies etc...

I do have more pics if you are interested
---
| | | |
| --- | --- | --- |
| RE: Best Flooring for a Mudroom? | | |
I have a great ceramic tile in my mudroom. I admit that I am a terrible housekeeper but my grout is brown (it plays off of some of the colors in the tile) and has been easy to clean. In fact, the grout is the same color as the mud so stains have not been an issue, even though my oldest ds has no idea that he should actually try to clean his boots off after deliberately walking through the muddiest areas of the property. Dh laid all of the tile in our house and he is definitely not handy.
---
| | | |
| --- | --- | --- |
| RE: Best Flooring for a Mudroom? | | |
We used travertine from Stonelocator.com. It was very reasonable and it has held up amazingly.


The pattern is called Versailles.

Jo
---
| | | |
| --- | --- | --- |
| RE: Best Flooring for a Mudroom? | | |
| | | |
| --- | --- | --- |
| RE: Best Flooring for a Mudroom? | | |
Ohhh, wouldn't those dogs love warm floors.
---
| | | |
| --- | --- | --- |
| RE: Best Flooring for a Mudroom? | | |
Wow--great responses, everybody--thanks so much for all the ideas! Those of you who used travertine or porcelain--do you like in a cold climate with lots of snow and cold? Very pretty look.

backsweat: I love the look of slate, but I probably don't want anything that "slakes" off--which I hadn't known about at all, so thanks for letting me know.

lovetorenovate: Sounds perfect! Our mudroom is only a three-season room, though, so we wouldn't be putting radiant heating in.

jojoco: What a beautiful dog! Oh yeah, the tile's nice, too. :)

Bunglow: Yes, it's real linoleum--thanks for the warning. Looks like we might have to think about having real, honest-to-goodness stone or porcelalin tile put in. Neither of us has the slightest idea how to go about doing it ourselves, so I guess this is going to be a more expensive project that we had hoped for. *sigh*
---
| | | |
| --- | --- | --- |
| RE: Best Flooring for a Mudroom? | | |
The interesting thing about the stone floor is that it stays warm. It absorbs the heat in the room (especially under can lights) and is warm enough to be barefoot on it in the dead of winter. Now the ceramic tile in my bathroom is a totally different story. It is always freezing and I strategically hop from throw rug to carpeting to avoid touching it. One misstep and my toes are freezing. I am not kidding. The real stone reminds me of when we were kids and would swim at beaches in CT with lots of boulders. We would like on the rocks to get warm. Same thing.
Jo
---
| | | |
| --- | --- | --- |
| RE: Best Flooring for a Mudroom?? | | |
Jo: What is the name of the tile you selected (if you don't mind sharing)? Also, I notice that you used a light-colored grout--which appears to be very clean--but I'm thinking since we track in so much crap from outside--especially during the winter and rainy days--that we should go with a darker grout. And that probably means a darker tile, right?
---
| | | |
| --- | --- | --- |
| RE::: Best Flooring for a Mudroom? | | |
jejvtr and Sue: The Daltile Continental Slate is really nice, too. A bit darker, which is probably what we need.
---
| | | |
| --- | --- | --- |
| RE: more Best Flooring for a Mudroom? | | |
The tile was something like " french medium ivory" travertine, hand chiseled". I worked with someone named Maritza Jiminez (not sure how to spell it, but that is how to say it). I live in Upstate NY in a cold climate (a couple hours from Buffalo).
The grout color was "almond" and we sealed it with a spray sealant. It hides EVERYTHING due to the variations in color. The pattern was emailed to me by stonelocators.com. Oh, and I have 4 kids and two dogs, so it takes a beating.
Hope this helps.
---
| | | |
| --- | --- | --- |
| RE: Best Flooring for a Mudroom? | | |
organic, after I posted, I googled Marmoleum and mudroom and saw quite a few hits, so folks are doing it, I just don't know what climate. If you have the material already, maybe it's worth a try, as long as you know to watch out for the water.
---
| | | |
| --- | --- | --- |
| RE: Best Flooring for a Mudroom? | | |
Regular Marmoleum is fine for a mudroom - it's what we are putting in ours, as well as in our baths. They also make a DIY product called Marmoleum Click though (interlocking squares) and it is NOT recommended for a mudroom, due to the potential for moisture. It's got an inner layer, the part that clicks, that can be damaged by humidity.
---
| | | |
| --- | --- | --- |
| RE: Best Flooring for a Mudroom? | | |
Pretty travertine.

We used Daltile Continental Slate-- Sue36, I've never seen pix of the inside of your house, but your choices always sound right up my alley! We laid the 12" tiles ourselves (an adventure) on a diagonal, checkerboard pattern in off-white and reddish color. Kind of a quilt effect. It's tough and shows very little as far as dirt. We used the dark color in the ds and kid's bath and I've been very pleased-- doesn't show dirt easily, tough and non-slip.
---
| | | |
| --- | --- | --- |
| RE: Best Flooring for a Mudroom? | | |
jejvtr - what color is your continental tile? we're looking into it right now and i like your color.

thanks!
kelli
---
| | | |
| --- | --- | --- |
| RE: Best Flooring for a Mudroom? | | |
kelli

I've been away -

It's Brazilian green
---
Post a Follow-Up
Please Note: Only registered members are able to post messages to this forum.
If you are a member, please log in.
If you aren't yet a member, join now!
---
Return to the Home Decorating Forum
Information about Posting
You must be logged in to post a message. Once you are logged in, a posting window will appear at the bottom of the messages. If you are not a member, please register for an account.
Please review our Rules of Play before posting.
Posting is a two-step process. Once you have composed your message, you will be taken to the preview page. You will then have a chance to review your post, make changes and upload photos.
After posting your message, you may need to refresh the forum page in order to see it.
Before posting copyrighted material, please read about Copyright and Fair Use.
We have a strict no-advertising policy!
If you would like to practice posting or uploading photos, please visit our Test forum.
If you need assistance, please Contact Us and we will be happy to help.

Learn more about in-text links on this page here