Return to the Home Decorating Forum
|
Post a Follow-Up
---
| | | |
| --- | --- | --- |
| Spanish/Mexican Paint Ideas | | |
Posted by
blueiris24
(
My Page
) on
Sun, Jan 27, 08 at 18:18
I need help. I'm trying to decide what color(s) to paint my family room. We're tired of boring and want something vibrant, but not too entirely crazy. I've been looking at a lot of Mexican color/interior books, and every wall color I see that I like has been faux painted. Is faux painting still in? The walls are always a mixture of oranges and yellows, sometimes reds. Has anyone done anything like this in their home? How did you achieve the look/correct colors? We have an ugly gas brick fireplace in there that is yellow/tan brick, but my goal is to tile over that asap so that is not an issue. (fyi, our wood is natural and medium-colored, so we don't have white trim anywhere in the room.)
---
Follow-Up Postings:
| | | |
| --- | --- | --- |
| RE: Spanish/Mexican Paint Ideas | | |
If you're going for a specific style, then do what they do to achieve that style. So I don't see the question so much as "is faux painting still in" as "is Spanish still in" and the answer has to be that if that's what you like, it can't be out. The key to me is you said "every wall color I see that I like."

There are certain pictures of decor that when I see them, they kind of make my heart skip a beat, and put a smile on my face, and make me feel more relaxed and happy. I think that's what you're describing that these pictures you like do for you? They speak to you, right? You feel drawn to them. If that's the case, then that's the feeling you should surround yourself with in your own home so that your home makes you feel that good feeling.

If you make it beautiful to you, the chances are very strong that almost all of the people who see it will appreciate it -- even if that wouldn't be their choice for their own homes. If a room is well done, I can generally appreciate that even though it might not be my exact taste. Can't you also identify with that?

So if this is what makes your heart sing, I think you should do it.

As far as faux painting, there is a lot of detailed instruction available to get just about whatever look you want wherever you buy paint -- just ask for it. The biggest mistake I've seen made is someone will apply one color evenly, let it dry, then come on top of it with another color, often very contrasting, stamping a sponge around here and there. IMO that looks awful. The trick to most techniques is to work with the paint wet so that colors can blend together, and to use a glaze to keep the paint wet for as long as necessary if you need it, and to work in small areas at a time. Then you keep at it until you can step back and say, "That's what I want!"

The best thing about paint is "it's only paint." It's an extremely flexible medium and we can always paint over anything we want to change. If we make mistakes, we're not stuck with them.

Stores like to sell us lots of stuff, so they're quick to tell us we need this brush and that, and this sponge and that. The truth is your kitchen sponge and a regular paint brush are probably perfectly fine for most things you want to do. In many cases, see the Dollar Store. lol!

You may find it helpful to do some practice on a cardboard box you were going to put out for the trash. I've done a lot of that. Then when you see what you like on the box you can prop it up against different locations in the room and observe it in the different lights for a day or two.

If you want to save money, you can also look at the "oops" section of paints and often can find what you want for pennies on the dollar.

As for fireplace brick, if you want brick but just don't like the color, you can paint over the surface of the brick while avoiding the mortar by using a flat sponge. If you dip your kitchen sponge (this will ruin the sponge) into two or three colors you like and just start dabbing and changing the direction of the sponge as you go, you can transform ugly brick to colors you like better. I used Michaels Plaid acrylic craft paints to do this and changed my huge fireplace to colors I like for under $5, including the cost of the sponge. That might be something to try before you spend a lot of money.

You might also want to visit the Fireplace thread in the Gallery here to see if you get any ideas. There are some spectacular pictures in there that would look very nice with a Spanish theme. I would guess you could trowel plaster over brick to get a smooth look and also mosaic on the fp if you wished. If you decide to do some mosaic, GW has a board devoted to mosaics and stained glass and the folks there are very knowledgeable.

Have fun with this and I hope you'll post before and after pictures for us! There are also some very sharp folks here to help you with your questions along the way, so "during" pics are very welcome.
---
| | | |
| --- | --- | --- |
| RE: Spanish/Mexican Paint Ideas | | |
blueiris24, I love Mexican design, and I love oranges/yellows; they make a room look so cozy; and will be perfect for a family room. I just painted one wall an orangy color (with a faux finish); it might be a little too bright for an entire room; but I just thought I would show you what it looks like. I was aiming for a Tuscany look.
Good luck with your room; do post pictures!

oceanna, you are so, so right! "if that's what you like, it can't be out." That is so true! The whole idea of decorating your home is to make it feel like 'home' to you. You can get ideas from other people, from TV shows, from magazines; but you should ultimately go with what your heart says.
Oceanna, I just faux-finished a wall. It was my first paint job; I was told it was easy; I went through a lot of how-to guides; and I wish I had just asked you! Every guide I read advised me to let the base coat dry before sponging on the next color. And thats what I did; I let it dry a few days. When I started sponging, it looked nothing like what I wanted it to; it just looked patchy and ugly. I panicked, and was ready to just repaint it the base coat color again; but then I just started smearing the color around (it was still wet- the top color) and I got a nice effect; so I left it at that.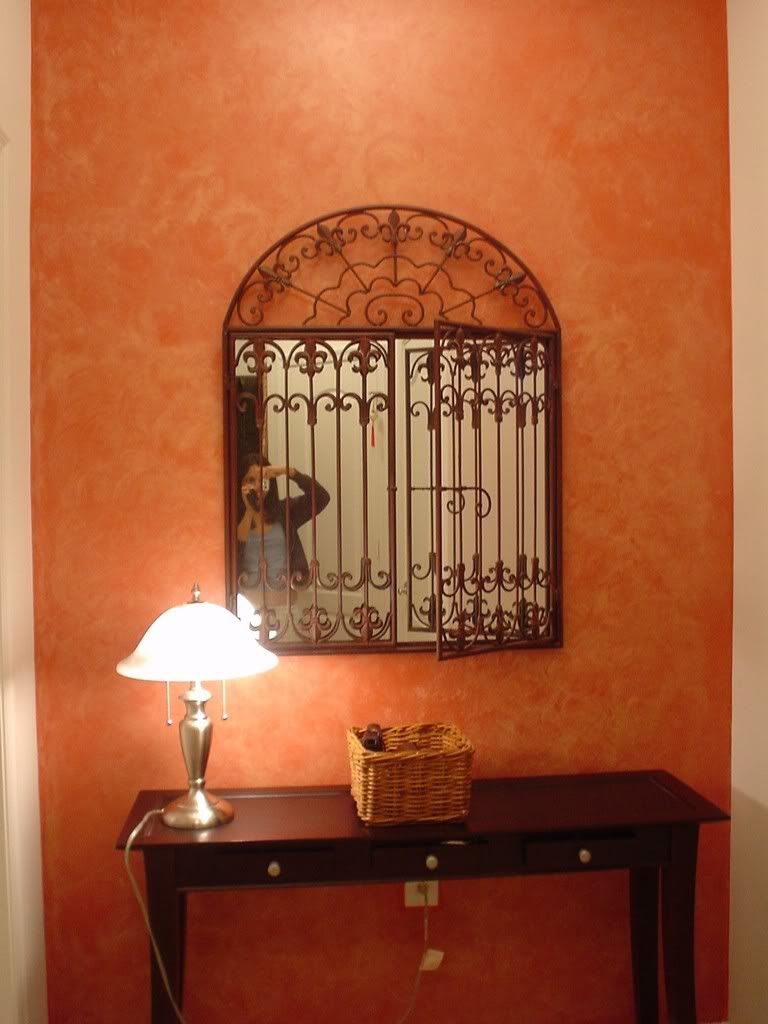 ---
| | | |
| --- | --- | --- |
| RE: Spanish/Mexican Paint Ideas | | |
Oceanna, you're right - it does make me smile - I like the brightness and the "unexpected" bright colors. Smile - that's the idea I was thinking of! It's hard to tell from my monitor whether it will be too bright, it might be, but that's exactly what I'm thinking of - somebody suggested I might need a base color plus 2 glazes, and that made my head spin - I am not one of those people who can "look " at paint and see the possibilities. Would you mind telling me what color paint you used for the glaze and the base?
---
| | | |
| --- | --- | --- |
| RE: Spanish/Mexican Paint Ideas | | |
Smi Smile --

Wow you sure pulled off the wall color. Good recovery! Sometimes our best decorating moves are really just recoveries, but nobody ever knows if we don't tell. hehe

Blueiris --

You mean what colors did I use on my fireplace? I think I used Burnt Sienna and Terracotta as I recall. I didn't use a glaze, just a damp kitchen sponge.

I put it on thicker in some places, thinner in others, darker in some places, and lighter in others. This gave a nice mottled appearance to the brick that ended up making it look much more natural.

Here's a picture... now I did mine over white paint and I wouldn't repeat that. If it were painted I'd paint it again in a color that would work with what I am doing. If it weren't painted I wouldn't give it an all over painting. The reason for that is when you're sponging the little holes in the brick retain the base color. White is a bad base color to retain -- which is why I'll probably redo this fp one of these days. I'd also want to leave the mortar natural. So if I redo this I'll probably paint the mortar grey and put a tan base on the bricks.

But meanwhile people like it and they think the brick came that color... (please forgive the dirty mirror -- it's been shined up and hung elsewhere)...
---
| | | |
| --- | --- | --- |
| RE: Spanish/Mexican Paint Ideas | | |
Smile - would love to know your paint combos when you have the chance?
---
| | | |
| --- | --- | --- |
| RE: Spanish/Mexican Paint Ideas | | |
This will be lots of fun to see in progress. I have to confess that I don't see a lot of the bright interior wall colors around here (New Mexico) that you describe, at least in residences. Most walls are painted more neutral to natural colors, I haven't seen a whole lot in the way of faux paint finishing to speak of, and the trim, furniture, textiles and accessories are in the bright colors. Stucco or textured walls, however, are common. A vibrant cobalt blue is very popular as a trim color, also a more lavender-blue, various reds from true red to more rusty red, light and darker turquoises, some greens, and occasionally a mustard yellow.
---
| | | |
| --- | --- | --- |
| RE: Ok, no interior wall treatment examples, but... | | |
...I do have some pics from out back, showing the the bright, regional colors we used on the entry of my husband's shop, and a close-up of the typical stucco wall texture found around here on both interiors and exteriors: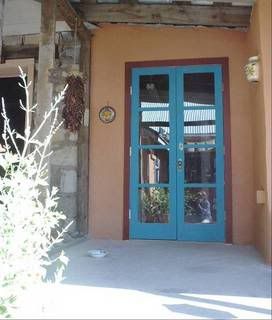 ---
| | | |
| --- | --- | --- |
| RE: Spanish/Mexican Paint Ideas | | |
blueiris24, my base coat is Sherwin Williams Jalapeno (6629), the top coat is Sherwin Williams Sunset (6626) (I mixed it with glaze (1:4 ratio) (Illusions Faux Finish Latex Glazing Liquid)
Hope that helps!
---
| | | |
| --- | --- | --- |
| RE: Spanish/Mexican Paint Ideas | | |
Kim, one of my favorite places is Santa Fe - I LOVE that blue and tried to incorporate it into my kitchen which we just painted, but my layout is not conducive unfortunately. Thanks for the input and ideas, and thanks smile, I'm going to give some of these a whirl tomorrow on a test board, I really appreciate all your help
---
| | | |
| --- | --- | --- |
| RE: Spanish/Mexican Paint Ideas | | |
One of my favorite inspiration pics for vibrant colors is on the cover of the cookbook, Vegetarian Cooking for Everyone, by Deborah Madison. The wall behind her is a vibrant turquoise. There is a pine plank shelf with brackets that look like the corbels used a lot here in NM. There is also a vase with bright orange roses. It is a stunning picture. That turquoise would not work in my kitchen but I am thinking of using it in my pantry. The next time you are at the bookstore, pull a copy from the shelf, the pic is marvelous.
---
| | | |
| --- | --- | --- |
| RE: Spanish/Mexican Paint Ideas | | |
oceanna,

If you have a chance to write up instructions on how you did your fireplace that would be wonderful. That looks like what I want to do with ours. Awesome job.
---
| | | |
| --- | --- | --- |
| RE: Spanish/Mexican Paint Ideas | | |
Oceanna and smi smiles both did great jobs on their faux paint projects!
---
| | | |
| --- | --- | --- |
| RE: Spanish/Mexican Paint Ideas | | |
Smi_Smile, your wall is gorgeous! Very nicely done! And Kim, I'm drooling over your blue door! Oceanna, your fireplace brick looks amazing now!

Here's my little breakfast area that was painted yellow when we first moved in. I just went over it with a coffee-colored glaze to create a stucco-like effect, and then did a stencilled border around the room. It is over the top, but Mexican style allows for that. Or so I tell myself. ;-)

---
| | | |
| --- | --- | --- |
| RE: Spanish/Mexican Paint Ideas | | |
Auntjen I LOVE your room! I'm just starting with the over-the-top, but I'm looking forward to it! Thanks for the inspiration.
---
| | | |
| --- | --- | --- |
| RE: Spanish/Mexican Paint Ideas | | |
Auntjen, as always, I love your over-the-top Mexican rooms! I have a stencil in a Mexican star pattern that I'm going to use as a high border in my laundry hallway. When I received it after ordering, however, it was a lot smaller than I had thought it would be, and I'm not sure if the paint will even go into some parts of the design. I still have to test it first on paper, so it may turn out OK.
---
| | | |
| --- | --- | --- |
| RE: Spanish/Mexican Paint Ideas | | |
Magsroses, thanks! It was really simple. I just put a few dollups of paint on a plastic picnic plate and dipped my damp kitchen sponge in them, then patted the bricks, turning the sponge this way and that. You'll be surprised at how easy it is. Is your fireplace painted now? Or is it just a color of brick you don't like?

Kim, thanks and I love the pics you showed too. Nice job!

Auntjen, thanks! I love your breakfast room. It's so bright and cheery. I'll bet people get really warm and chatty in there. I can't imagine being depressed in that room! The stenciling gave it just the right touch. I love the painting too -- did you do it?
---
| | | |
| --- | --- | --- |
| RE: Spanish/Mexican Paint Ideas | | |
Thanks so much! Nope, I didn't do the painting ... it was done by a very talented young man named Carlton Bjork who sells on eBay. He's obviously a color fanatic just like me.
:-)
---
| | | |
| --- | --- | --- |
| RE: Spanish/Mexican Paint Ideas | | |
Auntjen, your room is indeed beautiful, I love the accessories too!
---
| | | |
| --- | --- | --- |
| RE: Spanish/Mexican Paint Ideas | | |
smi smile, that wall looks great. I love that mirror.

auntjen, your breakfast room looks like a very festive place to hang out.

oceanna, everything in our house when we bought it 5 years ago was white. Everywhere. The facade of the fireplace was all white. I painted a dramatic color on it to give the room some life. But after looking at it for a couple of weeks realized I didn't like it. After seeing your fireplace, I primed over the facade and painted the top half in BM's Powell Buff which is the room color(no bricks there). I started coloring the bricks (I don't think they're real bricks more like brick shaped cement blocks)last night. I'll try to get some pictures and post.

DH likes it so far. When he came home from work he said it looked good and maybe he could help finish it tonight. He never says that. Thanks for the instructions.
---
| | | |
| --- | --- | --- |
| RE: Spanish/Mexican Paint Ideas | | |
I finished painting the fireplace a month ago and took pictures. I've misplaced the camera so as soon as I find it, I will post some pics. Thank you again, oceanna for the instructions. The job I did doesn't look as good as yours though. The painter that will be painting my ceilings looked at it and thought it looked good.

I'm in SE Wisconsin, Waukesha County area and I was looking at the Milwaukee Craigslist. This item reminded me of the decor of some of the houses here and on the Spanish/Mediterranean thread.
Here is a link that might be useful: Mosaic Tile Table
---
| | | |
| --- | --- | --- |
| RE: Spanish/Mexican Paint Ideas | | |
Ooooh, I like this thread because it's about my area of the country! Kim's right, we don't see a lot of the brightly hued walls out here. You're more likely to see creams, whites and some tans. But, in the stores and restaurants, we see more of the brighter colors . . . probably because the tourists expect it and they're such fun colors. I LOVE Smi Smile's & Auntjens' rooms! To me, they have a Mexican, rather than New Mexican look to them, though, but they're gorgeous, nonetheless!
I've been told numerous times that my house should be in a book or magazine on New Mexico homes, but I've always thought that they'd end up wanting me to paint my walls a bright color first. 95% of all the walls in my house are real exposed adobe and 100% of them are cream color. I guess most of us out here are rather conservative/boring ;~P with our wall colors!
Painting turquoise around doorways and windows is very common out here, though. Turquoise is a sacred stone of many Native American tribes in NM and the color is thought to keep evil spirits out of your house . . . hence, this is why it's around the door and window openings.
---
| | | |
| --- | --- | --- |
| RE: Spanish/Mexican Paint Ideas | | |
There is a wonderful old adobe/museum ranch house in Corrales NM. Each room is a different color and named after the plant used to dye the paint/coating. I loved the colors and often thought about taking paint chips to match them. Or maybe look for a book on the plants/dyes.
---
Post a Follow-Up
Please Note: Only registered members are able to post messages to this forum.
If you are a member, please log in.
If you aren't yet a member, join now!
---
Return to the Home Decorating Forum
Information about Posting
You must be logged in to post a message. Once you are logged in, a posting window will appear at the bottom of the messages. If you are not a member, please register for an account.
Please review our Rules of Play before posting.
Posting is a two-step process. Once you have composed your message, you will be taken to the preview page. You will then have a chance to review your post, make changes and upload photos.
After posting your message, you may need to refresh the forum page in order to see it.
Before posting copyrighted material, please read about Copyright and Fair Use.
We have a strict no-advertising policy!
If you would like to practice posting or uploading photos, please visit our Test forum.
If you need assistance, please Contact Us and we will be happy to help.

Learn more about in-text links on this page here