Return to the Home Decorating & Design Forum
|
Post a Follow-Up
---
| | | |
| --- | --- | --- |
| Ugly fireplace help | | |
Posted by
anitamo
(
My Page
) on
Thu, Jan 10, 13 at 18:03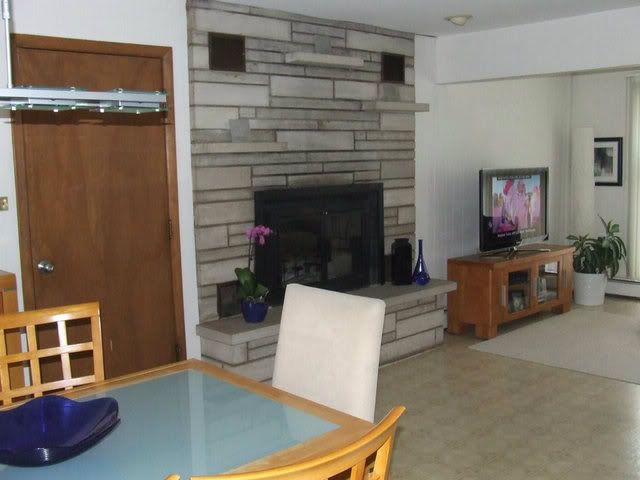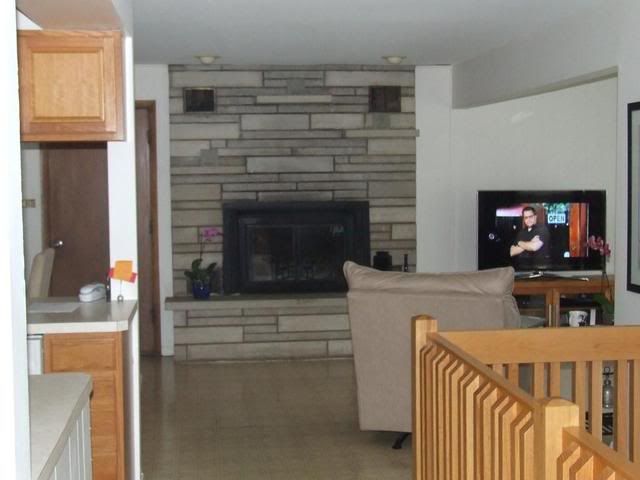 href="http://s73.photobucket.com/albums/i233/coloru2/fireplace 2013/?action=view&current=fireplace018_zps10c661fb.jpg" target="_blank">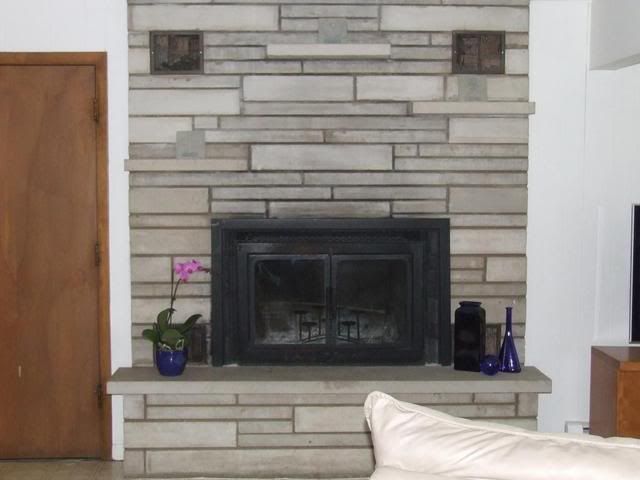 I am a frequent lurker, and am in awe of that talent on this forum. So now I bring my project to you for some help. Thanks in advance for any and all ideas.
This fireplace is such an eyesore. I've never used it since we moved in 10 years ago. Always some other project to work on. Hardwood floors will be
installed this spring, so I want to address the FP now. Do I resurface it
with some other material like slate? Paint it? Or is there a great way to
actually clean it? I've read TSP and bleach should work, but haven't tried it yet.
It needs a major visit from a chimney sweep and new doors. Any ideas for colors in that arena would be most welcome, too.
While you are looking, would you just paint the door (goes out to the garage) white?
---
Follow-Up Postings:
| | | |
| --- | --- | --- |
| RE: Ugly fireplace help | | |
I love your fireplace! I would clean it and paint the walls a color in the fireplace like some shade of gray. I really love it!
---
| | | |
| --- | --- | --- |
| RE: Ugly fireplace help | | |
Shucks I like it too! But...what are the black boxes near the top? The ones that now look like eyes to me making it not such a great fireplace on second glance. Can THEY be painted?
---
| | | |
| --- | --- | --- |
| RE: Ugly fireplace help | | |
Sorry, but I like it too. It's a handsome fireplace, nicely proportioned, nice mid-century modern lines, nice materials, and the black solid fireplace doors suit it well. It looks like real stone, is it?

I'd paint the door to the left the same color as the walls to make it disappear. Might visually balance the fireplace better with the room.
---
| | | |
| --- | --- | --- |
| RE: Ugly fireplace help | | |
I think cleaning it and getting some better vent covers could go a long way. I would paint the door whatever the wall color is to make it blend in.
---
| | | |
| --- | --- | --- |
| RE: Ugly fireplace help | | |
Another fan of your fireplace! I think with new wood floors it will look amazing just cleaned up! It is so unique!
---
| | | |
| --- | --- | --- |
| RE: Ugly fireplace help | | |
I think that some of your hate here can be traced back to all of the warm red and yellow tones that you have in the woodwork that don't necesarily look the best with the grays and blacks of the fireplace.

I like the fireplace, so I'd paint the wood a white or light gray. Including the cabinets. And your table. Paint it black. And the chairs white. Or maybe do some type of faux cerusing treatment. Or a whitewash that wouldn't go into the pink tones.
---
| | | |
| --- | --- | --- |
| RE: Ugly fireplace help | | |
Ditto on clean up and paint the door at least, if not the wall. I'll trade you my fireplace! ;-)
---
| | | |
| --- | --- | --- |
| RE: Ugly fireplace help | | |
Beauty ( or ugliness) is in the eye of the beholder. I like it, but you don't and since I'm not paying the mortgage ...

Have you finished any rooms that you can show as an example of what you like and how you feel the house should look? That would give me an idea of what your style is, and that will get the suggestions flowing :)
---
| | | |
| --- | --- | --- |
| RE: Ugly fireplace help | | |
I agree, unless you hate the modern style, it's what's around it that needs work. Hardwoods in the right color will make a huge difference. I'd paint out the woodwork, too. Come up with a color scheme you like with the grays and whites and work towards that. I think I would update the surround.

If you hate the style in any setting, you could always drywall it over.
---
| | | |
| --- | --- | --- |
| RE: Ugly fireplace help | | |
Count me among those who would NOT change that lovely fireplace!

To the OP... why do you think it is "such an eyesore"? What do you not like?
---
| | | |
| --- | --- | --- |
| RE: Ugly fireplace help | | |
I'm sorry you don't like it. I absolutely love it. I love the color and the linear design. The proportions look nice as well. I think the color will go well with wood floors.

I saw some Candice Olsen show the other day where she knocked off the overhang of random ledges like that if that's something that bothers you.

You could add a mantle if you like them.

Also, what are the dark squares?
---
| | | |
| --- | --- | --- |
| RE: Ugly fireplace help | | |
Just wondering how a nice fudge color would look on the walls.
---
| | | |
| --- | --- | --- |
| RE: Ugly fireplace help | | |
Here's a link to the episode from Candice Tells All that pricklypearcactus was referring to. There is only one picture, I think, but it may give you an idea for a color palette. I'm going to do a little more looking around to see if I can find the full episode so you can see what she was talking about with knocking off the ledges.
Here is a link that might be useful: Grandma's dated family room
This post was edited by bac717 on Thu, Jan 10, 13 at 20:50
---
| | | |
| --- | --- | --- |
| RE: Ugly fireplace help | | |
I hate the awkward ledges , I know I would knock them off ASAP! Other than that it has nice lines and colors. Maybe a slick mantel would play off that style? A dark wood, almost black, smooth and large would look nice I think.
---
| | | |
| --- | --- | --- |
| RE: Ugly fireplace help | | |
I can see why you might not like the fireplace. It reminds me of some of the buildings that went up in the 1960-70's, constructed of grey concrete and all hard edges (brutalist, I think). Everyone who wasn't "schooled" in architecture hated them, railed against them, but they still appeared in public buildings (at least in my area). I can now appreciate the lines and materials, but still have a visceral response that they are cold and hard and unpleasing. The only thing that has changed my mind about the public buildings is that the landscape has grown up and the gray concrete has provided a nice, contrasting back-drop to the green plants. So that's what I see when I see your fireplace. Gray is so "in" now that I think some of us respond to that and it is beautiful in the context of the period. But it doesn't look like that is the direction the rest of your home is taking.

If you can't learn to love it, then reface it or paint it. Perhaps a soft cream color, either to blend with your wall color or contrast with a deeper wall color. I would definitely paint the door to match the wall, so it disappears as much as possible.

But just because it is a nice example of the period doesn't mean you have to love it or live with it.
---
| | | |
| --- | --- | --- |
| RE: Ugly fireplace help | | |
SO sticking my neck out here--but I don't really care for it. It is not so much the color but how it is just all by itself between a door and a plaster beam. Tell us about the beam. It must be a header--can it be removed? If not have you thought about making it look like a wood beam? Somehow the fireplace needs to marry the rest of the room.
Hardwood floors is a great start.
If you could cover the beam in wood then someone here (!) might have some ideas about a good looking wood mantel to join the areas.
---
| | | |
| --- | --- | --- |
| RE: Ugly fireplace help | | |
Wow, great responses. I lean toward the modern style, and get what some posters refer to the FP being MCM style. The house is a brick ranch, built in the 60�s. The FP has a twin right below it in the basement, which the location confuses me.

I do like the colors of the FP way more than the wood of the cabinets. The rest of the house is leaning more towards the espressos, white, gray and black. I'm working my way towards this end slowly because it needs the most work.

I have to go back and look at the link on Candice's show. I do think the ledges are some of the problem, because they are hard to decorate, for one thing. If I remove them, I'm wondering how I would repair it. I doubt I could find the same stone anywhere. I love the idea of a sleek mantel.

The FP insert is a Heatilator brand, so the vents must be a part of that system, I guess. Maybe I should paint them the lighter color to blend into the stone.

All of you have helped me to realize it is really the clashing color scheme of the stone color to the surrounding colors. I do not like the oak cabinets and the kitchen remodel (in the future) will most likely include espresso cabinets.

So for now, painting the wall, door and vents will improve it a ton. Open to suggestions on a gray or taupe color...or whatever color you think might look good with the stone.

Any suggestions on how to tackle the soot on the stone?

Thank you for the encouragement that there are some positives here.
---
| | | |
| --- | --- | --- |
| RE: Ugly fireplace help | | |
I agree that I hate it....probably because it reminds me so much of the one I had in our 50s ranch....only ours was a whole wall of the brick, which is not brick, but concrete. Yuck. And I had the 3 ugly shelves mounted in it, and I had no raised hearth but a small hole at floor level with only a 12" row of slate in front. I remember when I bought the place, the homeowner who had built the home said, "I found this fireplace in a magazine and said if I ever build a home, this is the fireplace I want." And I remember thinking, too bad you didn't lose the picture!

I was sooo much happier when I painted that thing over, though I did leave the shelves and made them work.

The 4 vents are to circulate more heat from the fireplace...they were called heat-a-lator fireplaces and it was a way of making them more energy efficient...typically there was a fan in them that helped circulate the air....cold air would go into the bottom 2 vents and hot air would be expelled from the top 2...it actually works well to make the fireplace heat more effectively.

I think if I had it, I wouldn't paint it, but would try brick stain, so I could get rid of the gray color, which is what I find so depressing, and I'd probably get rid of the shelves which seem oddly placed. You can cut rollers exactly the width of the bricks to stain just the fronts and leave the original grout, or you can stain over the grout too. Once you fix the color though, you'll be better able to appreciate the design of the bricks with their varied widths, which I think is an interesting texture. I'd leave the blue stone hearth alone though.
---
| | | |
| --- | --- | --- |
| RE: Ugly fireplace help | | |
Thanks for the thought Annie. I've been googling, but cannot find the Candice episode where she removed the cement shelves on a FP in on an episode. Before I approach my DH with that idea, I want to come prepared. Lol. I like the painting idea, too, if I can't clean it...which I don't think will get clean enough for me, so painting it is more realistic...I think. Any ideas on paint choices? Is there a specific type of paint suited for this project?
---
| | | |
| --- | --- | --- |
| RE: Ugly fireplace help | | |
I looked and can't find the episode either...I believe it was in a Candice tells All, but not sure.

We painted ours with regular latex paint after scrubbing the walls down with TSP to remove all the grease and dirt. It took a lot of paint and yields a very flat finish. At that time, I didn't know of brick stain. But now that I do, I would definitely use that instead as it really helps retain the brick texture. If you are going to color it anyway, then busting off the shelves will work well...you need to get the texture of the edge close, but any color variation will be eliminated with the dyeing.

Before:

After:

Here is a link that might be useful: Dyebrick
---
| | | |
| --- | --- | --- |
| RE: Ugly fireplace help | | |
Thanks for the link. I've found a couple sites on how to remove the ledges by chiseling or sawing them out. Staining or painting afterwards should hide where they were.
---
| | | |
| --- | --- | --- |
| RE: Ugly fireplace help | | |
anitamo-

My parents have a similar FP with slate as the stone, and it had 6 awkwardly sized and placed ledges. My dad took his large framing hammer, positioned himself on a ladder for maximum leverage, held the stone in one hand and took his best shot with the hammer and all of them came off with a clean break. He then took a wire brush to the mortar and took off the rough edges (which were few).

Today you would never know they were there, and it improved the look of the FP greatly.

Good luck-

sandyponder
---
| | | |
| --- | --- | --- |
| RE: Ugly fireplace help | | |
Sounds great Sandy! Thanks for that.
---
| | | |
| --- | --- | --- |
| RE: Ugly fireplace help | | |
How about a mantle? Here's one that might work. And then all you would need is to decorate the mantle : ) there's a recent thread here with lots of nice ideas.
---
| | | |
| --- | --- | --- |
| RE: Ugly fireplace help | | |
Concrete and stone can be cut. I wonder if a professional could come in and cut the ledges off. Personally, I would try to see about painting the vents to exactly match the stone so that they don't stand out.
---
| | | |
| --- | --- | --- |
| RE: Ugly fireplace help | | |
I honesty would do nothing but clean it and paint the vents, wall and door for now. After you put your wood floors in have a second look.
You said:
I lean toward the modern style.
I do like the colors of the FP way more than the wood of the cabinets.
All of you have helped me to realize it is really the clashing color scheme of the stone color to the surrounding colors.
---
| | | |
| --- | --- | --- |
| RE: Ugly fireplace help | | |
My DH is a stone mason. Sandyponder's idea is correct. My DH uses a a brick hammer and with one strike the stone breaks off cleanly.

Please don't paint or stain that stone! It is a cool fireplace! Paint the black metal grates a medium gray. Paint the door and the trim around it the color of the walls. My first thought when I looked at your picture was "The floors are the problem, not the fireplace!" Hardwood floors and a beautiful wall color will make a huge difference in how the fireplace looks. Your chairs and TV stand make me think you like a modern clean-lined look. If you can knock those stone shelves off and put up a simple mantel like this one, but maybe in espresso or black I think your fireplace will shine!
---
| | | |
| --- | --- | --- |
| RE: Ugly fireplace help | | |
I disagree with others...having lived in our house for years before painting out that gray brick, I know there's no way to get rid of that awful feeling you get from the gray stone other than get rid of the gray. No matter what you do, it is a massive element in the room, and if the gray brings you down, the gray brings you down. It always left me cold, I hated it on a daily basis, and I was so delighted once it was gone. It gave the room a whole new life.

Interestingly, there is a lot of gray in the fieldstone walls I have behind my woodstove now, but it also includes a lot of texture, shapes and colors of whites and beiges so it's much more cheerful than that cement was.
---
| | | |
| --- | --- | --- |
| RE: Ugly fireplace help | | |
I would gladly trade you. This is my fireplace. It hasnt changed much, but the room itself is in the process of changing. (It is a dining room). I hate the fireplace.
---
| | | |
| --- | --- | --- |
| RE: Ugly fireplace help | | |
I have been watching this post. It is a bummer when you hate something in your home. I do not suppose it helps that so many love it. It is not my style either but your fireplace seems to have very modern lines and esthetic. The floor has been mentioned so I will leave it be but I am also feeling like your fireplace looks much more expensive than the door that is very close. Perhaps the part you dislike is it doesn't fit the rest of the house. The question becomes is it cheaper to change what is around it or change the fireplace? Since you have plans to change things possibly you can design the rest of the room around the fireplace and bring it all into balance. You are getting fabulous ideas!!
---
| | | |
| --- | --- | --- |
| RE: Ugly fireplace help | | |
Thanks for that arcy. You hit the nail on the head. It seems most of the ideas I'm getting is to paint, clean, and change the floor to start...then it will be more in tune with my modern vision. I truly appreciate everyone's help.

Cat ky...my walls are actually a dark paneling that we painted over as a quick fix when we moved in. They will have to be addressed eventually, but for now they are okay. What plans do you have for your room?

I'm glad for the positives that the shelves can be removed...but if I don't end up painting, it leaves another problem on finishing it off after removal.

Thanks again to everyone for your great ideas!!!
---
| | | |
| --- | --- | --- |
| RE: Ugly fireplace help | | |
I don't like it either. If possible I'd replace w a modern wood stove ... rais or morso etc. Would free up space in the room and have a modern vibe.
---
| | | |
| --- | --- | --- |
| RE: Ugly fireplace help | | |
Oven cleaner will quickly get rid of the soot and dirt. Have a big bucket of water to rinse. Just clean a couple of square ft at a time. Have done this, know it works well.

I think the grout color has an issue, not sure what other color, but lighter than darker. I really like the FP and you may be surprised how much more color is in the stone when clean. Also think about a stone sealer which will bring out texture and color.

Painting your walls and thinking about a different door as mentioned will make a wonderful difference too.
---
| | | |
| --- | --- | --- |
| RE: Ugly fireplace help | | |
Extra Strength Sno Bol toilet bowl cleaner will clean it right up. It does have hydrochloric acid in it so don't mix it with other cleaners. Also, do not eat it or stick it in your eye lol.
---
| | | |
| --- | --- | --- |
| RE: Ugly fireplace help | | |
anitamo I am going to leave the ceiling, but the wall paneling is coming down, and will be replaced with sheetrock. The picture was taken when we bought the house 3 and half years ago, and the carpet was actually removed before we even moved into the house. The kitchen is open to one side of the room, and it will have the paneling removed and sheetrock put up too. I have already cleaned off the fireplace, so the soot is now gone. All this should have been done already, but, my husbands health deteriorated very fast, and I have been working pretty much on my own. He passed away in August, and I havent gotten back to working on the house yet, but plan to start again in a couple weeks. I have no idea yet, what I am going to do with the fireplace.
---
| | | |
| --- | --- | --- |
| RE: Ugly fireplace help | | |
Oh, cat, so sorry to hear about your husband. It sure puts things in perspective. Best of luck and sincere wishes going forward.

Thanks for the cleaning tips jterrilynn and technicolor. I'll try both...not together of course...and report back. I'll tackle this on Monday.
---
| | | |
| --- | --- | --- |
| RE: Ugly fireplace help | | |
cat ky, so sorry to hear about your husband....I'm sending courage and strength your way.
---
| | | |
| --- | --- | --- |
| RE: Ugly fireplace help | | |
I actually like the shelves. I like the modern feel of it. You just need to find the right things to display on there. I could see a trailing plant o. The top shelf that hangs down over the front and then maybe a picture one one of the others and a case, sculptural type object on the other.
---
| | | |
| --- | --- | --- |
| RE: Ugly fireplace help | | |
Thanks everyone. I am ok, He has been sick for a long time, and he is now in a better place. I would have liked him to live another month, so he could have celebrated his 79th birthday, but that wasnt to be. It has taken me a few months, to get everything else in order, and since I babysit 3 kids most days, it took a bit longer than it should have, but, I am now ready to move forward, but, it will be slow progress. The living room is the first room I am going to tackle, and thought it would be next week, but, there are too many things going on, so that will start the following week. I am tearing up the carpet in there, and will be removing a large cabinet that should never have been put there, and a large stone fake fireplace that should never have been there (however it is much prettier than the one I hate so much). Probably have to have help knocking out the stone, but the rest, I can do myself.
---
| | | |
| --- | --- | --- |
| RE: Ugly fireplace help | | |
Here are some links to grey stone fireplaces. (I actually like the ledges, too).
http://www.drivenbydecor.com/2012/05/five-important-decisions-in-designing.html
and below
Here is a link that might be useful: ledgestone fireplaces
---
Post a Follow-Up
Please Note: Only registered members are able to post messages to this forum.
If you are a member, please log in.
If you aren't yet a member, join now!
---
Return to the Home Decorating & Design Forum
Information about Posting
You must be logged in to post a message. Once you are logged in, a posting window will appear at the bottom of the messages. If you are not a member, please register for an account.
Please review our Rules of Play before posting.
Posting is a two-step process. Once you have composed your message, you will be taken to the preview page. You will then have a chance to review your post, make changes and upload photos.
After posting your message, you may need to refresh the forum page in order to see it.
Before posting copyrighted material, please read about Copyright and Fair Use.
We have a strict no-advertising policy!
If you would like to practice posting or uploading photos, please visit our Test forum.
If you need assistance, please Contact Us and we will be happy to help.

Learn more about in-text links on this page here