Return to the Home Decorating & Design Forum
|
Post a Follow-Up
---
| | | |
| --- | --- | --- |
| Do these work together for you? | | |
Posted by
lascatx
(
My Page
) on
Thu, Jan 23, 14 at 17:07
We replaced a ceiling fan last year with this one:

When that happened, the fixture over the breakfast table in the adjoining room went from ok but not great to out of place. I knew I would have a challenge in bridging the fan with our kitchen island fixture (these three are in one long open space), so most of my searching has been with replacing both fixtures in mind. I found this one that DH and I both like for the kitchen island: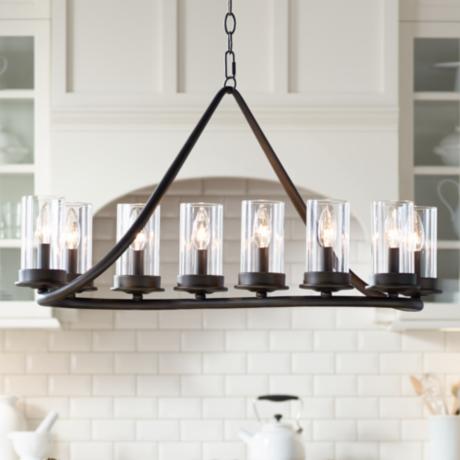 and I had another one in mind for the breakfast room, but today saw this one:

We like the wood (the one we had to return twice was wood and iron). I'm thinking that if the metal color on this last one is too bright, I can rub it down with black -- maybe even change the candles (or most/all the metal) to an iron black with some gold/bronze highlights.
This is another possibility, but I'd like the glass on the two to be the same.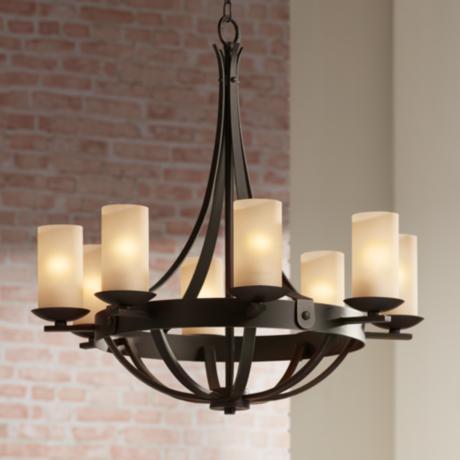 This post was edited by lascatx on Thu, Jan 23, 14 at 23:45
---
Follow-Up Postings:
| | | |
| --- | --- | --- |
| RE: Do these work together for you? | | |
the middle one seems out of place. the first and last harmonize nicely.
---
| | | |
| --- | --- | --- |
| RE: Do these work together for you? | | |
I would go with the second one and see if you can buy replacement shades to match the first. It looks more like they belong together. Both fixtures shades look to be about the same size so maybe replacement shades for the first one will go on your chandelier
---
| | | |
| --- | --- | --- |
| RE: Do these work together for you? | | |
the first one does not go, the second ones look great!
---
| | | |
| --- | --- | --- |
| RE: Do these work together for you? | | |
I am reading the "first" and "second" to be the two breakfast room options -- the third and fourth photos. A fixture similar to the last photo (I posted the wrong one) and the island fixture were the ones I was about ready to order but was looking for manufacturer info and to see if I could get extra shades to make the glass match. It appears these are imports sold under and adopted name and I hesitated to pull the trigger. Here is the one I meant to post -- similar idea but a bit lighter and with some curves to the arms: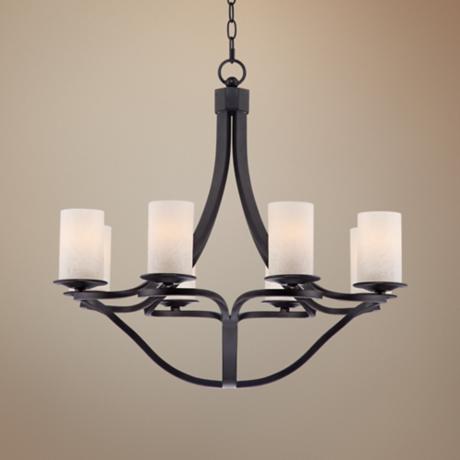 Having left and come back, I'm not really liking the wood one now (which is why I try to walk away and come back to anything I will have to live with before pulling the trigger). I had been looking it in a lineup with it next to the fan -- which is how it would hang (the fan and breakfast room fixture hang in the same plane and under the same vaulted ceiling while the island fixture hangs from a different ceiling height and over several feet).
I was starting to look at wood fixtures because DH still prefers the one we had to return twice and has liked wood in general. On the other hand, he rejects all fabric shades, all drums, anything he says has spindly candlesticks, mercury glass, and entire other groups of fixtures. He had to have this fan. I never thought it would be this hard to find a fixture or two to make it work.
This post was edited by lascatx on Fri, Jan 24, 14 at 0:17
---
| | | |
| --- | --- | --- |
| RE: Do these work together for you? | | |
I have no light fixture advice, but had to tell you; I love your fan!!!
---
| | | |
| --- | --- | --- |
| RE: Do these work together for you? | | |
Thanks. We like it too and it works in the vaulted ceiling room. The best thing of all is that it circulates the air (very much needed with a western wall on a mostly glass wall and Texas summers) while eliminating the strobe effect we had with the builders recessed lighting aimed directly at the fan blades. We put in a fan with a light and avoided using the cans when the fan was on as much as possible -- until the fan light went out. Now those can are aimed at a stationary center post. I had to have a solution for the strobe effect and DH had to have that fan once he saw it.
---
| | | |
| --- | --- | --- |
| RE: Do these work together for you? | | |
this thread is very confusing after you changed the first photo!

So to clarify, the island light and the ceiling fan are definites and you are looking for input on the breakfast light only? The very last one you posted is great. It has the nice curviness of the island light.

Yes, it would be best if all the shades were the same. are the metals the same or close? Can you use the same line from the same manufacturer to find both lights in the same style? I don't think doing that would be too matchy-matchy with that ceiling fan in the same eyeful.

When I was recently selecting a kitchen overhead light (no island sadly) and a breakfast area light, I stuck with the same manufacturer's line. I went to a lighting store to look at display items. They had a pendant on display that I liked but with the wrong number of shades. But I could see the metal and the shades in person and then from the manufacturers catalog we picked the right size pendant and the matching overhead light. And as bonus, they were actually less expensive than what I could find online for the exact items. If I were sourcing them online from different manufacturers, I would be nervous about how well they coordinated once I actually got them both in the space.
---
| | | |
| --- | --- | --- |
| RE: Do these work together for you? | | |
I didn't change the first photo - it was showing up, then the link didn't work and I fixed it. Not trying to confuse, but the fan is a big part of this puzzle and started this whole exercise. I like my current island fixture, but the only fixtures I've been able to find that would work with it and the fan, DH has rejected.

I originally thought the curves in that last one were a nice tie in, but I'm starting to wonder if I am tiring of that fixture already - maybe it's a bit too much. And I'm still a little leery of bare bulbs on the island fixture -- will have to do frosted for sure.

This weekend is my son's last high school musical and he starts music school auditions next weekend. My dad may be getting sick -- I will have some time to put this on the back burner and think about it. Meanwhile, I'm open to other suggestions.
---
Post a Follow-Up
Please Note: Only registered members are able to post messages to this forum.
If you are a member, please log in.
If you aren't yet a member, join now!
---
Return to the Home Decorating & Design Forum
Information about Posting
You must be logged in to post a message. Once you are logged in, a posting window will appear at the bottom of the messages. If you are not a member, please register for an account.
Please review our Rules of Play before posting.
Posting is a two-step process. Once you have composed your message, you will be taken to the preview page. You will then have a chance to review your post, make changes and upload photos.
After posting your message, you may need to refresh the forum page in order to see it.
Before posting copyrighted material, please read about Copyright and Fair Use.
We have a strict no-advertising policy!
If you would like to practice posting or uploading photos, please visit our Test forum.
If you need assistance, please Contact Us and we will be happy to help.

Learn more about in-text links on this page here