Return to the Home Decorating & Design Forum
|
Post a Follow-Up
---
| | | |
| --- | --- | --- |
| Kitchen Flooring decisions | | |
Posted by
mtnrdredux
(
My Page
) on
Mon, Jan 6, 14 at 16:18
I am going to go with Marmoleum Tile in our kitchen, BP and PR. They will be 13" squares set on the diagonal. This is the look I want:
I know the whitish tile is "White Marble". I'm not sure whether the grey is Dove Grey or not?
---
Follow-Up Postings:
| | | |
| --- | --- | --- |
| RE: Kitchen Flooring decisions | | |
Hmmm... I have dove grey in my kitchen and it looks lighter than that photo - it is also sort of blue and the floor you are showing looks darker, almost like a grey/black rather than blue. There are so many colors it made my head spin. Maybe it's Eternity? We love our Marmoleum floor!!!
---
| | | |
| --- | --- | --- |
| RE: Kitchen Flooring decisions | | |
I love it. It's industrial and still lovely.
---
| | | |
| --- | --- | --- |
| RE: Kitchen Flooring decisions | | |
Ooh, Marinagal, tell me more about your floor?

thx
---
| | | |
| --- | --- | --- |
| RE: Kitchen Flooring decisions | | |
They'll look stunning. I love your choices.
---
| | | |
| --- | --- | --- |
| RE: Kitchen Flooring decisions | | |
I also have dove grey marmo squares and I think it's lighter than your photo (it looks exactly like your 2nd photo). Dove grey in the sheet marmoleum is slightly different fwiw. Also, marmoleum changes color when exposed to light... Mine looked really green when first installed, but the color improved over a few weeks.
---
| | | |
| --- | --- | --- |
| RE: Kitchen Flooring decisions | | |
Mtn - so I have the dove grey sheet marmoleum in my year-round house. We installed it a year ago when we moved into this house and it is one of our favorite things about the kitchen. Very warm, forgiving, and never shows dirt. We have cut outs of marmoleum in Eternity in our entry and butler's pantry. The marmoleum in the marbled/swirled patterns is SO forgiving. It's hard to see dirt and the seams are very well hidden (which won't matter for you since you are doing the squares). I ordered a lot of samples before choosing and found that some showed scratching more than others - especially the solid colors. It is hard, but not impossible, to scratch marmoleum, but I used a nail just to stress test the samples. Dove Grey did really well in the scratch test and I suspect any of the lighter/marbled colors would as well. The darker Eternity sample did show very light scratches (with a nail, mind you!!) so I suspect the darker colors are a little less forgiving....

We love Marmoleum so much that we are breaking our architect's wood-floor-loving heart by considering it for a kitchen remodel we are about to undertake in our summer house. It's the best. Wood floors and sand are a bad combo and and as hard as I have tried to get people to rinse off before they come inside, it doesn't work! Marmoleum is pretty much carefree.

Having said all that - be sure you find an excellent installer. If you read through GW on Marmo you will find bad experiences with poor installation. I worked hard to find someone in our area who was truly experienced and with excellent references. I think this is more important with sheet marmoleum than with tiles, but I am sure it matters a lot for any kind of install.

I have no idea what you actually wanted to know about my floor - but you can see I have a lot to say. :)
---
| | | |
| --- | --- | --- |
| RE: Kitchen Flooring decisions | | |
Thanks so much, everyone.

I actually have several samples (albeit they only send 6: squares), and I like the Dove Grey. I like the bluish tones.

Thanks for the info, Marina. It's still not a very common flooring choice so it's always helpful to hear from those who have it.

Laura, Thanks, yes, I have been warned about the color!

Yaya, Sixty, thank you!
---
| | | |
| --- | --- | --- |
| RE: Kitchen Flooring decisions | | |
| | | |
| --- | --- | --- |
| RE: Kitchen Flooring decisions | | |
I have Marmoleum in my mudroom and powder bath. I have had it for 14 months and it is wonderful. Not sure of the which color I chose. I could find out if it would help.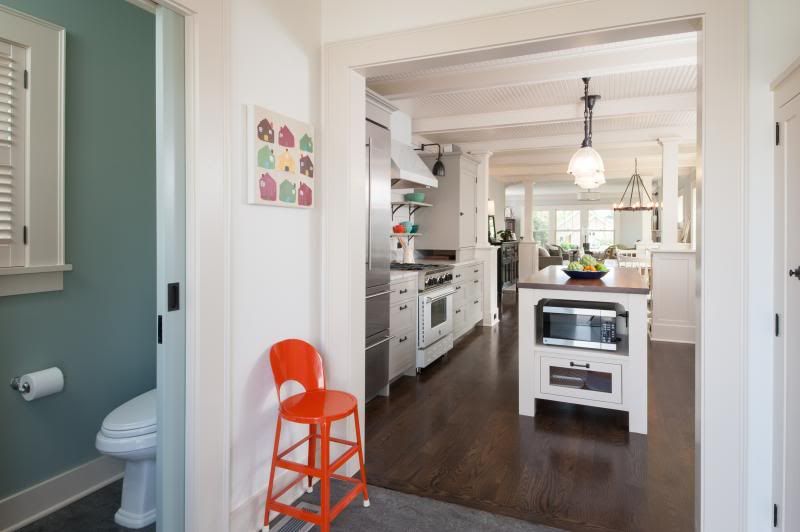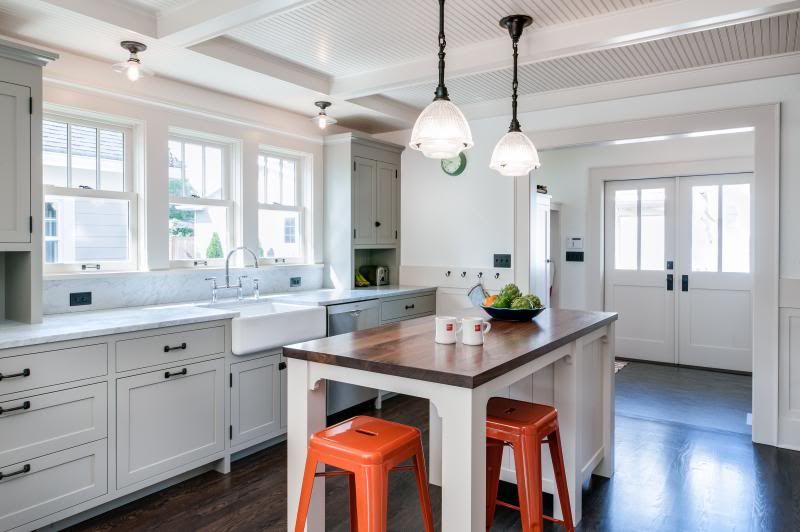 ---
| | | |
| --- | --- | --- |
| RE: Kitchen Flooring decisions | | |
Thanks, Loves to Walk. It looks nice! I think it is browner then Dove Grey. Maybe Eiger?
---
| | | |
| --- | --- | --- |
| RE: Kitchen Flooring decisions | | |
I checked with the designer that helped me ... I gave you incorrect info. We actually used a product called Marmorette by Armstrong in Charcoal Gray. Sorry for steering you in the wrong direction. The book the contractor gave us said Marmoleum. Again, the Marmorette is quite nice and stands up well to our wet shoes (we are located in Seattle).

http://www.armstrong.com/commflooringna/products/linoleum/marmorette-with-naturcote/_/N-67qZ1z141ym
---
| | | |
| --- | --- | --- |
| RE: Kitchen Flooring decisions | | |
Linoleum is a terrific choice for kitchen floors! I want to put it in our kitchen if we ever redo it-maybe I will stress its "green" qualities to DH to spur a remodel!
---
Post a Follow-Up
Please Note: Only registered members are able to post messages to this forum.
If you are a member, please log in.
If you aren't yet a member, join now!
---
Return to the Home Decorating & Design Forum
Information about Posting
You must be logged in to post a message. Once you are logged in, a posting window will appear at the bottom of the messages. If you are not a member, please register for an account.
Please review our Rules of Play before posting.
Posting is a two-step process. Once you have composed your message, you will be taken to the preview page. You will then have a chance to review your post, make changes and upload photos.
After posting your message, you may need to refresh the forum page in order to see it.
Before posting copyrighted material, please read about Copyright and Fair Use.
We have a strict no-advertising policy!
If you would like to practice posting or uploading photos, please visit our Test forum.
If you need assistance, please Contact Us and we will be happy to help.

Learn more about in-text links on this page here