Return to the Home Decorating Forum
|
Post a Follow-Up
---
| | | |
| --- | --- | --- |
| Curb Appeal A-Frame lake house | | |
Posted by
ozarkginh
(
My Page
) on
Wed, Jan 13, 10 at 15:56
Am not sure if this should be posted to remodel forum or decorating forum...
We purchased an A-Frame lake house (2nd house)for family fun & investment. Have to replace the "2 story wall" (shown in pic)and the decking; opportunity to add curb appeal & maximize view (this side faces lake). Front door is on left wall halfway down and street side is side opposite the lake.
Inside wall being replaced: downstairs-living area on left & dinning on right; Upstairs-all master bedroom with deck,(can leave deck off and only have windows).
Downstairs should we do all glass (sliding glass/atrium doors)-or- do 3 casement windows of left and atrium type door on right with a covered deck. Upstairs should we keep the all doors arrangement or do a door & window arrangement? We do want a covered deck downstairs and thought we could squre it off, instead of use the house "A" lines.
Should the deck wrap around the side to the front door to would join outdoor areas?
We will paint house, but keep same roof as relative new.
What color to paint house?
Adding curb appeal to an A-Frame is a real challenge.
TY so much for your help.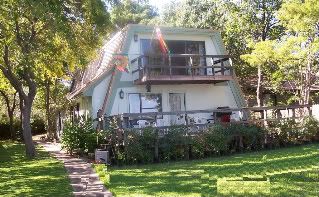 - Lake View-we've trimmed the tree on left.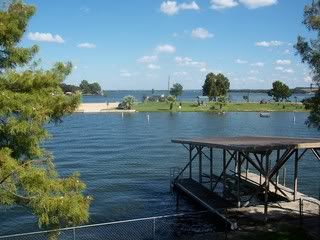 ---
Follow-Up Postings:
| | | |
| --- | --- | --- |
| RE: Curb Appeal A-Frame lake house | | |
Friends of ours have an A-frame home on the water, but their roof is a bit different, as it extends to a point on top. A good portion of the sides and the entire waterfront of the house is a combination of large windows and sliders. The windows and doors are all trimmed the same and are the same size. It's difficult to tell the difference between the two - and the effect is stunning. Wrap around water views make it seem much larger than the small 2br home it really is. The master is lofted so light just pours into the entire house. Congrats on your vacation home - enjoy it!
---
| | | |
| --- | --- | --- |
| RE: Curb Appeal A-Frame lake house | | |
Your charming lake-front is really a 'gambrel' style roof instead of a-frame. What a gorgeous location and stunning property. Sorry I can't help with the curb appeal re-do you're asking for but did want to address the style. We've lived in the mountains among cabins, a-frames, and gambrels. Great purchase!
---
| | | |
| --- | --- | --- |
| RE: Curb Appeal A-Frame lake house | | |
This so reminds me of my parent's get-away home that I just had to put my two cents worth in.

Theirs was much the same as yours but I think somewhat larger, at least from what I can see from the picture. They loved the view from both levels so both had floor to ceiling glass, with a large slider in the middle of the ground level and a smaller slider on the upper deck.

They had vinyl siding installed that we all gagged on when we heard the color. It was a rose color and must to our surprise, it was beautiful. The color seemed to changed with the change in the daylight. Sometimes a light rose, sometimes a grey, sometimes a tan.

The old railing was the kind that slanted away from the deck and they completely tore it out and installed wrought iron on top, as well as put a spiral staircase leading to the small top deck (which I don't think anyone but the kids used). They also ripped out the whole lower level decking and extended the new deck quite a ways out. It also ran down the sides of the house about 1/3rd of the house each side. From the decking they had steps built all around the new decking. There was no railings at all on the deck, just wide steps down. I hope that makes sense.

They (and everyone else who was there) spent most of their time outside and didn't want any railings/banisters in the way. My dad took out all the old shrubbery and my mom, who was an avid gardener, planted alot of perennials, as well as large potted plants.

I wish I had pictures to show you what I mean because the total overall look was stunning and the people they had bought the home from had thought they had torn down the old one and rebuilt. When they sold it to retire to another state they got back well over 5 times what they originally paid for it, including all the upgrades.

Looking at your first picture sure brought back alot of good memories. What a fun project you have ahead of you.

Jenna
---
| | | |
| --- | --- | --- |
| RE: Curb Appeal A-Frame lake house | | |
Thank you so much for the comment. I really like the idea of steps all around the deck, so no railing is needed. And I am changing my thinking from using casement windows to floor to ceiling glass. Love the ideas.
---
Post a Follow-Up
Please Note: Only registered members are able to post messages to this forum.
If you are a member, please log in.
If you aren't yet a member, join now!
---
Return to the Home Decorating Forum
Information about Posting
You must be logged in to post a message. Once you are logged in, a posting window will appear at the bottom of the messages. If you are not a member, please register for an account.
Please review our Rules of Play before posting.
Posting is a two-step process. Once you have composed your message, you will be taken to the preview page. You will then have a chance to review your post, make changes and upload photos.
After posting your message, you may need to refresh the forum page in order to see it.
Before posting copyrighted material, please read about Copyright and Fair Use.
We have a strict no-advertising policy!
If you would like to practice posting or uploading photos, please visit our Test forum.
If you need assistance, please Contact Us and we will be happy to help.

Learn more about in-text links on this page here