Return to the Home Decorating & Design Forum
|
Post a Follow-Up
---
| | | |
| --- | --- | --- |
| Master Bath Finish Choices; KISS? | | |
Posted by
mtnrdredux
(
My Page
) on
Wed, Jan 22, 14 at 15:53
Sorry I am so needy everyone!

So, some time back I posted my new MBR suite layout, and it is now finalized (so no fair making any comments now, LOL). (oops, the linen closet door placement has changed)

Anyway, if you look on the plan below, the long rectangular room at the bottom left is the room that previously housed the entire MBA. Post-reno, it will house the shower and a toilet and a folding railroad sink. The new shower stall is larger than the existing one. Two more sinks and a tub will be in what used to be the adjacent bedroom.

I also include below a photo of the old bathroom
(see why it is now gutted?!).
These are my questions:
1. I believe that given the meager proportions of this room,and the 1906 pedigree of the house, that the tile should be relatively simple. Decorative items and borders and such will, I think, draw attention to the puniness.
Do you agree? Just one tile, covering the entire stall?
2. If I were to do a more elaborate tile, the one I like looks a little like wallpaper (handpainted, muted, one color on off white). I would use it like wallpaper, ie, on the top half or two thirds of the wall, with a solid tile below. Where would you break it in a shower like this one (note sloped ceiling in stall).
3. Or, maybe use this "wallpaper tile" in the room with the tub, on the wall that has the tub and two sinks?
4. I am so tired of glass shower doors, at least the common frameless ones. I am wary of doing a shower curtain in kids baths, but I trust us. If I put one here, is there enough room to tie it back?
This post was edited by mtnrdredux on Wed, Jan 22, 14 at 16:06
---
Follow-Up Postings:
| | | |
| --- | --- | --- |
| RE: Master Bath Finish Choices; KISS? | | |
Not sure this is helpful...

Can you use the wallpaper tile on just the wall that you see when standing in the shower room? Either do it as a panel with a simple tile framing it, or go for it and do the whole wall. I'm not sure if the wall is staying sloped, or if the shower is being pulled forward to get a flat wall back there. (sorry if I'm confused)

And then can you use some of i the wallpaper tile behind the tub just to have the two whisper to each other? Or maybe is it suitable to have it as a floor tile, just under the tub, like a rug? I don't think I saw if you posted previously about what the wallpaper tile is or a picture of it.

Oh, and I personally love the glass door, it will allow you to appreciate that tile. I can't even imagine using a shower curtain in a shower stall....It will cling to you when you are showering!

picture of tub with tile rug

---
| | | |
| --- | --- | --- |
| RE: Master Bath Finish Choices; KISS? | | |
Hi Bee,

I can't find my camera, so i took one with my iphone. IRL has an uneven intensity of coloration, which makes the tile look a little old/faded/hand done. I can get any color i'd like. This color goes with my rug (although the rug is Mandala pattern).
You raise a really good point about bringing the wall forward. I should ask my GC about the size of the stall if we did that.
Also, another good point about a tile "rug" i love those!
I know some shower curtains cling, but they don't all. And I am just so tired of the glass doors. I'm convinced they are going to scream 2010 soon.
PS I know I owe you an email, sorry! Hopefully i get around to it this week; need to get my old laptop.
---
| | | |
| --- | --- | --- |
| RE: Master Bath Finish Choices; KISS? | | |
oh, that is really cool. I like it.

Whenever you get around to the email will be fine.

bee
---
| | | |
| --- | --- | --- |
| RE: Master Bath Finish Choices; KISS? | | |
I don't think it would hurt to keep it simple, but a liner tile would add a bit of interest and be historical.

You won't want to keep the shower curtain pulled open and folded on itself, that's when they mildew.
---
| | | |
| --- | --- | --- |
| RE: Master Bath Finish Choices; KISS? | | |
Ineffable,

Hmm, so I guess you do a shower curtain that you plan to keep open (I never know if one should call a curtain that is pulled across opened, or closed?) only if you have a shower curtain that you love and tile you don't mind seeing only when you are in the shower.

I really wanted to forego shower doors. I miss shower curtains. Sounds like you would favor a door for this situation?
---
| | | |
| --- | --- | --- |
| RE: Master Bath Finish Choices; KISS? | | |
if you want a shower curtain, go for it. If you later decide you want a glass enclosure you can change it. I prefer a curtain myself.

I'd only use the patterned tile as an accent. a lot of patterned tile (or wallpaper) makes it busy to me. It isn't easy to change out either.
---
| | | |
| --- | --- | --- |
| RE: Master Bath Finish Choices; KISS? | | |
I am neutral on the door vs. curtain thing on stall showers.

You can't put a door like the one that exists on the shower again, it has to be on that opens Out. You may not really have room for one without hitting the sink.

I prefer curtains on tub/shower combos. I am doing shower curtains in all three bathrooms. The bathroom with a stall shower is too small for an outswinging shower door.

Also, I like for someone else to be able to step into the bathroom, or to be able to shower with the bathroom door ajar so as not to overwhelm the ventilation system, without being seen in the shower behind a plate glass door, so I like patterned/obscure glass anyway and you would never see the tile.
This post was edited by ineffablespace on Wed, Jan 22, 14 at 18:00
---
| | | |
| --- | --- | --- |
| RE: Master Bath Finish Choices; KISS? | | |
"I know some shower curtains cling, but they don't all. And I am just so tired of the glass doors. I'm convinced they are going to scream 2010 soon."

Glass shower doors have been around at least since the 40s, so I wouldn't worry about them screaming anything. :). My parents had one in their house which was a custom build from that period. If you scroll down past the folding doors in the link, there are some marvelous vintage doors that might work for you ( switch to tempered glass, though) since you are going for close to that era in your kitchen.

You could also use a clear liner alone as a curtain to allow you to see the tile if you want.
Here is a link that might be useful: Shower doors
---
| | | |
| --- | --- | --- |
| RE: Master Bath Finish Choices; KISS? | | |
Desert, I tend to agree. But I also think that something about "feature tiles" or feature walls is decidedly modern.
That's what i'm trying to reconcile.

I can only add the door later if my layout plan will allow it to. Maybe I will do that, create a layout that will accommodate one, and go commando and try it.

Ineffable, We would have to size the door and shower and locate the sink such that we can open out. I can't imagine the local code folks have considered folding sinks in their specs so we probably won't get credit for that!
---
| | | |
| --- | --- | --- |
| RE: Master Bath Finish Choices; KISS? | | |
Cyn,

Yes of course. But it seems to me, with the advent of frameless trackless doors, the glass shower stall has become overdone. I think I should consider some of the style nuances you showed.
---
| | | |
| --- | --- | --- |
| RE: Master Bath Finish Choices; KISS? | | |
I, too, prefer a shower curtain, all of mine came from R.H. and we love them. As for the liners we got the same color as the shower curtain and the ones with weights in them. I would keep the background tile as simple and clean as possible. When we did our 115 year old br in our lake house we opted for a plain white tile. I put a heavy chenille white shower curtain and bought an extra one that I put on the window pulled to one side as the view is gorgeous with birch tress and the lake but at night it's creepy to me haha. Your layout is plan is terrific. It's not always easy to work around an older home but so gratifying when you do.
---
| | | |
| --- | --- | --- |
| RE: Master Bath Finish Choices; KISS? | | |
My first thoughts were you were doing a KISS-themed bathroom--black and silver, LOL.

I know what you pick will be fabulous.
---
| | | |
| --- | --- | --- |
| RE: Master Bath Finish Choices; KISS? | | |
KISS-theme: Now, there's an idea.....

I would just go with very simple tile, the same everywhere, although I also like the colored edge and different floor tiles, like here:

I also like European shower stall doors: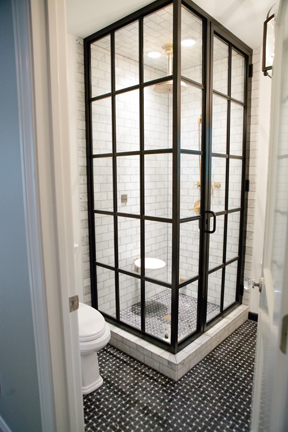 ---
| | | |
| --- | --- | --- |
| RE: Master Bath Finish Choices; KISS? | | |
Hmm, the top two are good looks.

BTW, the door with muntins? I was quoted $7500 for a standard size door. Not including installation! No matter what I do this will be a humble room, so going OTT is probably not even worth it.

GScience --- umm, no
---
| | | |
| --- | --- | --- |
| RE: Master Bath Finish Choices; KISS? | | |
The thing with just completely plain tiles and a shower curtain is that it reminds me so much of boarding school or college dorm showers. So, a little bit of details may be nice.
---
| | | |
| --- | --- | --- |
| RE: Master Bath Finish Choices; KISS? | | |
I was not going to reply to this thread because I missed the space planning one that preceded it, but I am thoroughly confused about the "folding sink." I googled it and came up with a stainless steel atrocity that I cannot even imagine in a bathroom of yours. The layout seems tortured, but knowing your space planning abilities I'm sure it's the best possible configuration short of nuclear renovation.

The floral tile...seems very trendy to me. If you use it I would go with the tile "rug" as mentioned upthread. I do like the black and white tiled shower stall pictured above, and can see that same configuration with white and pale blue in your bathroom. You can also break up the long expanses of tile with listellos in the same color as the field tile that are shaped like chair rail molding, used to create picture frames (like paneling) on the wall with the tile running perpendicularly within the "frames."

As to shower doors vs curtains, I would go with glass, but an etched or frosted glass pivot door . The door can be etched leaving clear lines around the perimeter in a vintage looking border, which may appeal to your restoration sensibilities :-)
---
| | | |
| --- | --- | --- |
| RE: Master Bath Finish Choices; KISS? | | |
mtn, I am in the process of finding tile for my small shower stall. Can you go with just one tile for the base? I was told that I need to keep the floor tile for the shower area at 2" or smaller. It may be due to sloping. Has your GC mentioned that?
---
| | | |
| --- | --- | --- |
| RE: Master Bath Finish Choices; KISS? | | |
| | | |
| --- | --- | --- |
| RE: Master Bath Finish Choices; KISS? | | |
That second blue tile is too busy even for me, whoa!
---
| | | |
| --- | --- | --- |
| RE: Master Bath Finish Choices; KISS? | | |
KSWL,
Okay i can't resist. The 2nd floor had 4 bedrooms and 2 hall bathrooms. We combined the bedrooms top left and center, with the long skinny existing hall bath, and also took over part of the hallway. Minimum of plumbing to move, not many walls down. Some gripe about the long march to the toilet, but I like toilets far away and don't think it's a big deal.

Anyway, I cry foul on calling my "wallpaper tile" trendy. Glass, subway, arabesque, mosaics, marble, MOP, all trendy (arguably). But I don't see tile like this anywhere (hard to capture it's faded irregular nature) and I would generally say florals are OUT. And the "wallpaper concept" I also can't find anywhere. NSoccer's second photo is close, except I was imaging the wallpaper on top.

As for etched glass, its funny, none of the Shower Door supplier websites show them ... and most of them have photo galleries with dozens of photos from jobs. It may be just the thing i need to make it feel new to me.

Arapaho, I haven't discussed tile w my GC yet, I try to spare him my musings. I did plan to make the shower floor smaller tiles, though; in this case for traction.
---
| | | |
| --- | --- | --- |
| RE: Master Bath Finish Choices; KISS? | | |
Forgot to add l;ink to a folding (railroad) sink. This one is nicer than ours, though.
Here is a link that might be useful: Pullman sink
---
| | | |
| --- | --- | --- |
| RE: Master Bath Finish Choices; KISS? | | |
Okay, I'll give you the "tile wallpaper" is not trendy the way you are thinking of it. I was mentally categorizing it as a type of tile mural like the one in the link below. But if you like the idea of a patterned wall, why not just use real wallpaper? You will have a lot more choices that won't be so set in mortar :-) and wallpaper is period appropriate (for almost any period).

I see now the reasons for the layout. It's unusual, certainly, but the toilet is no farther away than it would be in a hall bath in a house of that vintage. You're brave to be doing all this planning yourself!
Here is a link that might be useful: Tile
---
| | | |
| --- | --- | --- |
| RE: Master Bath Finish Choices; KISS? | | |
OOh, I have never seen that site before! Thanks.

I am not brave, I am cheap. I am trying to dollar-cost-average for all the money my GC billed for "design work" ... ... that was never actually done for me in CT.
---
| | | |
| --- | --- | --- |
| RE: Master Bath Finish Choices; KISS? | | |
I am going to make this simple and I am never short. My best friend from high school bought a huge historical home with a hugely historical presence and much beloved for many reasons, from reconstruction following the civil war, first large home in the small town, where the first doctor set up his home and practice, later owned and occupied by a state supreme court judge, and just prior to her, an entrepreneur of national repute. She refurbished the whole house with the help of interior designers and local historians.

The last thing, after all the designers and historians had gone, was the guest bath and shower. Yep, a glass door. It did not look right. It looked awful. It was a sore thumb.

As they plan to draw down their lifestyle and quarters to live near their children secondary to mature life health issues, they are selling the house, asking a large price, but the 2 potential buyers have told her before signing any papers, they must remove the doors and return the whole bathroom to its historical era or no sale. So I say go with shower curtains as it may just not otherwise "read right."
---
| | | |
| --- | --- | --- |
| RE: Master Bath Finish Choices; KISS? | | |
Patricia, I am pretty sure I am going to have the shower sized and the sink located in such a manner that, should we choose, we could add a door that would satisfy code reqmt.s to swing out. But I am going to try to go without one and see what it's like.

We also won't have one in the 2nd floor hallbath.

For the two showers on third floor, where the kids plan to be, I worry about them keeping water in the shower ...
---
| | | |
| --- | --- | --- |
| RE: Master Bath Finish Choices; KISS? | | |
Just tell them that if there is a lot of water on the floor, it needs to be wiped up o rat least reported 'cause sooner or later, it will work its way through the floor and show up on the ceiling below -- much to the surprise of even very smart teenagers.
---
Post a Follow-Up
Please Note: Only registered members are able to post messages to this forum.
If you are a member, please log in.
If you aren't yet a member, join now!
---
Return to the Home Decorating & Design Forum
Information about Posting
You must be logged in to post a message. Once you are logged in, a posting window will appear at the bottom of the messages. If you are not a member, please register for an account.
Posting is a two-step process. Once you have composed your message, you will be taken to the preview page. You will then have a chance to review your post, make changes and upload photos.
After posting your message, you may need to refresh the forum page in order to see it.
Before posting copyrighted material, please read about Copyright and Fair Use.
We have a strict no-advertising policy!
If you would like to practice posting or uploading photos, please visit our Test forum.
If you need assistance, please Contact Us and we will be happy to help.

Learn more about in-text links on this page here