Return to the Home Decorating & Design Forum
|
Post a Follow-Up
---
| | | |
| --- | --- | --- |
| Rug help | | |
Posted by
oakleyok
(
My Page
) on
Thu, Jan 16, 14 at 14:12
I kind of got myself into an expensive pickle on my rug choices.

Long story short, I need to match the round rug in the back of the LR, to a rug I want to replace in the front of the LR.

Here is the round one which has to stay.
Below is the only picture I could find but it shows where the other rug will go. It will be centered in the front of the room, in front of the sofa. Ignore the stuff on the coffee table, it's all gone.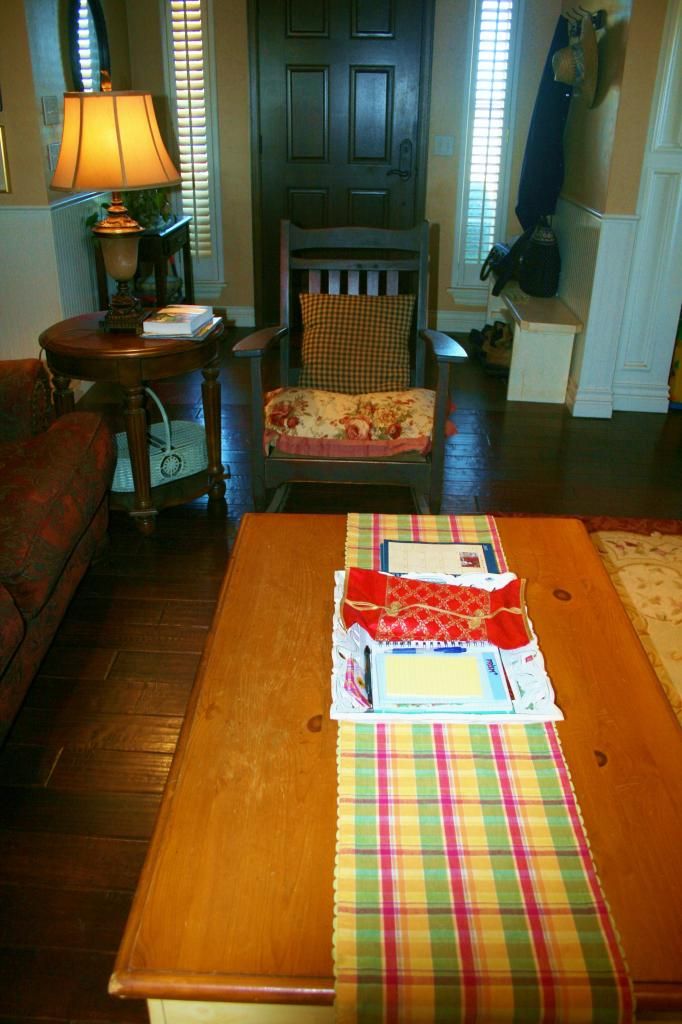 Now here's the problem. Although there is a lot of teal in the persian, I don't want teal to be a main color for the new rug. There is rust in the persian which matches the sofa.
I'm stuck on color combinations. The rugs need to blend even though you can't see both of them at once.
What colors would you suggest for the front of the room? I really don't want blue, but am I stuck with it? I have no accessories in blue, nor do I want any. What a mess I made!
Again, I can't get rid of the persian.
---
Follow-Up Postings:
| | | |
| --- | --- | --- |
| RE: Rug help | | |
It's really hard to get a sense of the true colors because both your front door and rocker look teal on my monitor. But what about picking up some of the black (if that is black in the round rug) with some rust and maybe a bit of teal in it. I personally love the black and it really doesn't read too dark, even though you think it would.

Here is a link that might be useful: overstock rugs
---
| | | |
| --- | --- | --- |
| RE: Rug help | | |
The light is reflecting on the wood, but both are brown. I need to check out the front door again to see if it still needs cleaning of smudges! lol.

I love those colors in the rug. When you did a search, what did you type in?
---
| | | |
| --- | --- | --- |
| RE: Rug help | | |
I would try and play off the center medallion. Try to find a rug with a similar medallion and colors. Rust is a favorite of mine and don't really think you have to replicate a blue in another rug. Just stay away from black or red. It is difficult to actually see the colors, but looks like a lot of neutrals. If you are after strong color, a rust background with neutrals would hold it's own. Personal choice at my end.
---
| | | |
| --- | --- | --- |
| RE: Rug help | | |
What about a plain all-one-color rug that matches one of the colors in the round rug? You can have a rug made up from carpet or from a carpet remnant quite inexpensively.

PS you have a lovely home!
---
| | | |
| --- | --- | --- |
| RE: Rug help | | |
Don't buy a rug with a center medallion for the sofa area. They are harder to arrange furniture on/around since your mind always wants the arrangement to make sense with the medallion. With an all-over pattern you have more play.

Your floors and furniture are on the dark side, so I would find a rug with a medium to light background.

Do you have a link to a website showing your round rug? So we can see the colors better.
---
| | | |
| --- | --- | --- |
| RE: Rug help | | |
Thanks, hoov! I'm afraid of a solid color because this portion of the LR is used a lot, especially with the little grandkids. Just yesterday a glass of OJ went flying off the coffee table. :)

Allison, I agree about no medallion. The coffee table will hide a good chunk of the rug. What shade of background would you choose? I don't want too much black because it picks up a lot of lint.

We bought the rug at a store so there's no picture. Here's a close-up.

I'm also going to buy two matching chairs with print which will add to the equation. Hmm, which should come first, chairs or rug?
---
| | | |
| --- | --- | --- |
| Rug help | | |
Forgot a major detail. I'm re-doing this room and I plan to add more mustard color to it. Which I'd like to find in the chairs.

I told you I blew it buying the persian. How was I to know I'd change my tastes in decorating? lol
---
| | | |
| --- | --- | --- |
| RE: Rug help | | |
I'm about to head out for awhile but will comment this afternoon!
---
| | | |
| --- | --- | --- |
| RE: Rug help | | |
Oakley, I think I searched for black and rust area rug. The one I posted came up on Overstock and I was just showing it for colors. I do think you could find one that would coordinate with the black, rust and other colors in your beautiful existing rug.
---
| | | |
| --- | --- | --- |
| RE: Rug help | | |
This one is large. What size do you need?
Here is a link that might be useful: Handmade Vanilla New Zealand 9 x 12
---
| | | |
| --- | --- | --- |
| Love this one.... | | |
..but with your rust sofa, too much.
Here is a link that might be useful: Safavieh Handmade Heritage 9 x 12
---
| | | |
| --- | --- | --- |
| Soumak? | | |
Have you considered a Soumak rug? They are not as soft, but not scratchy (the better ones). You can spill something on it and it blots right up. I have them in high traffic areas - wear extremely well.
Here is a link that might be useful: Sfavieh Handwoven Sumak Beige/Sage
---
| | | |
| --- | --- | --- |
| One more.. | | |
Any of these appealing to you? They come in other sizes as well.
Here is a link that might be useful: Handmade Zeigler Taupe/Ivory
---
| | | |
| --- | --- | --- |
| RE: Rug help | | |
How about something like this which seems to have the same colors but in a much different balance
Here is a link that might be useful: area rug
---
| | | |
| --- | --- | --- |
| RE: Rug help | | |
Allison, I really like the first rug you posted. It has the blue from the other rug, rust from the sofa, and the gold would go good with the mustard chairs I want which I haven't seen yet. lol

I need a large rug, but I have to be careful since the FP is at an angle. I need to measure the old one which is a perfect fit, but very ugly.

I posted this before but haven't followed through, but I plan on painting the game table & chairs on the teal rug a red color with a black glaze. I hope to take it in next week. I'm setting a Makenzie-Child's courtly check (black and white) tray to go on top of the table.

Uh oh, I think I'm turning into Mary Engelbreit! My problem is I love color and pattern. Maybe a bit too much? ;)
---
| | | |
| --- | --- | --- |
| RE: Rug help | | |
Your current rug is very nice, but obviously you no longer care for it. It does look a little too large for the table & chairs. I would try to sell the rug or use it somewhere else and buy 2 rugs that you love. Don't try to work around something you don't like.
---
| | | |
| --- | --- | --- |
| RE: Rug help | | |
Gracie, I wouldn't dream of selling the rug. I love it. We didn't buy it for the table and chairs, they just happen to sit on it.

Thanks to all the help I received, I know the direction to go now. Before this, I was stumped and didn't trust myself.
---
| | | |
| --- | --- | --- |
| RE: Rug help | | |
oak,
I'd get the rug first, since rug choices are more limited than fabrics. From your pics it looks like the sofa divides the space into 2 rooms? So the rugs would not be visible next to each other? I'd look for a rug that looks best with your sofa, with rusts and mustard colors and a little black and not worry if the 2 rugs "go together". I too think a light-med background would look nice in your room. Your persian is very pretty
---
| | | |
| --- | --- | --- |
| RE: Rug help | | |
Messagerocks, you're right, the sofa does divide the room into two rooms. Standing at the entryway, I can see both rugs, but not large areas of them.

One thing I do want are bold colors. The rug I'm replacing is just too blah. For an inexpensive rug it sure has held up well.
---
| | | |
| --- | --- | --- |
| Rug help | | |
Instead of doing another topic, can you all help me with something else? Fortunately the pictures are already here, but I'll see if I can find a more cohesive picture of the area.

The sofa is flanked by two round end tables. To see what the table looks like, see Picture 2. You can see the back area of the other table in Picture 1. That red recliner is no longer there, but a chair will be there.

DH complains about lighting on his side of the sofa. He wants a floor lamp instead of a table lamp. Would it look bad to put a floor lamp behind the round table? I'd take the current lamp off...which isn't the same lamp in the picture.
---
| | | |
| --- | --- | --- |
| RE: Rug help | | |
Oakley, I think a floor lamp would be perfect there for your DH. The table looks as though it is a bit forward and angled rather than right next to the side of the couch. That should leave space for a floor lamp!
---
| | | |
| --- | --- | --- |
| RE: Rug help | | |
I can't tell from the pics what your couch looks like. Does it blend well with the round rug colors? If so, could you make it work under the couch up to the fireplace and find a rug to go under the game table that would work better with the red you plan on painting it?
---
| | | |
| --- | --- | --- |
| RE: Rug help | | |
Cyn, I hope you're right. I need to take one of my DH's floor lamps from his office and see how it would look. I don't want a very tall lamp so it doesn't stick out.

Oly, the sofa is more of a dark maroon, but it blends well with the red in the round rug. The table should match also. The chairs will be painted red but have black seats.

I can't put it in the front of the room because it will be partially hidden by my large coffee table (solid wood), and other furniture will be sitting on it.
---
| | | |
| --- | --- | --- |
| RE: Rug help | | |
Love at first sight! I hope you all like this rug I bought from Joss and Main. It's 8 x 11, bigger than the one that's there. With the exception of the blue, it has the colors from the other rug in it. The sofa has pale gold paisley in it too.

The nice thing is the coffee table won't be hiding a medallion on the rug!

Below is a direct link to J&M so you can read the details of the rug...I think you have to be a member, not sure.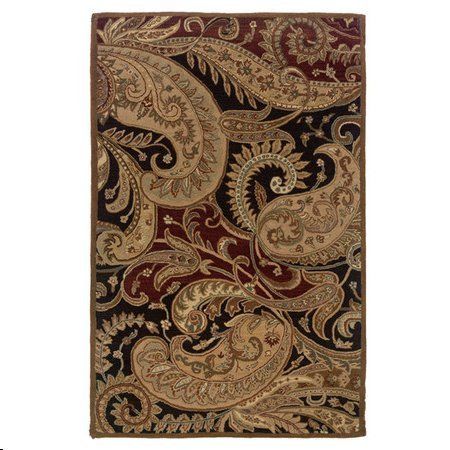 Here is a link that might be useful: Joss and Main Rug
---
| | | |
| --- | --- | --- |
| RE: Rug help | | |
The silence is deafening! I hope it's not because you don't like the rug and you don't have the heart to tell me. lol

I forgot to mention yesterday, one thing I like about it is how the cream/beige in the rug will match the LR paint, which will give a more cohesive look to the room..which I needed badly. I think that is my biggest problem decorating in there because the room is so big.
---
| | | |
| --- | --- | --- |
| RE: Rug help | | |
It's a lovely rug and it goes so well. The silence is Sunday afternoon silence. Wait a while.
---
| | | |
| --- | --- | --- |
| RE: Rug help | | |
Great find! I love that it goes so well with your round rug, has a traditional pattern, but is not a traditional rug. Be sure to take a pic when you have it laid.
---
| | | |
| --- | --- | --- |
| RE: Rug help | | |
Thank you! I know paisley is trendy right now, but I've been a paisley fan since high school, so I'm not worried about that.

It's nice to get the feeling "I'll know it when I see it." And then I saw it. lol
---
| | | |
| --- | --- | --- |
| RE: Rug help | | |
I'm not usually a paisley fan, but it is abstract in a way that doesn't look so traditional paisley to me, so I like it. Glad you found it.
---
Post a Follow-Up
Please Note: Only registered members are able to post messages to this forum.
If you are a member, please log in.
If you aren't yet a member, join now!
---
Return to the Home Decorating & Design Forum
Information about Posting
You must be logged in to post a message. Once you are logged in, a posting window will appear at the bottom of the messages. If you are not a member, please register for an account.
Please review our Rules of Play before posting.
Posting is a two-step process. Once you have composed your message, you will be taken to the preview page. You will then have a chance to review your post, make changes and upload photos.
After posting your message, you may need to refresh the forum page in order to see it.
Before posting copyrighted material, please read about Copyright and Fair Use.
We have a strict no-advertising policy!
If you would like to practice posting or uploading photos, please visit our Test forum.
If you need assistance, please Contact Us and we will be happy to help.

Learn more about in-text links on this page here