Return to the Home Decorating & Design Forum
|
Post a Follow-Up
---
| | | |
| --- | --- | --- |
| Best option to hide bedside files? | | |
Posted by
Texasgal47
(
My Page
) on
Sun, Jan 5, 14 at 13:18
This is a cross post from the Woodworking forum. This concerns simply the decorating aspect alone. The goal is to hide household files I want to store on each side of the bed. My home is small and space is at a premium. The bedroom has a double bed and 24" wall space on either side. Walls are painted soft gold. There are pull out drawers under the platform bed so access to these is an issue. I could have white custom mobile file cabinets made with a lower file drawer and a small upper utility drawer. However, this is an expensive option for files that would see infrequent use. Inexpensive mobile file drawers on the floor beside the bed would meet my needs but I would want them hidden from view. What do you think of having a 24" wide white hanging shelf with fabric hung from the underside of the front edge of the shelf to hide the files? There is also an open type nightstand that matches my cherry stained bed available. One side clips onto the bedrail to allow access to the underbed drawers. There is room to put the mobile files under the nightstand and this same hanging fabric technique could be used. A simple solid soft gold shimmery fabric is what I have in mind. It is part of a Candice Olson bedding collection which was purchased for this room's make-over. A metallic thread is woven into the fabric. Anyway, honest feedback would be appreciated.
---
Follow-Up Postings:
| | | |
| --- | --- | --- |
| RE: Best option to hide bedside files? | | |
fabric covered tables (or shelves as you mention) are my favorite cheapo hiding places for unsightly boxes
---
| | | |
| --- | --- | --- |
| RE: Best option to hide bedside files? | | |
I think fabric panels are a great option. If you hang them from the shelf that attaches to your bed, you could save money by using cardboard file boxes instead of buying mobile filing cabinets. I understand that you would have to move the boxes to access some of the drawers, but you could store less used items in those drawers.

Alternatively, I've seen inexpensive or vintage file drawers covered in decoupaged images, wall paper, contact paper, etc. with wheels added for mobility and they looked terrific as bedside tables. You might check Pinterest, Apartment Therapy or Ikea Hacker for ideas.
---
| | | |
| --- | --- | --- |
| RE: Best option to hide bedside files? | | |
Something like this would work for files and bedside tables. You'd have to put wheels if they didn't come with it.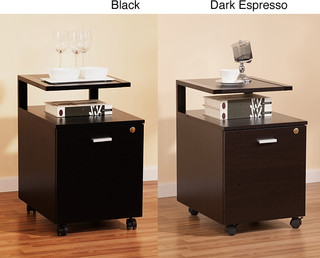 ---
| | | |
| --- | --- | --- |
| RE: Best option to hide bedside files? | | |
You could put a round piece of plywood on top of cheap filing cabinets and cover with tablecloths.
---
| | | |
| --- | --- | --- |
| RE: Best option to hide bedside files? | | |
Thank you all for taking the time for follow-up. They are all great suggestions. My criteria is to keep dimensions to no greater than 18" deep for ease in making the bed up in the a.m., and no higher than 23.5" as a comfortable height for reaching the tabletop from the bed. Fun2BHere, I'll look up the websites you suggested. Also, have just located on etsy Bridgeport Place that makes rta mobile cubes using 3/4" thick wood for hanging files. Prices look reasonable for that quality, esp. if I go with unfinished so I can paint to go with my decor. I'm leaning toward the matching hook-on nightstands with painted, or decorated, wood mobile file cubes to go beneath. This seems to be most functional for my needs, the sturdiest, and best bang for the buck.
As an aside, I can't believe how helpful it is to process these design problems with you GWebbers to get the creative juices flowing. It also helps to receive feedback as to whether the direction I'm heading makes the best sense or not.
---
| | | |
| --- | --- | --- |
| RE: Best option to hide bedside files? | | |
Check out office furniture. We found it relatively inexpensive and very useful, including a formica top which is great for putting water glasses on it and such.
---
| | | |
| --- | --- | --- |
| RE: Best option to hide bedside files? | | |
You could go between the studs for recessed shelving. Stain the plywood inside to match your furniture. Then paint, wallpaper or cover in fabric some boxes that can be used for files. Add some file inserts and place them all in the open shelving as ART. Make it a feature. These are just idea's but the possibilities are endless.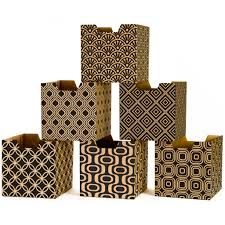 ---
| | | |
| --- | --- | --- |
| RE: Best option to hide bedside files? | | |
Jerrilyn, I'm not sure how between the studs is going to hold 18" deep file boxes. You must be thinking of smaller types, which is a great idea for an inside wall. The decorated boxes are very nice. Thanks for the ideas.
---
| | | |
| --- | --- | --- |
| RE: Best option to hide bedside files? | | |
Hi Tex, yes I meant the shallow ones. This one is only 5 ½ inches deep but there are all sorts of sizes and depths. This one of course would end up with its label on the side but there are other picks out there. The downfall (or advantage) would be that one file might be of only one or two file categories. It does make it easier to find stuff but does require more receptacles. We did recessed shelves in our last kitchens, made great use of a corner. It's not that hard either; you build the plywood boxes first and put it in your cutout areas. Next step add shelves and trim out in stock molding. You can buy stud finders for $20 if you wanted to see if it's doable.


This post was edited by jterrilynn on Mon, Jan 6, 14 at 9:20
---
| | | |
| --- | --- | --- |
| RE: Best option to hide bedside files? | | |
I'd like a link to the etsy shop that sells the mobile cubes; can't find them under "bridgeport place"
---
| | | |
| --- | --- | --- |
| RE: Best option to hide bedside files? | | |
Violet.West, sorry, my error. It is Bridgewood Place. You can also google -- etsy + custom file crate-- and bridgewood place comes up. I love their designs.
After experimenting with my file boxes, I've decided to spend the money and have the custom Conestoga nightstands, with a bottom file drawer, made after all. They'll be painted a soft white. The two main issues I'm struggling with design-wise are:
(1) What to use for top of the nightstands? I really want cherry to match the bed but the bed is made out of some cheap wood like para(?) and I think the match would be off and it would bug me. I could use a soft black wood top, or black with a cherry stained inset so there is a break to disguise the off color. Another thought is a formica top colored a mixture of black, soft gold, and cherry made to simulate granite. Any other ideas?
(2) How to integrate the size disparity between the 24" wide wall cabinets (mounted at regular kitchen cabinet height) and the file cabinets which will have a narrow width of either 15" or 18". I don't want to make it wider as moving them on wheels in that narrow space may be awkward. I've come up with the following ideas. One is to use corbels under the wall cabinets to increase the linear connection between the wall cabinet and the nightstand. The corbels wouldn't go all the way down to the surface below but would definately improve the connection between the two. I saw a photo of this on houzz for a hutch, and it definately looked very nice. The other thought is to put a white top for the nightstand. However, then use a removable 18"d x 24"w x 0.75" wide shelf that would rest on corbels on each end of the shelf as well as on the nightstand surface. This loose shelf would be the cherry, black, or whatever surface is used. Then I'd have a 1/4" thick wood panel painted white to match the cabinets attached to the wall area beneath the shelf, all the way to the baseboard & 24"w to further give the illusion of all white below. I think it will work but would really appreciate any feedback.
There is really a third problem to be addressed. An anti-tip device needs to anchor the mobile nightstands to the wall as insurance to prevent furniture tipping when the file drawer is fully extended. The mechisms out there are not for quick & easy release of the device. I am currently conferring with a company that custom makes thin steel airplane cable with different release mechanisms to go on the end for connection with a wall hook. Just thought I would mention this if someone later reads this and is wrestling with the same issues.
---
| | | |
| --- | --- | --- |
| RE: Best option to hide bedside files? | | |
A nice open library table with a shroud of nice fabric, possibly matching your draperies or bed coverings. You could build this yourself or buy it. You can add glass or plexiglass over the fabric for protection, have the corners slit/split so it pulls up easily.
---
| | | |
| --- | --- | --- |
| RE: Best option to hide bedside files? | | |
thank you; very nice stuff at Bridgewood place. pricey though -- $120 for a wooden box?

I've about had it with file cabinets; planning to invest in plastic file boxes which I can label . . . and then hide.
This post was edited by Violet.West on Wed, Jan 8, 14 at 21:40
---
Post a Follow-Up
Please Note: Only registered members are able to post messages to this forum.
If you are a member, please log in.
If you aren't yet a member, join now!
---
Return to the Home Decorating & Design Forum
Information about Posting
You must be logged in to post a message. Once you are logged in, a posting window will appear at the bottom of the messages. If you are not a member, please register for an account.
Please review our Rules of Play before posting.
Posting is a two-step process. Once you have composed your message, you will be taken to the preview page. You will then have a chance to review your post, make changes and upload photos.
After posting your message, you may need to refresh the forum page in order to see it.
Before posting copyrighted material, please read about Copyright and Fair Use.
We have a strict no-advertising policy!
If you would like to practice posting or uploading photos, please visit our Test forum.
If you need assistance, please Contact Us and we will be happy to help.

Learn more about in-text links on this page here