Return to the Home Decorating Forum
|
Post a Follow-Up
---
| | | |
| --- | --- | --- |
| How do you layer your bed? | | |
Posted by
dixiechixie
(
My Page
) on
Fri, Jan 30, 09 at 13:08
I am looking to change up my bedding. I currently have a regular comforter set. I would like to get a down comforter (duvet, not sure the correct way to refer to it).

Previously, I bought a matelasse coverlet and shams. I would like to use those, but need more warmth (New England winter!).

How do you layer the bedding if you wanted to use the down and the matelasse together? Sorry for the basic question, but I have only ever used bedspreads and comforters!
---
Follow-Up Postings:
| | | |
| --- | --- | --- |
| RE: How do you layer your bed? | | |
Hi dixie, the duvet is what you put the comforter into~i've had a down one for years and love it~washable too.

I use mine as the a bedcover with a matelasse coverlet folded at the foot of the bed~it's too light so don't use it at all. It just lays there. LOL I use the duvet for warmth since the down comforter is inside. I'll change during the summer months and use a lighter comforter w/o the duvet. The matelasse coverlet *could* be used alone as a bedspread during warmer months. You can use them together also, but it's just more bedding you would have to mess with when making up the bed.

Hope i've helped. ;o)
---
| | | |
| --- | --- | --- |
| RE: How do you layer your bed? | | |
I agree with patty_cakes. (However, my Lab constitutes the third layer, and he often rearranges the first two. It gets worse when the cat joins in. Also, I have been known to sleep under three comforters. DH gets very unhappy when that happens. Can't help it; I get cold at night. But I digress . . .) Down keeps one warm through the insulating capacity of its loft. It won't warm as well if there is anything weighing it down, such as other blankets.
---
| | | |
| --- | --- | --- |
| interesting.................. | | |
K'dectective, I didn't know about the 'weighing down' thing. Thanks for the info. ;o)
---
| | | |
| --- | --- | --- |
| RE: How do you layer your bed? | | |
DD1 layers as many as two duvets (with down comforters) and has a silk blanket (machine washable) at the end of the bed she uses when she only wants one duvet and/or a blanket.

She would put a matelasse down first, then the duvet.... folding the duvet back at an angle, only on one side, so that the matelesse shows a little.
---
| | | |
| --- | --- | --- |
| RE: How do you layer your bed? | | |
Sorry to disagree with you, pattycakes, but actually the "duvet" is the comforter, and the cover is the "duvet cover." BB&Beyond and others are famous for saying duvet when they mean cover, so the confusion is not surprising!
It comes from the French "duvet," which means "down" or "fluff."
We use a down comforter with a cover made from sheets, and no top sheet. We find it's much warmer when the duvet can settle down around us without the sheet or anything else...then it can insulate and hold your own body heat best, even on the coldest nights.
The cover gets changed and washed once a week with the rest of the linens. When I make the bed, I take off the duvet, put on the matelasse bedspread, stack the pillows behind a pair of European square pillows with shams, and lay the folded comforter across the foot. The duvet covers and pillowcases are white, and the matelasse is a deep ivory.
On days when I am too lazy to do that, I leave the bedspread on the chest at the foot of the bed and fluff up the duvet to cover the bed in the Scandinavian style.
---
| | | |
| --- | --- | --- |
| RE: How do you layer your bed? | | |
I typically use all of the following on my bed at all times:

1. Quilt/ Matalesse' cover pulled up the whole way.

2. Then another quilt folded down about a third or so (makes it easy to reach down in a half state of sleep and pull it up if needed.

3. A feather down comforter in a duvet folded in thirds across the bottom of the bed for really chilly nights.

Here's a poor example - my bed looks so flat & square because it's a foam mattress and at the time I didn't have the down comforter in the green duvet at the bottom of the bed.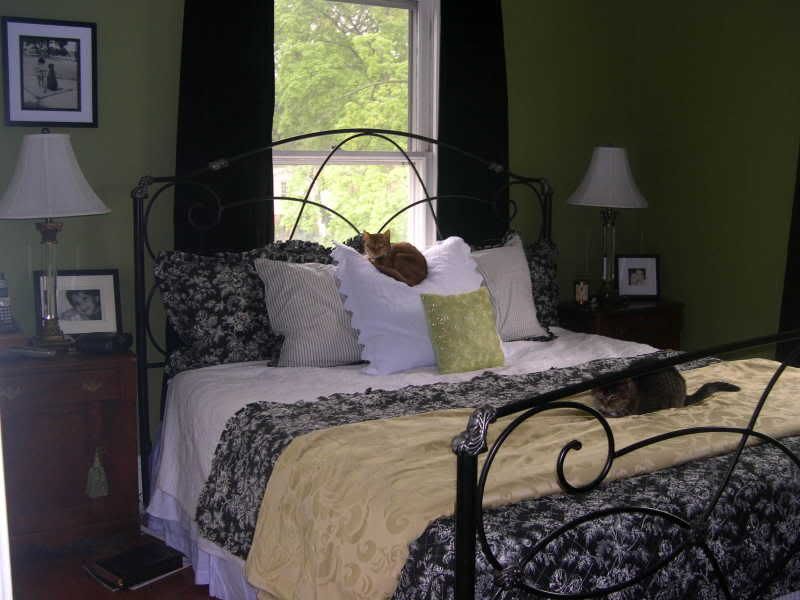 ---
| | | |
| --- | --- | --- |
| RE: How do you layer your bed? | | |
B'mom, I just went back and re-read my post~you are soooo right! That's why they're called duvet covers~duh!(I knew that.) ;o)

Allison, your DD must have your decorating gene. ;o)

Ttodd, your layered bedding looks gorgeous!
---
| | | |
| --- | --- | --- |
| RE: How do you layer your bed? | | |
We use just a down comforter/duvet with a duvet cover in either cotton or silk. Both styles are machine washable so like the poster above, I just change them when I remake the bed.

When I have another decorative cover on the bed, I normally fold it so it covers the bottom third of the bed. Our winter down comforter is so thick I'd never be able to fold it like above (I tried once but it looked like a huge mountain on the bed LOL)

I'm struggling about the pillows. I normally like oddles of them, but thy hide the onyx headboard, so I'm trying to figure out a new way to do them. Currently I throw a couple silk covered ones up at the top, a couple decor ones, and a dog somewhere in the mix...it could be much nicer...but I have to make everything LOL so it will take time!
I need to take a picture of it before two cats, a dog and a three year old rumble in it...but in reality, this is what it most often looks like LOL

---
| | | |
| --- | --- | --- |
| RE: How do you layer your bed? | | |
I like the look of that layered bedding. Even though I have no real image in mind, that was what I meant!

So, is the matelasse up near your face? I am a person who pulls the covers up to my nose! It seems the matelasse would be uncomfortable/rough near your face?

So, let me get this right...any combo of sheets according to personal preference, then matelasse coverlet, then down duvet (covered with duvet covered if preferred)?

Sorry for the inane questions! I have just only ever seen photos of this - not IRL, so I am having difficulty! I really am not *that* slow! ;)
---
| | | |
| --- | --- | --- |
| RE: How do you layer your bed? | | |
I do the layered look - a bit like ttodd bit minus the middle cover. On our bed we have a solid matelasse coverlet with matching shams and a fluffy comforter folded at the end of the bed (floral) and I use the shams that match the comforter on the bed also. Some additional pillows too. We don't use the covers on our bed as actual covers.

tina
---
| | | |
| --- | --- | --- |
| RE: How do you layer your bed? | | |
I use a down comforter in a duvet cover. But it isn't really warm enough for where I live now, so I have a sheet and a cotton blanket underneath it. Then there's a throw at the foot of the bed, but the main purpose of that is to attract the cats, so their fur doesn't get all over the nice duvet cover.

ttodd--I have a cat that balances on top of the pillows, too! Only she chooses the middle pillow out of a stack of three that I have on the bed, and she sinks down out of sight, into her warm little nest of downy pillows. Took me forever to figure out where she was hiding.
---
| | | |
| --- | --- | --- |
| RE: How do you layer your bed? | | |
I added a matalasse coverlet to my bed last year and love it! It works both summer and winter, is very easy to wash and just gets softer with every washing. DH and I have very different internal temperatures it's a good solution for us both since with a comforter (or duvet) he would just toss it all on my side. What I do in summer just use sheets, in winter I add a cotton blanket. Then I have the coverlet all the way to the top and I keep the comforter folded in thirds at the base. What I've done this winter is to add a twin extra quilt (for me) which I fold it up and place it inside the comforter folds and take it out at night and cover myself up and then just leave the comforter at the base. This is again due to fact DH finds the comforter too warm and will toss it over to my side.

Here is what it looks like.
I really need to get a new mattress because with the matalasse coverlet it shows how lumpy this one is, but I'm holding out until the economy stabilizes since it's not uncomfortable, just looks lumpy.
---
| | | |
| --- | --- | --- |
| RE: How do you layer your bed? | | |
we have a bottom sheet covering the mattress and then a featherbed in a duvet cover on top of that ,then a top sheet and then a down blanket then the huge down comforter in a cover. I know , I know we are in the South but it gets cold here too...27 tonight. This way DH who gets hot can just have the sheet and down blanket and I keep the comforterr pulled up over me as he tosses his side off. The featherbed stays on all year round. It "breaths" so is never hot
I have a mattelasse coverlet on the guest beds in the other 3 rooms and a down comforter in a cover folded at the foot. All beds have 2 pillows and 2 in shams to match something on the bed. No extra pillows as I don't like to toss stuff off the bed. I like a simple look. All the bedding is in shades of white and cream in all rooms...same reason...I like really simple clean lines. c
---
| | | |
| --- | --- | --- |
| RE: How do you layer your bed? | | |
Dixie, did you look at the bedrooms thread in the gallery?
---
| | | |
| --- | --- | --- |
| RE: How do you layer your bed? | | |
Igloo, how in the world can you even get out of bed in the mornings with that gorgeous bedroom and view?! That has to be one of the most coziest bedrooms I've ever seen!

Back on topic..lol. Me and my hormones can't tolerate much bedding so I use a light quilt, and throw a blanket on top for dh. :)
---
| | | |
| --- | --- | --- |
| RE: How do you layer your bed? | | |
Can I first say that I LOVE IT when people's dogs make it into their pictures?

That being said, I *might* have the same set up that you're thinking about. Now, pardon the wrinkles, but I have a coverlet with a duvet (fluffy, down alternative comforter inside) on my bed. I like weight and warmth, so I also have a blanket between the flat sheet and the bedspread.

I know it's not a perfectly made bed. I can deal with it if you can. :)
---
| | | |
| --- | --- | --- |
| RE: How do you layer your bed? | | |
Q: "So, is the matelasse up near your face? I am a person who pulls the covers up to my nose! It seems the matelasse would be uncomfortable/rough near your face?"

A: Yes. In my pic above I have the light weight white quilt pulled almost all of the way up to the top. I fold my top sheet about 5" or so over the top of the quilt.

Then comes (as in my above pic) my black and white floral quilt folded down to cover about 2/3rds of the bed but if I get cold I can reach down and pull it up. I put it on the bed all of the way to the top and then (hard to describe) I fold it down and then back up (accordion style) so that the top edge of the black and white quilt is at the top of the initial 1st fold. That way in my sleep I don't have to sit up to reach it - it's w/in arms length.

Then folded in thirds at the bottom of the bed comes my feather down comforter stuffed inside the green duvet cover. Please note that in my pic above the feather down is not inside the duvet cover (was being cleaned) and that's why it just looks like a green folded blanket at the bottom of my bed.

At almost any given time I have some version of this style on my bed but in different colors, weights, etc. I'm a bedding freak and I have tons!
---
| | | |
| --- | --- | --- |
| RE: How do you layer your bed? | | |
On the subject of oodles of pillows... There's a scene in "Regarding Henry," the movie with Harrison Ford about the soulless banker who becomes a warm human after a brain injury, in which Henry comes home from rehab to a zillion dollar Manahattan apartment (decor by Mica Ertegun, as I recall), walks into the bedroom, and flings about ten pillows off the bed so he can burrow in for a nap. Several of the men in the audience, including my DH, burst into applause!
Which is when I learned that an awful lot of DH's really hate the piles of pillows! This has been confirmed by having asked the question at numerous dinner parties since, and it's always good for a chuckle!
---
| | | |
| --- | --- | --- |
| RE: How do you layer your bed? | | |
What beautiful beds! I've just been in awe!
Humble, but cozy: White matelasse over the bed, then a white matelasse coverlet folded with 2 quilts folded on top of that. There are pillows w/white cases behind the blue shams that don't show in the pics.
---
| | | |
| --- | --- | --- |
| RE: How do you layer your bed? | | |
| | | |
| --- | --- | --- |
| pillows | | |
Just to clarify (because it sounds like we don't use covers LOL), we do use sheets and blankets/quilts as our bedcovers. We just don't use our topcovers as actual cover. I take that from my grandmother I guess. Her nice bedspreads were always pulled back each night before you got in the bed. We are in the south, don't get alot of really cold weather and are both warm natured. Sheets, although sometimes I do use flannel ones, a quilt or thermal cotton blanket, is enough for us. If it's really cold, we do the quilt and blanket.

As for pillows, I love them. My husband doesn't mind them because they are not on the bed when we are in it. We have a blanket chest at the end of the bed, pillows go there when bed is in use.

Stinky gardner - I have a very similar quilt in a guest bedroom! Love that pattern.

tina
---
| | | |
| --- | --- | --- |
| RE: layer your bed? | | |
Let me add that we did get the down alt. comforter from The Company Store and I love it! I ordered red, but I'd call it more of a berry. I think I'm going to try to find some fabric and have some shams made in a print as someone suggested in the other thread.

Susan
---
| | | |
| --- | --- | --- |
| RE: How do you layer your bed? | | |
stinky, I love your pastels and quilts.

jeannine, your bed is so beautiful. When I look at your beautiful headboard I think to myself "she doesn't have any cats on her bed." My cats would have that HB shredded in record time. LOL
---
| | | |
| --- | --- | --- |
| RE: How do you layer your bed? | | |
I have a dog, but he's only allowed up on the bed when invited and he's not a "chewer".

I've been thinking of getting a kitty lately...but maybe I need to lose that thought in light of the scratching. I didn't think of that before!
---
| | | |
| --- | --- | --- |
| RE: How do you layer your bed? | | |
Thank you for all the input! Now, just to find the right down for me!
---
| | | |
| --- | --- | --- |
| RE: How do you layer your bed? | | |
I have a taller bed with the wood rail on the sides--the boxsprings shows if I tuck in the quilt--does anyone put a fitted sheet on the box springs? I guess I could get a larger quilt to have under the duvet & not tuck it in?
---
Post a Follow-Up
Please Note: Only registered members are able to post messages to this forum.
If you are a member, please log in.
If you aren't yet a member, join now!
---
Return to the Home Decorating Forum
Information about Posting
You must be logged in to post a message. Once you are logged in, a posting window will appear at the bottom of the messages. If you are not a member, please register for an account.
Please review our Rules of Play before posting.
Posting is a two-step process. Once you have composed your message, you will be taken to the preview page. You will then have a chance to review your post, make changes and upload photos.
After posting your message, you may need to refresh the forum page in order to see it.
Before posting copyrighted material, please read about Copyright and Fair Use.
We have a strict no-advertising policy!
If you would like to practice posting or uploading photos, please visit our Test forum.
If you need assistance, please Contact Us and we will be happy to help.

Learn more about in-text links on this page here