Return to the Home Decorating Forum
|
Post a Follow-Up
---
| | | |
| --- | --- | --- |
| Need recs for a true gray BM color. | | |
Posted by
MsShopaholic
(
My Page
) on
Fri, Jan 20, 12 at 12:37
I'm looking to paint my master bedroom a medium to dark gray color. I am thinking either Benjamin Moore Amherst Gray or Trout Gray. Anyone have pictures using those colors or other suggestions? I looked into Chelsea Gray, Shaker Gray and Storm Gray but they didn't look like a true gray, more taupe. Thanks!
---
Follow-Up Postings:
| | | |
| --- | --- | --- |
| RE: Need recs for a true gray BM color. | | |
BM Tout:

http://www.decorpad.com/photo.htm?photoId=17481

Here is a fun blog devoted to gray:

http://www.aperfectgray.com/

The only way to get a true gray is to have a paint that is mixed w/ only straight black and straight white so check the tints used for a color to determine if it is a true gray. One paint guy at SW must have pitied me at one point. I told him I wanted my hallway ceiling color (black) but way lighter for the walls in another room - 'can you start mixing it at 25% strength?' He had a loooong conversation w/ me about grey paint. Nice enough to tell me that he would have no problem spending time w/ me, a can of white paint and black tint and slowly adding the tint until I got a shade of true gray that I wanted.
Here is a link that might be useful: From Country Living - Amherst Gray
---
| | | |
| --- | --- | --- |
| REre: Need recs for a true gray BM color. | | |
PS - One of the easiest ways that I've found to get as close as possible to a true grey that looked true grey to my eye was to look towards the bottom of the paint strip and see what way the darker colors were leaning. Sometimes undertones appear more pronounced when you go darker. My thought was that if I can see clear undertones in another color on the strip than I'll have a hint of what the other colors may do. Also look at the color strips surrounding the paint color that you are looking at. Which way are they veering?
---
| | | |
| --- | --- | --- |
| RE: Need recs for a true gray BM color. | | |
I have a medium to dark grey living room. It is glidden's Seal Gray mixed in BM paint. You can have them mix any color for you. Here is the room. It was the truest grey color I could find for my southern exposure room. It looks quite a bit lighter on the walls than it did on the swatch.

---
| | | |
| --- | --- | --- |
| RE: Need recs for a true gray BM color. | | |
ttodd is so right. There are some great colors out there right now. It really depends on how dark or light you want to go and what undertones you are willing to accept (because you will have undertones). Really, you will probably want some kind of undertone even if its only slight. I have a sample color by Valspar on my walls right now that I will most likely use. I will have BM match the color. It's Rugged Suede 4003-2. It's just a bit darker than SW Gauntlet Gray (LTV 17%). You might know this already but you can order large samples sheets from both SW & BM. To me picking a paint color is more a process of elimination than anything else. Good luck and be sure to share pictures when you are done.
---
| | | |
| --- | --- | --- |
| RE: Need recs for a true gray BM color. | | |
My go-to dark gray color is Kendall Charcoal (BM). Love it. I have an accent wall and a set of French doors painted that color. Sorry no pics of my space, but I found an online pic that gives a good depiction of the color.
Here is a link that might be useful: gray bedroom
---
| | | |
| --- | --- | --- |
| RE: Need recs for a true gray BM color. | | |
I sampled BM Storm based on some online pics. Google images has a few. It was too dark for me but a very pretty color.

I agree with ttodd, looking at the strip in context of what's around it and the undertones of the darker colors on the strip help weed out undertones that you do not want.
---
| | | |
| --- | --- | --- |
| RE: Need recs for a true gray BM color. | | |
I struggled with this. And the thing about grays is that they look different in every house, depending on your lighting.

I wanted a gray that had brown undertones in it. After much struggling, I landed on the BM strip 1464-1470. It includes: Light Pewter, Nimbus, Smoke Embers, Baltic Gray, Willow Creek, Eagle Rock and Bear Creek. I absolutely love them.

Here are samples, starting with the lightest:

Nimbus. I have this in 2 bathrooms.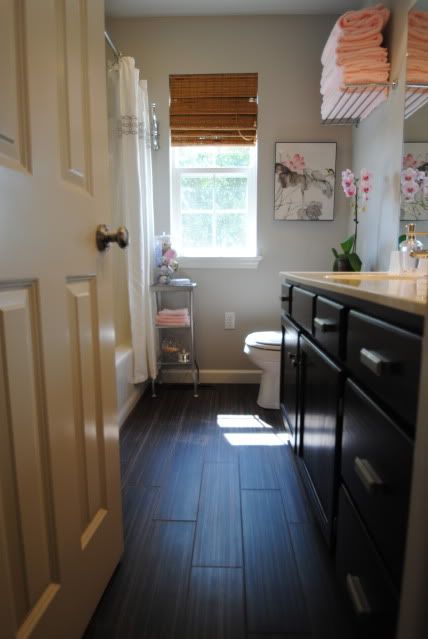 Baltic Gray, Foyer: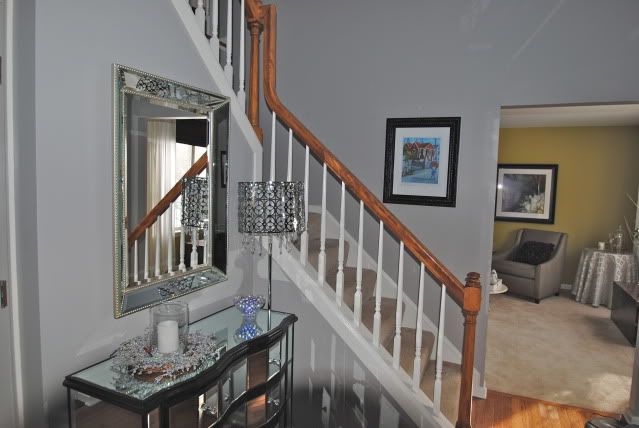 Another shot of the room, there seems to be some blue undertones in the photos, but irl I don't see that
Eagle Rock, in my laundry room, not such a great picture of the color:

---
Post a Follow-Up
Please Note: Only registered members are able to post messages to this forum.
If you are a member, please log in.
If you aren't yet a member, join now!
---
Return to the Home Decorating Forum
Information about Posting
You must be logged in to post a message. Once you are logged in, a posting window will appear at the bottom of the messages. If you are not a member, please register for an account.
Please review our Rules of Play before posting.
Posting is a two-step process. Once you have composed your message, you will be taken to the preview page. You will then have a chance to review your post, make changes and upload photos.
After posting your message, you may need to refresh the forum page in order to see it.
Before posting copyrighted material, please read about Copyright and Fair Use.
We have a strict no-advertising policy!
If you would like to practice posting or uploading photos, please visit our Test forum.
If you need assistance, please Contact Us and we will be happy to help.

Learn more about in-text links on this page here