Return to the Home Decorating Forum
|
Post a Follow-Up
---
| | | |
| --- | --- | --- |
| Round kitchen table or rectangular? (pics) | | |
Posted by
avesmor
(
My Page
) on
Fri, Jan 20, 12 at 11:15
I don't really keep pics of my house around, so all I have are from construction. I can take some tonight but for now hopefully this will work.

We currently have a round, 4-seat table in our eat-in area but would like something larger. Not sure if I should stick with round but get one with a leaf (kinda hate oval tables but could do it short term), or if a rectangular table would work with the space. I had always thought round was the right choice, but yesterday I saw a kitchen with a very similar layout and a rectangular table and I thought it worked.

Here's my space (again, sorry for the "bare" pics - I can get some this evening that show more of the space's context). Table goes under the chandelier. :)

Standing in living room looking at eat in area: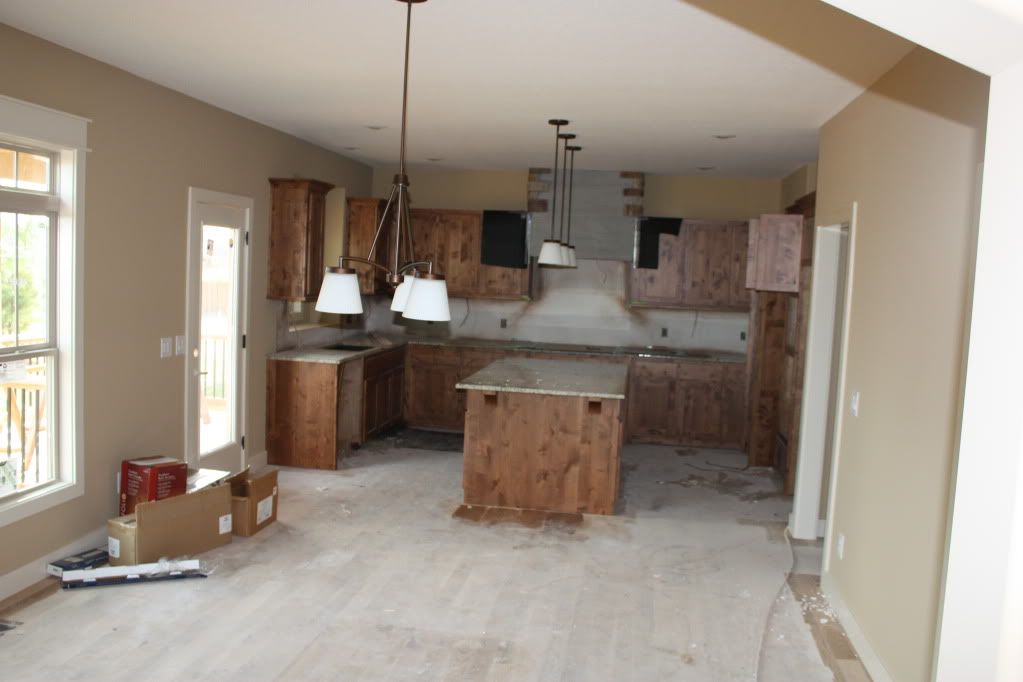 Standing near island looking toward eat-in area: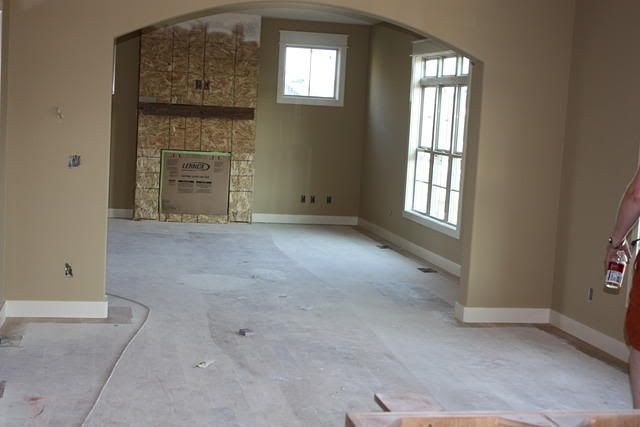 Again, but with some more finishings: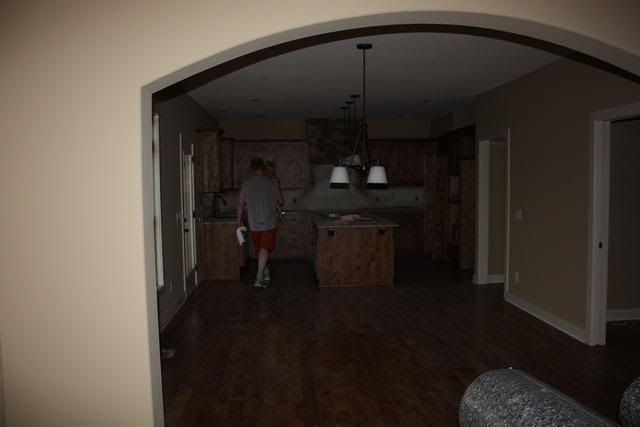 There are full length window treatments (straight, unpatterened drapes and sheers), two barstools at the end of the island with the corbels, and a buffet along that right-hand stretch of wall.
And here's the thread with the rectangular table, 4th picture. Borrowing the specific picture to make it easier:

What do you think? Most of my furniture is straight-lined, rustic transitional sort of style.
A rectangular table WOULD make finding a rug a LOT easier! :)
---
Follow-Up Postings:
| | | |
| --- | --- | --- |
| RE: Round kitchen table or rectangular? (pics) | | |
A vote for rectanglar table -- with a rustic plank-style top. Maybe with different comfy "host" chairs at each end?

Just for measurements -- check on sites like Pottery Barn -- and estimate the size of the rectangle table AND a chair at each end. Just so you will know if it will work in your traffic patterns ...
---
| | | |
| --- | --- | --- |
| RE: Round kitchen table or rectangular? (pics) | | |
I have no idea, but I just love your home.

I think whatever you'll choose will be beautiful, given how well you've done so far.
---
| | | |
| --- | --- | --- |
| RE: Round kitchen table or rectangular? (pics) | | |
Have you considered a square pedestal table? Not as easy to find, but you can do a 60" square and fit 8 chairs.
---
| | | |
| --- | --- | --- |
| RE: Round kitchen table or rectangular? (pics) | | |
Hello,

My space is set up the same as yours. I have a rectangular table.
---
| | | |
| --- | --- | --- |
| RE: Round kitchen table or rectangular? (pics) | | |
Rectangle, for sure. I also like the rustic top that teacat's mentioned. Look up "Farm Tables." They come in all colors and sizes.

The fun thing about having a rectangle table in your space is you can switch it out to go in different directions.
---
| | | |
| --- | --- | --- |
| RE: Round kitchen table or rectangular? (pics) | | |
I would think a rectangle would work well for you.

The only nice thing about a round or oval is that it would compliment your lovely archway so nicely.

If you are thinking new chairs, perhaps those could have a curved or arched back top to echo the archway.

Lovely space!
---
| | | |
| --- | --- | --- |
| RE: Round kitchen table or rectangular? (pics) | | |
My first thought was large round table because the chandelier is in the center of the room, and as les says, it will compliment your arches.

Do you have children that run around on either side of the table? Getting around a rectangular table would be harder than a round table and you can avoid those sharp corners.
---
| | | |
| --- | --- | --- |
| RE: Round kitchen table or rectangular? (pics) | | |
Thanks for the input! DH had been pining for a rectangular. I prefer the mechanics of a round. :)

I'd been eyeing a rectangular table for our "formal dining room," which is now a home office (temporarily, while we finish our basement... so who knows how "temporary" that will actually be!) We went and picked it up yesterday. It's not quite a plank top (though that's my personal favorite), but it has an interesting top that's very similar to butcher block.

Les - great thought on the arch. That's one of the few reasons I had figured a round table was better for the space. I do have a sort of squatty round vase I keep on the table.

Here's what I ended up getting. HEAVY table! BUt it has two leaves, which is nice. Going to live with it a few days and see what I think. Since I was eyeing it for the "FDR" anyway, I can always hang on to it until the office goes back downstairs, then switch it over.
And the top, though in person it's a little more "butcher blocky" than this looks.

---
| | | |
| --- | --- | --- |
| Speaking of chairs... | | |
Les (and all) - since you picked up on the arch/placement, tell me what you think. I bought the table above only, no chairs. For now we're using the chairs that came with the old table.

I have two upholstered (armless) chairs with floor-length skirts to use as head chairs when we need the leaves. Head chairs won't fit under the table unless the leaves are in (not enough clearance with the table legs), so when we don't need them they serve as the seating in my pocket office which is inset in the eat-in kitchen area. They're beige, but I wouldn't mind changing that if I could figure out how to reupholster them (or find someone to do it.)

I was thinking about these for side chairs, love the massive texture they have:

(I can kinda see the arch in the sloped bottom)
Cons - I do have a 3 year old who spills a lot, and uses the table & chair as a napkin. I can't imagine successfully picking out spills and messes from the nooks & crannies in that rattan weaving (it's hyacinth fiber).
Your comment about a chair that reflects the arch got me thinking about the chairs that come with the table set. They have a fairly subtle arch on the back: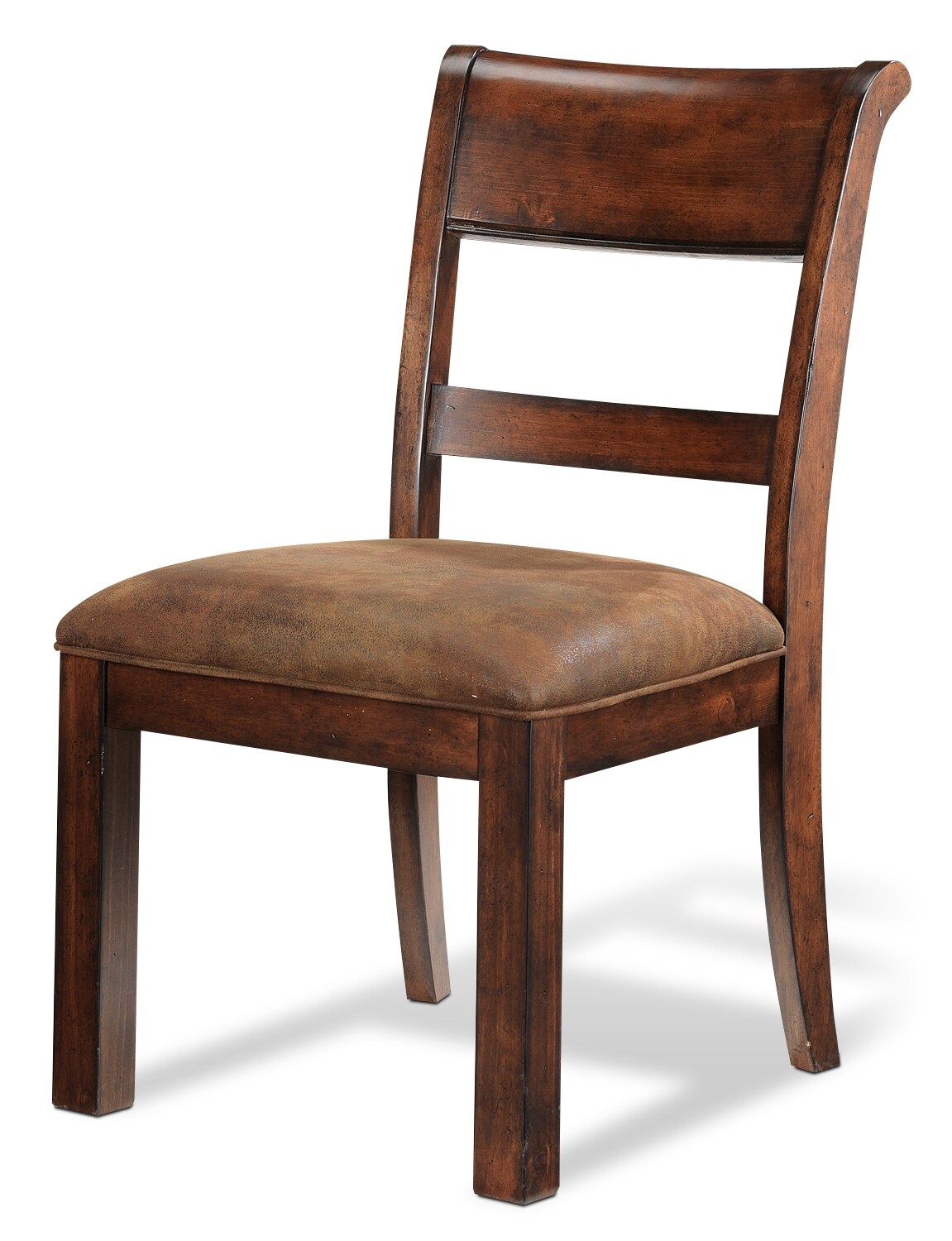 and another view:
I don't typically like my dining chairs to match the table, and I generally prefer a hard seat that I can add a cushion to, vs. a soft seat. But the shape on that back is nice, no? I wonder if I could somehow add an upholstered hardwood seat...
I could always get texture from something like a jute rug.
---
| | | |
| --- | --- | --- |
| RE: Round kitchen table or rectangular? (pics) | | |
I love round tables, because I think they are more convivial.

However, to my eye, and this is just me, but I think they only work in a square room or square area.

So Id vote rectangular. It also echoes other rectangles in the space.
---
| | | |
| --- | --- | --- |
| RE: Round kitchen table or rectangular? (pics) | | |
mtnrdredux - I agree. When I had the circular table in there, it did always look a little out of place. Plus it was not the right scale for the room - way too small, so it was very underwhelming (but functional as heck!) It moved with us from our last house, which had a nice, easy square kitchen. :)
---
| | | |
| --- | --- | --- |
| RE: Round kitchen table or rectangular? (pics) | | |
I have a similar set up and we choose a wood top farmhouse table. My opening is squared but I think it works well & even with it extended like the picture shows, there is no problem moving around it.
---
| | | |
| --- | --- | --- |
| RE: Round kitchen table or rectangular? (pics) | | |
I still need to post a pic of the new table in the room. It's quite a bit darker than my cabinets and that kind of bugs me. Before the table I thought my cabinet color was perfect. After, it seems hazy. It also makes the crookedness of the room stand out. The eat-in area is offset to the center of the room rather than in line. Well, maybe the table itself doesn't make it obvious so much as the novelty does - I see the whole room a little differently. I need to take this particular table back, we found some finish flaws on it.
---
Post a Follow-Up
Please Note: Only registered members are able to post messages to this forum.
If you are a member, please log in.
If you aren't yet a member, join now!
---
Return to the Home Decorating Forum
Information about Posting
You must be logged in to post a message. Once you are logged in, a posting window will appear at the bottom of the messages. If you are not a member, please register for an account.
Please review our Rules of Play before posting.
Posting is a two-step process. Once you have composed your message, you will be taken to the preview page. You will then have a chance to review your post, make changes and upload photos.
After posting your message, you may need to refresh the forum page in order to see it.
Before posting copyrighted material, please read about Copyright and Fair Use.
We have a strict no-advertising policy!
If you would like to practice posting or uploading photos, please visit our Test forum.
If you need assistance, please Contact Us and we will be happy to help.

Learn more about in-text links on this page here