Return to the Home Decorating & Design Forum
|
Post a Follow-Up
---
| | | |
| --- | --- | --- |
| Playing the Hand You're Dealt (Lots of pics) | | |
Posted by
shear_stupidity
(
My Page
) on
Wed, Jan 30, 13 at 10:26
We bought our house 5 1/2 years ago. We had moved from a 3 bedroom ranch into a four bedroom two-story house. It was previously a vacation home for a family from Japan, so while it wasn't "new," it was hardly "used." They never even painted over the flat "Builder-White" walls! All of our furniture was wrong, and we didn't have enough of it. Because I'm so cheap (frugal), almost NOTHING was bought new. I'm an avid thrifter, clearance buyer, and CL-er. We did all the work ourselves except installing the pool.

Hope this inspires you! And if you have any suggestions, they are more than welcome, as none of these rooms are finished and I'm stuck in a few areas. If you're anything like me, it's easier to see what needs to be done when it's not your house. Any and all input on ANYTHING would be appreciated!

Keep in mind, most of the "before" pics were taken the day we were moving in.

When you come in my front door, this is the first thing you see. We call it "the catwalk." (Before and after) As you can see, we originally painted the walls a medium green color. It has since been re-painted, as you'll see. I really want to paint the orange-y top rails and bannisters dark brown! Opinions?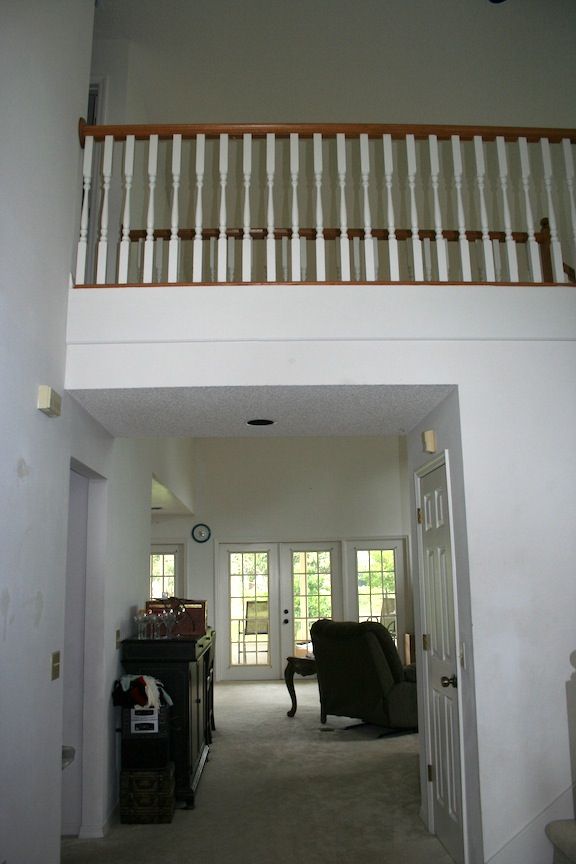 This is if you slowly start to turn to your right. The stairs have a "half-landing." (Before and after) The original window coverings were blue pleated "paper" blinds. I took the fans down and left them off, and replaced the shades with white.

If you keep pivoting to the right, you see what was intended to be a formal living room/sitting room, but I wanted it to be my office. (Before and after) There is now no artwork hanging over the bookshelves, and the celling fan has been replaced with exactly the same light that is now hanging over my kitchen table. I have really struggled with how to best cover that arched window. I can't even hang a straight rod because of the slope of the ceiling. This window faces the street, and all other windows facing the street have natural wood matchstick style blinds. The glare from this window in the late afternoon is worse than it even looks. Help!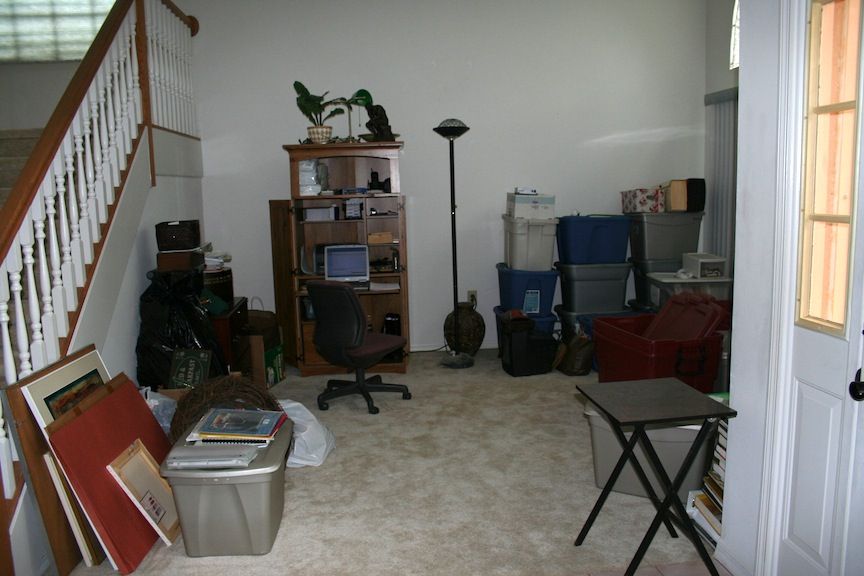 Still standing at the front door, if you turn to your left, there is the dining room. (Before and after) I'm going to move the iron screen outside and into the garden. The small white trunk next to the china cabinet is now in the living room, full of toddler toys.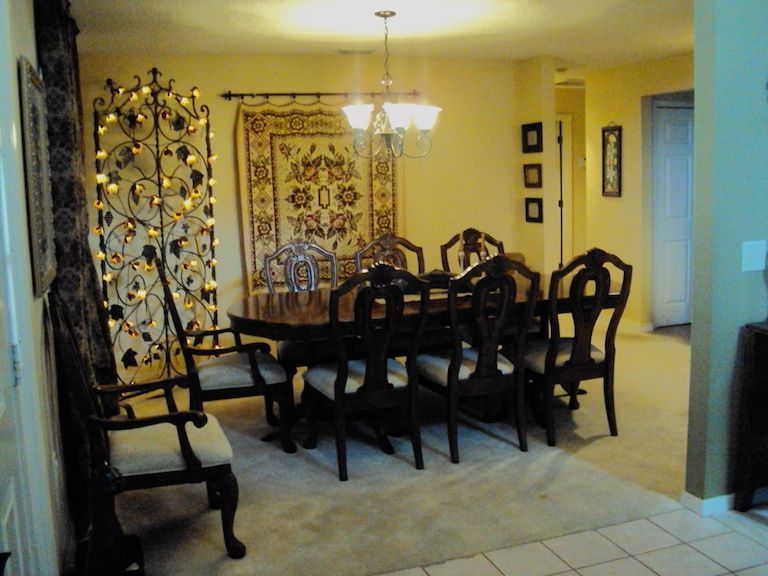 As you pass under the catwalk, here is the view if you turn and look back at the stairs. (No before pic of this angle)

As you turn to your left in the living room, this is what you saw when we moved in, and the same view today. The space above the tv is an area I'm struggling with. Even if I wall-mount the tv, the wall just goes onward and upward and is totally blank and stark.

This is the view of the french doors leading onto the back porch. To the left is the kitchen. (Before and after) Notice that the bar countertop had a bend into the kitchen. I need to get new blinds for the french doors, they look just as "pink" in person as they do in this picture. I hate the treadmill where it is, but we don't have a choice right now. Up above the french doors, there is room to park a car and a half, and there's nothing there now. Big. Blank. Wall.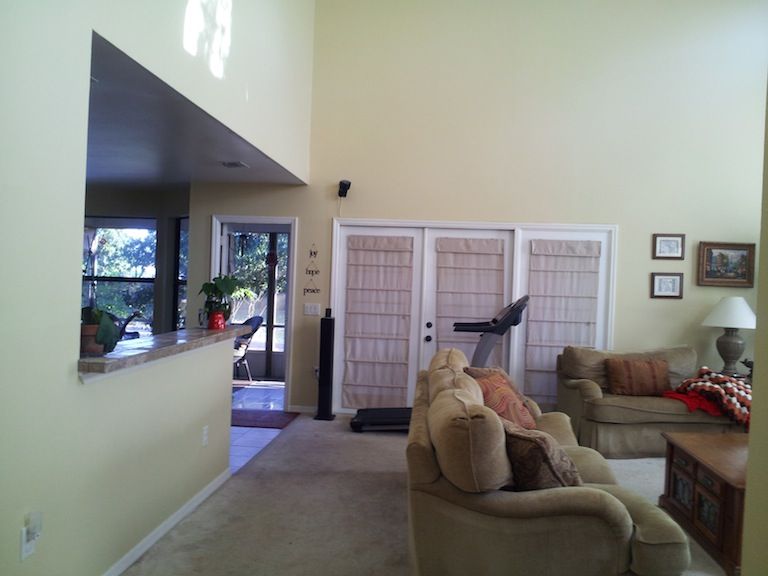 If you went out the french doors, this is what the right side of the porch looked like back then and today. Still need to bust up that slippery shiny tile and replace with slate.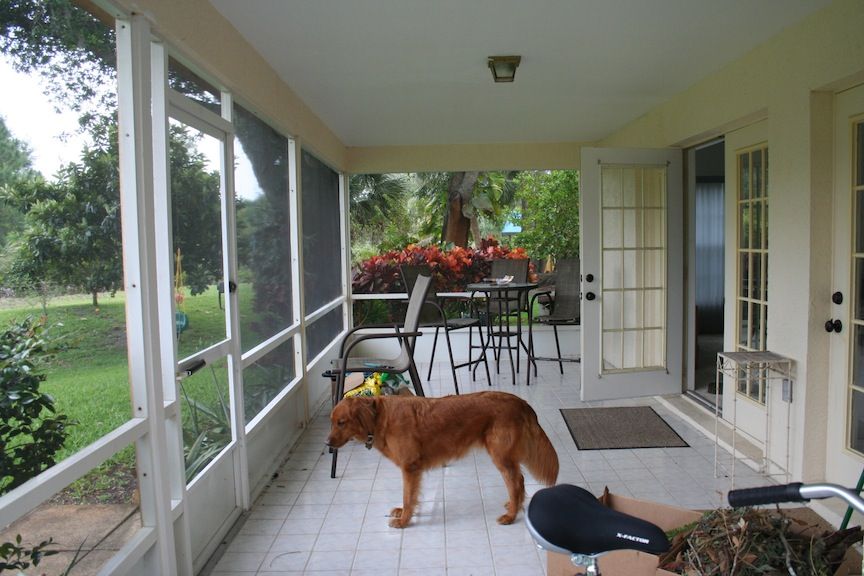 The left side of the porch then and now.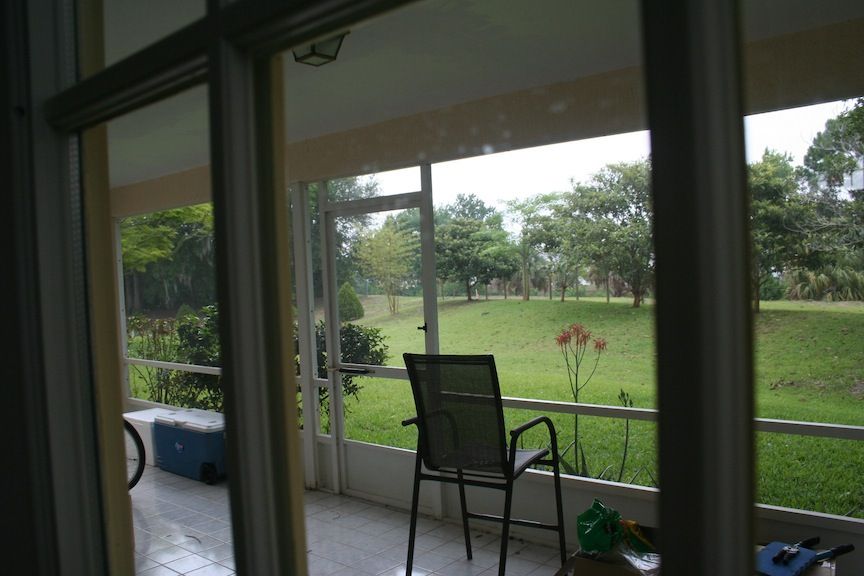 Straight view into the kitchen from the living room, then and now. The wall above this entry is as large as the one it's adjacent to. That's another car and a half of: Big. Blank. Wall. Notice again in the before pic, the bar top is bent into the kitchen. Forever why? We didn't own a kitchen table when we moved in because our last house didn't have an eat-in kitchen.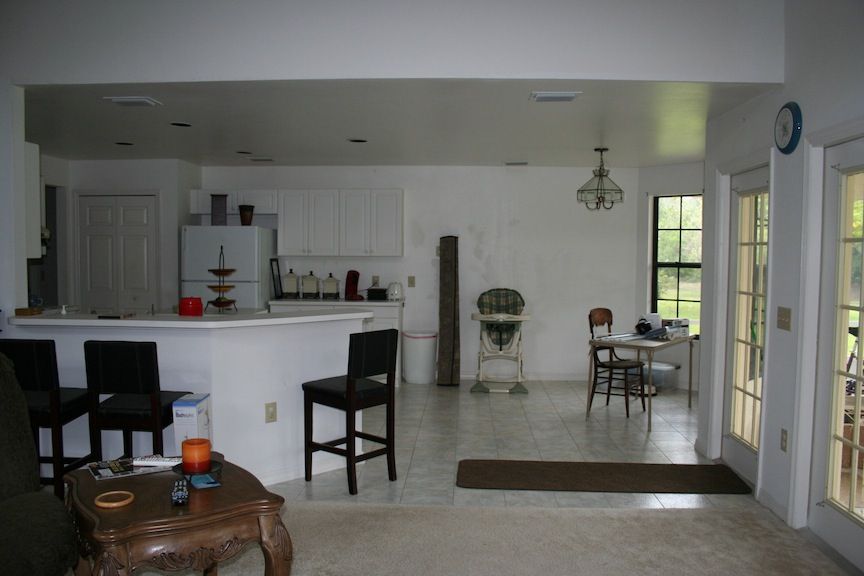 Another view of the kitchen before and after. The red rug is now in front of the door leading onto the back porch, and there are two tan and beige rugs here. One in front of the coffee bar, the other in front of the sink. I painted the cabinets, then color-washed them and changed the hardware. The island was replaced with a larger one. Vinyl peel-and-stick tiles were pulled up (revealing burnt/melted linoleum that was also pulled up), then tile installed. Tiled over the white linoleum countertops. Appliances replaced with stainless, which I regret. Switching to Bisque (ike the range hood) as they die.

(Here you can see where we straightened the bend in the counter and extended it to match the other wall of the kitchen. This is before I painted the new cabinet door to match the others)

Passing through the kitchen and dining room, you first come to the laundry room. Here are before and afters. Not exciting, but it's a start. Fwiw, I sincerely regret the front loaders.
This is the downstairs half bath before and after. It was the first room I re-did and thankfully the ONLY room with wallpaper. Removed the wallpaper, towel rack, huge unframed mirror, light fixture, tp holder, banjo cultured marble countertop, and cabinet hardware. Re-textured the walls, then painted them. Painted the cabinet base a dark brown, replaced hardware. Found a clearance "special order" granite countertop with undercount sink, had it re-cut to MY size. All that's left in here is the tile, which will be the same as the kitchen and laundry room.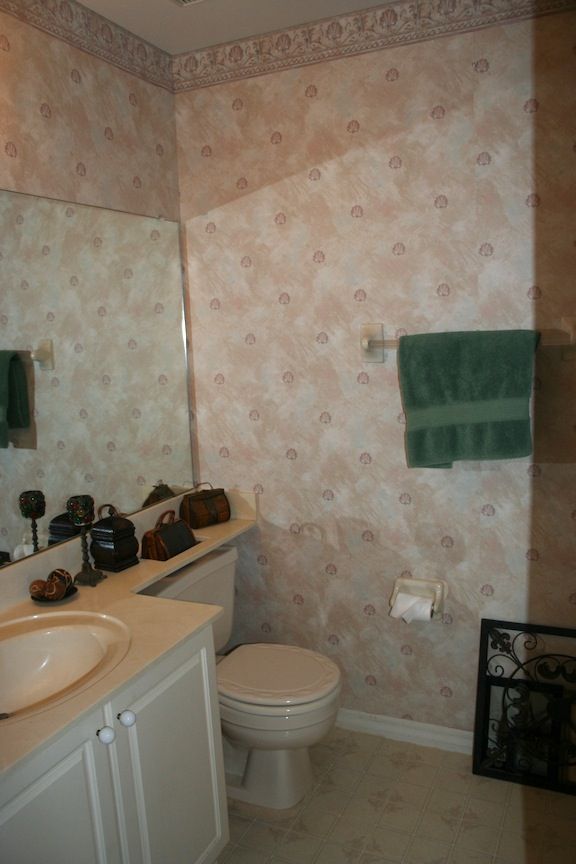 The master bedroom then and now. I'm planning to put the bed back where it was in the first picture. We had to move it to fit a crib and a dog kennel temporarily. (The dog no longer uses a kennel and the crib is now upstairs) No idea what to do for window treatments. Even that much fabric is expensive! You can sorta tell in this picture, the windows aren't centered. The ones on the left are closer to the corner than the ones on the right. Ridiculous.

Master bath then and now. I painted up to where I want to put moldings.. then never got the moldings. Now the bathroom needs repainting. LOL! (That cabinet belongs in our closet, I just haven't put it there yet.) Nothing else is done in here. I want to put in a deeper tub that rounds into the "bowling alley" area a bit, tile the floor, remove the long countertop and replace with two separate vanities with mirrors and light fixtures over each. The door is intended to be used as a pool-bath door, but we don't use it. I hung the curtain for privacy while I figure out what else to do with it.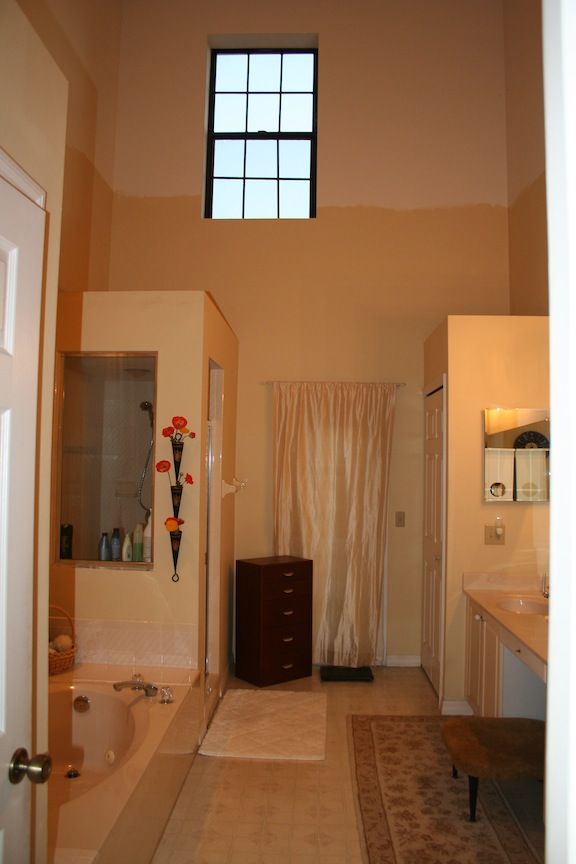 The other view of the master bath. Once again, high ceilings. The area over the shower (above pic) and water closet (below pic) are just plain dust-catchers.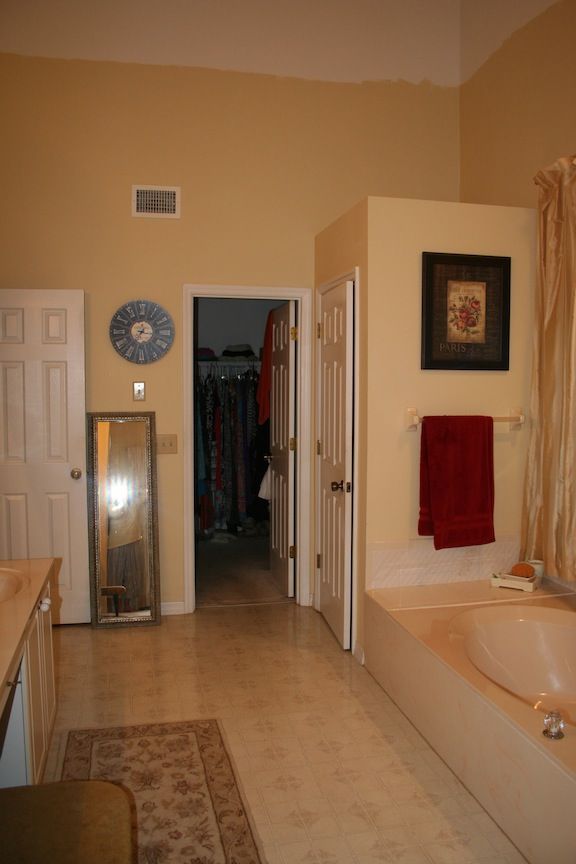 First bedroom upstairs, then and now. Crowded right now because I have two granddaughters (aged 6 and 20 months), so we needed a bed AND the crib in there for now.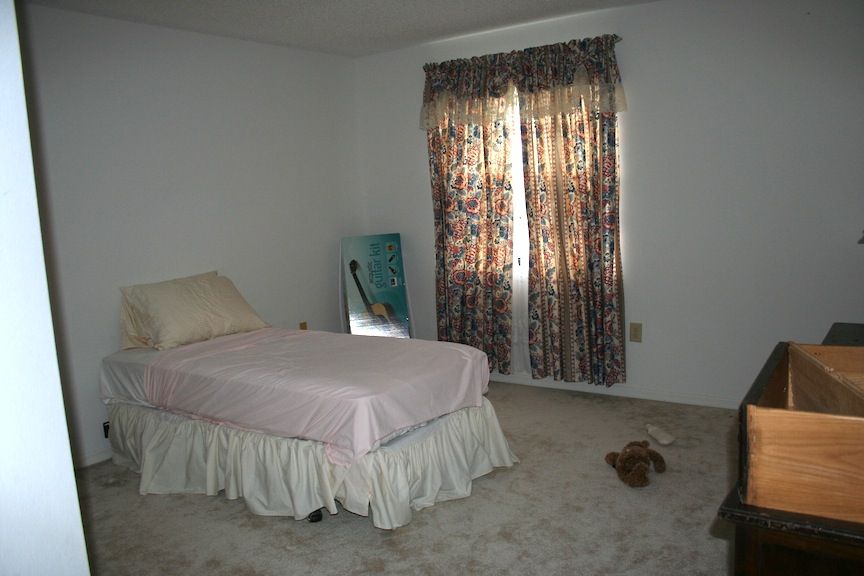 The second bedroom then and now. Now that all four girls are grown up and moved out, this room is my hair salon.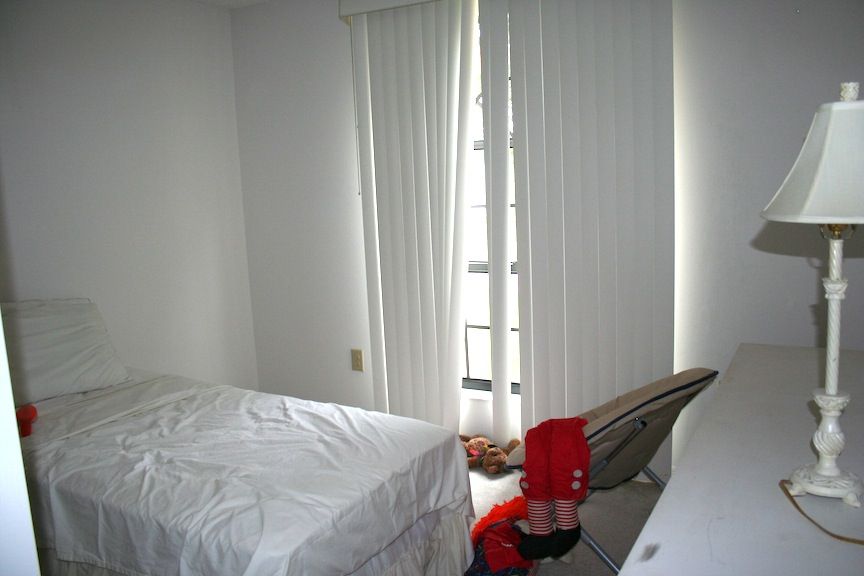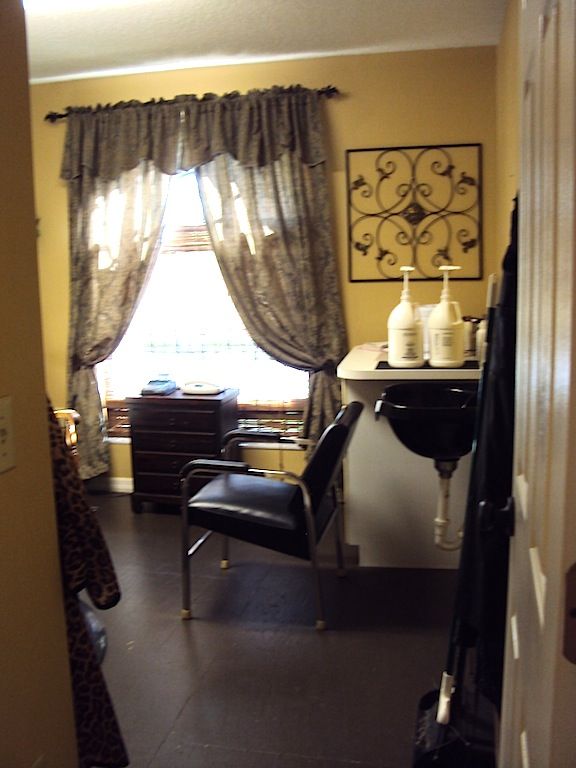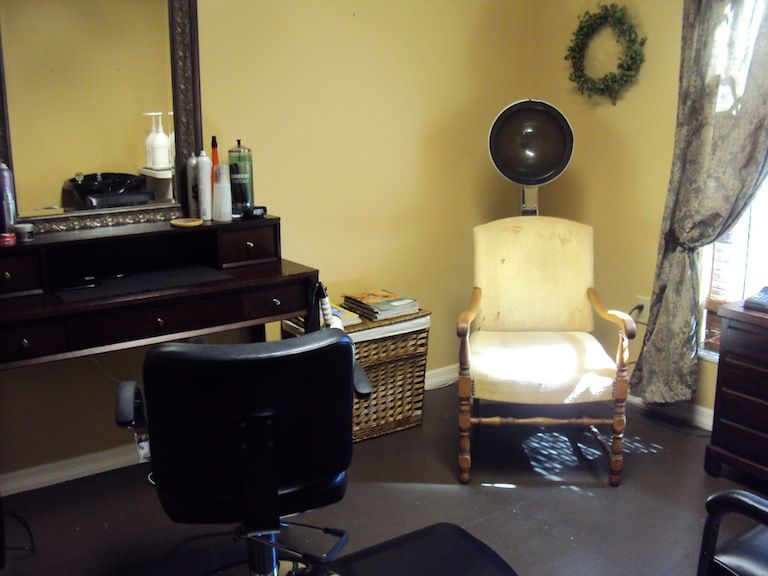 And the third bedroom upstairs, before and after. I had painted the night stand on the left WHITE. I used the wrong sealer and it turned yellow. Some day I'll get around to dealing with it.
---
Follow-Up Postings:
| | | |
| --- | --- | --- |
| RE: Playing the Hand You're Dealt (Lots of pics) | | |
Thanks so much for taking the time and sharing your house with us.

Don't laugh, but I'm on a "War of the Roses" kick right now, but 10th picture down, is that Richard III peeking out sideways near the stairs?

I actually like the yellow nightstand and would leave it alone. It's a happy accident!

Two suggestions and it will cost an arm and a leg. lol. For the high windows throughout the house, I'd use custom shutters. They would unify all the rooms plus you can permanently open them just so..to keep glare out of the rooms. I would also add them to most of the windows in the public rooms.

Second, for the LR and maybe others too, I would buy large, rich colored (deep reds, black, gold) area rugs. Those will take all starkness from the rooms because of the white carpets, along with cozying up the spaces.

Are you a beautician? I've always wanted to be one since watching Steel Magnolias. :)
---
| | | |
| --- | --- | --- |
| RE: Playing the Hand You're Dealt (Lots of pics) | | |
Those crazy windows are a challenge, aren't they? You'd think builders own stock in drapery companies when you see how much it costs to cover them!

You really have been busy in there. One word of caution though on the bisque appliances - it's the one color that is NOT the same across all lines. Well, neither is stainless, really.

It looks nice and like you are making the house work for you and your family!
---
| | | |
| --- | --- | --- |
| RE: Playing the Hand You're Dealt (Lots of pics) | | |
I can't believe you spotted that! This time of year, the glare on my computer screen is AWFUL. I bought this huge, hideous painting on canvas at a local thrift store for $4. I had always intended to re-paint it white, then use the canvas for something else. I pulled it out and propped it up to block the glare for now. I keep forgetting it's there! It's too awful not to share the whole thing!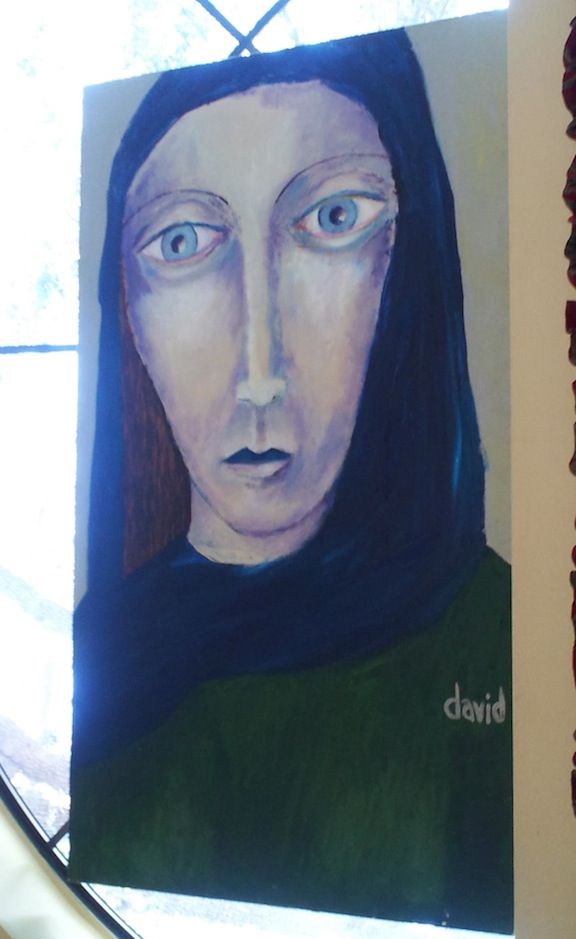 I'd love to do white shutters throughout the house. There is NO way I will ever go down into my pocket for that, though. If I could, I'd make stained glass arches.
As to the rugs, I totally agree. We had a Maltese that died 2 years ago at 16 years old. In the end, he threw up and had accidents and the carpets are horribly stained. Now we have a 10 year old Golden Retriever, so I'm going to wait until we don't have a dog before doing flooring.
I've died my carpets before using a carpet cleaner. (My daughter had spilled Kool-Aid, so I rented a cleaner and used unsweetened Kool-Aid to dye the whole room to match!) I would try that here, but each room spills into the next and I don't want to do all that. The carpet is embarrassing as all get-out.
I've been a Colorist-Stylist for about 20 years or so now. (My grandmother was a beautician, my mother was a cosmetologist, my aunt as well. It's in the blood.) I have all of their mannequins, as well as mine from color classes I've taken, lined up in that room. (They aren't styled right now because my 6-year-old granddaughter likes to play with them and practice foiling.)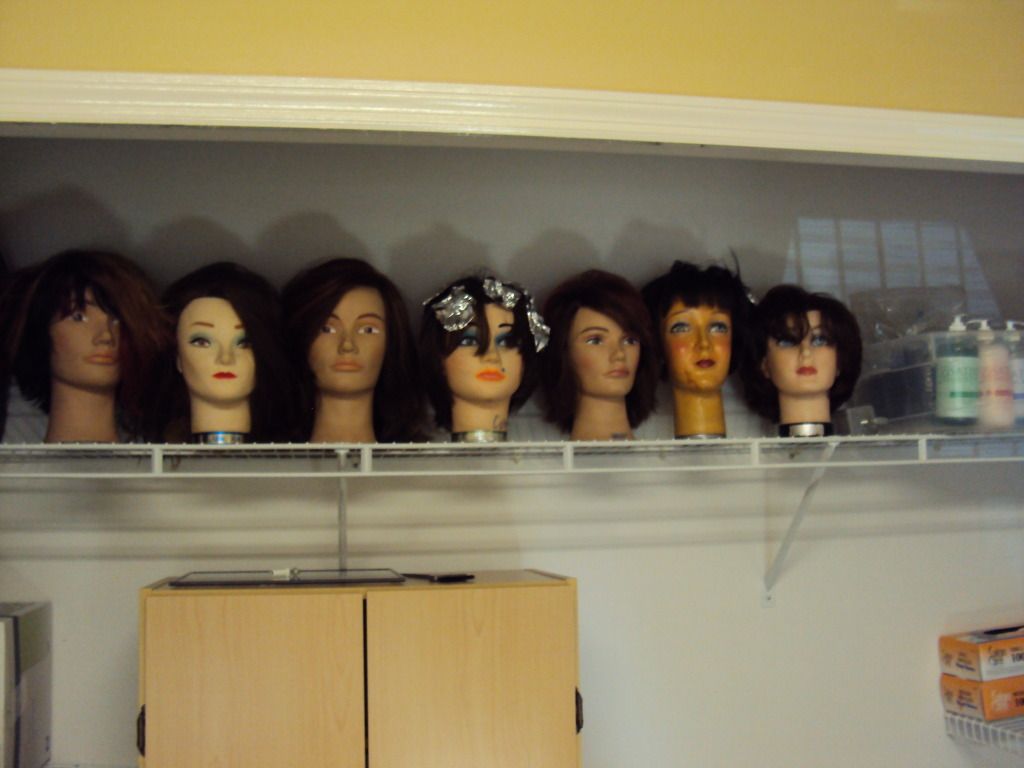 ---
| | | |
| --- | --- | --- |
| RE: Playing the Hand You're Dealt (Lots of pics) | | |
Thanks for the tip, grl. I'll make sure I save up and buy them all in the same line at the same time.
---
| | | |
| --- | --- | --- |
| RE: Playing the Hand You're Dealt (Lots of pics) | | |
It's really fun to see a whole house before/after/still working on it. Those high ceilings and challenging windows would make me crazy! I like how much warmer your paint choices make your home feel.

In your office, I wonder if you could add film to the upper part of the window to tone down the glare? It's not that noticeable from the street and might give you some relief.
---
| | | |
| --- | --- | --- |
| RE: Playing the Hand You're Dealt (Lots of pics) | | |
With your color scheme, I'd actually consider just painting the railing and other orangey-wood accents white to match. Normally I like dark brow or even black to contrast but I don't think it will look as good with your green color. White would blend in and call less attention to the horizontal "catwalk".
---
| | | |
| --- | --- | --- |
| RE: Playing the Hand You're Dealt (Lots of pics) | | |
Oly, I can't use film because of the hot Florida sun setting in this window. After a month, it dries up and falls down or crumbles.

Tinan, I toyed with the idea of white, too. (I don't have green anywhere any more) White would be certainly easier and less messy!

I don't have a "paint" type program on my Mac, so I can't do those mock-ups other people can do to see how things would look. Bummer.
---
| | | |
| --- | --- | --- |
| RE: Playing the Hand You're Dealt (Lots of pics) | | |
>I don't have a "paint" type program on my Mac, so I can't do those mock-ups other people can do to see how things would look

There are plenty of options. Seashore is free, although with a bit of a learning curve, and then there's pixelmator (often on sale), acorn, and several other low priced options. Pages can do some things, if you have that.
---
| | | |
| --- | --- | --- |
| RE: Playing the Hand You're Dealt (Lots of pics) | | |
How interesting and inspiring! I like your idea of painting the balustrade/railing dark; but am wondering whether a dark gel stain may be easier and perhaps even prettier. Love gel stain!
Also, off=the topic: Do you find that you are using your kitchen island a lot for prepping? My kitchen layout is very similar to yours and I'm wondering whether to replace the peninsula with an island. I actually like my peninsula but then never had an island, so don't know what I'm missing.
---
| | | |
| --- | --- | --- |
| RE: Playing the Hand You're Dealt (Lots of pics) | | |
shear, did you see the thread about pasting fabric on windows? it might work for you in the hot window, where film wouldn't.
---
| | | |
| --- | --- | --- |
| RE: Playing the Hand You're Dealt (Lots of pics) | | |
I LOVE befores and afters and these were great.
That was one white kitchen!

But IMO close the toilet lid, lol!
Even if someone forgets during the day I'd certainly close it for a photo.
---
| | | |
| --- | --- | --- |
| RE: Playing the Hand You're Dealt (Lots of pics) | | |
Thanks, writersblock. I'll have to go through the AppStore and see what they've got.

Nosoccermom, gel stain would be a great option if I do choose to go darker on the stairs! As for the kitchen island, this is the first house where I've had one. (I had a house with an "L-shaped" peninsula before) I don't know how I ever got along without the island! I do ALL of my prep there. It's also where I serve big family meals´┐Ż they just walk in a circle around the island and get their food. This leaves the counter on the left by the sink for cold drinks, and the coffee bar on the right for coffee and desserts. I just la-la-la-love it!

Olychick, I did JUST see that post yesterday about fabric on windows. I've done it on walls before (with fabric starch and water) and it worked beautifully. The only thing I did differently from the windows post was: Instead of coating one side and sticking it up there (and subsequently dealing with drips), I put the fabric right in the bucket with the starch and water, the wrung it out until it was as dry as I could get it, then stuck it up there. Works perfectly, and no mess.

Ceaerbhaill, I always try to remember to close the toilet lid. ESPECIALLY for photos! This "after" pic was taken a few years ago and was only originally intended for me to use as a reference when out shopping. Sorry!
---
| | | |
| --- | --- | --- |
| RE: Playing the Hand You're Dealt (Lots of pics) | | |
>Thanks, writersblock. I'll have to go through the AppStore and see what they've got.

You won't find seashore there, since it's a form of gimp (open source, folks very opposed to apple's current plan to make the app store where you get all software).
Here is a link that might be useful: Seashore
---
| | | |
| --- | --- | --- |
| RE: Playing the Hand You're Dealt (Lots of pics) | | |
Thanks so much for the feedback on the island! How much space do you have around it, and how big is the island itself?
---
| | | |
| --- | --- | --- |
| RE: Playing the Hand You're Dealt (Lots of pics) | | |
I love your house and I think you've done a fantastic job decorating. My only suggestions would be to lose the baskets on top of the cabinets in the kitchen (pet peeve), and maybe change to wood blinds in the laundry room. Have you thought about a lovely quilt or tapestry hanging over the rail on the cat walk?
---
| | | |
| --- | --- | --- |
| RE: Playing the Hand You're Dealt (Lots of pics) | | |
The base of the island is 24" x 48"
The top of the island is 28" x 52"

Looking at my picture:

From the Fridge door (not handle) to the island is 36"
From the island to the counters next to the fridge is 41"

From the sink counter to the island is 36"

And from the stove handle to the island is 34"
(Stove door to island is 36")

I love this size, but given the opportunity, I would make it longer. For example, the countertop of the island being 28" x 60"

More is more.

~Bridget
This post was edited by shear_stupidity on Wed, Jan 30, 13 at 17:51
---
| | | |
| --- | --- | --- |
| RE: Playing the Hand You're Dealt (Lots of pics) | | |
Kkay~ Those baskets get used SO often! And I don't have a place to store them when I'm not using them. (I would kill for a walk-in pantry!)

I have a whole quilt collection! (You can see a bit in the "after" Master Bedroom pic) I never thought of the catwalk as a place to display them. What a great idea for winter!!!
---
| | | |
| --- | --- | --- |
| RE: Playing the Hand You're Dealt (Lots of pics) | | |
Thank you so much for the measurements! I'm off to build a mock-up :)
---
| | | |
| --- | --- | --- |
| RE: Playing the Hand You're Dealt (Lots of pics) | | |
Do a google on pictures of Richard III, and you'll see the likeness. You could always paint a crown on your picture! lol.

As far as the windows, have you talked to window companies in your area to see what you can do for the glare other than shutters? There's got to be something that won't cost a fortune.

I bet your GD loves the wigs to style!
---
| | | |
| --- | --- | --- |
| RE: Playing the Hand You're Dealt (Lots of pics) | | |
Nosoccermom, keep me posted on your island mockup progress! Pics!!!

Oakleyok, you want to know what I'm afraid of? I'm afraid this chick will grow on me and I'll end up hanging it somewhere. It's so AWFUL! But there's a tiny part of me that loves it for its awful-ness!
---
| | | |
| --- | --- | --- |
| RE: Playing the Hand You're Dealt (Lots of pics) | | |
Richard III and Henry VIII (heads of the slain wives), lol.
You have really done a good deal of work and made significant improvements, but I still think money invested in shutters is a wise investment. You don't have to it all whole hog or nothing. You can do a room at a time. Just work with someone, if you can, a dependable local contractor who will be happy to have you as a client and who will keep your information on file and when you can afford another room, just ring him up and get it done. I think in the long haul you have done yourself, your house decor and your long-term investment (if you ever want to sell the house) a big favor. Houses with shutters in the same neighborhood will appraise much higher than the same house with less expensive window treatment. You can always add a short rod at the ends and a panel just to soften the room if you choose, or not, as many have done.
---
| | | |
| --- | --- | --- |
| RE: Playing the Hand You're Dealt (Lots of pics) | | |
Patricia, are you talking about just for the arched parts, or over the whole windows?
Can anyone link me to what kind of shutters we're talking about?
---
| | | |
| --- | --- | --- |
| RE: Playing the Hand You're Dealt (Lots of pics) | | |
You have done a great job of playing the hand you were dealt! Just goes to show what one can do with some imagination...thanks for sharing!
---
| | | |
| --- | --- | --- |
| RE: Playing the Hand You're Dealt (Lots of pics) | | |
You can shutter the arches and the windows, but they are a separate shutter thingie but the same company should be able to make them all.
I have all regular windows throughout my house but a lot of them, very wide and tall, but at my front door where I have a very large door with side light panels, I have a crescent shape above the door.
I have one made for that because it is west facing and in the summer it gets hot. I also have the shutters for the very narrow side light panels at my front door and the lead glass panels in the top part of the door. All my shutters are done to match my trim work except at the front door which are mahogany to match the door. I lived here for years without the door being done and finally I got tired of the hot afternoon sun and my shutter guy came out, measured and came back in about 2 weeks and installed them. Gosh, I even have shutters in my laundry rooms and bathrooms over the tubs, etc.
---
| | | |
| --- | --- | --- |
| RE: Playing the Hand You're Dealt (Lots of pics) | | |
Thanks, Phoggie!

Patricia... can you give a ballpark price for one of your windows with its measurements?
---
| | | |
| --- | --- | --- |
| RE: Playing the Hand You're Dealt (Lots of pics) | | |
Thanks so much for posting these. I'm impressed with all that you've accomplished and I can't wait to see what you finally decide to do with the master bedroom windows. I've never seen anything like that. Interesting!

I'm curious about how you dyed carpet using unsweetened Kool Aid and a carpet cleaner. Can you give some more details?
Thanks
---
| | | |
| --- | --- | --- |
| RE: Playing the Hand You're Dealt (Lots of pics) | | |
Shear, I did like I am advising you, over time. I had my first room done for $1000 dollars, which consisted of a wall of 144 inches and a door (36 inches with glass) for that price. The last time I did windows was over my bathtub 2 years ago and cost me about $500. I have "real wood," which costs a little more than the faux wood sold at the big box stores, but I like what I have and mine started 20 years ago and I have had no problem with a single one. See, I started out with one room and just went for about 15 years doing what I could, one room at a time. My daughter did her 5000 square ft home all at once and got a deal from a big mart store for $15,000.
---
| | | |
| --- | --- | --- |
| RE: Playing the Hand You're Dealt (Lots of pics) | | |
Patricia, can you show us pictures?

Shear, you have made so many improvements. I get the vibe from your posts that you didn't love your house when you bought it. How do you feel about it now? I think it is grand and unique and I love that.

My house was bought on a short sale and the prior family was very hard on it. We redid the trim, walls, fireplace, lighting, some landscaping, and floors. It was a challenge. I knew this part was going to be a challenge. But, I thought decorating was going to be easy. I have a lot of pictures saved on Pinterest.

I knew decorating was going to be difficult because of the high ceilings in the great room and foyer. And, that is where I want to start because we spend a lot of time there and will entertain there. I am stumped. I am having a hard time finding what i want and being indecisive, So, I am getting ideas here. Did it take you a while to figure out what you wanted or, did you pretty much know?
---
| | | |
| --- | --- | --- |
| RE: Playing the Hand You're Dealt (Lots of pics) | | |
Marie, instead of putting just water in the carpet shampooer, I put water and packets of Kool-aid. (Same flavor as the stain, obviously) I let it dry, then washed it like normal. I'm still embarrassed I did that, but I was desperate! I imagine you could do the same thing with Rit dye.

Patricia, I think I ~will~ get the real wood. Can you show a picture of a window? Do your windows have arches, too?

Gina, is it that obvious that I didn't love this house? My husband and I looked at SO many houses. I had my heart set on another house, but it was a short sale and the bank just wasn't being reasonable. I hated this house when we looked at it, and hated it all four times we looked at it AGAIN. My husband argued that on paper, it had everything we wanted. I argued that for me, it did not. (No pool and no fireplace) I saw everything this house would need for me to even be "ok" with it, but my husband just loved it. Have you seen the movie Beetlejuice? The line where the wife yells, "If you don't let me gut out this house and make it my own, I will go crazy and I will take you with me!!!" That was me. He agreed. And here we are. No, I still don't love it. But I'm not done with it, either. I like it now, and I see its potential, but there's still SO much to do, and I'm not getting any younger!

It took me a little while to figure out what I wanted. The first living room color (above, the green) was all wrong. The furniture got shoved around a few times, then when I found the layout I liked, I replaced the furniture with what's in there now. All of the upstairs rooms had a complete makeover before the pictures you see now, but that was because teenagers lived in them.

My biggest problem is that I use CL and thrift stores because I don't want to spend a lot of money. So for example, I bought a coffee table "for now." Then found one I liked better, so I bought that one. It wasn't "just right," so I replaced it with one that's even closer to what I really want. (At five to ten dollars per table, you can afford to try things out) Same story for the kitchen table. I had a rectangle, then a square, now the round one, which I love. It's a journey.
---
| | | |
| --- | --- | --- |
| RE: Playing the Hand You're Dealt (Lots of pics) | | |
It is a journey. I hoped that you loved it after putting your touches on it. How long have you lived there? Does your husband still love it? Sometimes we need to trust them, right? My husband can see the big picture a lot better than I can. I was in the same situation, kind of. The inside of this house was pretty beat up because the family was hard on it. Also, they painted the trim themselves and there were spots they missed, places with drips, and a lot of the corner pieces were missing. There were holes in the drywall. The hardwood floors were full of scratches ( not a it-adds-character kind of scratching). And the carpets were badly stained even after having service master clean them.

It was all cosmetic but, it was all I could see. He could see the bones. I think starting a move like this from such an apprehensive place has been hard on me. And, that might be why I am picking up on your apprehension too. I recently realized that we fixed everything that needed fixed. So, it is a clean slate.

We are very happy with every renovation. It is time to decorate. I am so burned out from all of the decisions. I feel like I had to make all of the decisions and make them quickly. Do you feel like that?

Oh, and to clear up what might look like a contradiction--I knew the high ceilings and big rooms would be a challenge but i went to work on Pinterest and thought I had good solutions. Now that the renovations are done I am struggling. I think it is a combination of being scared of not getting it right and not finding exactly what I want (to recreate what is in the pictures).

You and i are very different when it comes to purchases. I make myself crazy trying to get the perfect things because I don't want to replace them. You, on the other hand are fine with replacing what you don't like. Maybe that is why I am so frozen with indecision. Maybe. I also need a breather.

I have enjoyed seeing your progress and I have been getting ideas. That you for sharing.
---
| | | |
| --- | --- | --- |
| RE: Playing the Hand You're Dealt (Lots of pics) | | |
I guess I'm beginning to love it. We've been here 5 1/2 years. My husband does still love this house. As far as just trusting them, I still think this was the wrong house for us. Yes, they can often see the big picture, but the devil's in the details and I'm very detail-oriented.

I do feel like I've had to make decisions quickly, and sometimes that works out, sometimes not. I'm not burned out from the decisions, even after having a pool put in and the decisions THAT required! I just want it all done and I want it NOW. I hate having nice furniture mixed with stuff that came in a box and had to be put together. I still have flowery linoleum in some rooms. I didn't even post pictures of the upstairs bathroom. (The counter is peach marble, the toilet is tan, and the tub is sorta pukey-pinky-beige. I am SOOO not done.

This house doesn't have good bones. It's very generic, but weird. Huge living room, tiny dining room. Way huge master bath, but shaped oddly. What's going for this house is the location, the way the house is situated on the lot, and square footage. (Not huge, but roomy) I'm trying to add "bones."

I'm pretty sure I saw a post of yours regarding decorating, but I can't find it. What was the name of the post? (And why won't GW let you search for a specific person's posts/comments?)
---
| | | |
| --- | --- | --- |
| RE: Playing the Hand You're Dealt (Lots of pics) | | |
Shear, does your husband know how you feel? I wonder what you need to do to embrace the uniqueness and quirks? Maybe fake it until you believe it? I like your house.

Maybe you need to go to some open houses to find a house that you both love.

I posted on thread called 18 foot ceilings or something similar. The OP was looking for help and I basically jumped in saying that I was having the same struggle.
---
| | | |
| --- | --- | --- |
| RE: Playing the Hand You're Dealt (Lots of pics) | | |
He knew when we bought it that I wasn't sold on the house, and he knows I still am not in love with it. But I DO like it, and I will love it when I finish with it. It's just a big project. Every. Single. Room. Needed. Everything.
But now, the office, kitchen, dining room, guest bath, and upstairs rooms are done. What's left is the living room, master bed and bath, upstairs bath, and landscaping. We're getting there. I got my pool, as I stated above. I still want a fireplace in the living room AND master bedroom.
We will probably never leave this house. Especially after all the work and money we're putting into it.
Did you post pictures of your "struggles"? If not, you should!
---
| | | |
| --- | --- | --- |
| RE: Playing the Hand You're Dealt (Lots of pics) | | |
I want to see your pool. I would live to have one but my husband is not open minded about a pool at all.

I know this is odd, but I feel better, I thought you didn't like your house, but now that I know you are just a bit overwhelmed with the projects I totally understand. It is a lot of work. Sometimes I want to put my fingers in my ears and yell nananannanana. I am so sick of having to make decisions. I really want a break from it. But, I also want it done so I keep plugging away.
---
| | | |
| --- | --- | --- |
| RE: Playing the Hand You're Dealt (Lots of pics) | | |
This is the "great room". I have the bones and very little layering. I haven't found an ottoman that I love or side tables. I wanted a more modern look but the pillows that came with the couch are pretty.

I want to add family pictures on canvas. I am not sure where to put them or what scale. I think some big vases and corner lamps would be nice. Maybe a sofa table?

I also have a built In with nothing in it. I don't know what to with that space. There is a desk in the open kitchen and a bar in the basement. So, maybe some sort of cabinet with storage and some art above? there is lighting above. I don't know.
---
| | | |
| --- | --- | --- |
| RE: Playing the Hand You're Dealt (Lots of pics) | | |
Shear - I read this whole thread yesterday, then at a restaurant for lunch, saw on TV the news about Richard III. Weird coincidence!!
Here is a link that might be useful: Richard III bones found
---
| | | |
| --- | --- | --- |
| RE: Playing the Hand You're Dealt (Lots of pics) | | |
That's almost as creepy as this painting! LOL!
---
| | | |
| --- | --- | --- |
| RE: Playing the Hand You're Dealt (Lots of pics) | | |
Just shooting from the hip here, going line by line through your post:

The pillows that came with the couch ARE pretty, but I'd still change them, or add to them. The smallest ones are too small.
The rug is too small and pale for this floor and your furniture. If you're really committed to it, pull the couches forward so their front legs are on the rugs, and then adjust the recliners to suit.This may also help both couches share a coffee table or ottoman. Or you may not need one at all. (I'd prefer not to have one in your arrangement.
As for family pics on canvas, I want those, too! What scale and where to put them I can't say because I can't see the walls of the room. Can you take a shot of each wall?
Big vases where?
I tried corner lamps in my living room (similar layout, as we've said) It didn't look right. And at night, I didn't like having lamps on next to the TV. Also, and this is a "me" thing, I didn't like having all the "electronic stuff" on one wall. Too much like a wall-sized entertainment center. A sofa table could work, but I'm so into balance, I'd need one behind each couch.
You have a built-in ~what~ with nothing in it? And where is it?

Is the pass-through of this room behind the recliners? How much space is there from behind the recliners to the next wall or piece of furniture?
Each recliner should share a side table with the couch next to it, and the tables should be round, not square.
I'm big into plants, so I'd make sure to put some in front of those windows.
I love your floor and am exceedingly jealous.

Here are some pics of the pool. I took pictures from the beginning to the end of the process, but I'm assuming you want to see the pool and not the process.

This is a picture of the pool the day it finished filling, which is why the water looks green, no chemicals yet. Hardly any landscaping is done. And notice how the close edge of the photo shows the deck meeting the dirt that used to be grass.
This shows the pool and deck in relation the the back of the house. See how the water is finally blue? And you see a peek of the brick patio I put down after my hubby graded the dirt for me. I'm very proud of that!
And this shows the other side, how the ground slopes away, and how much yard we still have left over. I'm just starting to work on landscaping. See the finished patio? Also, the iron fence-work and three brick columns are done, but none of these pictures show it.
Same sorta angle, but from an upstairs window.
This view is from standing in the ~other~ back corner of the yard. It's beautiful, but not done (like everything else) We still need to paint the trim and door of the screened porch, finish landscaping the dirt slope, and build steps where you can see the grass ends at the patio.
My husband wasn't open to a pool at all, either. I started jokingly telling him, "I'm not broke, and I'm not asking," and "Great. I'll use MY half of OUR money to pay for it." Finally, I put an ugly pop-up pool in the yard, and kept it there for two years, then replaced it with the same thing when it wore out. By the time that one died two years later, he was sold on a real pool. I did all the maintenance for the pop up, and I do all maintenance for this pool. But that meant I could design and build exactly what I wanted. I even created the shape myself! Here's the eyesore that caused him to give in.
---
| | | |
| --- | --- | --- |
| RE: Playing the Hand You're Dealt (Lots of pics) | | |
Shear, you did a great job designing your outdoor space! Wow!! Do you ever pinch yourself? I loved the pictures of the pop up pool. You know how to work your husband over. Sometimes men just don't know how much they want something until we let them know. Then eventually they seem to think it was their idea all along. Does your husband love it?

You gave me a lot if good advice. I moved the couches and recliners and started a new thread. I took pictures of the walls and that built in. Let me know what you think.

It's my birthday and my husband just got home. I will check in before bed.

Thank you!
---
| | | |
| --- | --- | --- |
| RE: Playing the Hand You're Dealt (Lots of pics) | | |
I'm out of town right now, borrowing my sister's computer. I'll go look at your new post, then be back on here in a day or two.
---
| | | |
| --- | --- | --- |
| RE: Playing the Hand You're Dealt (Lots of pics) | | |
Shear, I am so sorry I was gone so long. Was working on getting paint colors and rugs, etc., for my house. I am changing colors in my great room and kitchen, just wall colors and rugs, not everything. I would love to post the pictures but I did that a few years ago with my garden and home and I had some stalkers from the internet and callers. I was far too generous with information, I know there are others here who have shutters who have posted but perhaps they had the same situation. If you go to a shutter shop and ask for the arch or half moon shutters or fan shutters, they can demonstrate for you. Also tell them you want to be able to open the windows (not the crescent shaped ones but the big windows) from the center and stack back.
---
| | | |
| --- | --- | --- |
| RE: Playing the Hand You're Dealt (Lots of pics) | | |
I am wondering why you "regret the front loaders", as I will be buying new appliances soon. By the way, I think your house is lovely, and you did a great job.
---
| | | |
| --- | --- | --- |
| RE: Playing the Hand You're Dealt (Lots of pics) | | |
Musioteacher, I can't tell you HOW much I regret those front loaders. They're too big, tall, cumbersome. They were too expensive for someone who only ever uses one or two wash cycles. The washer door and soap dispenser drawer have to be kept OPEN when not in use, otherwise they will stink in about one day. The spin cycle on the washer is crap, so the clothes are REALLY wet when the washer is finished. The dryer's moisture sensor is drunk. It thinks my clothes are dry when they're just hot and wet. Otherwise, it dries them for hours because it thinks they're still wet, when in fact they're dry as a bone and completely staticky from over-drying. Regret is too mild of a word for how I feel about those things.
---
Post a Follow-Up
Please Note: Only registered members are able to post messages to this forum.
If you are a member, please log in.
If you aren't yet a member, join now!
---
Return to the Home Decorating & Design Forum
Information about Posting
You must be logged in to post a message. Once you are logged in, a posting window will appear at the bottom of the messages. If you are not a member, please register for an account.
Please review our Rules of Play before posting.
Posting is a two-step process. Once you have composed your message, you will be taken to the preview page. You will then have a chance to review your post, make changes and upload photos.
After posting your message, you may need to refresh the forum page in order to see it.
Before posting copyrighted material, please read about Copyright and Fair Use.
We have a strict no-advertising policy!
If you would like to practice posting or uploading photos, please visit our Test forum.
If you need assistance, please Contact Us and we will be happy to help.

Learn more about in-text links on this page here