Return to the Home Decorating Forum
|
Post a Follow-Up
---
| | | |
| --- | --- | --- |
| Bosporus Toile for curtains? | | |
Posted by
ttodd
(
My Page
) on
Tue, Jan 27, 09 at 10:24
My fabric samples just arrived the other day and I've been mulling over how and where to use them ever since.

I love the Bosporus Toile in Flax and was wondering how it would look as pinch pleat drapes. Do you think that it would lose it's impact as curtains? I've seen some pics of it as drapes but no pics full on.

Also, do you think that it would be too much to use it as drapes and also on 1 or 2 accent chairs and 1 or 2 small throw pillows throughout the downstairs to help unify spaces even more?
---
Follow-Up Postings:
| | | |
| --- | --- | --- |
| RE: Bosporus Toile for curtains? | | |
Toile is traditionally used all over the place...walls, furniture, drapery, all at once. That's really too much for a lot of us. What you are proposing sounds just right to me...it has much better impact when it is repeated, and when you can see it somewhere used flat. For drapery, you might consider inverted box pleats instead of pinch pleats, so that you get fullness without scrunching it up as much. Toile looks wonderful mixed with a small simple check and/or a small stripe that repeat its colors. A neutral toile with neutral companion fabrics also looks great with a rich strong color on the walls. As I recall, Borsporus toile has other colors in the background? Pale blues and grays? If that's the one you have, a rich deep gray would look fantastic, and really show off the fabric.
---
| | | |
| --- | --- | --- |
| RE: Bosporus Toile for curtains? | | |
ttodd,
Could you use romans in your home? Then if you still needed panels use a solid color for them. I don't think there's anything wrong with toiles in drapery, you still get the colors just not as much as the story.
---
| | | |
| --- | --- | --- |
| RE: Bosporus Toile for curtains? | | |
Sallymo - Good to see you post! Hope all is well w/ you. How's the store?

Too be perfectly honest I am actually thinking about using the toile at every window downstairs. Here's why: The downstairs is SOOOOO small and cut up into 4 perfectly boxed rooms w/ a traditional central staircase w/ a wall on one side: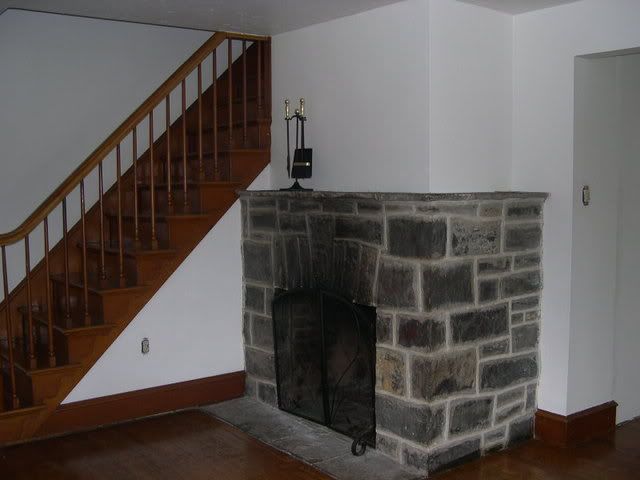 On the other side of the staircase wall is the DR. All rms. lead to each other via a single open doorway. We are proposing (architects say they can adapt it) to knock down the full staircase wall to open up the downstairs as well as the wall between the kitchen & DR (the same thing has already been on the other side of the house to open up that side). This will open up the entire downstairs area giving it the feel of one large space/room w/ separate areas. We do not intend to increase the current rms. sq. footage when we add on. We like a small cottage feel. I thought that using the same curtains throughout the downstairs would unify the spaces and then use varying degrees of the same fabrics and colors to differentiate the spaces but keep it cohesive. In the kitchen would be one window w/ floor length panels and roman shades at the sink window and back door.
I really like the idea of inverted pleats. Thank you so much for that suggestion bronwynsmom (BTW - great name! At the very last minute we almost named our daughter the same name this yr. in the delivery rm!). The colors that we are still tweaking are all by BM (cleary all subject to slight change dependant upon light quality etc...):
Sandy Hook Gray for the LR/Library area: Delaware Putty for the DR and kitchen.

Lower kitchen cabinets: Cromwell Gray
Upper Kitchen cabinets: Clarksville Gray:
Ceilings Stratton Blue:
Curtains and Shades throughout downstairs Bosporus 197:
2 chairs for reupholstery to use in LR:
Inside fabric:
Outside fabric: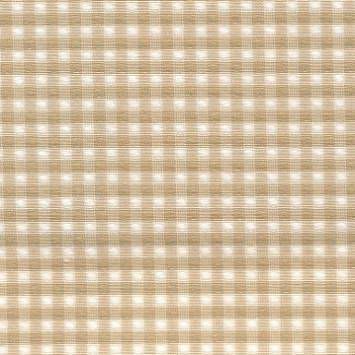 Other possible fabrics to be used for accent and some reupholstery projects:
---
| | | |
| --- | --- | --- |
| RE: Bosporus Toile for curtains? | | |
Wow, you couldn't go wrong with that toile, the colors are so soothing. I was thinking of the bosporus with the more vivid colors. Your coordinating fabrics and paint colors look like the perfect ones. You've got a big project to start knocking out walls!

Thanks for asking about the shop, we are doing as well as expected in this economy. Customers still need custom work but we do need more walk-in biz. People still don't realize we have gifts and misc, not just fabric and curtains! I'm home today because of snow and ice, but I've got sewing to do so back to the sewing room!
---
| | | |
| --- | --- | --- |
| RE: Bosporus Toile for curtains? | | |
ttodd~ Your combo of paint and fabrics looks fabulous! I'm another of the bosporus fans, and I think they'd be great in you windows. I believe others have toile drapes here on GW, maybe they will share photos so you can get an idea of what type of pleat to do to best showcase your fabric.
Love your choices. It's going to oooze cottage charm when you are done!!!
---
| | | |
| --- | --- | --- |
| RE: Bosporus Toile for curtains? | | |
For those of you who have read about our saga of purchasing this cottage & furniture business (it has been such a long process as we are such procrastinators!), DH came home w/ some good news tonight.

The owner went down on his original $200,000 quote for the business. He said that since the economy has tanked he offered to ask for less and when DH ran a proposal by him today the owner is actually going to invest money w/ us to make the down payment on the business. Business is still very steady BTW and we are getting #'s soon.

Sally - the pics of your store were so pretty!

Totallyblessed - I have been pouring over fabrics for so long so when I bit the bullet and began ordering samples I couldn't keep away from that toile! I've kept coming back to it for over a year. My monitor shows the paint colors a bit skewed as to what they actually are so I wouldn't be surprised that the actual combos may change but I know I like that particular range of colors.

My MIL gave me her old sewing machine so I am going to take lessons and eventually sew these curtains.
---
| | | |
| --- | --- | --- |
| RE: Bosporus Toile for curtains? | | |
Let me do something for you........I need to head to my fav decorator fabric store this week. They have a mondo big bosporus toile drape on the front door. I'll take a photo. Stay tuned...because I might not make it in on my lunch tomorrow, but for sure by Thursday.

Red
---
| | | |
| --- | --- | --- |
| RE: Bosporus Toile for curtains? | | |
Red ~ that would be awesome - thanks!
---
| | | |
| --- | --- | --- |
| RE: Bosporus Toile for curtains? | | |
I love, love the fabrics. I recently got a sample of this toile from Calico Corner (we don't have a store here). Also the Innuendo plaid in Seamist. I'd love to know the manufacturer on that one and see if I could find a better price!

Anyhoo, I think these fabrics will look FABU in your cottage! I was wondering if you know the name and/or manufacturer of the third fabric down. My problem has been that my bedroom is mainly aqua/creme/gold. I can't decide if the Bosporus looks too blue with my aqua or not. LOL

Can't wait to see how this all comes together!

tina
---
| | | |
| --- | --- | --- |
| RE: Bosporus Toile for curtains? | | |
When I get home in a few hours, I will post my pictures. They are a little dark (looking into my digital camera) but they are at least something. I asked one of the decorators about the bosphorus in a pinch pleat, since they have it thickly threaded on a rod, and she said that it's beautiful in a pinch pleat.

Red
---
| | | |
| --- | --- | --- |
| RE: Bosporus Toile for curtains? | | |
Wow, this is the same as the mentalpause thread! Great minds think alike! Delaware Putty and Jonesboro Cream are perfect with the Bosporus! Seamist is the fabric I looked at too and put on my inspiration board!ttodd, is that the chilton bronze fabric? It looks awesome with the bosporus flax!Can't find the original thread, darn!
My Inspiration Board:

---
| | | |
| --- | --- | --- |
| RE: Bosporus Toile for curtains? | | |
Well, here are two shots taken today at the front of my fav decorator fabric store. Click on next for the room-view shot.

Red
Here is a link that might be useful: Bosphorus toile
---
| | | |
| --- | --- | --- |
| RE: Bosporus Toile for curtains? | | |
Those fabrics looks beautiful! Here are my drapes.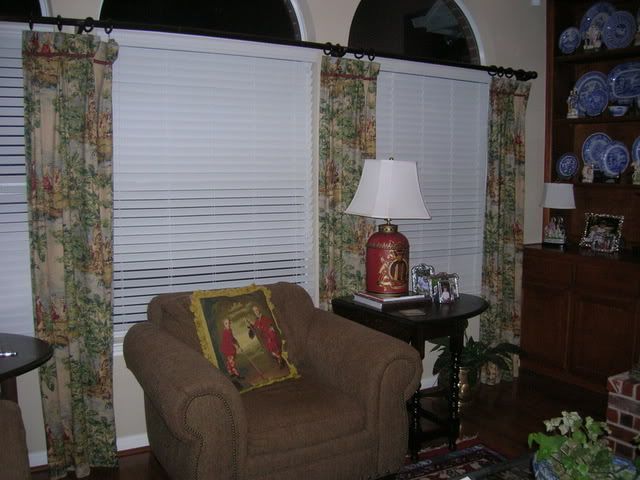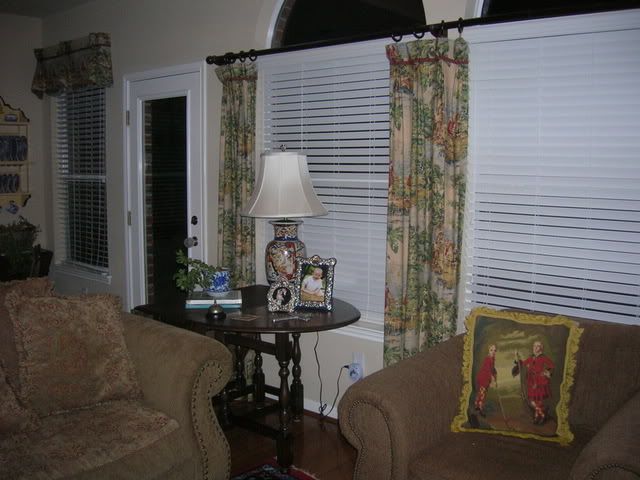 ---
| | | |
| --- | --- | --- |
| RE: Bosporus Toile for curtains? | | |
Pretty! And I love your sofa/chair fabric too!

Red
---
| | | |
| --- | --- | --- |
| RE: Bosporus Toile for curtains? | | |
ttodd, I love those fabrics together and think they will be amazing in a cottage. I've sort of missed your cottage acquisition and was wondering how those shots fit in with your other home. I think I get it now. Are you keeping your other home? Details please.

Also, I was just looking at some of your old pics and comments because I've pretty much decided to paint our main living area in F&B's blue gray. I love how it looks in your rooms and am wondering if you're still happy with it?
---
| | | |
| --- | --- | --- |
| RE: Bosporus Toile for curtains? | | |
Red thanks for doing that! That looks so pretty!

And SCW - seeing them actually in a home has sold me!

KMCG ~ the Mentalpause thread is exactly what has had me going still after all of this time! You're right - I wasn't able to find the original Mentalpause thread on GW either. Weird, huh? I was however able to find it via a web search that took me to someone else's clippings who had just happened to save the original thread so I printed it out from her stuff. I closely followed the sample boards that you had come up w/. I had originally planned to go w/ Abingdon putty for the walls but when I re-watched an old episode of Divine Design that I have saved I saw that Candace used DP on the walls in that rm. (link below - episode 1009) and I really liked it so I broke out my fan decks yet again.

I have simple rusted looking 5 arm chandeliers w/ 1 teardrop crystal and acanthus leaf on each arm (still boxed in my attic awaiting the move) to use in the DR & Kitchen & this birdcage style one in my current kitchen:
Budge ~ crazy story! We own the 4 Square/ Victorian style home that we live in now. It's the home that you may sometimes see me post w/ all of the stained glass and interior Victorian trimmings.
DH went to work for a guy yrs. ago in the furniture biz that wanted to retire in some yrs. but didn't want to close the business but he and wife never had children. He'd always remembered DH from when we had a previous business that we'd closed and he tracked DH down w/ the proposal of teaching him the business and then selling it to us when they were ready to retire. The business is located on a large piece of property that also has a small 2 bedroom stone cottage on it. It is currently an occupied rental house. We thought we'd have the business by now but we were having a hard time coming up w/ the capital and had put off selling our current home. DH's boss said he would sell when we were financially ready but the cost of buying the business and property together is estimated at almost 3/4 of a mill and we have just never been able to come up w/ that type of financing. DH came up w/ a plan to buy the business which is affordable w/ the right backing and then 'renting' the property/house of which we will move into from his boss and then turning around in a yr. or two and buying the property finally. His boss said whatever we need to do to make it work for us is fine w/ him. In getting backing to buy the business his boss said that he will invest to help us out.
So......long story short ~ I've been waiting to move into this house for 5yrs now and DH has sworn to high heaven that we will be another step closer and somehow in by the end of this yr. so DS1 can start Kindergarten in that district. We'll see how the market is for real estate as to whether we sell or rent out our current home. I just can't take much more of living here.
I've been trying to decorate the current house in a way that will also work in the other house because I just want so badly to move in and already have the decor on the way. I don't think that I could take trying to come up w/ a whole other 'Here's another house to try and decorate' if you know what I mean. I'm tired of the process, I know my style and what appeals to me after all of these yrs. and I just want it done. Or at least somewhat close to done. I've been lucky to always have access to the home so I've been able to go over my wants and desires w/ both my dad and FIL (both architects) for an addition onto the back of 2 bedrooms and laundry area. I've already been working on gardens and some plantings there w/ my mom.
This is the cottage and I'm looking to do it in a warm but simple, updated feminine French Country type look:
Here is a link that might be useful: Lauras MBR Episode #1009
---
| | | |
| --- | --- | --- |
| RE: Bosporus Toile for curtains? | | |
ttodd, Too funny! That is the exact episode that I saw the DP on! I saved a pic of that room as inspiration! Long story on how I got to the bosporus from there, but anyway, I gathered up the info from that episode and headed to Calico to look at the fabrics used in that room. I found them, and carried them around with me as I perused the rest of the store. Then I spied the bosporus flax! I immediately fell in love, put the other fabrics back and asked to see the chilton bronze sample along side the toile. On the way home, I stopped at the BM store and got a larger sample card of the DP and thought it was beautiful togther! Very quiet, warm and peaceful! I think it has the same vibe as the Divine Design episode. Great minds really DO think alike! I also like the check you have pictured. Is it Colburn? What colorway? I can see that somewhere too!
---
| | | |
| --- | --- | --- |
| RE: Bosporus Toile for curtains? | | |
Tina - so sorry - are you talking about the fabric that is 2nd from the bottom? If so that is Whitehall Azure in the Cypress Collection from Calico Corners.

KCMG - That is too funny!!!! Yes that's Chilton Bronze. Calico Corners told me that it is discontinued so I couldn't get a sample. DARN!

The check is just a 'remind me for later' pic that I pulled from House of Fabrics. It's called Birch - that's about all that was listed for it.
---
| | | |
| --- | --- | --- |
| RE: Bosporus Toile for curtains? | | |
oooh, that cottage is soooo cute. Ooozes charm. HOpe it happens for you soon. ;o)
---
| | | |
| --- | --- | --- |
| RE: Bosporus Toile for curtains? | | |
cute cottage. If you are still in the Philly area as your page says. email the name of your business to me if it is retail! It would be fun to add a stop to a roadtrip sometime!
---
Post a Follow-Up
Please Note: Only registered members are able to post messages to this forum.
If you are a member, please log in.
If you aren't yet a member, join now!
---
Return to the Home Decorating Forum
Information about Posting
You must be logged in to post a message. Once you are logged in, a posting window will appear at the bottom of the messages. If you are not a member, please register for an account.
Please review our Rules of Play before posting.
Posting is a two-step process. Once you have composed your message, you will be taken to the preview page. You will then have a chance to review your post, make changes and upload photos.
After posting your message, you may need to refresh the forum page in order to see it.
Before posting copyrighted material, please read about Copyright and Fair Use.
We have a strict no-advertising policy!
If you would like to practice posting or uploading photos, please visit our Test forum.
If you need assistance, please Contact Us and we will be happy to help.

Learn more about in-text links on this page here