Return to the Home Decorating Forum
|
Post a Follow-Up
---
| | | |
| --- | --- | --- |
| Ideas for Open Stairs (no risers) | | |
Posted by
ravmd
(
My Page
) on
Mon, Jan 24, 11 at 10:02
I have been trying photos for ideas of what we can do with these carpeted open stairs and have not been able to locate pictures. I think we need to recarpet (rather than just paint) as with 3 boys and a dog going up and down it may be better for safety and for noise reduction!

The room will be painted white as well as the spindles (not sure about the rail yet). If it had risers... I would have liked to have painted the stairs white and put in a sisal runner. With open stairs would you ever create a "runner" style look? Or do you need to completely wrap each step?

Looking for some inspiration photos! Thanks!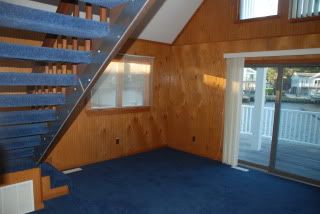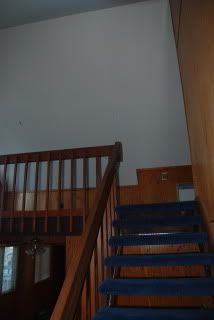 ---
Follow-Up Postings:
| | | |
| --- | --- | --- |
| RE: Ideas for Open Stairs (no risers) | | |
I only found 1 picture of open stairs with no riser that showed a partial covering. It looks like rubber matting (no!) or some type of insert, but it might give you an idea of what the stairs would look like if you just carpeted them individually down the center with the sisal. I would finish the uncarpeted portion to match the railing (not white to match spindles).
Here is a link that might be useful: Open stairs
---
| | | |
| --- | --- | --- |
| RE: Ideas for Open Stairs (no risers) | | |
Or you could remove the carpet, insert risers via the backside and paint the whole thing, then add your runner on the stair side. The challenge will be where the stairs go over the badly added maids closet from the 50s....oh wait those are my ugly carpeted riser less stairs....ummm anyhow the first part of my answer is how I'm going to deal with the issue :).
---
| | | |
| --- | --- | --- |
| RE: Ideas for Open Stairs (no risers) | | |
You could still do a runner effect. The country club where I grew up had open riser floating stairs and there was wood exposed on each side with a piece of runner attached around each step.

I would recommend keeping the handrail and the tread stained If thats what the treads are--its hard to tell if they are even wood. rather than painting them white: more durable and the bit of wood against the white will provide some highlight.
---
| | | |
| --- | --- | --- |
| RE: Ideas for Open Stairs (no risers) | | |
I have a link for you. It's in our Gallery among the room threads, and staircases have a huge thread all their own. There are some open staircases in there, so keep scrolling for them. Don't think any are carpeted, but I agree with you that carpet is better with kids and dogs.
Here is a link that might be useful: Staircase Eye Candy Blowout!
---
| | | |
| --- | --- | --- |
| RE: Ideas for Open Stairs (no risers) | | |
These might work. It seems they are only in the UK, but see what you think.
Here is a link that might be useful: Clear stair treads
---
| | | |
| --- | --- | --- |
| RE: Ideas for Open Stairs (no risers) | | |
Wow... thanks for all the great ideas!
I had wondered whether finishing them off on the back so they aren't open should be considered. Just afraid it will make a small room seem even smaller so not sure. There was a photo in oceanna's link towards the bottom that I liked where the staircase is finished off behind the steps and they have the driftwood like paneling/shelves and some beachy stuff on them.
Loved the staircase candy link -what great ideas there! And just fun to look at.
I think the other idea that could really work is still doing a runner, but rather than wrapping it around the whole step like I originally thought was the only option...is looking at some of the 'stair tread mats' that were in deedees link.
Love the sisal mats! seems we could keep the openness and not have such a "heavy look" of carpeted steps.
Filing these ideas away! DH has a ways to go on the remodel but want to be ready!
---
| | | |
| --- | --- | --- |
| RE: Ideas for Open Stairs (no risers) | | |
I don't have an opinion one way or another, but here are some pictures I found where you can see different options/colors etc.
Vinyl flooring on threads - not as slippery

inset with trim

Sisal to place on open stair threads

---
| | | |
| --- | --- | --- |
| RE: Ideas for Open Stairs (no risers) | | |
Here is a pic of open stairway with runner:
---
| | | |
| --- | --- | --- |
| RE: Ideas for Open Stairs (no risers) | | |
This has really helped! I am finding more ideas now that I know to google "carpet stair treads" rather than runner or just "open stairs".

Nice to know there are other options to a fully wrapped step. Seemed to much for the beach.
Thanks for getting some new ideas for us!

I think I like these styles with a painted/stained stair.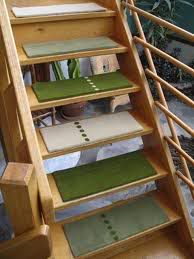 ---
| | | |
| --- | --- | --- |
| RE: Ideas for Open Stairs (no risers) | | |
Glad you found my link helpful, and what a lot of great pix here -- didn't want you to miss them! Hope you will post some "after" pictures of yours.
---
Post a Follow-Up
Please Note: Only registered members are able to post messages to this forum.
If you are a member, please log in.
If you aren't yet a member, join now!
---
Return to the Home Decorating Forum
Information about Posting
You must be logged in to post a message. Once you are logged in, a posting window will appear at the bottom of the messages. If you are not a member, please register for an account.
Please review our Rules of Play before posting.
Posting is a two-step process. Once you have composed your message, you will be taken to the preview page. You will then have a chance to review your post, make changes and upload photos.
After posting your message, you may need to refresh the forum page in order to see it.
Before posting copyrighted material, please read about Copyright and Fair Use.
We have a strict no-advertising policy!
If you would like to practice posting or uploading photos, please visit our Test forum.
If you need assistance, please Contact Us and we will be happy to help.

Learn more about in-text links on this page here