Return to the Home Decorating & Design Forum
|
Post a Follow-Up
---
| | | |
| --- | --- | --- |
| is it the pillows? | | |
Posted by
massagerocks
(
My Page
) on
Mon, Jan 13, 14 at 9:24
Hi all. I posted earlier looking for help with a rug selection and received many great suggestions. I was originally looking for a serene muted rug, but ended up purchasing this one. I happened to be in a furniture store after the holidays and they had the same rug that is in my adjoining dining room in the exact size I needed (6 x 9, more limited choices). That rug is one of my all-time favorite things, so I bought it (it was on sale too!). The room needs alot more finishing things (ottoman?, end table, lamp, artwork, curtains) but I'm wondering about the pillows. I'm not in love with the chair fabric (came as a set, and I just loved the sofa). The chair fabric is very dark brown tweed. Do they look right on the sofa, or is it that big sofa fabric pillow that looks off? If I change the fabrics, how does one tie in the chair with the sofa and what would you suggest? Thanks!
---
Follow-Up Postings:
| | | |
| --- | --- | --- |
| RE: is it the pillows? | | |
I think the pillows look fine. I would maybe not use the one that matches the sofa and add one in that salmon color from the rug...maybe even a small paisley print or something for added interest. The rug is really pretty and the room is going to look great!
---
| | | |
| --- | --- | --- |
| RE: is it the pillows? | | |
Your furniture & carpet choices are really lovely. I'd move the big centered sofa pillow to one side with one of the beige/brown pillows. I like an asymetric look. You could also put the sofa cushion on the brown chair to tie them together.

Everything does seem to be fairly sepia-toned which can seem kinda bland. Perhaps get a patterned pillow or two in the orangey/ tangerine color of the carpet to tie it all together and/or warm up the wall color with a different paint choice.

I also think your furniture needs to be placed further on the carpet & not just barely on it-that's if you can arrange it that way.
---
| | | |
| --- | --- | --- |
| RE: is it the pillows? | | |
I agree with Joanie. i have a hard time seeing the colors of the rug but wold pick a pillow cover whose color is pulled from the rug, e.g. gold, green, rust. Or also from the art work (gold/yellow).
---
| | | |
| --- | --- | --- |
| RE: is it the pillows? | | |
I would give it a try with some paler yellow or gold in the pillows. We have the same or very similar rug in our bedroom with a bedding scheme similar to your furniture, and found that it looks really good with soft yellow accents.
---
| | | |
| --- | --- | --- |
| RE: is it the pillows? | | |
I think the chair and sofa will be tied together because of the style, the legs matching, etc. I don't really care for the brown pillows on the sofa - the sofa looks so soft and inviting and they look kind of coarse and stiff. I would try the pillow in the sofa fabric on the chair and get some other more colorful and interesting pillows on the sofa. Or leave the sofa matching pillow on the sofa and get some coordinating for the rest of the mix and one for the chair. Maybe a lumbar style.

Maybe not these, but a mix and match of plain and a pattern.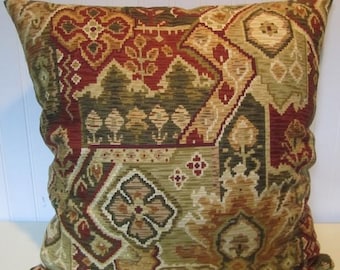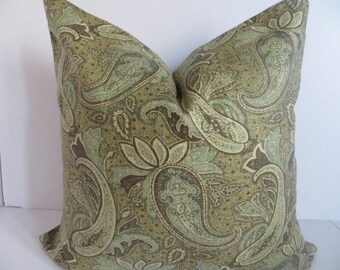 Here is a link that might be useful: another pillow
---
| | | |
| --- | --- | --- |
| RE: is it the pillows? | | |
I tend to agree with olychick on this. I like both the chair and the sofa, but the pillows aren't doing much for me. The sofa and the chair are both very neutral, and the rug is a beautiful step up from neutral. I'd try to avoid being too careful and safe in selecting pillows. I would look for pillows with a bold, graphic pattern in a color or colors that coordinate (but don't match exactly) with the colors of the rug. I really like your rug!!
---
| | | |
| --- | --- | --- |
| RE: is it the pillows? | | |
LOVE your room -- the furniture and rug look amazing! :)

I would like to see the matching pillow (the one in the center of the sofa) removed -- and add a smaller rectangular dark brown pillow to the chair ....

I think that once you add a long leather storage ottoman in dark brown (add fun orange trays to the top) plus a short, round dark bronze lamp to the top of the bookcase plus a standing lamp on the other side of the sofa -- the seating area will be very complete ....
---
| | | |
| --- | --- | --- |
| RE: is it the pillows? | | |
I agree with olychic and think some patterned pillows would look great.

Is the corner piece there to stay? It is throwing me off for some reason. Are you up for a plant in the room. Maybe a tall one for the corner? It would really liven things up.

I think an ottoman would be nice and so comfy. I would look for something in an olive green tone to pick up that color from your rug.

Some small round end tables with lamps would make the room feel cozy as well. I would get a large piece of art with some color in it for above the sofa.
---
| | | |
| --- | --- | --- |
| RE: is it the pillows? | | |
Thanks everyone for your kind words and thoughtful ideas!
Today I ordered a brownish tufted leather ottoman and a round cherry colored end table. That was fun! I sew (well, more mentally sometimes) and have a closet full of fabrics. I'll put them around the pillows to get me used to the idea of adding pattern. I'm so conservative, the rug is plenty of pattern for me, but I agree the pillows need pattern. I just hope I can get my eyes past "clashing". I originally liked the picture (I almost forgot about it, I've had it a very long time) until I got the rug. I'm thinking the picture should pick up some of the rug colors, so I'll keep my eyes open for a new picture as well.. you people are wonderful, thanks again
---
| | | |
| --- | --- | --- |
| RE: is it the pillows? | | |
What about that corner piece? It is too close to the height of the chairs and does not seem to connect in any way. '

If you have an item there, it might need to be a bit taller to create a wave of heights and your picture, once hung, could be at a similar height as a piece of corner furniture, maybe about 4-5 feet tall.

But you definitely need some striking color and/or pattern in your pillows and what about cocktail table. Your sepia tones are keeping your room more anemic than it will be once completed.
---
| | | |
| --- | --- | --- |
| RE: is it the pillows? | | |
Patricia- I see what you mean about the bookcase. Hopefully if I put something tall on the top it'll improve the look? I also have a metal baker's rack in a corner not pictured, opposite the sofa. I once thought to put the baker's rack where the bookcase is to add some height to that side of the room, but it didnt look right when I tried it. Will move it there again and see what it looks like now that I have a rug. Will post a pic for you, but later today. The ottoman I just ordered will be used in front of the sofa, its rectangular 48". Thanks for your thoughts.
---
| | | |
| --- | --- | --- |
| RE: is it the pillows? | | |
Maybe bring more of of the soft rust color of the carpet on to the sofa in the pillows. Though, if you're looking for a tailored look, the existing pillows are not bad.

Don't think the short bookcase should be on an angle in the corner though. Good location for a table and a table lamp.

Framed print is a bit small to be placed above the sofa.
---
| | | |
| --- | --- | --- |
| RE: is it the pillows? | | |
How about putting the bookcase flat against the wall...sofa wall...and putting a small lamp on it?
---
| | | |
| --- | --- | --- |
| RE: is it the pillows? | | |
Beverly, should I reframe the picture in a larger frame? I moved the bookcase flat against the sofa wall, and put the bakers rack on the other side. Only one of these will stay, if any, because I bought a round end table which I envisioned will go btwn the sofa and chair w/ a lamp. Thoughts on the bakers rack? oh, those pillows just have some of my fabrics draped on them to get my brain jump started. thanks.

---
| | | |
| --- | --- | --- |
| RE: is it the pillows? | | |
I think rematting and reframing your art in a bigger and wider matt (sp?) with a thick frame would be a great idea!!
---
| | | |
| --- | --- | --- |
| RE: is it the pillows? | | |
Wow, I thought there was this bright sun in the picture. Now I see it's the flash reflection :)
I like the red and red/green pillow fabrics and the trellis one.
---
| | | |
| --- | --- | --- |
| RE: is it the pillows? | | |
Massagerocks, The print is framed appropriately for the subject matter,........it just belongs on another wall that is smaller in scale to complement it. That artwork is not doing your furnishings arrangement any favors. It's beige like the sofa. I think you're looking for a bit of punch in the area.

You could re matte it in a color. See image,.... and then add items to either side of the picture to add dimension to the grouping, or you could select a larger piece of artwork with more punch.

Also............lots of shelves in this room so far and not much on them. It would be terrible if you purchased the baker's rack and the bookcase, and then had to spend additional funds to then fill them. I recommend a round end table with a good reading lamp on top.

The mahogany finish of the bookcase doesn't seem to work in the room and the fabrics you've selected don't seem to complement the rug from this distance.
---
| | | |
| --- | --- | --- |
| RE: is it the pillows? | | |
I think the light colored trellis fabric is my favorite. I don't think every room has to have an accent color, but I do like to see some lighter colors mixed in with the darker ones.
---
| | | |
| --- | --- | --- |
| RE: is it the pillows? | | |
Beverly,
I really appreciate the mockups, they're very helpful. I already own both the bookcase & the bakers rack. The rack is empty b/cus it's never in this room. I put it in here and had fun decorating up for Christmas, now wondering if it should stay to add some height to this side of the room? I agree about the bookcase, I'll remove it. Thanks for helping w/ picture ideas. I'm addicted to Houzz and am so drawn to all those neutral rooms, but that look falls so flat in my house. I dont think I could manage an arrangement of things on the wall, so will look for a larger print like you mocked up. I am waiting on a round end table I ordered, so I'm happy to see that's what you've suggested in the spot I'm hoping to put it. thanks again to you and the others for your ideas. I have another question...there is a window behind the chair. I have only a Silhouette shade on it. I have no drapes anywhere in my house except my bedroom (need the blackout). Not b/cus I dont like them, but more b/cus I'm so indecisive and afraid I'd grow tired of them. Many of the Houzz rooms have no drapes, but of course the rooms are much more interesting and magnificent than mine. Should I hang some drapes, or do solo windows look okay with just a shade? Are drapes a personal preference, or are there some decorating guidelines?
---
| | | |
| --- | --- | --- |
| RE: is it the pillows? | | |
I think a little lightness and texture would add to the mix. Consider the pillow below. I have two in my den and they back up two pattered pillows.
Here is a link that might be useful: creamy pillow
---
| | | |
| --- | --- | --- |
| RE: is it the pillows? | | |
I'm a huge fan of the all neutral rooms & if that is your desire let's take a step back. Don't sweat the pillows now. Leave that decision for later.

I think 84" or preferably 96" non-functioning panels on a decorative rod would add texture and warmth to your room. Use the shade to control light and privacy, but just mount some ready made panels that hang to the floor for interest. There are plenty of Faux Linen panels available if you have access to a local HomeGoods or Bed Bath & Beyond etc. I would consider either a simple metal rod to match the nailheads on the furniture or maybe wood in the finish of the furniture legs.

If you go with a more neutral direction, then texture becomes all important. Consider some type of sculptural wall art to add more to your room. See images.
---
| | | |
| --- | --- | --- |
| RE: is it the pillows? | | |
msrose - i sew, and i've used that print so many times. it makes a great lining for bags and purses
yayagal, yes it lookin like it needs lightness and texture, thanks for the pillow idea.
beverly-I'll definitely put up some panels, I like the idea of the hardware matching the nailhead trim.
Regarding the neutral look....my heart just jumps at all those beautiful neutral Houzz rooms. I love all of them. My original vision for this room was like one of those rooms. I had a previous thread looking for help finding a rug, but most of what I really liked had a lot of blue which didnt feel right to me. Then I found this rug and suddenly I feel like I'm all off track. I love my rug, but not sure where I'm going now. I'll start looking at sculptural art, but Ive always thought that type of art to be more modern?? would it look weird if I use my barn print with something similar to these on each side?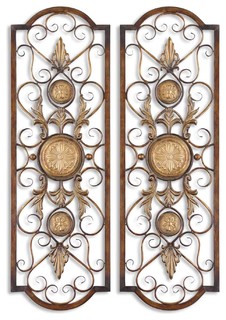 This post was edited by massagerocks on Sun, Jan 19, 14 at 11:08
---
Post a Follow-Up
Please Note: Only registered members are able to post messages to this forum.
If you are a member, please log in.
If you aren't yet a member, join now!
---
Return to the Home Decorating & Design Forum
Information about Posting
You must be logged in to post a message. Once you are logged in, a posting window will appear at the bottom of the messages. If you are not a member, please register for an account.
Please review our Rules of Play before posting.
Posting is a two-step process. Once you have composed your message, you will be taken to the preview page. You will then have a chance to review your post, make changes and upload photos.
After posting your message, you may need to refresh the forum page in order to see it.
Before posting copyrighted material, please read about Copyright and Fair Use.
We have a strict no-advertising policy!
If you would like to practice posting or uploading photos, please visit our Test forum.
If you need assistance, please Contact Us and we will be happy to help.

Learn more about in-text links on this page here