Return to the Home Decorating Forum
|
Post a Follow-Up
---
| | | |
| --- | --- | --- |
| Wet Bars - Are they 'out'? | | |
Posted by
snaupal
(
My Page
) on
Mon, Jan 9, 12 at 9:12
We are considering installing a wet bar during our upcoming first floor renovation. However, when I was chatting with a local realtor about this, she said that wet bars are going out of style and most new construction upper price homes aren't being with them anymore. We are wine drinkers, and wouldn't use the wet bar except for entertaining, so I'm wondering if we should just convert the space to a "dry" bar with a wine fridge and save some money on plumbing and fixtures. Has anyone else heard/seen this trend? I'm in NJ.
---
Follow-Up Postings:
| | | |
| --- | --- | --- |
| RE: Wet Bars - Are they 'out'? | | |
Even if you never serve a mixed drink, having a sink at the bar is wonderful. You will be surprised at how often you use it for many things.
Where will you wash the wine glasses? Or get a glass of water?

I would want both hot and cold water. Maybe you can have the remodel reconfigured so the pipes will be located where other pipes already are to save a little money.

Out of style? Not likely.
---
| | | |
| --- | --- | --- |
| RE: Wet Bars - Are they 'out'? | | |
If the wet bar were on a separate floor from your kitchen, I would say yes. But with open concept houses and the transformation of kitchens to what they are today, with stools around the island and gathering areas with fireplaces and couches, I would say that bars of any kind, but especially wet bars, are passe . . . unless you have a lifestyle of entertaining large groups and you need a place for the hired bartender to work.
---
| | | |
| --- | --- | --- |
| RE: Wet Bars - Are they 'out'? | | |
If you are undertaking a remodel, most likely your plans are to remain in the home for the forseeable future. Do what you want. A future owner can reverse.

I believe wet bars are generally options - at least that was the case in ours 17 years ago. Our plan option was only for an inglenook though with bar sink and cabinets. We opted not to install on the first floor as our plans were to build a full one in the basement, which we have.

I agree with sherrmann that a sink is invaluable. Someone is always looking to "dump" the ice and make fresh, rinse, etc. Or, I've known them to be filled with ice to keep beverages cold. My vote is go for the bar sink and wine frige too. If you have a glassware cabinet above, you can always set a few bottles of favorites and mixers on the counter when entertaining.
---
| | | |
| --- | --- | --- |
| RE: Wet Bars - Are they 'out'? | | |
I have a wet bar in the game room. Most (if not all) of the homes in my area have them. They are still building homes with these bars. (The builders are custom builders, so I don't know if it's the builders or the buyers wanting these bars.) I live in the Texas Hill Country (almost 2 years). I moved from Maryland. The homes and people are so different.
---
| | | |
| --- | --- | --- |
| RE: Wet Bars - Are they 'out'? | | |
Good design that has a functional purpose is never out of style.

Out.

In.

Out.

In.

Out.

In.

Out.

In.

---
| | | |
| --- | --- | --- |
| RE: Wet Bars - Are they 'out'? | | |
Trend or not, a wet bar would be a positive for me as a buyer. A dry bar would always be missing the sink. :)

If we built again, it would be nice to have a designated beverage area; a beverage fridge, wine storage, the fancy glasses, etc. The sink would make that space more useful/versatile.
---
| | | |
| --- | --- | --- |
| RE: Wet Bars - Are they 'out'? | | |
I think it depends where the bar is. If in a man cave, most guys like the "saloon type" bar and if space and budget are no object, let 'em have it. But skip the cheap panelling, please. :)
---
| | | |
| --- | --- | --- |
| RE: Wet Bars - Are they 'out'? | | |
As live wire oak illustrated above, I think it all depends on how you do it. We've got a 1960's MCM home with an extreme open plan. They very open kitchen has a view of the wet bar(!), but it works with our plan. OTOH, my dad had a 1990s house with a wet bar, and they covered it up and stuck the TV in there!

We originally planned to pull out or wet bar and relocate the laundry there (may still do that some day), but when it came time for the kitchen reno, we were very thankful for that tiny sink!
---
| | | |
| --- | --- | --- |
| RE: Wet Bars - Are they 'out'? | | |
Exactly what live_wire_oak said. If the bar is designed well, fits with the style of the home and the purpose of the room, go for it. My 1970s house used to have a wet bar room: a tiny room with a door and a sink and a pass-through into the family room with a counter. While when we bought we were intrigued by the perceived "cool factor" of a home with a wet bar, after moving in, we realized the space was not functional. There was no fridge for beverage storage and it was difficult to access the room because you had to go through a door which needed to remain closed in order to allow access to the beverage fridge (in the garage) and the powder room. I closed off the room to make it a pantry / storage area as part of a laundry room / mud room and powder room remodel. I relocated the plumbing to a wall in my family room and intend to build a wet bar out of cabinetry (with a sink and wine or beverage fridge) in keeping with live_wire_oak's "In" pictures. I intend to use the sink for washing glasses (stored in cabinetry above) or filled with ice as a beverage cooler. If we entertained more and/or had more space, a dishwasher (maybe dishwasher drawer?) could be nice as well.
---
| | | |
| --- | --- | --- |
| RE: Wet Bars - Are they 'out'? | | |
a couple of houses ago, we had a wet bar in the family room... the only thing i used that sink for was to get water to water the plants... it was a small little bar sink within a relatively small cabinet with glass doored cabinets above...the sink would have been impractical for washing much of anything... i would have much prefered a dry bar with a wine fridge.... it would have provided us with more useable space on the counter when we were entertaining. and, it would have been a more attractive space when we weren't!

out of the pictures l_w_o shows above, i would like #4 (with the addition of a wine fridge!)because it looks like it could part of a butler's pantry and would really be a large enough and useful area for entertaining, storage and cleanup--and doesn't look like a 'home bar'.
---
| | | |
| --- | --- | --- |
| RE: Wet Bars - Are they 'out'? | | |
The bi-level houses on our street apparently all had dry bars in/off the family room (lower level of the house). The houses were built in the late 60's. Definitely not a necessity, or even desired by us when we purchased our home in the 1998. DH converted ours into a pantry closet which better suited our needs.

If one had the space/layout/location for it, I could see a wet bar (or better yet, a butler's pantry) coming in handy.
---
| | | |
| --- | --- | --- |
| RE: Wet Bars - Are they 'out'? | | |
Those pices are fantastic for illustrating brilliantly the Ins & Outs of wet bars, LWO!!

When we had this home built 19 years ago, we nixed our builder's idea for a wet bar in the dining room, as it was right around the corner from the kitchen. Glad we did. We did have a separate bar sink put in the kitchen then, but ended up thinking that it was a wasted space. When we gutted and redid the kitchen a few years ago, we did away with the bar sink and built a dry bar areain a different location instead. I do agree that a wet bar, tastefully done, could be an asset in your main entertainment area to dump out used drinks if not convenient to your kitchen. You could also just use a plastic trash can, though.
Lynn
---
| | | |
| --- | --- | --- |
| RE: Wet Bars - Are they 'out'? | | |
Lots of interesting points, and I love the pics - thanks for posting!

Our wet bar/dry bar would be an extension of the kitchen facing the great room, and would look very similar to the first "in" pic, but a bit smaller. So, it will be within 5 feet of the main kitchen sink. However, another thought I just had, is that it's location is right next to the sliders going out to the deck, so it would be an easily accessible sink from the deck without having to go into the kitchen. Hmmm, still much to ponder!
---
| | | |
| --- | --- | --- |
| RE: Wet Bars - Are they 'out'? | | |
I would LOVE to have a wet bar in our family room...alas...no plumbing close enough to make it practical.
---
| | | |
| --- | --- | --- |
| RE: Wet Bars - Are they 'out'? | | |
Some, if not all, of the "wet bars" pictured above that are actually butler's pantries. Wet bars do not usually have dishwashers (although they should!)

Agree that certain types and placements of wet bars are passe, but that well designed centers for beverage service are not. Think coffee bars (I have a friend who has one), places where teens gather to drink seemingly gallons of soda, etc. I would want a separate ice maker, coffeemaker, and wine fridge. We had all that in our last house in the finished basement in addition to a full kitchen and it was heaven!
---
| | | |
| --- | --- | --- |
| RE: Wet Bars - Are they 'out'? | | |
Sounds like you have the perfect location for a wet bar.

I don't see how a useful sink in a good location can be "out of style".

Perhaps the realtor was picturing one of those "out" pictures that LWO posted.
---
| | | |
| --- | --- | --- |
| RE: Wet Bars - Are they 'out'? | | |
Here's one that's IN. (Sorry, just dreaming about tropical paradise on this dreary, rainy winter's day.)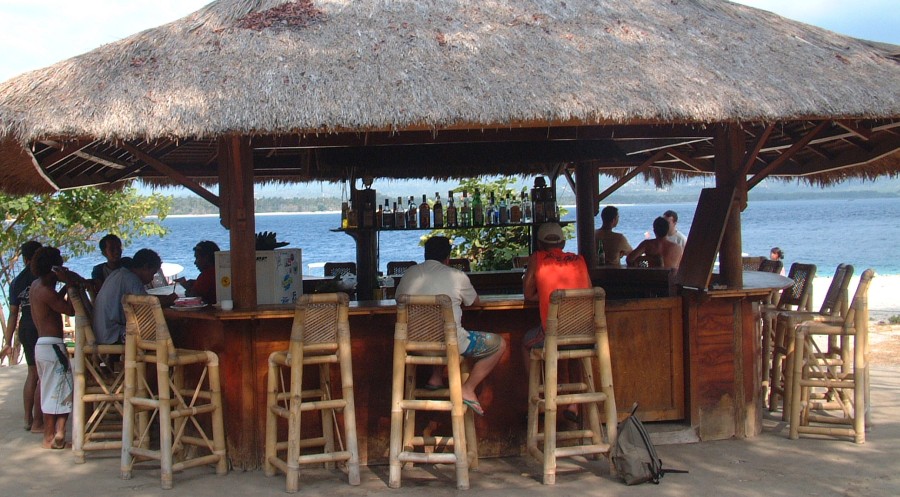 ---
| | | |
| --- | --- | --- |
| RE: Wet Bars - Are they 'out'? | | |
auntjen - I LOVE your dream wetbar!

Seriously - we are considering adding a wet bar adjacent to our kitchen in a "nook" area. We have an over 100 year old home, so no open floor plan. We do have a large kitchen & everyone gathers in the kitchen! My plan is to add about 9 feet of cabinet space, top & bottom, a small sink & a small frig. This will give a place to store - whatever! Beer, soda etc can go in the small frig, we can use this as a coffee/beverage station & also use the surface as a buffet. My vision is close to the #3 "IN" that livewire showed above.
---
| | | |
| --- | --- | --- |
| RE: Wet Bars - Are they 'out'? | | |
Live-w-o,
Can I ask why you have access to so many pictures of bad bars? Have you changed houses frequently and left behind a trail of wonderfully updated bars?

I think it's a great idea to have wet bar near a deck door so that it keeps people from traipsing through the house. As someone else mentioned, the sink can also be filled with ice and used like a beer bucket.

What about including a really cool sink?(Sorry, I don't know how to post a photo from a website and I couldn't find any instructions when I searched.)
cool sink

I thought Kohler used to have a similar sink but I didn't see it on their website. Of course, specialty things like those jack up the price of your project.

Aunt Jen's idea is also appealing but you really need a lot of space to pull that one off.
---
| | | |
| --- | --- | --- |
| RE: Wet Bars - Are they 'out'? | | |
I can see why your realtor would say a "wet bar" is "out". No doubt she has seen many goofy versions of wet bars (which for some reason brought out a lot of particularly creative/whacko decor ideas from people with no talent).

When we bought our house we chuckled at the prevalence of wet bars. One for the DR, one in the office, and one by the pool. The PO were a childless older couple who entertained a lot and seemed to need to always be within arms length of a martini. We kept only the poolside one.

I do not think tons of people feel "ooh, I really need a wet bar!". But I also think almost any feature can be done tastefully --- if you really feel you need more than a wine fridge. The popularity of wine over mixed drinks has made wet bars seem quaint.
---
| | | |
| --- | --- | --- |
| RE: Wet Bars - Are they 'out'? | | |
Notice how Jen's dream bar only has men present! ;-)
---
| | | |
| --- | --- | --- |
| RE: Wet Bars - Are they 'out'? | | |
Here's mine, which is between the kitchen and family room, adjacent to the nook. My kitchen doesn't have much counter space, so it does double duty as a coffee bar. If they're "out", I must hang around with the wrong people. Everyone who sees it wants one of their own!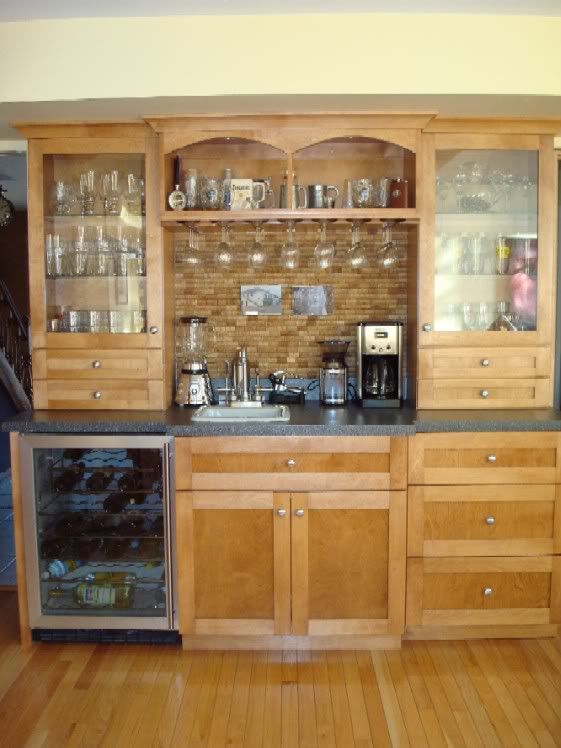 ---
| | | |
| --- | --- | --- |
| RE: Wet Bars - Are they 'out'? | | |
The popularity of wine over mixed drinks has made wet bars seem quaint.
Among whom??? The hipster places that have opened all over Manhattan are cocktail bars, not wine bars. Craft cocktails are now a very big business, with homemade grenadine and boutique bitters and obscure aperitif mixers and organic spirits. Recipe books for classic and innovative cocktails are exploding in sales. I think a home with a wine fridge but no wet bar is dated.
---
| | | |
| --- | --- | --- |
| RE: Wet Bars - Are they 'out'? | | |
I am removing 2 extraneous sinks in my house: the wet bar in the basement, and the vanity outside my MBA. They are just taking up valuable space, so in their places, I will put shelving and closet doors. The basement will have a game closet and the MBR will have an extra closet that I will use for general storage, but it we ever re-sell, we can say "his-and-hers closets."

I will be so happy for fewer things to clean. We have 4 toilets and 7 sinks in the house. Ugh.
---
| | | |
| --- | --- | --- |
| RE: Wet Bars - Are they 'out'? | | |
Notice how Jen's dream bar only has men present! ;-)
And several young surfer dudes at that. Hey. I'm no dummy.

---
| | | |
| --- | --- | --- |
| RE: Wet Bars - Are they 'out'? | | |
Wine consumption has been growing for something like the last two decades (we now drink more than the French -- though of course not per capita). Unless we are all just turning into lushes, I think that means cocktails declined over that period. Or did it displace beer? Or diet coke.

Artisanal cocktails, and the MCM resurgence of the martini, have shaken things up a bit : )

But my restaurant industry friends tell me wine is still in growth mode, and that is still what i see socially. People entertaining at home spend a lot of time and effort, and money on wine, whereas cocktails are relegated to summer.

Of course take all this with a grain of martini salt --- we were the ones who ripped out the wet bars ... my favorite drink is Aqua Panna.
---
| | | |
| --- | --- | --- |
| RE:re re re Wet Bars - Are they 'out'? | | |
drat,

correction

Margarita salt
---
| | | |
| --- | --- | --- |
| RE: Wet Bars - Are they 'out'? | | |
We have a dry bar in the dining room and I don't miss the sink but it's literally 2 steps from the kitchen. There are 2 sinks in the kitchen and I couldn't justify another sink in the dining room. I don't regret it at all and appreciate the extra counter space to set out food and drinks.

We do have a wet bar in the basement but we haven't used it yet since here's no furniture down there. So it bascially depends on location and function.
---
| | | |
| --- | --- | --- |
| RE: Wet Bars - Are they 'out'? | | |
I hope wet bars are not "out". We have been working with a cabinet maker to have one installed in our lower level family room. It will have a sink, dishwasher, microwave and yes.... a wine fridge.We also have a full sized fridge in storeroom that will be behind the wet bar. We use our lower level for entertaining and as well as accommodating overnight guests. I hate hauling things up and down stairs when we entertain. I also think it will be able to serve do duty as a breakfast bar when we have overnight guests who want a cup of coffee as soon as they get out of bed.
---
| | | |
| --- | --- | --- |
| RE: Wet Bars - Are they 'out'? | | |
Would love a wet bar. Heck, I'd take even those really retro verions posted above.
---
| | | |
| --- | --- | --- |
| RE: Wet Bars - Are they 'out'? | | |
I like that first wet bar LWO posted, out though it most certainly is. But Woodsy's coffee bar, now THAT I would actually USE. Nicely done, W!
---
| | | |
| --- | --- | --- |
| RE: Wet Bars - Are they 'out'? | | |
Spirits consumption has been rising, not falling, driven by premium brands and the cocktail culture. The growth in wine has been driven by very rapid growth in boxed wine.

What I find curious about most wet bars is that you can't actually find space to mix a drink on them. They're often in a cubby, and the sink takes up most of the real estate. It's like an extension of bad kitchen layout design. If you're putting something in, make it useful.
---
| | | |
| --- | --- | --- |
| RE: Wet Bars - Are they 'out'? | | |
I think this question is dependent on "your" lifestyle.

We always welcome guests with a cocktail first and then a choice of wine or beer. I was a bartender in my younger years and my DH is quite creative with cocktails (even though he never tended a bar in his life).

I always wish I had an area just for beverages when I entertain. A tastefully done wet bar gets my vote.
---
| | | |
| --- | --- | --- |
| RE: Wet Bars - Are they 'out'? | | |
yes, i think if you have enough space, the addition of a sink could be helpful...
our wetbar was in a space like marcola describes... a ~ 12"(?) sink within a 36-40" cabinet...sink too small to be of much use and counter space too minimal to be useful-in those small confines, i would have much prefered to have just counter! but, if i had 2-3x's as much space dedicated to it, an extra sink might be worth it...
---
| | | |
| --- | --- | --- |
| RE: Wet Bars - Are they 'out'? | | |
We don't drink but we love our wet bar...it is tucked into the back of the family room - beautiful cabinets and drawers below (great storage) and glass and wood cabinets above that fits all of our stemmed glasses. When we bought the house, we talked about having it removed - instead we bought a black granite sink, new granite counter and new faucet. We love it!
---
| | | |
| --- | --- | --- |
| RE: Wet Bars - Are they 'out'? | | |
We put a wet bar under the stairs in our basement family room. The only other sink in the basement is in the bathroom, so having this one is very useful.

I haven't taken any new house photos in a long time, so this shows how it looked a few years ago. We've upgraded to a stainless steel bar fridge and changed the decor.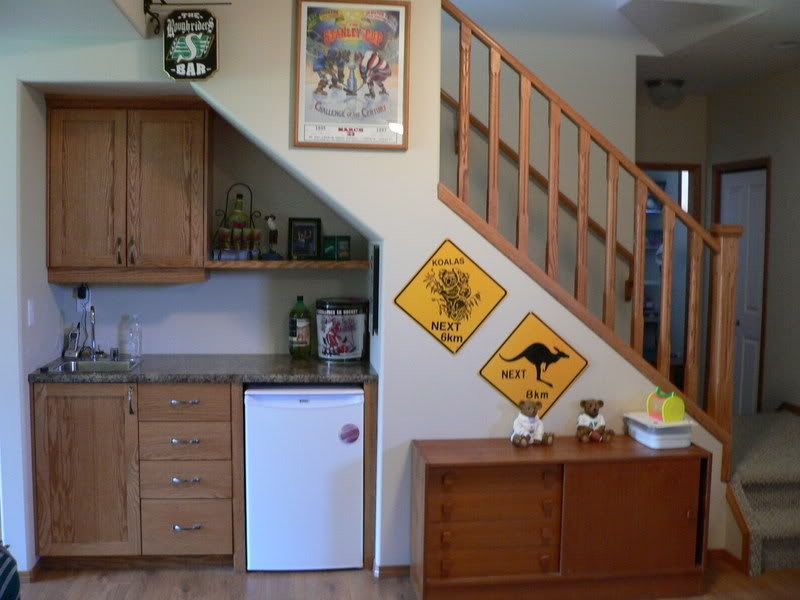 Carrie
---
| | | |
| --- | --- | --- |
| RE: Wet Bars - Are they 'out'? | | |
In re wine consumption's popularity

Forbes, May 2011
"It doesn�t matter whose numbers you look at, wine has and will continue to grow in the U.S. ... American wine-consumption recorded its 17th consecutive annual increase and domestic consumers spent more than $40 billion on wine last year, another all-time high.

In addition, Nielsen research presented in April 2011 indicates that wine was the number one product in unit growth at mass market outlets for the 52 weeks ending January 22, 2011.

The bottom line: Long an ancillary beverage behind beer and spirits, the U.S. is becoming, first and foremost, a wine consuming country."

But as it relates back to the OP, i reiterate
I can see why your realtor would say a "wet bar" is "out". No doubt she has seen many goofy versions of wet bars.

When we bought our house we chuckled at the prevalence of wet bars. I think 3 wetbars is excessive in anyone's book!

I do not think tons of people feel "ooh, I really need a wet bar!". But I also think almost any feature can be done tastefully --- if you really feel you need more than a wine fridge.

One last thought --- typically one thinks of a wet bar as outside of a kitchen (with basements being most popular in the past). When it is part of a kitchen, great room, people tend to call it a beverage center. That puts a very different spin on it.
---
| | | |
| --- | --- | --- |
| RE: Wet Bars - Are they 'out'? | | |
My last house we had a wet bar. It was in the FR as a part of the entertainment center. TV in the middle, book cases and place for tv equipment on one side, the other side was a wet bar with a wine rack above.

In 11 years we never once used it!

I have an empty wall in my new homes kitchen, since I'm on a slab I can't add a sink, but I am thinking about putting in a dry bar, with a small wine fridge, but above I would like it to hold glasses, but also an area for my cookbooks, message center, etc. I would also like to use the area as a desk for my laptop.
I haven't figured out how this would all work, but I want a dual usage space. I don't entertain alot so it's not worth putting just a dry bar in.
Any suggestions on how to lay something like this out?
---
| | | |
| --- | --- | --- |
| RE: re Wet Bars - Are they 'out'? | | |
Jeanie,

Your question is a bit wide open, but I will comment on one element.

I am not sure when they started putting desks in kitchens, but in my experience no one ever sits at them and they are junk collectors.

Why? First, they are usually too small (who has so much extra space in a kitchen that the can add in a true desk function?).

Second, you are usually sitting looking at a wall. Who wants to spend time there?

There are exceptions of course but I think people once put them in because they seemed like a good idea, and now most have concurred that we really need a true office.
---
| | | |
| --- | --- | --- |
| RE: Wet Bars - Are they 'out'? | | |
Oooh...I do like the idea of calling it a beverage center instead. Same idea, but a better name for what we would use it for. Thanks!
---
| | | |
| --- | --- | --- |
| RE: Wet Bars - Are they 'out'? | | |
Jeannie01: I agree with Mtnredux about kitchen desks. We had one put in when we built this house. Just as M said: clutter magnet and looking at a facing a wall made it something I quickly stopped using and came to dislike. When we redid our kitchen a few years ago, the first thing I eliminated was the desk.
I now have a kind of multi-purpose cabinet space. Above, with glass doors and shelves, is my cab that holds my good glasses, wine bucket, crystal pitchers, etc. Nice for display AND use. The counter is the place to mix drinks and is very handy when we entertain. A dry beverage center, so to speak. The good bar glasses are above. The mixing tools, cocktail napkins, etc. are in the shallow drawer below. The cab below that has heavy-duty slide out shelves and holds our liquor. The cab next to it holds many of my serving pieces but could easily house a small wine fridge or my cookbooks. The upper cab on the right could have had a solid door to house cookbooks there instead, if I didn't already have another place for them. The upper cab could be hung higher in your case, to better use the counter area. I have a large storage area with a flush door that blends into the cream colored walls above mine, which kept our upper cab at this height. Here's a pic of it.
Lynn

---
| | | |
| --- | --- | --- |
| RE: Wet Bars - Are they 'out'? | | |
Count me as one who does not care for desks in the kitchen. I had one in my previous home, and I never once sat there. It looked pretty snazzy with the shelves for cookbooks and cubby holes for organizing paperwork, but it was primarily just a dust collector that wasn't used for its intended purpose.
---
| | | |
| --- | --- | --- |
| RE: Wet Bars - Are they 'out'? | | |
We went to the 2011 Southern Living Idea House and it had a beautiful wet bar. It was complete with a sink, ice maker and fridge. The living area was a little ways from the kitchen and this wet bar was kind of tucked in an out-of-way spot off the living area, so it wasn't really noticeable when first walking into the room. When you go around the counter, there is a step-down so it is actually sunken.



Here is a link that might be useful: Southern Living Idea House Bar
---
| | | |
| --- | --- | --- |
| RE: Wet Bars - Are they 'out'? | | |
Pardon my inability to stay out of this conversation...

"The growth in wine has been driven by very rapid growth in boxed wine."

That might be one element. A large part of the growth has been driven by younger generations drinking wine.... younger. Wine is more acceptable and normal to drink at younger ages. (There are stats to back this up.) Other factors include the thought that wine is healthy as well as growing availability of wine at all price points.

Wine consumption and spirits consumption have both grown for many years running. As far as I can tell, wine now outsells spirits annually and definitely outpaces it in growth. The majority of people (I think 57%) drink wine.... (this percentage has grown over the years.)

So, there is truth that wine is more popular now. However, it is not a result of decline in spirits; many people drink spirits & beer still.

Conclusion: there are plenty of lushes out there of all types who might enjoy a beverage/wine station or wet bar. ;) Cheers!
---
| | | |
| --- | --- | --- |
| RE: Wet Bars - Are they 'out'? | | |
I live in a neighborhood that has many houses with wet bars. I don't know anyone who uses them. They are just a waste of space in these homes.

But they do make sense if well planned out and not close to the kitchen like on another floor.
---
| | | |
| --- | --- | --- |
| RE: Wet Bars - Are they 'out'? | | |
I think it would be helpful to define "wet bar". If you mean an actual bar where one person is on one side making drinks and people sit on stools on the other side, then yea, I think they are kind of out, but I still love the idea of one outside by a pool. Plus I am sure that men still want them in their man caves.

But if you mean a designated drink area like the pics of good examples we have seen here... then no, I don't think they are out at all. When remodeled our kitchen 4 years ago, I actually eliminated eating space in the kitchen in order to accommodate...

1. A wet bar/drink area. We have a sink there but I wasn't willing to sacrifice a bank of drawers for a fridge. We don't use it every day but I have never regretted this. We entertain a lot and it has been wonderful.

2. A message center. This is essentially a desk with no seating! I love this, too. Yes, it is a junk magnet but in every house the junk has to go SOMEWHERE, and now it is easy to keep organized and accessible.

So basically these are two dated concepts - the wet bar and the kitchen desk - that we just reconfigure a little to fit contemporary needs.

Nicole
---
| | | |
| --- | --- | --- |
| RE: Wet Bars - Are they 'out'? | | |
Actually wine long outsold spirits--I'm not sure where the notion comes from that wine is suddenly outpacing spirits but that's made up. You are correct that both wine and spirits are increasing in popularity. Boxed wines are growing by double digits a year. Remember that wine is much cheaper than spirits in general, because spirits are very heavily taxed.

I think it's wise to consider a "beverage center" to be multi-purpose over time. It can be a way to get the kids out of your way in the kitchen, or a good place to serve wine, or a convenient place to mix a drink. It's certainly possible to make one space do all of those tasks, depending on who lives there. But it has to work. You need room for storage, room for mixing or setting out glasses, refrigeration and ideally a DW.

In that vein, I can't help but be struck by the fact that some of the bars shown upthread share the same fault as a lot of bad kitchen islands--all the seating is on one side, with no easy way to converse. In a home, you're not sitting there next to strangers sort of feeling out whether it's OK to strike up a conversation. And you're not facing a professional bartender who is standing there all the time ready to make your manhattan or listen to you complain about the game. You're just looking at a wall. When people put a real bar in a home, they should configure it so it actually works for their own space, not blindly copy a commercial space with very different requirements.
---
| | | |
| --- | --- | --- |
| RE: Wet Bars - Are they 'out'? | | |
Add in that you can get a really good bottle of wine at Trader Joes for like 6 bucks, and it makes total sense. I can now keep a pretty good stash of wine without breaking the bank! Love Trader Joes.
---
| | | |
| --- | --- | --- |
| RE: Wet Bars - Are they 'out'? | | |
Carriem, I really like how you used that unused space.

And go green :)
---
| | | |
| --- | --- | --- |
| RE: Wet Bars - Are they 'out'? | | |
The largest retailer of fine wine in the world is Costco.
---
| | | |
| --- | --- | --- |
| RE: Wet Bars - Are they 'out'? | | |
jill, what are your favorite wines from TJ's?? i don't have a TJ too close, but have occasionally driven over to one--bought like $3 white wine that i used for cooking(can't remember what it was...) but that's all i've tried so far...
---
| | | |
| --- | --- | --- |
| RE: Wet Bars - Are they 'out'? | | |
I wouldn't say their out, but we have one in the house we just bought. We use the wine fridge and the beverage fridge but haven't used the sink yet at all! But, I could see how it could potentially be used. Ours has a garbage disposal too!

The only think I'd change on mine is our beverage fridge is a combo ice maker/fridge. I'd like to have a little more room in the fridge if the ice maker was separate, so if you have the room, get a separate ice maker, wine fridge and beverage fridge. We keep beer and pop in the beverage one, and if it was bigger, it would be nice to keep water and other beverages in there too.
---
| | | |
| --- | --- | --- |
| RE: Wet Bars - Are they 'out'? | | |
busybee - I don't remember exact names, but here's what I do. I love red wine, not fruity, but full body. A guy at a wine store told us a long time ago to just look for anything from the Paso Robles region. My Trader Joe's has a lot of wines from that region (it always says it on the front label) and I just buy whatever label looks good to me :-) How's that for scientific selection of wine!? But, really, it hasn't failed me yet. Everything I've tried from that region has been really good.
---
| | | |
| --- | --- | --- |
| RE: Wet Bars - Are they 'out'? | | |
MTN and LYNN - That's why I want it to be dual purpose, I don't want the look of a desk. But, I do need somewhere to sit and use my laptop or write out checks. I currently use my island and I hate that. I agree w/staring into a wall, but since I've downsized I really dont have anywhere in my house that I can look out and see anything worth looking at.
I thought the top could even have a wine glass holder, wine bottle holder then on the other size open shelves for cookbooks. I forgot when I designed my kitchen to put a bookshelf on the end of my island. DAH
THe space is only about 4 1/2 feet long, one end has a 2 1/2 foot corner-wall which would give me alittle more counter space for mixing drinks and it would have to be fairly narrow so it's not in the path of my window seat or my island.
Maybe I could get the doors on the bottom to slide back into the cabinet, like some entertainment centers have, that way I would have room for a stool and my legs and no one would know that I can sit at it...
Gez, why did I down size - my last house had a nice big office!!
---
| | | |
| --- | --- | --- |
| RE: Wet Bars - Are they 'out'? | | |
Jeannie,
Of course you know your space, your options and your constraints. It may in fact be a good choice for you. I was just popping in with my strongly held view, but of course is some circumstance it makes sense.

I had to think of this conversation last night when i was at a cooking club dinner with a Latin theme and we had caipirinhas. And wine. And sangria. hmm Wonder how they capped off the plumbing when we ripped out those wetbars ...
---
| | | |
| --- | --- | --- |
| RE: Wet Bars - Are they 'out'? | | |
Never thought I'd have a bar in my house - ripped out the one in this house (the bar was 14 feet long and would have doubled as a hurricane shelter!!) then guess what? We built a new bar when we remodeled! We just decided that the old one had been too useful. The new one has a sink with hot and cold water, a wine/beer/beverage refrigerator, an ice maker, a coffee machine, plenty of storage for glasses, cups etc and bottles and cans. There is plenty of counter space for mixing drinks and for bar stools.
It is interesting to see how it is used. The guys hang out there when we have a party. The girls do too sometimes if the guys don't nab it first! My nephews used to like to sit there to do their homework. The bar is in the corner of a very large family room but easily accessible from the pool deck and as we live outside most of the year it is great for kids and adults to grab their beverage of choice. It really frees up my kitchen when we have a lot of guests and I am trying to prepare food. I put nibbles out there too. I don't care one bit if wet bars are in or out, we like ours and so do our guests!
---
| | | |
| --- | --- | --- |
| RE: Wet Bars - Are they 'out'? | | |
I agree, Sis. "In" or "Out" is really not the best term to use. If it works for you, it's the right option. I just like to see them looking more in step with the rest of the room instead of a dated, smaller version of a "Cheers" bar. The bottom line is that yours works wonderfully for you and that's what counts.
Lynn
---
| | | |
| --- | --- | --- |
| RE: Wet Bars - Are they 'out'? | | |
I know I am late to the party but wanted to respond to the original poster. We are also in NJ & our wet bar set-up is similar to what you are considering. It is in the kitchen near the family room & next to the sliders that will eventually lead to our deck.
I absolutely love the space--the sink comes in handy & was used as a beverage holder all through the holidays. The space for glasses is nice & the having a refrigerator to keep the beer & wine in really clears up space in the regular refrigerator.

I am attaching 2 pics-- the second is from when we first moved in but shows it's location near sliders/family room.
GL with your decision.
---
| | | |
| --- | --- | --- |
| RE: Wet Bars - Are they 'out'? | | |
as has been said, passe style can be bad when it comes to selling, but in my opinion
no house can ever have too much plumbing even if it's just quietly waiting behind a wall for someday.
i have a wet bar in my big room. (it's not great, but it is big,lol.) the overall design is yuk, but the service we get from it rocks. when i remodel again it's being replaced with something a bit more stylin!.

however i'm about to build a wet bar in my bdrm for coffee and tea and can't wait to use it.
i'll def be adding an under counter fridge and an ice maker, since it's far away from the main ktichen in the house.

btw, i'm able to add the wet bar finally because when we built this addition fifteen years ago i made sure i had as much versatility as i could.
i also have laundry hookups in the closet behind it so we can add a washer finally.
and with the plumbing built in already, if i need to turn this entire third floor addition into an apartment, i can.
---
| | | |
| --- | --- | --- |
| RE: Wet Bars - Are they 'out'? | | |
I am planning to put in a sink in what I am referring to as my beverage center. It will be handy to have water for my coffee pot, so a sink will be included.
---
| | | |
| --- | --- | --- |
| RE: Wet Bars - Are they 'out'? no | | |
I guess what I am trying to say is that wet bars can be more versatile these days. Coffee, smoothies, cocktails, etc. whatever your vice, a sink is handy.
---
| | | |
| --- | --- | --- |
| RE: Wet Bars - Are they 'out'? | | |
Carrie and Crescent, love your wet bars!
---
| | | |
| --- | --- | --- |
| RE: Wet Bars - Are they 'out'? | | |
A year and a half later from the original post, I'm just reading it now. We are considering adding wet bar to our lower level family room. It would be on the small side with a sink and drinks refrigerator, plus storage for glassware. It would be about the size of #4 in Live Wire Oak's posting, just the part that you see face on, not the ell to the side. Similar style, too, though we had quartersawn oak in mind, and are considering a soapstone counter and sink to add to the Arts and Crafts ambience. We rarely drink mixed drinks and usually serve just beer, wine, and soda at parties. Our parties take place on the patio off the lower level. It is a steep hillside property. With the kitchen on the main (upper) level, that means traipsing up and down the stairs dozens of times during a party, very wearisome! This seems like such a practical solution to us.

Rosefolly
---
| | | |
| --- | --- | --- |
| RE: Wet Bars - Are they 'out'? | | |
I love the look of a vintage buffet with glass shelves hanging above. A small bar sink could be installed and the fridge kept close by. A vintage secretary used as a bar is also a great idea. It would be kept open to accommodate bottles of liquor, etc. What's nice about this idea is the top part could hold glasses, stirs, and other bare ware.
---
| | | |
| --- | --- | --- |
| RE: Wet Bars - Are they 'out'? | | |
Aunt Jen...Reminds me of a picture I took in Cozumel years ago. The guy on the end, I think, is my husband. I can't remember. lol I thought the men all looked so cute and content. I named the photo Happy Hour. :)

As for the wet bar...we had one in a previous home that we never used. it was in our family room. If I had one in or near the kitchen, we probably would have used it more.
---
| | | |
| --- | --- | --- |
| RE: Wet Bars - Are they 'out'? | | |
That is a cute pic, newhomebuilder!

In my neighborhood, which is all new custom homes...wet bars are found in basements and outdoor entertaining areas. And they are absolutely awesome for entertaining! We don't have a basement, but I would love to find out how ridiculously expensive it might be to add one to our terrace...really wish we had thought of it when building! :) I haven't seen too many on the kitchen level of homes, a lot of people do fill prep sinks with ice as an extra cooler.
---
| | | |
| --- | --- | --- |
| RE: Wet Bars - Are they 'out'? | | |
I remember in Cancun the "swim-up bar" in the pool. I wouldn't mind a wet bar, it would keep people out of the kitchen, rinsing glasses, dumping ice, etc., when I'm trying to get dinner for 25 ready on Christmas Eve or clean up afterwards. And, when we remodel the kitchen, we can add a micro and hotplate and use it as our temp kitchen.
---
| | | |
| --- | --- | --- |
| RE: Wet Bars - Are they 'out'? | | |
No wet bar, but I have a small butlers pantry between the dining room/kitchen, with a double cabinet above and below, as well as a granite counter space. I'm thinking of taking the doors off the upper cabs, painting the interior back black, and removing the current wood shelves and putting in glass shelves. I would also add some sort of light to the interior top, to shine down thru the glass. There is a recessed light in the middle of the pantry, but something not so glaring would be adequate. It's where I keep the liquor/bar ware/glasses already, it would just look a little nicer.
---
| | | |
| --- | --- | --- |
| RE: Wet Bars - Are they 'out'? | | |
I'm hoping to find a 70s home to redo into a bit of a cottage look...but if the basement had one of those 'dated' bars...that would be fantastic! My husband would love something like that :)
---
| | | |
| --- | --- | --- |
| RE: Wet Bars - Are they 'out'? | | |
We have a wet bar in our patio, we use it all the time - out of style or not this is functional for us. We use it to store beer, mixed drink supplies, and bar ware. It has a small fridge to cool drinks. The sink is to the side and it bar top works perfectly for a summer buffet. We have close friends that built one after we had ours a couple of years. When looking for a new house in a couple of months this would be a plus, if there is not one we will want to have one built.

I personally like the bar on the outside in the patio, rather than inside the home but then again we have mild weather.
---
| | | |
| --- | --- | --- |
| RE: Wet Bars - Are they 'out'? | | |
Heck no, not in our house. We're always mixing something up and having a crowd to watch football or basketball or something. I love a bar.
---
| | | |
| --- | --- | --- |
| RE: Wet Bars - Are they 'out'? | | |
| | | |
| --- | --- | --- |
| RE: Wet Bars - Are they 'out'? | | |
pps7 what a great room! Must be a walk-out basement with lighting like that?
---
| | | |
| --- | --- | --- |
| RE: Wet Bars - Are they 'out'? | | |
Lovely job in that basement renovation, pp7!

And there is nothing very wrong with being within an arms length of a martini:-)
---
| | | |
| --- | --- | --- |
| RE: Wet Bars - Are they 'out'? | | |
Flowerpwr, it's a look out basement with very big windows. We opted not to do a walkout bc we wanted our yard to be level with the main floor.

P.s. Stained concrete floors are the best! Very user friendly!
---
| | | |
| --- | --- | --- |
| RE: Wet Bars - Are they 'out'? | | |
Wow! What a popular topic. We are in the process of adding a backbar with a sink and fridge to our lower level because we're sick of getting up from watching a movie in the media room to go upstairs for a drink or snack. We are not putting in a counter and stools however. Reading what people have said here confirms our decision. Now I just need to find people who can recommend sinks. :)
---
| | | |
| --- | --- | --- |
| RE: Wet Bars - Are they 'out'? | | |
Our current house has a smaller kitchen and less counter space than our previous house. So, the wet bar doubles as a coffee bar since my husband is a coffee aficionado who roasts and grinds coffee. Without this space, he'd have used up valuable counter space.
This post was edited by nutsaboutplants on Thu, Jan 22, 15 at 21:00
---
| | | |
| --- | --- | --- |
| RE: Wet Bars - Are they 'out'? | | |
DD/DH had a bar in the family room of their 20 year old home, and had it taken out a few years ago. They never used it, but if you feel it will be functional, why not have one? Who cares whether it's in/out.
---
Post a Follow-Up
Please Note: Only registered members are able to post messages to this forum.
If you are a member, please log in.
If you aren't yet a member, join now!
---
Return to the Home Decorating Forum
Information about Posting
You must be logged in to post a message. Once you are logged in, a posting window will appear at the bottom of the messages. If you are not a member, please register for an account.
Please review our Rules of Play before posting.
Posting is a two-step process. Once you have composed your message, you will be taken to the preview page. You will then have a chance to review your post, make changes and upload photos.
After posting your message, you may need to refresh the forum page in order to see it.
Before posting copyrighted material, please read about Copyright and Fair Use.
We have a strict no-advertising policy!
If you would like to practice posting or uploading photos, please visit our Test forum.
If you need assistance, please Contact Us and we will be happy to help.

Learn more about in-text links on this page here