Return to the Home Decorating Forum
|
Post a Follow-Up
---
| | | |
| --- | --- | --- |
| Kitchen Countertops for Island | | |
Posted by
bristlingacres
(
My Page
) on
Wed, Jan 9, 08 at 7:52
Dh is currently working on revamping our multi-level kitchen island and making it one level with seating.

I'm at a loss as to what color the countertop should be. I'm either thinking of gray (as in slate-type with slate tile backsplash) or brown. The cabinets are natural maple and currently they read YELLOW to me. Most of the kitchens I've seen with my cabinet style and color are modern but I'm not a super modern sort of person.

I'm thinking of going with a solid surface countertop (I think granite is too expensive) and we will with in a year replace the other kitchen countertops (either with laminate or solid surface).

Like I said, the kitchen cabinets are natural maple (they have to stay), the wall color is SW Latte (I'm thinking of changing this...maybe to a rust color?), the hardware can change but the tile flooring and appliances have to stay.
Before kitchen was painted Latte:

The room currently is open to the LR which is painted SW Svelte Sage. Dh and I are giving heavy consideration to making a partial wall between the DR and LR.
Thanks for any input!
Astrid
---
Follow-Up Postings:
| | | |
| --- | --- | --- |
| RE: Kitchen Countertops for Island | | |
I'd go dark and then accent with reds and golds to flow into your LR with that new beautiful rug! Maybe consider doing all the counters at one time in laminate that looks sort of granite like? Rather than having a solid surface island and then laminate counters?
---
| | | |
| --- | --- | --- |
| RE: Kitchen Countertops for Island | | |
I should have mentioned that I don't want single solid color countertops- like what I have now. I'd like something that is neutral, goes with everything, timeless- not something I'm aching to replace in a few years (like this odd colored blue-green countertop).

I have some ideas on hardware too.
Here is a link that might be useful: Just an idea for hardware
---
| | | |
| --- | --- | --- |
| Would it help... | | |
Would it help if I posted some of my ideas for kitchen countertops? I just don't know if I'm heading in the wrong direction. I only have samples of laminate countertops.

Would it help to also post a pic of how the kitchen island will sort of look like? I don't have a photo of exactly what we're hoping to achieve.
Astrid
---
| | | |
| --- | --- | --- |
| RE: Kitchen Countertops for Island | | |
It might help to post what you are considering, it will gives us some idea for colors, etc. Are you interested in quartz or corian type? Some of the quartz are beautiful! Lots can go with the maple.
---
| | | |
| --- | --- | --- |
| RE: Kitchen Countertops for Island | | |
If you are considering quartz, solid surface (or granite), you may want to keep in mind the setup fee involved. It is flat fee to setup the machines for cutting, sanding, etc. We priced a 6' length of quartz countertop for our laundry room to match what we have in the kitchen. The setup fee was almost as much as the countertop material. (We went with laminate.) If you do the island now and the rest of the counters later, you'll end up paying more in the long run. I'm not sure if there are setup fees with laminate or not. Granite may not be as expensive as you think -- it depends on the color you choose.

In terms of color, I would suggest either a black or brown. Both would be neutral and go nicely with the cabinets. I think rust color paint with black counters would be beautiful.
---
| | | |
| --- | --- | --- |
| RE: Kitchen Countertops for Island | | |
Yes, please post pictures of colors you like so we can get a feel for what you want. :) You may want to price out the quartz to give you a loose estimate for the future. If you are going to put granite on the island now and attempt to put it on the counters in the future, beware that you will not have it from the same slab and the color and movement will vary. So if you are going to do solid surface I'd do quartz over granite for that reason alone. That being said we have granite and I would do it all over again and not look back. Our island was done the same time as the counters though.
I like the hardware! :)
---
| | | |
| --- | --- | --- |
| RE: Kitchen Countertops for Island | | |
Don't count out granite based on price. Shop around and you'll find that many of the solid countertops are in the same price range of granite.

summie makes a good point about later matching color and movement but in addition to that, remember that not all granite has movement. Many granite patterns are nearly solid and matching it later isn't as difficult.

Also, try to find some fabricators and ask them about 'leftovers'. They often have slabs they've torn out of kitchens they're redoing and resell them at a deep discount.

You don't have to have the same material on both counter surfaces. DSis has a granite slab on her island, but her other counter tops are done in tile. A friend of mine did the same.
---
| | | |
| --- | --- | --- |
| RE: Kitchen Countertops for Island | | |
I recently bought a slab of Carrara marble as a remnant, was 68 x 48 inches wide and it was $64 but they were about to put everything on half-price so I got it for $32 and the charged me $100 to "custom-size/seal" to the size I wanted for a piece of furniture. Total cost including tax $148. I had it cut to fit my sideboard.
---
| | | |
| --- | --- | --- |
| RE: Kitchen Countertops for Island | | |
Most of the kitchens I've seen and liked actually don't have matching countertops for the island and kitchen. I would like to make sure they go together even if I'm unable to do both at the same time. I will check into prices but I seriously doubt that I'll be able to do granite countertops for the kitchen.

I'll post pics later (once dds are napping).
Astrid
---
| | | |
| --- | --- | --- |
| RE: Kitchen Countertops for Island | | |
First of all, I really, really like your cabinets: I think they have a clean and modern look. And I also like your choice of hardware. Word of advice: change out the hardware asap: when we went to change out our hardware, it was difficult, because underneath the old hardware, the cabinets were lighter-colored, not having been exposed to light. I had a devil of a time finding hardware that would cover those lighter areas--and was not fully successful, I might add.

As for the countertop: I like the idea of a grey countertop: have you considered limestone? There are so many choices today: laminate is actually pretty cool, I think. And the price of granite, etc., differs--so shop around, like everybody said. Personally, I'm getting a little tired of the granite craze--so something a little different would be more interesting, I think.

Can't wait to see the photos!!!
---
| | | |
| --- | --- | --- |
| RE: Kitchen Countertops for Island | | |
Doesn't limestone etch? I have enough trouble keeping stains and spills off the countertops as it is (and it'll probably get worse once my daughters start to help me cook!).

I like the look of granite but I also like the look of slate.
Here is a link that might be useful: antique topaz laminate
---
| | | |
| --- | --- | --- |
| RE: Kitchen Countertops for Island | | |
Nice laminate! And would go beautifully with your cabinets!
---
| | | |
| --- | --- | --- |
| RE: Kitchen Countertops for Island | | |
I was also thinking browns. It would go nicely with the flooring and the wood. It would also work well with the sage from the family room. (less work, less work, less work). Home Depot has their own counter tops they call Silestone. Its made of quartz instead of granite. Its beautiful and comes in an array of colors. I can't remember how to post a picture, but you can google, Baltic Brown Silestone or Brazilian Brown Silestone.
---
| | | |
| --- | --- | --- |
| more countertop ideas | | |
I've got several more countertop ideas but how do I put them all in one post? The boxes below only seem to allow for one URL link.

I've got oiled soapstone from Wilsonart. From Formica I have Noir Envision, Butterum Granite and Smoke Quartstone- all of which are matte finish laminates.

The island will be a cross between these two islands (straight legs):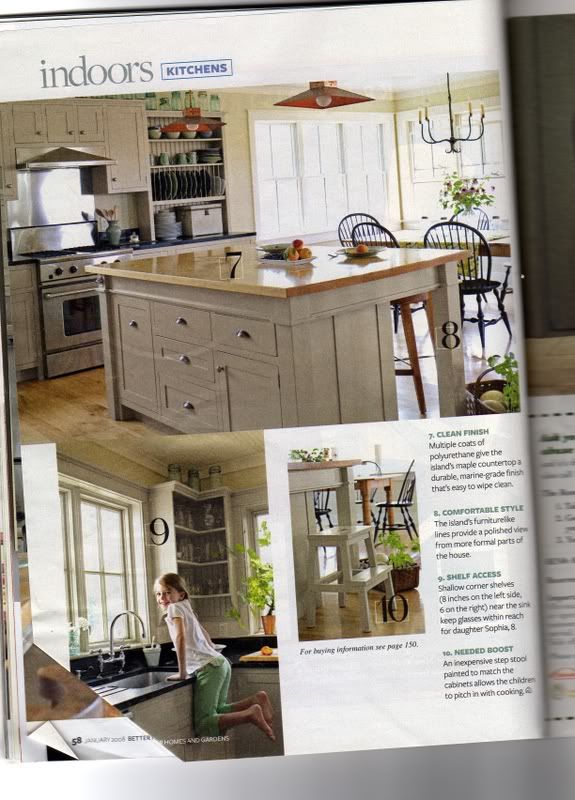 I think these countertops and backsplash are pretty but not sure if they'd work for me:


and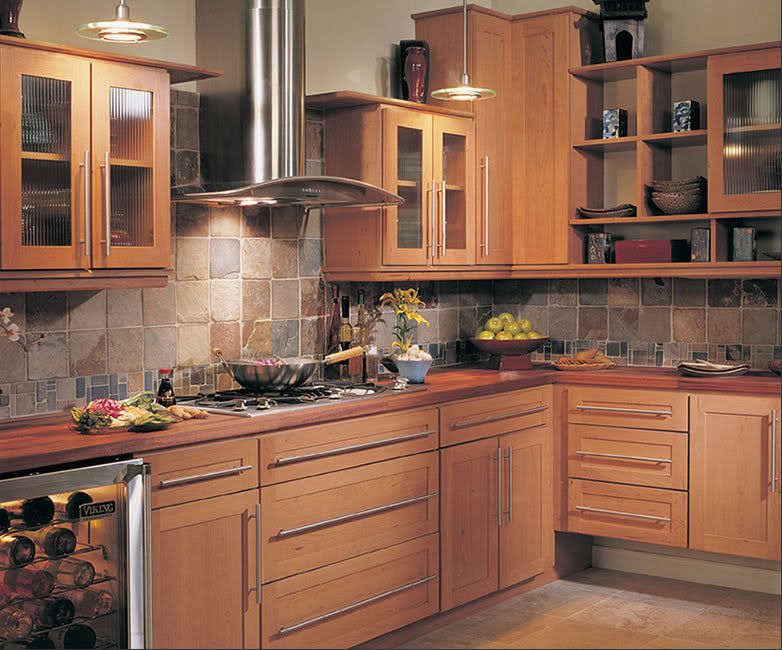 I have seen lots of examples of my color cabinets with dark colored countertops and I think they look nice. They usually then have white walls (which I don't want). Would it make the kitchen too dark if I went with dark countertops and then painted the wall a brownish orange? The kitchen is in the northeast corner of the house.
Astrid
---
| | | |
| --- | --- | --- |
| RE: Kitchen Countertops for Island | | |
The laminate you linked to is very nice. I love those colors! (I have similar tropical brown granite). You could also do a stone like backsplash in a creamy travertine color that would look very nice. I can also picture a brownish orange like you mentioned if you didn't want to use a backsplash right now. Once you find the right color, it could be a great accent color in your kitchen!
---
| | | |
| --- | --- | --- |
| RE: Kitchen Countertops for Island | | |
Why do my natural maple cabinets look so yellow to me?
Astrid
---
| | | |
| --- | --- | --- |
| more island questions | | |
Would you stain/paint the kitchen island a different color than the natural maple (like espresso or mahogany)? We will have to either match the existing natural maple or do a different color for the island (which I'm sure would involve a lot of extra work!). I've seen a few examples of where the island is either painted or stained a different color than the rest of the kitchen cabinets and I think they look nice.

One thing I guess I need to consider is that I have lots of different woods/stains in the kitchen vicinity. I've got natural maple cabinets and flooring in the dining, I'm getting a natural cherry dining table and chairs (I wish I had a photo of them- they're being made), and random other woods in the doors, windows, bookcase, and moveable island.
---
| | | |
| --- | --- | --- |
| RE: Kitchen Countertops for Island | | |
I really like your cabinets, they do not look yellow to me, more of a honey gold. Have you considered butcher block? It is classic, hardy - can be sanded from time to time, and budget friendly. We got ours at Lumber Liquidators for a very nice price and installation was free as we did DIY. We have a green laminate on the wall counters and like the combo. I can try to get a picture tonight if you would like, I've looked in my current stash and only have one I have of the island, but it is so covered with 'stuff' you can't see the top! (we're still building)

I think a lighter color butcher block would look great with your cabinets. If you want something more contrasting, they come in cherry as well.
---
| | | |
| --- | --- | --- |
| RE: Kitchen Countertops for Island | | |
Or you can get a nice piece of butcher block at IKEA for cheap.
---
| | | |
| --- | --- | --- |
| RE: Kitchen Countertops for Island | | |
You mentioned an orangeyred perhaps for the walls. I could see BM Mexicana with the browns in the laminate and the maple.
Here is a link that might be useful: mexicana
---
| | | |
| --- | --- | --- |
| RE: Kitchen Countertops for Island | | |
I definitely would not want to see red on these walls--lol! Personally, I don't think the color would go well with the cabinetry. It's a matter of personal aesthetics, I guess. :) I think the color that's on there now is nice.
---
| | | |
| --- | --- | --- |
| orange, maple & brown | | |
I guess Mexicana looked too red. I was thinking something a little bit more orangey. Notice the maple cabs with the orangey paint and brownish countertops in this picture. More of what I was thinking.
---
| | | |
| --- | --- | --- |
| RE: Kitchen Countertops for Island | | |
That's a pretty kitchen! Funny thing- I helped my SIL justify painting her kitchen a rust color!

The existing wall color is nice but it really does nothing for the cabinets. I'll keep that color if that's what works with the countertops I get.

How strange would it be to have a more modern kitchen but have the rest of the house a little more traditional (or transitional- mission style dining table/chairs mixed with other hodge podge furniture)?

Anybody up for photoshopping my kitchen? Pretty please?????
Astrid
---
| | | |
| --- | --- | --- |
| RE: Kitchen Countertops for Island | | |
Astrid, while I cant help you photoshop, I have to agree with patricia , dont rule natural stone out. You'd be surprised at the deals you can get out there. With the housing market being what it is the desperate measures stone warehouses are taking to offload inventory. Which part of the country do you live in?

And I think its prefectly fine to mix your cabinets with the mission style furniture you described. Just call your style eclectic ;-)

I work in kitchen and bath design in natural stone purchase/procuremen and I have seen a lot of kitchens and consequently dining/family rooms. It is perfectly okay to blend styles. In fact you do not want your space to look too matched or it doesnt feel homey.

Your cabinets dont look yellow to me. Here's a thought Would you consider painting/staining the island to match the dining set that would tie in the two spaces.

Hope this helped some
Nami
---
| | | |
| --- | --- | --- |
| RE: Kitchen Countertops for Island | | |
Thanks for all the input.

I'm wondering- will my kitchen look dated in a few years or is it a classic look?

While I like the modern look of kitchens with the natural maple I don't want it for myself- they tend to look cold to me.

I'm kind of leaning towards a dark gray, soapstone-type appearance with slate tile as the backsplash. Perhaps I should leave the wall color as-is or perhaps go with a cream color to offset the dark countertops.

I showed dh an example of the first laminate choice I posted and he said it was too brown and he doesn't like it.
Astrid
---
| | | |
| --- | --- | --- |
| RE: Kitchen Countertops for Island | | |
I have Tropical Brown granite. As I mentioned earlier, it has the same feel as the laminate you posted. Although I have cherry cabs, I think it would look great with maple! Maybe DH needs to look at the finished kitchen blog to get an idea of what some of the darker countertops look like in a finished kitchen. Anyway, her is my granite, cabs and backsplash to give you an idea.
---
| | | |
| --- | --- | --- |
| nice kitchen! | | |
WOW! You have a pretty kitchen! I wish I'd chosen cherry cabinets or at least gone with a warmer stain on the maple cabinets. I LOVE cherry wood.

I wonder how different my kitchen would look like if I had crown moulding on top of the cabinets.

Astrid
---
| | | |
| --- | --- | --- |
| RE: Kitchen Countertops for Island | | |
The crown molding definitely helps achieve a more finished look. If you like the look of a gray stone for the price of soapstone you can also get black honed granite ($11-12/sq ft+the cost of fabrication and installation)

I really like the tropic brown in kmcg's kitchen.I think it would look great with your cabinets as well.

You could also look at a dark green countertop. Ubatuba is a nice green with gold veins that would tie in the color of your cabinets.

The kitchen with the slate backsplash that you posted looks very nice to me and the cabinet color is almost the same as yours. You could change the cabinet hardware to something with more classic lines if that feels too contemporary

Good luck
Nami
---
| | | |
| --- | --- | --- |
| RE: Kitchen Countertops for Island | | |
We did the lighter solid surface for the counter tops and back splash then did the isle in a darker quartz. Looks good and easy to clean.
---
| | | |
| --- | --- | --- |
| RE: Kitchen Countertops for Island | | |
My first thought is that you need something that "reads" white, very much like the green kitchen photo you posted. I am seeing something with a heavy gray component and maybe some warmth in it, too. Look at Tumbled Roca. I am only looking at a computer screen, not actual chips, but this Tumbled Roca looks like it would coordinate nicely with the Oiled Soapstone for the perimeter and the maple cabs.

Everyone seems to like dark counters these days, but I lean towards light colors for both function and aesthetics. My BIL, who is an architect and a great cook puts a lot of thought into his kitchen designs. (His clients often do not use an ID or KD.) He feels that the single most influential surface WRT lightness and brightness in a kitchen is the counter top.

I also feel deeply concerned about your white appliances. (Yes, I am feeling melodramatic today!) I am afraid that you need something in there to tie in the white range and fridge. If everything becomes dark, they're going to stick out like two sore thumbs.

As for the cabs looking yellow, have you switched out your light bulbs? If they are regular incandescents, try using Reveal for a clearer light. It will shift the color in that room. Do it before you make any other color choices because it will effect everything!
---
| | | |
| --- | --- | --- |
| RE: Kitchen Countertops for Island | | |
amysrq, my architect son is also a FANTASTIC cook and loves wood. He did NOT like my dark granite, would have preferred marble (me too but his dad chose the granite) but he had to admit my cabinets gave more light in my kitchen when I painted them. :) Much as he loves wood, he too has bad eyesight and likes to cook with as much natural light as possible. Of course, he is "very green," drives a mini-cooper and thinks all artificial light should be banned except when he is trying to finish projects at 2 a.m. We never told him we had to use an oil primer on the cabinets, just that the paint was latex. (insert winky here)
---
| | | |
| --- | --- | --- |
| RE: Kitchen Countertops for Island | | |
Hi Astrid, I thought I would post a picture of my kitchen for you, since it sounds like our colour schemes are similar. We have maple-look laminate cabinets and a black-flecked-with-brown-and-gray laminate counter that is a dead ringer for Uba Tuba granite. The room is painted with Farrow & Ball's Picture Gallery Red, a very warm, brown-toned red. The room has lots of north-facing windows, so we get light, but it is cool. No one has ever remarked that it is dark.

Sorry I can't give you the names of the laminate or anything, we didn't pick them so I have no idea what they are.

These are not recent pictures, but the colours haven't changed: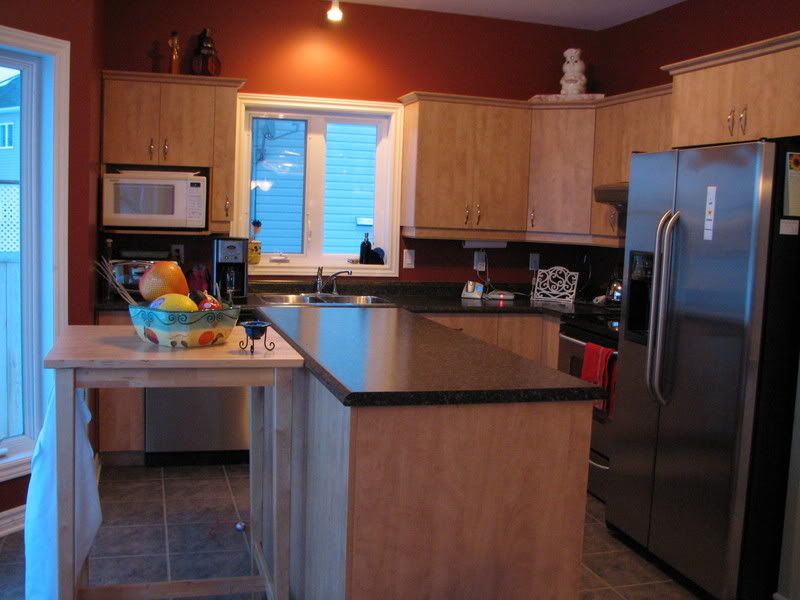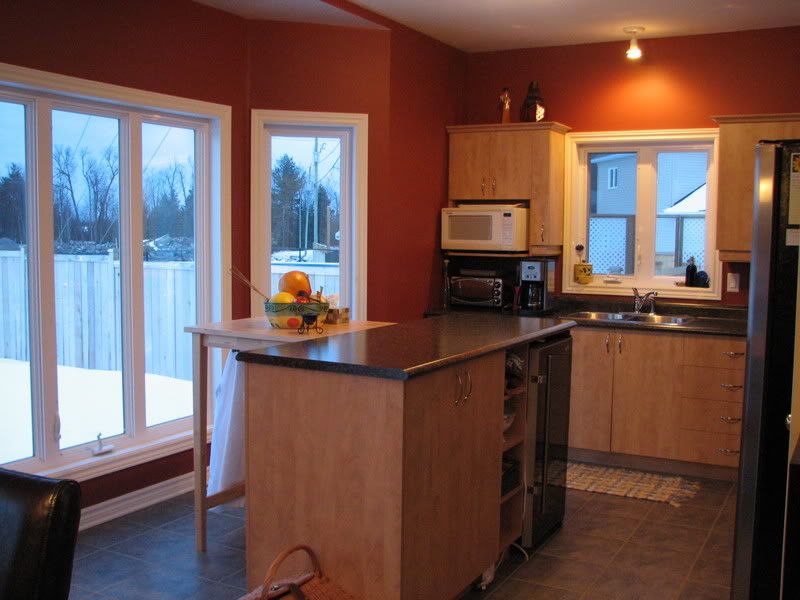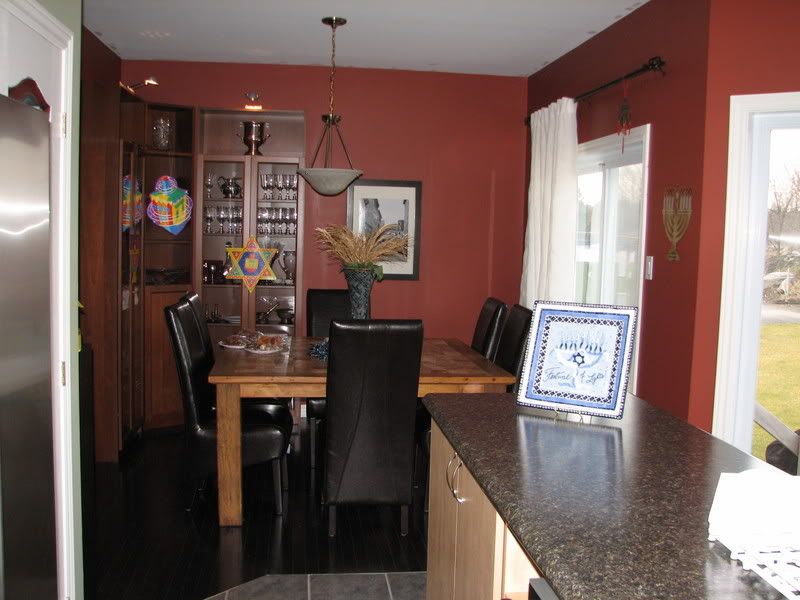 ---
| | | |
| --- | --- | --- |
| lighter colored countertops? | | |
I honestly can't picture my kitchen with lighter countertops. Won't lighter countertops show more stains? My MIL has almond colored laminate and it's terrible! It's impossible to clean (I've used everything I can think of to scrub her kitchen clean). Turmeric is especially bad!

Astrid
---
| | | |
| --- | --- | --- |
| RE: Kitchen Countertops for Island | | |
Astrid: We have light-colored laminate and it doesn't stain at all--in fact, it's very easy to keep clean.
---
| | | |
| --- | --- | --- |
| RE: Kitchen Countertops for Island | | |
How do you clean up coffee and turmeric stains? Those darn stains are persistant even on my green laminate countertop. Like I said, I haven't been able to get my MIL's laminate countertops clean she has solid almond colored countertops.

I'm not opposed to light colored countertops- I just want to be absolutely positively certain I won't have any issues keeping them clean and stain free. I actually have some sort of white cultured marble in bathrooms and I think they look nice BUT they don't get the abuse the kitchen countertops get.

I can see that dark countertops with white appliances might look odd.
Astrid
---
| | | |
| --- | --- | --- |
| RE: Kitchen Countertops for Island | | |
If you want the look of stone but not the price:

http://samples.wilsonart.com/c-3-wilsonart-hd-high-definition.aspx

I am considering using this in my kitchen. I am torn between the Bella Capri, Canyon Passage and Mountain Passage. Although I really like that Antique Topaz laminate that was posted, too! I priced hte HD at Lowes, and I cna get the little bit I need (about 23 SQ ft total) for around $450 w/ a waterfall edge, add about $200 for a fancy edge. This is just for the cpunters; I will be doing removal of the old and installation of the new myself (only way I can afford to do this).
---
Post a Follow-Up
Please Note: Only registered members are able to post messages to this forum.
If you are a member, please log in.
If you aren't yet a member, join now!
---
Return to the Home Decorating Forum
Information about Posting
You must be logged in to post a message. Once you are logged in, a posting window will appear at the bottom of the messages. If you are not a member, please register for an account.
Please review our Rules of Play before posting.
Posting is a two-step process. Once you have composed your message, you will be taken to the preview page. You will then have a chance to review your post, make changes and upload photos.
After posting your message, you may need to refresh the forum page in order to see it.
Before posting copyrighted material, please read about Copyright and Fair Use.
We have a strict no-advertising policy!
If you would like to practice posting or uploading photos, please visit our Test forum.
If you need assistance, please Contact Us and we will be happy to help.

Learn more about in-text links on this page here