Return to the Home Decorating & Design Forum
|
Post a Follow-Up
---
| | | |
| --- | --- | --- |
| Help with outdoor topiaries | | |
Posted by
oakleyok
(
My Page
) on
Wed, Jan 8, 14 at 7:14
It's time to say goodbye to my topiaries by the front door. They're totally falling apart. I bought them at Home Depot online and they lasted for about 4 years and were often mistaken for real ones.

Old picture of the porch, there's now porch furniture to the right.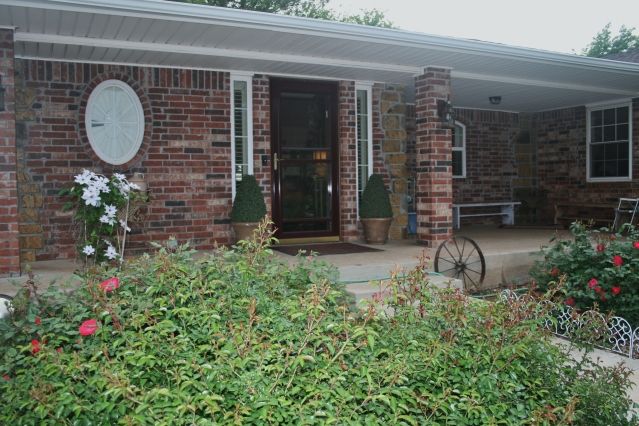 Below is a link to Home Depot. I may get the topiaries somewhere else (new pots too), but I'd like a change this time.
Because the porch is on the large side, would a boxwood spiral look too skinny? I need something that I can use all year long.
Do you know of other websites I can get ideas at? I looked at Frontgate and wasn't impressed.
Here is a link that might be useful: HD outdoor greenery
---
Follow-Up Postings:
| | | |
| --- | --- | --- |
| RE: Help with outdoor topiaries | | |
Pretty porch, Oakley! Yes, I do think that the spiral topiaries would be out of proportion for that area. I just went on a quick internet search and found the best prices, so far anyway, on Amazon.com. I did a search for "artificial topiary" to find them.
Lynn
---
| | | |
| --- | --- | --- |
| RE: Help with outdoor topiaries | | |
Thank you Lynn. One great thing about living in the country is we get an old-fashioned front porch to sit on. Although I'm enjoying these frigid temps, I'm missing sitting on the porch with my morning coffee!

There are a couple topiaries on Amazon I like. What do you think about this one from HD? Free shipping. The urn matches my furniture, and the dimensions are similar to my old plants.

I'm also looking for a new spring/summer wreath for the front door. Fun kind of shopping!
Here is a link that might be useful: Topiary
---
| | | |
| --- | --- | --- |
| RE: Help with outdoor topiaries | | |
Indeed what a lovely porch, I think I'd like to see the same shape of bush but slightly higher, with a different urn.

I remember you talking about this porch so seeing it is nice !!!
---
| | | |
| --- | --- | --- |
| RE: Help with outdoor topiaries | | |
In the past, we have used real fir evergreens in our front porch pots. They take very little to no water in the winter, and a twice a week watering in the summer. When they start to get root bound or too large, we plant them in the yard and get new trees. :)
---
| | | |
| --- | --- | --- |
| RE: Help with outdoor topiaries | | |
I'm agreeing with NHB about using real evergreens. For my urns on the porch, DH just ran a little drip hose from the sprinkler system to the urns so they get automatically watered in the summer. In winter they get enough water from rain or occasional snow that melts. Much simpler and avoids the dreaded faux look.
---
| | | |
| --- | --- | --- |
| RE: Help with outdoor topiaries | | |
Mitch, are you talking about getting something similar to what I already have, but taller? These come up to my hip and I'm afraid they may block too much of the sidelights. Thank you for the compliment, we have truly enjoyed having a large front porch, even though we have a patio out back. Living in the country we like to wave to our neighbors driving by. :)

I got to thinking about using an urn instead of a pot. These are on the north side of the house and when a strong north wind blows, or a spring storm whips up, they blow over, even though I have them slightly weighted down. Because of the shape of the front of the house, there can be some wild circulation there! lol

NHB, that area doesn't get a lick of sun so I'd be hesitant to plant anything there.
---
| | | |
| --- | --- | --- |
| RE: Help with outdoor topiaries | | |
Our area only gets the morning sun.

For your pots or urns, have you tried filling in the bottoms with rock, brick, or sand to weigh them down?
---
| | | |
| --- | --- | --- |
| RE: Help with outdoor topiaries | | |
Sorry, Oakley, I'm just now back here and seeing your question. I've actually seen that specific one at a home I was at a few months ago. I like the idea and overall shape of it, but those little pieces all over the ball portion that are meant to look like new growth, looked a bit strange and fussy/busy to me. If they bother you when you get them, you could always trim them off.
Lynn
---
| | | |
| --- | --- | --- |
| RE: Help with outdoor topiaries | | |
LOL, Lynn, I never thought about that. The more I look at it, the more it looks fake because of the curly ques. :) The plants on the porch looked real, so I may get some type of evergreen (faux) shaped the same but not boxwood.

NHB, I have a brick in each pot, but when we get a blue norther, the winds just whip them over.

I don't want to mess with a live plant. You'd think I wouldn't mind since we have a large greenhouse and lots of rose bushes! I get so hot just watering in the summer because it gets hotter than the dickens here.
---
Post a Follow-Up
Please Note: Only registered members are able to post messages to this forum.
If you are a member, please log in.
If you aren't yet a member, join now!
---
Return to the Home Decorating & Design Forum
Information about Posting
You must be logged in to post a message. Once you are logged in, a posting window will appear at the bottom of the messages. If you are not a member, please register for an account.
Please review our Rules of Play before posting.
Posting is a two-step process. Once you have composed your message, you will be taken to the preview page. You will then have a chance to review your post, make changes and upload photos.
After posting your message, you may need to refresh the forum page in order to see it.
Before posting copyrighted material, please read about Copyright and Fair Use.
We have a strict no-advertising policy!
If you would like to practice posting or uploading photos, please visit our Test forum.
If you need assistance, please Contact Us and we will be happy to help.

Learn more about in-text links on this page here