Return to the Home Decorating & Design Forum
|
Post a Follow-Up
---
| | | |
| --- | --- | --- |
| My Lovely Old Lamp Needs Help | | |
Posted by
martinca
(
My Page
) on
Fri, Jan 31, 14 at 0:42
I love my 35 year old filigreed ginger jar lamp . The lamp is fine, but the silk shade has a lining that is a torn, ugly mess. Have any of you had a shade re- lined? The shade has a very light design...hard to see in the photo, and IRL as well: very suble, and more so with age. I've not seen one like it for a replacement. TIA!
Marti
---
Follow-Up Postings:
| | | |
| --- | --- | --- |
| RE: My Lovely Old Lamp Needs Help | | |
That lamp is beautiful!
If you really want to keep the shade, I'd give relining it myself a shot, maybe using a curtain lining fabric, since some of those are flame retardent--it seems like a good idea to keep your lampshade from bursting into flames, no?
Otherwise, try phoning an old-fashioned lighting store--they might have suggestions.

It truly might be easier to buy a new shade when all is said and done...it's hard to tell from the photo, but the shade looks like it might be too big. You definitely don't want to hide more of that lovely lamp than you have to!
---
| | | |
| --- | --- | --- |
| RE: My Lovely Old Lamp Needs Help | | |
You need Lake Shore lampshades
Here is a link that might be useful: Lampshades
---
| | | |
| --- | --- | --- |
| RE: My Lovely Old Lamp Needs Help | | |
Beautiful lamp. And shades can make or break the look. I'd search on-line for the shape and size of your lamp to see what shades look best. I don't think the one for your lamp is original? And although shades can be expensive, I think you should budget for a new one if you can. If you really want to try re-lining (and maybe use this shade on a different lamp), I recall seeing something on the internet a while ago.
---
| | | |
| --- | --- | --- |
| RE: My Lovely Old Lamp Needs Help | | |
Love the lamp. I agree, the shade looks large and low on the lamp in the picture.

I would find a lamp shade store and take the lamp with you. They can help select the right shade and they have pieces and parts like harps and extenders and such so you can get the shade you want at the proper height and size. It will only make the lamp even more lovely.
---
| | | |
| --- | --- | --- |
| RE: My Lovely Old Lamp Needs Help | | |
I agree the lamp is just stunning. It may be the angle that you took the pic from, but the current shade does seem too large, as it seems to hide a good part of the base. Can you take a pic from further back to show us? It may just need a taller harp.

Do you have a good lighting store that you can take the base to, to have them help and try different shape and size shades? I recently bought some antique ginger jar lamps, and re-did them to use on my mantel. It was a challenge to find the shades that I needed, but a great lighting shop in Portland, ME truly helped out. I ended up re-making the lamps a second time to have the shades work, but I'm sure you won't need to do that with yours.

Mine started like this -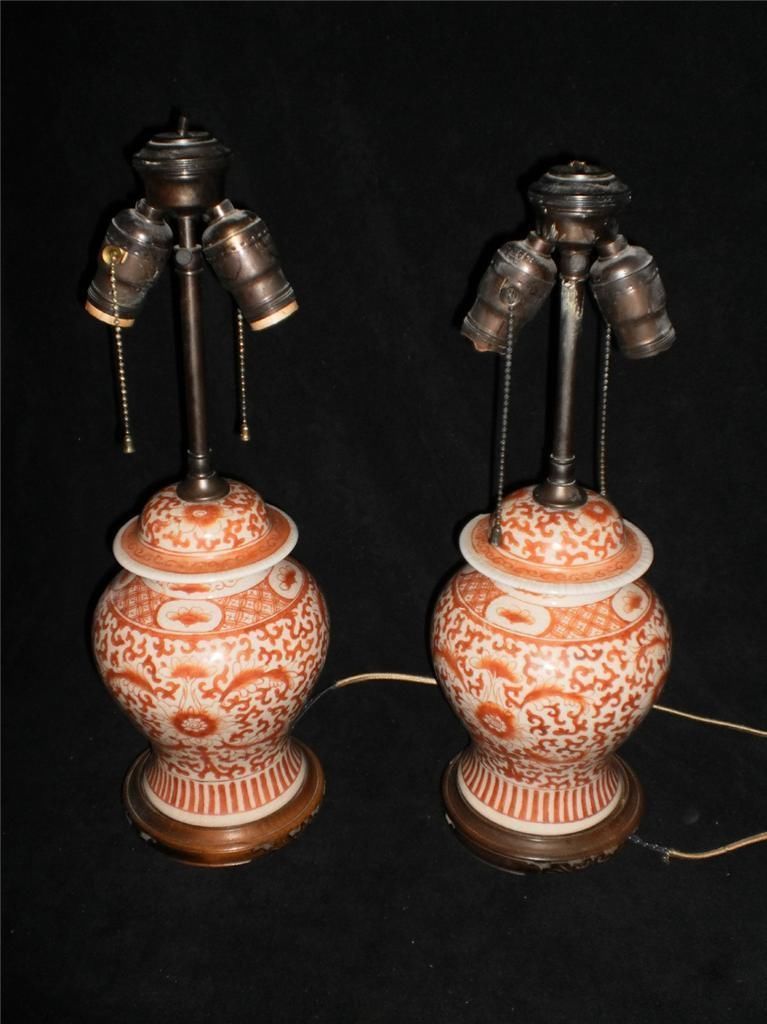 And ended up like this -

And you can't see from that pic, but the shade is oval, and look at the great finials I found there! I wouldn't have been able to try many shades online, and never knew that I'd find a perfect oval without the experts' help.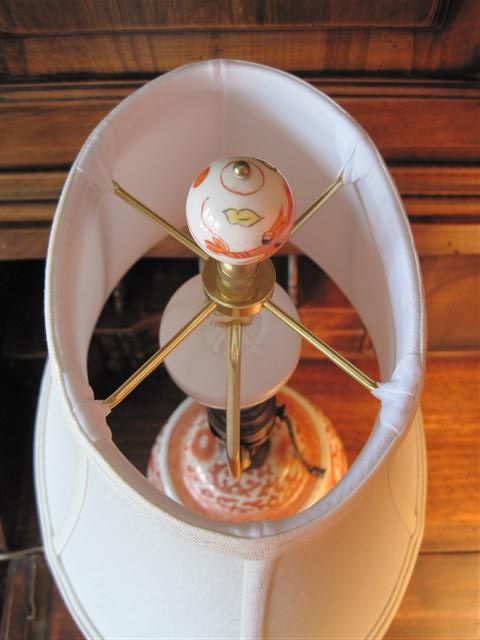 ---
| | | |
| --- | --- | --- |
| RE: My Lovely Old Lamp Needs Help | | |
Yes -- in the photo -- the current shade does appear to be a little too large and too long for that really gorgeous lamp!!!

((of course -- it is always hard to tell from photos ....))

The lamp shade should end at the top (or slightly below) of the ceramic barrel body of the lamp ....

I LOVE your lamp! :)
---
| | | |
| --- | --- | --- |
| RE: My Lovely Old Lamp Needs Help | | |
I had a similar situation and found a lamp shade repair and replacement store in my area on Yelp with good reviews. They used my original frame and recovered it for about the same price as a new quality shade.
---
| | | |
| --- | --- | --- |
| RE: My Lovely Old Lamp Needs Help | | |
I'll agree the shade is too large and the style doesn't enhance the beautiful vintage base. Personally I love the new oval shape which 'my 3 dogs' posted, and have replaced a few lamps with them. Drum shades are also a nice change, but not sure how one would look on you lamp.

It's nice to finally see what used to be considered older style shades come back into home fashion. I have 2 silk oval ones that are still good enough to use. Using lower watt bulbs also saves on fabric.
---
| | | |
| --- | --- | --- |
| RE: My Lovely Old Lamp Needs Help | | |
Thanks everyone! Here's a better pick of the shades subtle design that i love, and not seen elsewhere. The ' jar' also lights. That shade Is too big, and too low. Funny, never really noticed before. Thanks for that link, jmc. Our best( only) nearby shade shop carries that company. My3: gorgeous, and love the matching finials. Can see you all love lamps, too. They are our " "shoes" for the home! ;)
---
| | | |
| --- | --- | --- |
| RE: My Lovely Old Lamp Needs Help | | |
I have a very similar lamp, same age, similar shade - have always loved it! As someone said, maybe with a higher harp you could keep the shade - is it possible to have a shade place reline it, as it is so unusual?
---
| | | |
| --- | --- | --- |
| RE: My Lovely Old Lamp Needs Help | | |
I have two lamp shades with lining that comes out. If pulled from the inside of top it drops out. Is yours this way? A lamp restorer could redo this.

Also, there is a site with standard measurements for lamp shade sizes relative to the lamp base. I tried the concept, but in reality my visual self saw what worked best.
---
| | | |
| --- | --- | --- |
| RE: My Lovely Old Lamp Needs Help | | |
I don't know if you have any interest in doing the shade yourself, but there is a wonderful e-book with amazingly easy to follow instructions. I've made a dozen shades over the years using the instructions in the book. Easy and fun. The manual includes instructions for both victorian and barrel style shades (victorian shades done in a simple solid fabric are lovely). I do NOT have any affiliation with this website whatsoever.
http://www.gold-kiser.com/lampshades.html
---
Post a Follow-Up
Please Note: Only registered members are able to post messages to this forum.
If you are a member, please log in.
If you aren't yet a member, join now!
---
Return to the Home Decorating & Design Forum
Information about Posting
You must be logged in to post a message. Once you are logged in, a posting window will appear at the bottom of the messages. If you are not a member, please register for an account.
Please review our Rules of Play before posting.
Posting is a two-step process. Once you have composed your message, you will be taken to the preview page. You will then have a chance to review your post, make changes and upload photos.
After posting your message, you may need to refresh the forum page in order to see it.
Before posting copyrighted material, please read about Copyright and Fair Use.
We have a strict no-advertising policy!
If you would like to practice posting or uploading photos, please visit our Test forum.
If you need assistance, please Contact Us and we will be happy to help.

Learn more about in-text links on this page here