Return to the Home Decorating Forum
|
Post a Follow-Up
---
| | | |
| --- | --- | --- |
| Have a brown leather sofa? | | |
Posted by
byrdlady
(
My Page
) on
Wed, Oct 10, 07 at 8:18
Need help bringing more color into out family room. Walls are a gold, neutral wallpaper, have sofa, chair and ottoman in rich brown leather and 2 taupe lazy boy chairs. Have gold pillows and a tapestry-afghan in gold/olive. It looks nice but lacks the wow factor. Do you have color? Want to share a picture? (Probably can't afford new furniture now, but could re-do accessories.)
---
Follow-Up Postings:
| | | |
| --- | --- | --- |
| RE: Have a brown leather sofa? | | |
byrdlady, you would probably get more response in the main decorating board. But in the meantime this is what I did before I changed my sofa: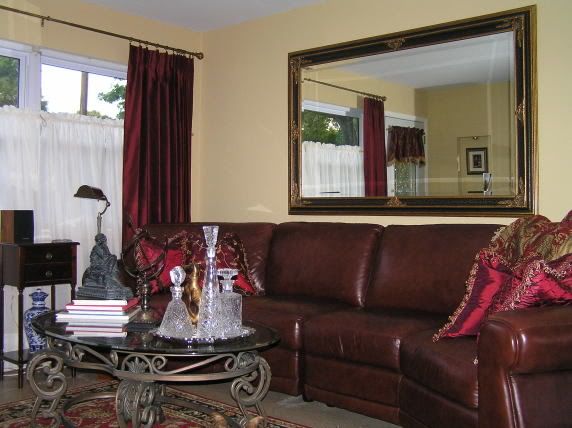 ---
| | | |
| --- | --- | --- |
| RE: Have a brown leather sofa? | | |
I'd post a pic but it is almost the same as the one above. Even the sofa is very similar. Our paint is very much the same. I just did an upper hallway in BM Lenox Tan and I think it would also be nice with a brown leather.
---
Post a Follow-Up
Please Note: Only registered members are able to post messages to this forum.
If you are a member, please log in.
If you aren't yet a member, join now!
---
Return to the Home Decorating Forum
---
Instructions
You must be a registered member and logged in to post messages on our forums.
Posting is a two-step process. Once you have composed your message, you will be taken to the preview page. You will then have a chance to review the contents and make changes.
After posting your message, you may need to refresh the forum page in order to see it.
It is illegal to post copyrighted material without the owner's consent.
HTML codes are allowed in the message field only.
No advertising is allowed in any of the forums.
If you would like to practice posting or uploading photos, please visit our Test forum.
If you need assistance, please Contact Us and we will be happy to help.