Return to the Home Decorating Forum
|
Post a Follow-Up
---
| | | |
| --- | --- | --- |
| How would you dress this window combo? | | |
Posted by
mojotay
(
My Page
) on
Mon, Sep 17, 07 at 15:52
Hi all HELP...please
How would you dress this window...I love naked widows, still have quite a few after living in our home for 2 years, but i do know how drapes can add to a room. This is our Family room, have a tv in the builtins to the left of window. We have a beautiful canyon view that we do not want to entirely block,we do not need window coverings for sun protection or privacy. Let me know how you all would dress it then I will let you know my ideas. Those darn arched windows they are beautiful but can be challenging!
First time posting a photo hope it works.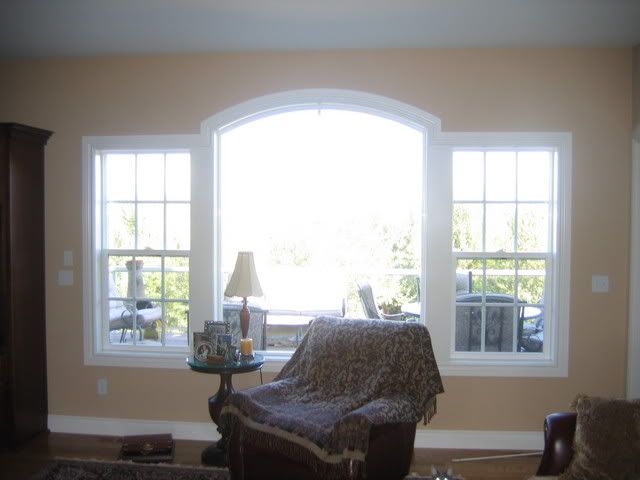 ---
Follow-Up Postings:
| | | |
| --- | --- | --- |
| RE: How would you dress this window combo? | | |
Mojotay, since you are looking to add color to the room I would do stationary drapes on either side of the windows leaving the main window exposed. I would mount the drapes as close to the ceiling as possible and probably would do tab tops. Which you then could use finials instead of rods to hang the drapes. What are your ideas?
---
Post a Follow-Up
Please Note: Only registered members are able to post messages to this forum.
If you are a member, please log in.
If you aren't yet a member, join now!
---
Return to the Home Decorating Forum
---
Instructions
You must be a registered member and logged in to post messages on our forums.
Posting is a two-step process. Once you have composed your message, you will be taken to the preview page. You will then have a chance to review the contents and make changes.
After posting your message, you may need to refresh the forum page in order to see it.
It is illegal to post copyrighted material without the owner's consent.
HTML codes are allowed in the message field only.
No advertising is allowed in any of the forums.
If you would like to practice posting or uploading photos, please visit our Test forum.
If you need assistance, please Contact Us and we will be happy to help.