Return to the Home Decorating Forum
|
Post a Follow-Up
---
| | | |
| --- | --- | --- |
| Map theme for 7 year-old boy's room | | |
Posted by
perky_2
(
My Page
) on
Sun, Jun 11, 06 at 0:45
For his birthday, my grandson wants me to decorate his room with him. He has loved maps since he was two! He came up with an idea to decorate his walls with maps and one wall with modes of transportation. Any ideas?
---
Follow-Up Postings:
| | | |
| --- | --- | --- |
| RE: Map theme for 7 year-old boy's room | | |
You can find so many different types and size maps on line. There is also map fabric (for pillows and such). You could find one that you really like and use that as your inspiration as far as color. Check ebay too. I put in a link for fabric panels, as an example. Panels like that would be great for framing, too. You could paint the North South East West compass on his ceiling.

Not sure about the modes of transportation, but I'm sure there is a poster that has that - check out art.com.
Here is a link that might be useful: Ebay map panels
---
| | | |
| --- | --- | --- |
| RE: Map theme for 7 year-old boy's room | | |
I found a great ,ap mural at Pottery Barn Kids. Kathypass I LOVE the idea of painting compass markings on the ceiling. He loved it too. What do you think of the room at the link?

I purchased an airplane lamp at Peir One Kids. He would rather have hanging airplanes versus the globes, although I think he would like A globe. Since he is quite the traveler with grandparents on the opposite coast, I would live to find a way to ease in a US map so he can see places he has been. I can't quite figure out how to do this other than framing maps. Do you think that would be too busy? Any other suggestions?
Here is a link that might be useful: http://ww2.potterybarnkids.com/cat/pip.cfm?src=shpak%7Ccfrnbtr%7Cda%7Crshop%5Fk/shpak%7Ccfrn%7Cda%7Crshop%5Fk&pkey=cfrnbtr%7Cak&gids=s9050
---
| | | |
| --- | --- | --- |
| RE: Map theme for 7 year-old boy's room | | |
That is a great mural in that picture! I put in a link for a place that has a map of the whole United States. Apparently, from the description, it does have names, but from a few feet away you can't see the type. That might be nice to mount to a bulletin board and then frame so he can put push pins in to the places he's been. Something that you might be able to do yourself. (I just noticed in the preview that the link at the very bottom won't take you to the map directly but just to the site, so it is the 7th one down, price is $39.95).

This link (sorry you have to copy and paste it) is a mobile called Around the World with 3 airplanes and, what is basically, a globe. Very cute for what you are planning. Alot of the model planes are over $100.00 to do that hanging motif, but if you do a search under "model airplanes" you'll get some resources, and of course, ebay may have them cheaper.

http://www.warplanes.com/store/item.asp?department_id=76&item_id=767

What a great grandparent you are to take this on, and what a great grandson that he even asked you!

I'd love to hear how you get on with it!
Here is a link that might be useful: United States map
---
| | | |
| --- | --- | --- |
| RE: Map theme for 7 year-old boy's room | | |
Kathy, I love the mobile - it is perfect! Great find - dreat price, thank you. We are having fun - even with the long distance. We mail pics back and forth. All of your links are good. I will post pics when done. I found the cutest globe door and drawer knobs at a furniture outlet store for 6 bucks! Again, the mobile is great. I like the idea of the US map and push pins.
---
| | | |
| --- | --- | --- |
| RE: Map theme for 7 year-old boy's room | | |
Please do, I would love to see the outcome!

I'm glad some of my suggestions have helped!

Kathy
---
| | | |
| --- | --- | --- |
| RE: Map theme for 7 year-old boy's room | | |
My son's room at our old house had a map theme. Pottery Barn a few years ago had bedding with maps on it. It was too pricey for me, but sometimes you can find it on Ebay.

Here's PB's mural on Ebay
http://cgi.ebay.com/Pottery-Barn-WORLD-MAP-WALL-MURAL-BRAND-NEW_W0QQitemZ7422929299QQcategoryZ582QQtcZphotoQQssPageNameZWDVWQQrdZ1QQcmdZViewItem

I just purchased a few large laminated maps to hang on his walls. I made sure I didn't hang them so high on the wall that he couldn't see them. We used to lay on his bed all the time and look at them.

http://www.mapsuperstore.com/uswallmaps.html

Just a few ideas.
http://www.hgtv.com/hgtv/decorating/article/0,1793,HGTV_3545_1371015,00.html
---
| | | |
| --- | --- | --- |
| RE: Map theme for 7 year-old boy's room | | |
You could paint the bottom half of the walls green like grass and paint on railway tracks and roads as seen from a birdseye view perhaps?
You could then paint the top part blue and add hanging planes and a hotair balloon.
My son has blue roof with hand painted sponged white and pale grey clouds- during the day it is a "day sky" and at night is a "Night sky" with glow in the dark stars scattered over the roof to light it up into a night sky.
If you are renovating the furniture you could decoupage a map onto the front of say drawers/ on top of desk...
Em
---
| | | |
| --- | --- | --- |
| RE: Map theme for 7 year-old boy's room | | |
I came acros this thread while I was looking for the paint colors thread. Coincidentally, I was just a the land of nod website and saw map bedding! What do you think?
Here is a link that might be useful: Map bedding
---
| | | |
| --- | --- | --- |
| RE: Map theme for 7 year-old boy's room | | |
KoalaI like the idea of decoupage idea! He has a small chest that will be perfect for that! Thanks,
Jyyanks, awesome map bedding - I am ordering it. Perfect! Perfect! Thanks for the link. All of you on this site have been great to help me with this project.
Thanks.
---
| | | |
| --- | --- | --- |
| RE: Map theme for 7 year-old boy's room | | |
I just saw this thread. I am looking to decorate my 7 year-old's room also. I am looking at nautical, military aircraft, pirate, military, and navigational (maps). I saw this map mural I wanted to throw out for you also. It is a full wall mural, in strips, for under $100

I would love to see your room as it comes along. Everyone's rooms:)

Michiele
Here is a link that might be useful: map mural
---
| | | |
| --- | --- | --- |
| RE: Map theme for 7 year-old boy's room | | |
I started on the map room! Since the I took the pics I am posting, we hung more art work, clock etc. I don't know what to do with the windows. What about dark blue curtains?

We still need to get a desk and chest of drawers to match the bed he picked out. He blew me away with his selection. I thought he wanted a cute bunk bed but when he saw the black daybed - it was love a 1st sight - go figure. I really do not want to put too much black in there - any suggestions on that would be appreciated.

We ran out of time to do the ceiling compass stencil but it is planned for my next visit.

He totaly loves the mural and hanging airplane. We have another airplane in yellow coming for the other corner and inflatable globes for the other side of the room.
We found this US map at a toy store and took it to Ben Franklin where they mounted it on a magnetic sheet and framed it. He and his friends really got into putting magnets on places he has been and places he wants to go.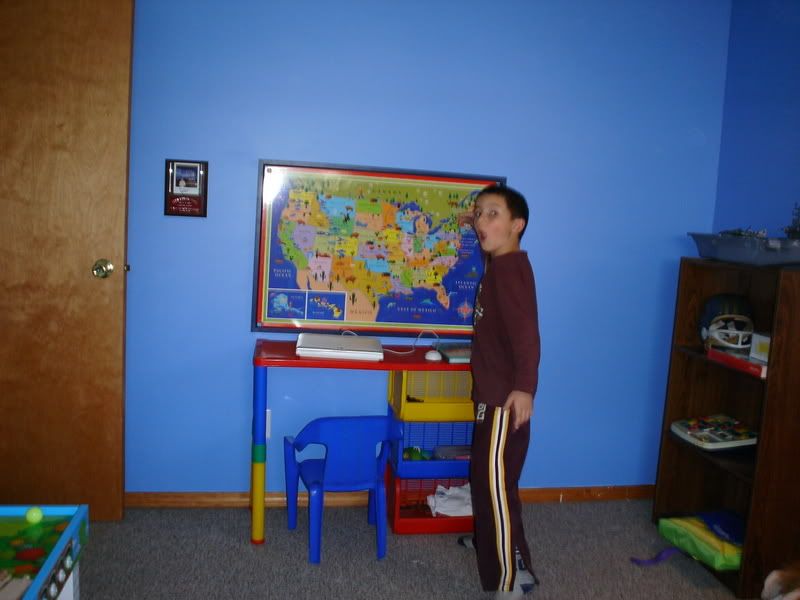 He loves that the map is laminated and he can draw on it with a grease pen.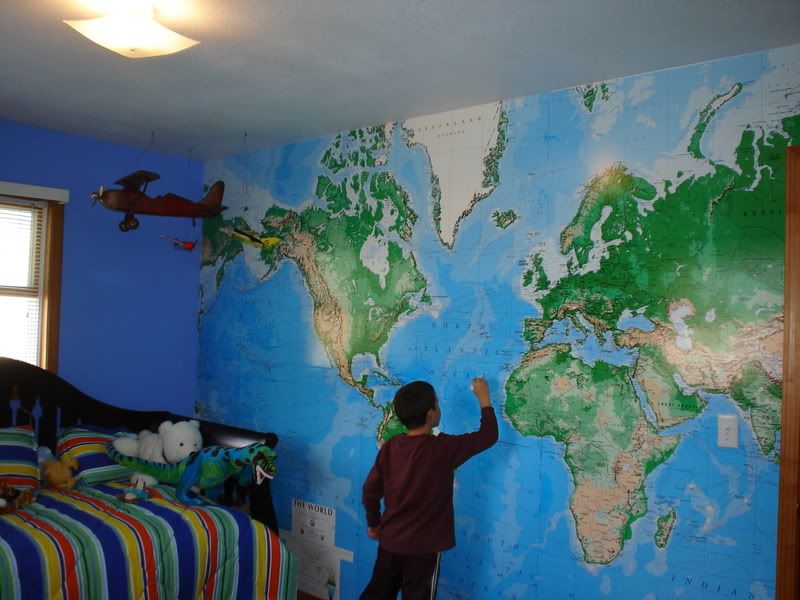 His Thomas the Train table fit nicely in the decor.

We still have a lot to do but it is a start. Any suggestions?
---
| | | |
| --- | --- | --- |
| RE: Map theme for 7 year-old boy's room | | |
Your room is looking great! You really should post on the other side, you'd get a lot more suggestions. I love the bedding, where'd you get it at? And he has great taste in furniture, love the bed. I'm sure someone will chime in with some great suggestions on curtains. I had blue walls with dark blue curtains in ds' old room and they were okay, but I'll bet someone can come up with something better.
---
| | | |
| --- | --- | --- |
| RE: Map theme for 7 year-old boy's room | | |
nsf798: Thanks for you response. I posted on the other side with little response. I thought maybe the blue walls turned people off. I am thinking I should have gone for tan walls but he really wanted the blue and it looks better in reality than in pictures. I am still looking for furniture to go witht he bed.

Again - thanks!

I go the beding at Dillards - Tommy Hilfiger Andrew sport collection, regular priced at 188.00 on clearance for 45.00.
---
| | | |
| --- | --- | --- |
| RE: Map theme for 7 year-old boy's room | | |
I would have done blue too, if that's what he wanted. I like colors rather than tans in kids rooms. IMO the paint is easy to change if they want something different. My kids both picked the color they wanted for their rooms in our new house. I picked the exact shade of green for ds & pink for dd. You got a great deal on the tommy bedding too. It looks like a really fun room & reminds me of ds' room in our old house. It was blue & we had a Thomas train table in it too.
---
| | | |
| --- | --- | --- |
| RE: Map theme for 7 year-old boy's room | | |
nsf798, Thank you. The important thing is that he loved the color. I think it will look better when we complete the furniture and hang curtains. We are having a hard time finding furniture to match the bed. We are looking at a desk/hutch and chest from PB. Disney has one but I am not sure about the quality from there.

Thanks for your follow-up. Don't you just love the magic when they play with Thomas?

Perky
---
Post a Follow-Up
Please Note: Only registered members are able to post messages to this forum.
If you are a member, please log in.
If you aren't yet a member, join now!
---
Return to the Home Decorating Forum
Information about Posting
You must be logged in to post a message. Once you are logged in, a posting window will appear at the bottom of the messages. If you are not a member, please register for an account.
Please review our Rules of Play before posting.
Posting is a two-step process. Once you have composed your message, you will be taken to the preview page. You will then have a chance to review your post, make changes and upload photos.
After posting your message, you may need to refresh the forum page in order to see it.
Before posting copyrighted material, please read about Copyright and Fair Use.
We have a strict no-advertising policy!
If you would like to practice posting or uploading photos, please visit our Test forum.
If you need assistance, please Contact Us and we will be happy to help.

Learn more about in-text links on this page here