Return to the Home Decorating Forum
|
Post a Follow-Up
---
| | | |
| --- | --- | --- |
| Black furniture | | |
Posted by
trudibus
(
My Page
) on
Tue, Feb 5, 08 at 17:50
Hi all
Would love to see any black funiture, cabinets,cupboards accessories you have in black..Need some inspiration!!!
Tanks
---
Follow-Up Postings:
| | | |
| --- | --- | --- |
| RE: Black furniture | | |
Trudibus, did you look at the existing gallery threads by room? There is tons of black there.
---
| | | |
| --- | --- | --- |
| RE: Black furniture | | |
yes I did but my eyes went wonky....thought maybe individual pics would help!!
---
| | | |
| --- | --- | --- |
| RE: Black furniture | | |
I would like to see them as well. My three years that it takes to start a project are getting closer. I have been contemplating painting my oak furniture black. Here are some mock ups. I am still not sure if I like them. I am seriously thinking about going with a charcoal gray a little darker than the floor but not quite the jet black.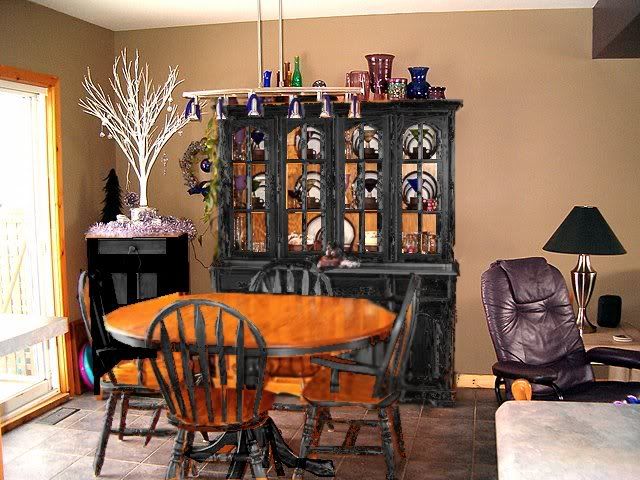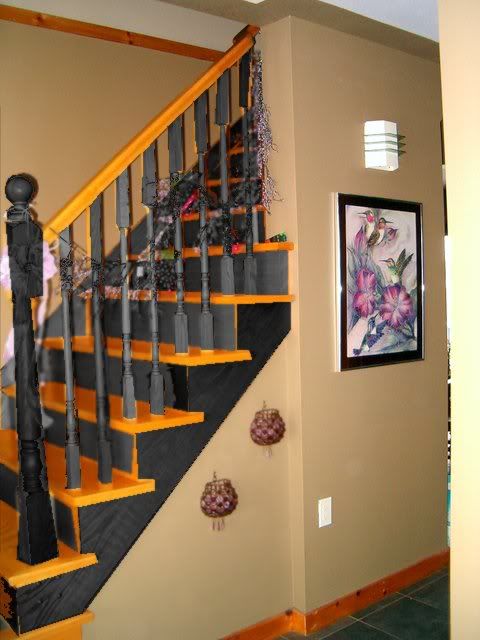 ---
| | | |
| --- | --- | --- |
| RE: Black furniture | | |
Mistybear there are a lot of different blacks out there - you would think black is black but not so! I think your mock-ups look great and IRL will look much better.

One warning about with black furniture is the dust factor. EVERYTHING shows and dust seems to be attracted to black :-(

Trudibus I have a few black pieces and will try and get pics today for you.
---
| | | |
| --- | --- | --- |
| RE: Black furniture | | |
Here are some of the pieces of black furniture I have in my house. I don't like to have all black pieces in a room or it gets too heavy. My bedroom has a lot of black but also red and cream so it's not oppressive.

Hope this helps.

Breakfront in MBR

Large mirror in MBR

Wall shelf in hallway

Bed and one nightstand - the other isn't black - enough dusting!! Sorry - forgot to resize this one.

Small console table in entry

---
| | | |
| --- | --- | --- |
| RE: Black furniture | | |
I have some in an upstairs den. I really like it because the kids can kind of be rough with it and it doesn't show the damage so much. But it does show dust ALOT! The chair, little side table, and computer desk were pieces I painted. The chair and table were oak and in wretched shape. The computer desk was some kind of composite material and it was in bad shape too. The paint really jazzed them up. The TV armoire was new and had a factory finish paint job (and it looks alot better than my home painting attempt). However, it is not next to any of the other pieces, and you really can't tell. The painted stuff has held up pretty well..I did this about three years ago (these pictures are from we first started moving stuff up there..now it's looking considerably more cluttered..such is life!) Good luck.

---
| | | |
| --- | --- | --- |
| RE: Black furniture | | |
| | | |
| --- | --- | --- |
| RE: pics of Black furniture | | |
found some pics of a black furniture wanted to share
Here is a link that might be useful: black hutch
---
Post a Follow-Up
Please Note: Only registered members are able to post messages to this forum.
If you are a member, please log in.
If you aren't yet a member, join now!
---
Return to the Home Decorating Forum
Information about Posting
You must be logged in to post a message. Once you are logged in, a posting window will appear at the bottom of the messages. If you are not a member, please register for an account.
Please review our Rules of Play before posting.
Posting is a two-step process. Once you have composed your message, you will be taken to the preview page. You will then have a chance to review your post, make changes and upload photos.
After posting your message, you may need to refresh the forum page in order to see it.
Before posting copyrighted material, please read about Copyright and Fair Use.
We have a strict no-advertising policy!
If you would like to practice posting or uploading photos, please visit our Test forum.
If you need assistance, please Contact Us and we will be happy to help.

Learn more about in-text links on this page here