Return to the Home Decorating Forum
|
Post a Follow-Up
---
| | | |
| --- | --- | --- |
| Best ever holiday baked goods? | | |
Posted by
auntjen
(
My Page
) on
Thu, Nov 17, 11 at 16:53
I'd like to bake something (no, this is not a joke! I'm gonna try!) for my boss and his wife for Christmas. I'm thinking along the lines of coffee cake or some other kind of cakey/bready thing that just about everyone likes. Does your family have a holiday favorite, and if so, would you share the recipe here? (Doesn't have to be coffee cake - just whatever you enjoy most! I'm looking for something that is absolutely scrumptious. I do, after all, want to impress the boss! :-))
---
Follow-Up Postings:
| | | |
| --- | --- | --- |
| RE: Best ever holiday baked goods? | | |
I'm not a big raisin cookie person but I love these and they're always a big hit. They're very soft.

SOFT DROP RAISIN COOKIES
3/4 shortening
2 eggs
1 1/2 C brown sugar
1 tsp. vanilla
1 tsp. baking soda
1/2 tsp. baking powder
1 tsp. salt
3 C flour

Raisins
1 cup with 1 cup water - cook until 1/2 cup liquid

Cream shortening and brown sugar. Add eggs, vanilla and stir in raisins & liquid. Add flour, baking powder, baking soda, and salt.

Drop by teaspoon on cookie sheet. Bake at 375 for about 6-7 min.

These are also very soft and wonderful.
OLD FASHIONED SUGAR COOKIES
2 C sifted flour
1/2 tsp. baking soda
1/2 tsp. salt
1/2 C Crisco
1 C sugar
1 egg yolk
1/2 C milk
1/2 tsp. vinegar
2 tsp. vanilla
1 egg white

Sift together first three ingredients. Mix shortening, sugar, and egg yolk until fluffy. Mix flour alternately with milk, then vanilla. Fold in beaten egg white.

Drop by rounded tablespoon - 2" spacing on greased cookie sheet. Sprinkle with sugar.

Bake at 375 for 20 min. until golden brown. Medium size cookies 7 min.
---
| | | |
| --- | --- | --- |
| RE: Best ever holiday baked goods? | | |
Try these:

Fatal Attractions

4 whole squares of unsweetened chocolate ( Baker's )
1/2 C. shortening ( Chrisco )
2 C. white sugar
2 tsp vanilla
4 whole eggs
2 C. white flour
2 tsp. baking powder
1 C. Chocolate chips
1/2 C. Icing Sugar

Melt chocolate & shortening in a bowl in the microwave. Stir in sugar & let cool.
Add vanilla and eggs one at a time & making sure to beat well after each egg.
Combine flour & baking powder. Add to the creamed mixture & making sure it's mixed in well.
Fold in the chocolate chips & chill in the fridge for 4 hours or overnight.

Preheat oven to 350F. Roll dough into 1 inch balls & roll in the icing sugar until coated.

Bake on a greased cookie for about 10 - 12 minutes.

Makes 5 dozen & freezes wonderfully..

Enjoy!!
---
| | | |
| --- | --- | --- |
| RE: Best ever holiday baked goods? | | |
It's a recipe that been around forever but always a hit. I made them last night as dd is home for the weekend and she loves them.

These are decadent and easy. I like to arrange them on a silver tray in silver and gold baking cups. One pan too!

Seven Layer Cookies

2 sticks butter
2 cups graham cracker crumbs
2 cups chopped walnuts
1 bag chocolate chips
1 bag butterscotch chips
2 cups coconut
2 cans sweetened condensed milk

Place butter in 9x13 pan and place in oven (350 degrees) while preheating.

When butter is melted add graham cracker crumbs and stir and pat down in pan.

Layer rest of ingredients in order and drizzle sweetened condensed milk over top.

Bake 30-35 minutes until top is golden brown. Loosen the sides with a knife about 15 minutes after taking out of oven, cut when cool.

The recipes above look delish! I'm going to try the Strawberry Cake recipe natal posted on sheesharee's thread too.
---
| | | |
| --- | --- | --- |
| RE: Best ever holiday baked goods? | | |
Oh my goodness. I just finished supper, but I'm positively drooling reading these recipes! Thank you so very much. I may be doing quite a bit of baking this holiday season to try out everything!
---
| | | |
| --- | --- | --- |
| RE: Best ever holiday baked goods? | | |
Very sorry to have opened this thread. Big, big mistake. Didn't stop me from copying a couple of recipes though . . .
---
| | | |
| --- | --- | --- |
| RE: Best ever holiday baked goods? | | |
Not just for holidays, but a very nice presentation tied up in a bow. I like to make it in small loaf pans. A single loaf pan takes longer than indicated in the recipe (at least in mine and my friends' ovens).

Ingredients
1 1/2 cups chopped pecans, divided
1 (8-oz.) container sour cream
1 cup granulated sugar
2 large eggs
1 tablespoon vanilla extract
2 cups all-purpose flour
2 teaspoons baking powder
1/2 teaspoon baking soda
1/2 teaspoon salt
1 1/2 cups finely chopped, peeled Granny Smith apples (about 3/4 lb.)(I've had it with a chunkier dice and it was good too)
1/2 cup butter
1/2 cup firmly packed light brown sugar

Preparation
1. Preheat oven to 350�. Bake 1/2 cup pecans in a single layer in a shallow pan 6 to 8 minutes or until toasted and fragrant, stirring after 4 minutes.

2. Beat sour cream and next 3 ingredients at low speed with an electric mixer 2 minutes or until blended.

3. Stir together flour and next 3 ingredients. Add to sour cream mixture, beating just until blended. Stir in apples and 1/2 cup toasted pecans. Spoon batter into a greased and floured 9- x 5-inch loaf pan. Sprinkle with remaining 1 cup chopped pecans; lightly press pecans into batter.

4. Bake at 350� for 1 hour to 1 hour and 5 minutes or until a wooden pick inserted into center comes out clean, shielding with aluminum foil after 50 minutes to prevent excessive browning. Cool in pan on a wire rack 10 minutes; remove from pan to wire rack.

5. Bring butter and brown sugar to a boil in a 1-qt. heavy saucepan over medium heat, stirring constantly; boil 1 minute. Remove from heat, and spoon over top of bread; let cool completely (about 1 hour).

Note: To freeze, cool bread completely; wrap in plastic wrap, then in aluminum foil. Freeze up to 3 months. Thaw at room temperature.

Southern Living SEPTEMBER 2009
---
| | | |
| --- | --- | --- |
| RE: Best ever holiday baked goods? | | |
How about Biscochito Cookies? They're not only the official state cookie of New Mexico, but they're a festive and delicious holiday tradition here in the Southwest. It wouldn't be the holiday season out here without them!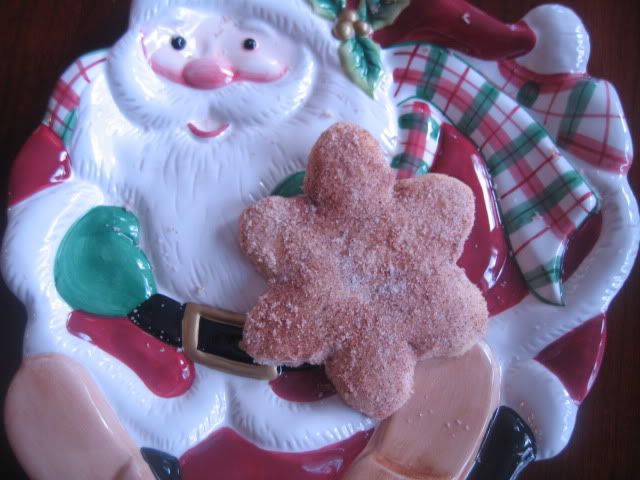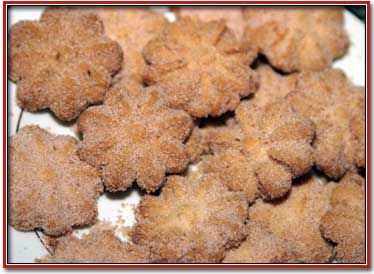 This is Jane Butel's recipe for them, which I think is the best yet. Jane is the author of many cookbooks, and has a very well-know cooking school down in Albuquerque.
Biscochitos
Ingredients:

1 1/2 cups Crisco, butter or margerine, chilled*
1 cup plus 3 tablespoons sugar, divided
2 eggs
2 tsp anise seeds
4 cups all-purpose flour
2 tsp baking powder
1/2 tsp salt
3 Tbsp brandy
2 tsp ground cinnamon
Directions:
1) Preheat oven to 350-degrees F.
2) Beat Crisco/butter and 1 cup sugar in a bowl until fluffy. Add eggs and anise seeds, and beat until very light and fluffy.
3) Sift together flour, baking powder and salt. Add to creamed mixture along with the brandy. Mix thoroughly to make a stiff dough.
4) Place dough on a long piece, about three feet of waxed paper at one end. Bring the long end over the top and press to about one inch or slightly less in thickness and refrigerate until chilled.
5) Roll out dough between waxed paper to just under 1/2 inch thickness. Cut with flour dusted cutters into the traditional fleur de lis shape or into 3-inch rounds or stars.
6) Combine the 3 remaining tablespoons sugar and the cinnamon in a shallow bowl; dip unbaked cookies into the sugar-cinnamon mixture on one side. Place cookies on ungreased baking sheets. Bake 10 to 12 minutes or until tops of cookies are just firm. Cool cookies on wire racks.
Yield: Makes 4 dozen cookies

---
| | | |
| --- | --- | --- |
| RE: Best ever holiday baked goods? | | |
Check out the Coffee Cake recipe on the Pioneer Woman blog. I've made it several times and it is YUMMY!
Here is a link that might be useful: PW Coffee Cake
---
| | | |
| --- | --- | --- |
| RE: Best ever holiday baked goods? | | |
Whoops!! Just remembered my all time fav hostess gift I take with me during the holidays & it's easy peasy !!

Almond Bark :

1 C. Whole blanched almonds
1 tsp butter or margarine
2 1/2 Cups of white chocolate melting wafers ( usually found in the bulk food section or health food stores )
1C. either raisins or dried cranberries

In a 9 inch glass pie plate, place the almonds & butter. Cook at high for 4 1/2 - 5 minutes or until almonds are toasted. Stir twice while cooking. Set aside.

Place chocolate in a large micro proof bowl & cook at HIGH
for 2 1/2 - 3 minutes or until softened.

Stir in almonds and or raisins or dried cranberries pour onto waxed paper lined baking sheet ( I use a round tray )
Spread to desired thickness & refrigerate until set.

Break into pieces & serve. Or I use small Xmas card boxes ( kind with the clear tops ) wrap the bottom box in Xmas paper, line the box with foil & fill with almond bark & voila instant gift.
---
| | | |
| --- | --- | --- |
| RE: Best ever holiday baked goods? | | |
Between these recipes and the ones that I just tore out of the latest Canadian House and Home I'm going to have to start baking next week! Time to put away the scales.
---
| | | |
| --- | --- | --- |
| RE: Best ever holiday baked goods? | | |
Lynn, your recipe sounds great! Love anise, but I'm a lousy dough roller/cookie cutter. Are they any easier than traditional sugar cookies?

I've really pared down the holiday baking the past few years, but if I were making cookies this would top the list.

Toffee Butter Cookies

1 cup sugar
3/4 cup unsalted butter
1 egg
1 teaspoon vanilla
2 cups all-purpose flour
1 1/2 teaspoon baking powder
1/4 teaspoon baking soda
1/4 teaspoon salt
3/4 cup English toffee bits

Combine sugar, butter, egg, and vanilla in a large bowl. Beat at medium speed until creamy (about 2 minutes). Add flour, baking powder, soda, and salt; reduce speed to low until well mixed (1 to 2 minutes). Stir in toffee bits by hand.

Shape into 1-inch balls, roll in sugar, place 2 inches apart on ungreased cookie sheets. Flatten each with bottom of glass to 2-inch circles. (If glass sticks, dip in sugar.)

Bake at 350 for 8 to 10 minutes until edges are light golden. Do not over bake. Cool 1 minute before removing from cookie sheet. Cool completely on wire rack.
---
| | | |
| --- | --- | --- |
| RE: Best ever holiday baked goods? | | |
i love making venetian layered cookies for christmas and since they are tri colored, i think they make really lovely (and tasty!)gifts too!! i make them with either a combo of one layer raspberry and one layer apricot preserves, or raspberry preserves on both layers...

1 can (8oz) almond paste
1 1/2 cups unsalted butter, softened (3 sticks)
1 cup granulated sugar
4 large eggs, separated
1 tblsp almond extract
2 cups flour
1/4 tsp salt (omit if using salted butter)
Red & green food coloring
1 jar (12 oz) apricot jelly or
preserves
Frosting:
1/2 pkg chocolate chips (or 3 squares baking
chocolate)
1 teaspoon solid shortening (Crisco)
DIRECTIONSPreheat oven to 350. Lightly grease three 13 x 9 inch jelly roll pans, line with waxed paper, allowing to hang over 1" on each end. Lightly grease waxed paper. Break up almond paste in a large bowl. Add butter, sugar, egg yolks (yolks only) & almond extract. Beat with elec mixer until fluffy. Beat in flour and salt. In a small bowl, beat egg whites until stiff peaks form. Fold into almond mixture until well blended. Divide mixture into thirds. Add green food coloring to one, red food coloring to another, and leave the third portion plain. Using your fingers, spread each portion into it's own cookie sheet. Press and spread until an even layer covers the whole sheet. Bake until just set. Do not let it brown. It will only take 10 to 15 minutes, so watch carefully. Immediately remove layers from pans using waxed paper overhang and place on wire racks to cool. Heat apricot jelly in a small saucepan. (If using preserves, put through food processor to eliminate chunks) Place green layer, top down, on a clean cookie sheet. Carefully peel off waxed paper. Spread 1/2 of heated jelly evenly over green layer to the edges. Place yellow layer, top down, on top of green layer. Remove waxed paper and spread with remaining jelly. Place red layer, top up, on yellow layer. Cover with plastic wrap and weight down with something heavy like a cutting board and put in the refrig overnight. Press it down good so the layers will stick together. Melt chocolate & shortening together in a saucepan, the microwave or by placing in a Pyrex bowl or cup in the oven for a few minutes. Spread evenly over the top layer and let cool until hardened (10 min). Trim outer edges if necessary and cut into bite size pieces
---
| | | |
| --- | --- | --- |
| RE: Best ever holiday baked goods? | | |
Oye, like I don't already have too many sources for recipes, I open this thread and discover many more that I must try.

Natal, I enjoy reading your recipes and the lovely picture you always include.

Lynn, the first picture is so cute! In the second pic, are those cookies done in a press or mold to get that raised design? Does this mean I get to buy more kitchen gadgets? I'm drinking a cup of tea and boy would I like a few of those cookies right now.
---
| | | |
| --- | --- | --- |
| RE: Best ever holiday baked goods? | | |
Natal - is that the Land-O-Lakes recipe? I've made those cookies - and they are wonderful. I got from a land-o-lakes ad. Thanks for reminding me! I'm like you and have really cut down on holiday treats, but I am going to make those again. YUM!
---
| | | |
| --- | --- | --- |
| RE: Best ever holiday baked goods? | | |
Natal, they're about the same work as sugar cookies. You just can't skip the cinnamon & sugar on top, although I sprinkle mine instead of "dipping" them as this recipe calls for.

Hhireno, I never use a press myself. I think that photo is from one of Jane's sites. I use a cookie cutter . . . and yes, they are drop-dead delicious. I guess that's why they're our official state cookie. Everybody makes them and eats them during the holidays here.
---
| | | |
| --- | --- | --- |
| RE: Best ever holiday baked goods? | | |
Tina, yes, it's from Land of Lakes with a little tweak (more chips).

Lynn, do you make them with Crisco or butter?
---
| | | |
| --- | --- | --- |
| RE: Best ever holiday baked goods? | | |
Natal, I use the butter flavored Crisco.
---
| | | |
| --- | --- | --- |
| RE: Best ever holiday baked goods? | | |
Wow!!! Thank you all sooooooo very much for the delicious-sounding recipes! I am most definitely inspired now! (And hungry. OK - so not really hungry, just craving. ;-)) These ideas are all just perfect. Now ... which to choose? That will be the difficult task!
---
| | | |
| --- | --- | --- |
| RE: Best ever holiday baked goods? | | |
Natal, I use the butter flavored Crisco.
OK, that made me LOL for reals :-D
---
| | | |
| --- | --- | --- |
| RE: Best ever holiday baked goods? | | |
I make lots of candy for friends, coworkers, and neighbors for the holidays including fudge, pralines, peppermint bark, orange balls, pistachio cranberry bark, and buckeyes. The easiest by far are the barks(melt chocolate in microwave, stir in crushed peppermint, etc. and pour into foil lined jellyroll pan)and orange balls. Here is the orange ball recipe:

Orange Balls

12 ounces vanilla wafer cookies, crushed
1 cup confectioners' sugar
1/4 cup butter, room temperature
1/2 cup orange juice concentrate, thawed
1/2 teaspoon vanilla extract
1 cup chopped pecans
Coconut for coating

Preparation:

Combine cookie crumbs and 1 cup confectioners' sugar; blend in butter. Stir in orange juice concentrate; add vanilla and nuts. Shape mixture into balls about the size of walnuts; Roll in coconut. Arrange orange balls in single layer on waxed paper-lined cookie sheet; store covered overnight in refrigerator for best flavor. Makes about 3 dozen.
---
| | | |
| --- | --- | --- |
| RE: Best ever holiday baked goods? | | |
The best coffee cake ever. I can get my husband to do anything if I make him this cake :-). The best thing is it freezes extremely well. In fact, DH says it's even better after being frozen.

Vanilla Steusel Coffee Cake

3 cups all purpose flour
1 1/2 teaspoons baking powder
1 1/2 teaspoons baking soda
1/4 teaspoon salt
1 1/2 cups softened butter
1 1/2 cups sugar
3 eggs
1 1/2 cups sour cream
1 1/2 teaspoons vanilla
3/4 cup firmly packed brown sugar
3/4 cups chopped nuts (I prefer walnuts in this)
1 1/2 teaspoons cinnamon
2 tablespoons vanilla mixed with 2 tablespoons water

Preheat oven to 325. Butter 10 inch bundt cake pan.

Sift together flour, baking powder, baking soda and salt, and set aside.
Combine butter and sugar in large bowl and beat until fluffy.
Add eggs one at a time, beating well after each addition.
Blend in sour cream and vanilla.
Gradually add sifted dry ingredients and beat well.

Combine brown sugar, nuts and cinnamon in a separate bowl.

Turn 1/3 of batter into the bundt cake pan.
Sprinkle with 1/2 of the nut mixture.
Repeat
Add remaining batter and spoon diluted vanilla over top.

Bake 60-70 minutes.
Cool completely before removing from pan.

Sometimes some of the cake sticks to the pan. Use flexible spatula and put back on cake. It's not noticable, and once you taste it you won't care.
---
| | | |
| --- | --- | --- |
| RE: Best ever holiday baked goods? | | |
Presentation is key. You can make a simple pumpkin bread and drizzle a glaze over it, present it on pretty plate as a gift as well, wrap with cellophane and tie with lots of Christmas ribbon etc.

PUMPKIN BREAD

3 C flour
3 C sugar
1 1/2 tsp ea cinnamon, nutmeg and salt
2 tsp baking soda
Mix above ingredients
Make a well and add
1 C oil
2/3 C water
1 can (15 oz) pumpkin
4 eggs
(chopped pecans/walnuts optional)
Mix well and beat 3-4 min
Grease and flour 3 large loaf pans
Bake at 350 for 1 hour

Sometimes I use Bundt pans with different designs or make muffins and even mini muffins. Adjust cooking time accordingly.
It's a dense, sweet, moist bread
Awesome with coffee for breakfast
---
| | | |
| --- | --- | --- |
| RE: Best ever holiday baked goods? | | |
Jen, we have a large gathering at Christmas and everyone brings sweets, even a fancy pumpkin cake...it's REAL fancy, and people love it.

Last Christmas I made those peanut butter cookies with the Hershey's Kiss in the middle. I made a ton of them.

They were all gone by the end of the day! What's good about these cookies is they're better the second day because they soften up.

Everyone likes cookies. Very simple to make.
---
Post a Follow-Up
Please Note: Only registered members are able to post messages to this forum.
If you are a member, please log in.
If you aren't yet a member, join now!
---
Return to the Home Decorating Forum
Information about Posting
You must be logged in to post a message. Once you are logged in, a posting window will appear at the bottom of the messages. If you are not a member, please register for an account.
Please review our Rules of Play before posting.
Posting is a two-step process. Once you have composed your message, you will be taken to the preview page. You will then have a chance to review your post, make changes and upload photos.
After posting your message, you may need to refresh the forum page in order to see it.
Before posting copyrighted material, please read about Copyright and Fair Use.
We have a strict no-advertising policy!
If you would like to practice posting or uploading photos, please visit our Test forum.
If you need assistance, please Contact Us and we will be happy to help.

Learn more about in-text links on this page here