Return to the Home Decorating Forum
|
Post a Follow-Up
---
| | | |
| --- | --- | --- |
| a creative dog 'gate' on the cheap? | | |
Posted by
pammyfay
(
My Page
) on
Sat, Oct 31, 09 at 21:58
Trying to think of ways to block off the up staircase, with something I can place between the wall and through 2 of the balusters. Tried the plain wood expandable gate, but it really marred the woodwork.

Can you help me think of alternatives?

Maybe connecting some lengths of PVC pipe together into a rectangle and covering it all around with fabric? I thought that would let me make something at the exact size I need.

What else can you think of?

There's a real gate for the kitchen, but I want something gentle for keeping the dog from going up the stairs when we're in the living room.
---
Follow-Up Postings:
| | | |
| --- | --- | --- |
| RE: a creative dog 'gate' on the cheap? | | |
If the wood expandable gate is a good fit, you could pad the areas that touch the woodwork. Moleskin from the drug store would work.

If the dog is not determined, a large piece of stiff cardboard will work.
---
| | | |
| --- | --- | --- |
| RE: a creative dog 'gate' on the cheap? | | |
Have you checked out a baby gate? They are usually cheap & shouldn't mark the wall. Picked one up @ garage sale for my daughter for $5.
---
| | | |
| --- | --- | --- |
| RE: a creative dog 'gate' on the cheap? | | |
We have a baby gate that we picked up when the pups were in house training. We stored it away and brought it out last week to block the stairs so Cooper can't go up while he is recuperating from surgery.
---
| | | |
| --- | --- | --- |
| RE: a creative dog 'gate' on the cheap? | | |
We used to wrap a towel around the wood banister then tie the gate to the towel. The other side was attached to the wall. We didn't damage the wood that way.
---
| | | |
| --- | --- | --- |
| RE: a creative dog 'gate' on the cheap? | | |
We also use an expandable baby gate. (It is as old as my "baby," that is, about 25 years old.

For a few dollars you can find plumbing foam pipe insulation that just slips on and protects the woodwork. See link below.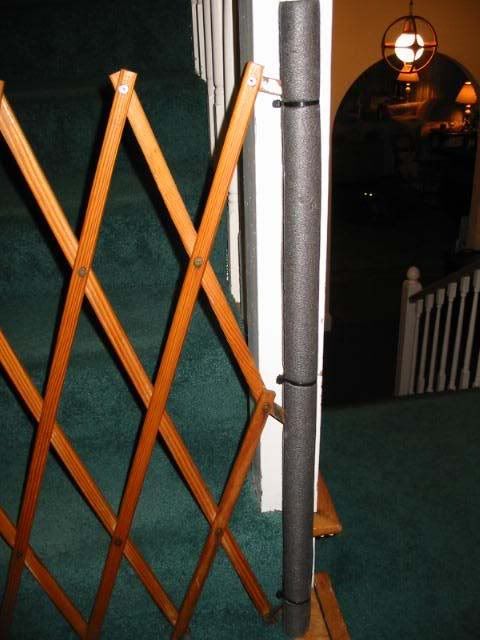 It has also been very useful on vacation at the beach to keep the dogs on the deck or confined to part of the house.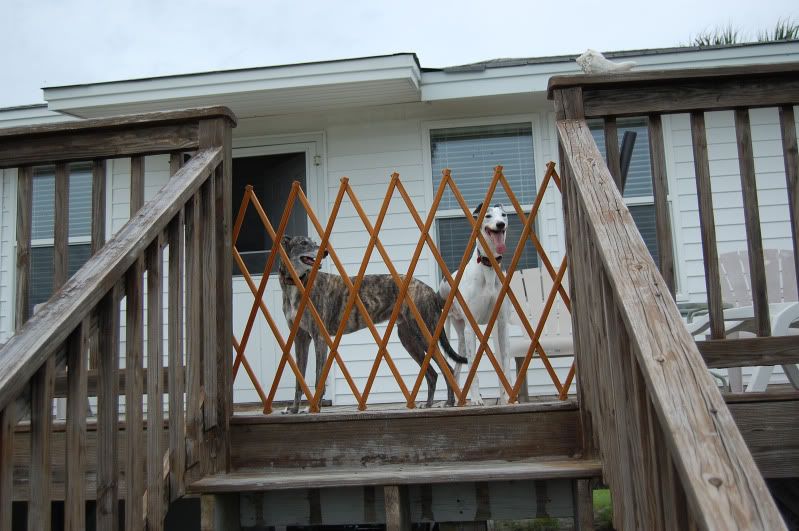 Here is a link that might be useful: Plumbing pipe insulation
---
Post a Follow-Up
Please Note: Only registered members are able to post messages to this forum.
If you are a member, please log in.
If you aren't yet a member, join now!
---
Return to the Home Decorating Forum
Information about Posting
You must be logged in to post a message. Once you are logged in, a posting window will appear at the bottom of the messages. If you are not a member, please register for an account.
Please review our Rules of Play before posting.
Posting is a two-step process. Once you have composed your message, you will be taken to the preview page. You will then have a chance to review your post, make changes and upload photos.
After posting your message, you may need to refresh the forum page in order to see it.
Before posting copyrighted material, please read about Copyright and Fair Use.
We have a strict no-advertising policy!
If you would like to practice posting or uploading photos, please visit our Test forum.
If you need assistance, please Contact Us and we will be happy to help.

Learn more about in-text links on this page here