Return to the Home Decorating & Design Forum
|
Post a Follow-Up
---
| | | |
| --- | --- | --- |
| My Dear Kitty | | |
Posted by
javachik
(
My Page
) on
Tue, Oct 2, 12 at 19:42
I had to find a new home for my cat. I had to choose between being able to have my grandchildren visit and keeping Chloe because DGD and DGS have allergies. Tonight is Chloe's first night in her new home and I'm weepy just thinking of her. I know she's safe and hope she's loved. Here's the picture that helped in finding her new owners.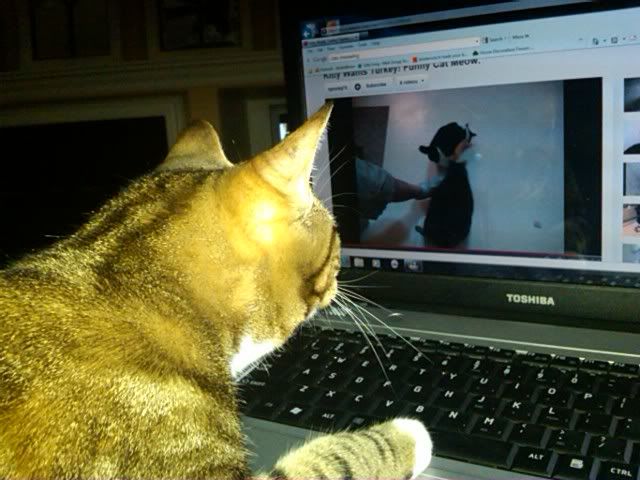 ---
Follow-Up Postings:
| | | |
| --- | --- | --- |
| RE: My Dear Kitty | | |
Oh I'm so sorry! That is so hard. I'm glad she has a loving home but I'm sad for the hole in your heart!
---
| | | |
| --- | --- | --- |
| RE: My Dear Kitty | | |
javachik -so sorry for you... Can you visit?
---
| | | |
| --- | --- | --- |
| RE: My Dear Kitty | | |
Oh Java, I'm sure that was a very difficult decision for you. My mom had to get rid of her cat after it started darting between her legs, something it had never done before. Her previous cat had done the same thing, knocking her down and breaking her humerus, requiring surgery and extended physical therapy. Fortunately, my brother was able to take that cat, but with the second one, none of us were able to take it (my dog was at the end of his life span plus we have a 15 y/o cat that would not welcome it so we had a lot going on at our house). She was so upset b/c after trying to find a loving home, she had to bring him to the SPCA. Fortunately, I live nearby and visited the cat a couple times before it was finally adopted. Relief! She is just now in the process of adopting a new cat and I so hope this time it works out for her - she was devastated that the last two cats she could no longer keep. She has had a cat for 30 years.

I'm so glad that your cat has a good home. I'm sure that provided you some relief after coming to the realization that you couldn't keep it.
---
| | | |
| --- | --- | --- |
| RE: My Dear Kitty | | |
You're heart surely must be broken, just the thought of it makes me feel sad. You did the right thing for your family and I'm sure Chloe will settle in and be happy so you have to do what Chloe is doing, settle down and grieve a bit and then go on and purr again. Sending calming thoughts.
---
| | | |
| --- | --- | --- |
| RE: My Dear Kitty | | |
Javachick, that was such a generous, loving thing to do for your grandchildren! You're a wonderful person to make such a sacrifice. But, my heart goes out to you. Surely you miss Chloe so much! Awww....
Sending you hugs!
---
| | | |
| --- | --- | --- |
| RE: My Dear Kitty | | |
When we had to give a rescue dog away(we found a two dog household was too difficult) I gave the dog to a friend around the corner.
We both went to the following training class that I had started. After class we asked the trainer about how do handle the transition etc. I will never forget when she said "There is nothing that says a dog can't have many friends!"
As long as an animal is in the care of people that love them, they adapt beautifully.
We used to exchange dog sitter favors and the above dog got to "come home" whn our friends vacationed. We also had our dog go to another neighbors house too. One time I was exhanging stories of how my dog did. My neighbor said that as soon as her husband got up in the morning, my dog jumped right in his spot. Well, this was my routine. Right there I realized that we humans can be exchangeable!
---
| | | |
| --- | --- | --- |
| RE: My Dear Kitty | | |
I am so sorry that you had to find a new home for your sweet kitty, (((Java))). How sad! I'm glad, though, that you could find a loving home for her and wish her . . . wish you both, well. Both of my children are allergic to cats and so are a number of my siblings, and so I know how debilitating that allergy is. One of my sisters is also allergic to dogs and it makes her visits to our home difficult, as we have two dogs that are family to us. Loving them, as I know you love your Chloe, I can see just how painful it must be for you to give her up. My heart goes out to you.
Lynn
---
| | | |
| --- | --- | --- |
| RE: My Dear Kitty | | |
Oh, java - that must have been heartwrenching for you to let Chloe go to a new home! I'm so sorry that you had to make that decision, but completely understand and applaud you for making the effort to find your girl a good caretaker. I am sure she will be well loved, and I hope your heart is filled with happy memories of her and the assurance that you did the right thing for your family. (And for Chloe.)
---
| | | |
| --- | --- | --- |
| RE: My Dear Kitty | | |
That was a a very tough thing to do java, and I am so sorry you had to make that decision. I love my cats with all my heart as well, and I don't know that I could have done the same with as much grace as you did. I commend you. I can tell you are a caring cat mom, too, and am sure you found a very loving home for Chloe.
---
| | | |
| --- | --- | --- |
| RE: My Dear Kitty | | |
It's nice that Chloe can stay in touch via email. What a nice, new family to get her a computer. Do you have visiting privileges?
---
| | | |
| --- | --- | --- |
| RE: My Dear Kitty | | |
Thank you all, for the stories and for the well wishes. I didn't ask for visiting privileges and the family is geographically a bit far away, so her new home is...her new home. Yes, we humans are interchangeable, but those pets just burrow into special little niches in our hearts that really cannot be filled -- just offset by the memories.
---
| | | |
| --- | --- | --- |
| RE: My Dear Kitty | | |
oh java, how sad for you; you have your memories and pictures to warm your heart. I hope time heals your wound, it's not easy to lose your furry friend.
---
| | | |
| --- | --- | --- |
| RE: My Dear Kitty | | |
What a sad day for you. But how lucky you were able to find a good home for your sweet Chloe.

I would literally give up my life for my little DGD and DGS, but if I had to give up my beloved Aussies for them to visit, I'm not sure how I would adjust. I don't see my grandchildren every day, but my dogs are a huge part of my every day.

The choice must have been heart-wrenching, but here's to all those future wonderful, laugh-filled times with your grandchildren.

Dee
---
| | | |
| --- | --- | --- |
| RE: My Dear Kitty | | |
Java--I'm shedding tears for you now. That's an incredibly difficult decision. I wish my DM was as brave to sacrifice something so dear for her grandchildren as you are for yours. In my DM's case, her "thing" is absolutely unhealthy for her, but she won't see it.

Hugs to you!!

Breezy
---
| | | |
| --- | --- | --- |
| RE: My Dear Kitty | | |
Sometimes we're faced with some really hard choices and it's understandable that the needs of your family would come first. Doesn't make the choice any easier though and I admire that you did that for them. I'm also very happy you were able to find that beautiful girl a home you feel confident she'll be happy in.
---
| | | |
| --- | --- | --- |
| RE: My Dear Kitty | | |
I was unbelievably lucky to have found her new home within hours of making the decision to part with her. I don't know that I could have maintained that resolve for too long, particularly when I found myself looking at cats on craigslist today just to see those cute creatures! Really, that was just masochistic!

But, I have ONE child only and he has worked very hard to build a good life that I want to be included in. I'm so lucky his wife likes being with me and includes me in her family even though it's already quite large.
---
Post a Follow-Up
Please Note: Only registered members are able to post messages to this forum.
If you are a member, please log in.
If you aren't yet a member, join now!
---
Return to the Home Decorating & Design Forum
Information about Posting
You must be logged in to post a message. Once you are logged in, a posting window will appear at the bottom of the messages. If you are not a member, please register for an account.
Please review our Rules of Play before posting.
Posting is a two-step process. Once you have composed your message, you will be taken to the preview page. You will then have a chance to review your post, make changes and upload photos.
After posting your message, you may need to refresh the forum page in order to see it.
Before posting copyrighted material, please read about Copyright and Fair Use.
We have a strict no-advertising policy!
If you would like to practice posting or uploading photos, please visit our Test forum.
If you need assistance, please Contact Us and we will be happy to help.

Learn more about in-text links on this page here