Return to the Home Decorating & Design Forum
|
Post a Follow-Up
---
| | | |
| --- | --- | --- |
| Very OT - but thought you'd enjoy | | |
Posted by
joyce_6333
(
My Page
) on
Tue, Aug 5, 14 at 14:00
I was in the backyard the other day talking to DH, and we turned around and saw this. Luckily I had my phone in my hand otherwise would have missed it. They were standing on the edge of the woods just staring at us. Sorry it's a little blurry, but didn't have much time before they bolted away.
---
Follow-Up Postings:
| | | |
| --- | --- | --- |
| RE: Very OT - but thought you'd enjoy | | |
Long legged rodents!! Be gone!
---
| | | |
| --- | --- | --- |
| RE: Very OT - but thought you'd enjoy | | |
Annie, I do have to agree with you that they can be pests. They eat everything I plant. But they sure are cute.
---
| | | |
| --- | --- | --- |
| RE: Very OT - but thought you'd enjoy | | |
| | | |
| --- | --- | --- |
| RE: Very OT - but thought you'd enjoy | | |
Years ago, when clearing a wooded area post tornado, my neighbor found a baby in the woods, whose mother had been killed by the storm. He brought it home and it became immediate friends with our then 1-1/2-year-old son who was still carrying a bottle but walking very well. The fawn followed him everywhere and they shared the bottle. It protected our son from other children who it felt might endanger him. As it grew up, too large for playing with a small child, we took it to the local zoo after conferring with out vet who said it would not be able to survive in the wild because it had spent most of its life in domestication so the zoo was the best place for it. We enjoyed it and our baby still cherishes those pictures of him and the baby deer walking around sharing a bottle of milk.
---
| | | |
| --- | --- | --- |
| RE: Very OT - but thought you'd enjoy | | |
We see them a lot here in the 'hill country' of Austin also. Many times along the roads unfortunately, with vultures filling their bellies. Such is nature I guess, but I'm always amazed excited when I see them, especially a whole family!

One of the strangest sights in my neighborhood was coming home one afternoon and seeing a cow walking thru my subdivision. I'm out in the country surrounded by farms, and the big guy escaped thru an opening in the fence. It took a good 45 minutes for the police to escort him back to the field, and he would stop and let out a loud mooooo every so often. It was a very hot day also, poor guy.
---
| | | |
| --- | --- | --- |
| RE: Very OT - but thought you'd enjoy | | |
An all-too-familiar sight in my neighborhood too, but somehow I never tire of it. I even see them when I'm jogging and they just stare at me sometimes. Had one in my front yard a couple of weeks ago that just grazed while I was standing there taking its photo. I am currently at war with the raccoons and possums (I think) who are beating me to my tomatoes though. Grrrrrr!
---
| | | |
| --- | --- | --- |
| RE: Very OT - but thought you'd enjoy | | |
Tons of deer at our house in Ohio.

Last week we were in Colorado visiting my in laws and I couldn't help but take a picture of the nursing elk. All together now, "awwwww."
---
| | | |
| --- | --- | --- |
| RE: Very OT - but thought you'd enjoy | | |
I occasionally see deer in my yard or in the neighbor's yard, but it's rare as they generally stay in a nearby wilderness park.
---
| | | |
| --- | --- | --- |
| RE: Very OT - but thought you'd enjoy | | |
We often have deer in our yard and it never fails to make me smile. I love them.

Several years ago we had a pair of new fawns that would lay by my DH's garage door. They weren't shy at all.
---
| | | |
| --- | --- | --- |
| RE: Very OT - but thought you'd enjoy | | |
I love seeing them and hate what they do to my garden! Around us they are SO bold they rarely move when we get close or just casually saunter off. A mama once followed my DH while he walked our dog because Cajun resembles a fox - the mama seemed to want to push them away from where she hid her baby.

This one was just munching away in a neighbors yard when I came home from my walk the other day. She didn't even flinch as I approached and I stood thatclose to her taking pics and video.
---
| | | |
| --- | --- | --- |
| RE: Very OT - but thought you'd enjoy | | |
Awwwww, on the elk pic!

Brazen hussy you got there, dlm!
---
| | | |
| --- | --- | --- |
| RE: Very OT - but thought you'd enjoy | | |
See them all the time around here and they are a menace. Gardens destroyed, cars destroyed (as well as deer) and the threat of Lyme disease. They are kind of pretty and the fawns are adorable. Sadly, there was a dead fawn in a neighbor's driveway that had been hit by a car on Sunday. There are just too darn many of them.
---
| | | |
| --- | --- | --- |
| RE: Very OT - but thought you'd enjoy | | |
We have them in our yard almost 24/7, but I never get tired of seeing them. They certainly limit what flowers you can plant, but they were here first. :)
---
| | | |
| --- | --- | --- |
| RE: Very OT - but thought you'd enjoy | | |
Beautiful picture. I just watched an interesting documentary on Netflix--"The Private Life of Deer". Addresses many of the issues mentioned above. But I still think they're beautiful creatures!
Here is a link that might be useful: The Private Life of Deer
---
| | | |
| --- | --- | --- |
| RE: Very OT - but thought you'd enjoy | | |
Here's what I woke up to this a.m.

Mama and 2 babies have been hanging around for over a year now.
Long-legged rodents!!!
---
| | | |
| --- | --- | --- |
| RE: Very OT - but thought you'd enjoy | | |
| | | |
| --- | --- | --- |
| RE: Very OT - but thought you'd enjo(img src="http://i228.photobu | | |
Ohhh, love all of these nature pics! Joyce, they're beautiful! Osage: what a wonderful video clip. So sweet! Patricia, you should write a book about your son's experience. Seriously. It would make a great picture book for kids and adults.

As you all know, we live in the mountains of New Mexico. In our community here, everyone has at least several acres of land, with hardly any fences between us. We see deer, bear, coyote and bobcats wandering around but my favorites are the wild horses. Occasionally we'll look up from what we're doing and see one, two or even a small herd of them wandering right past our doors. Beautiful! I managed to snap a pic of this lovely right off our front portal one evening at dusk.
Lynn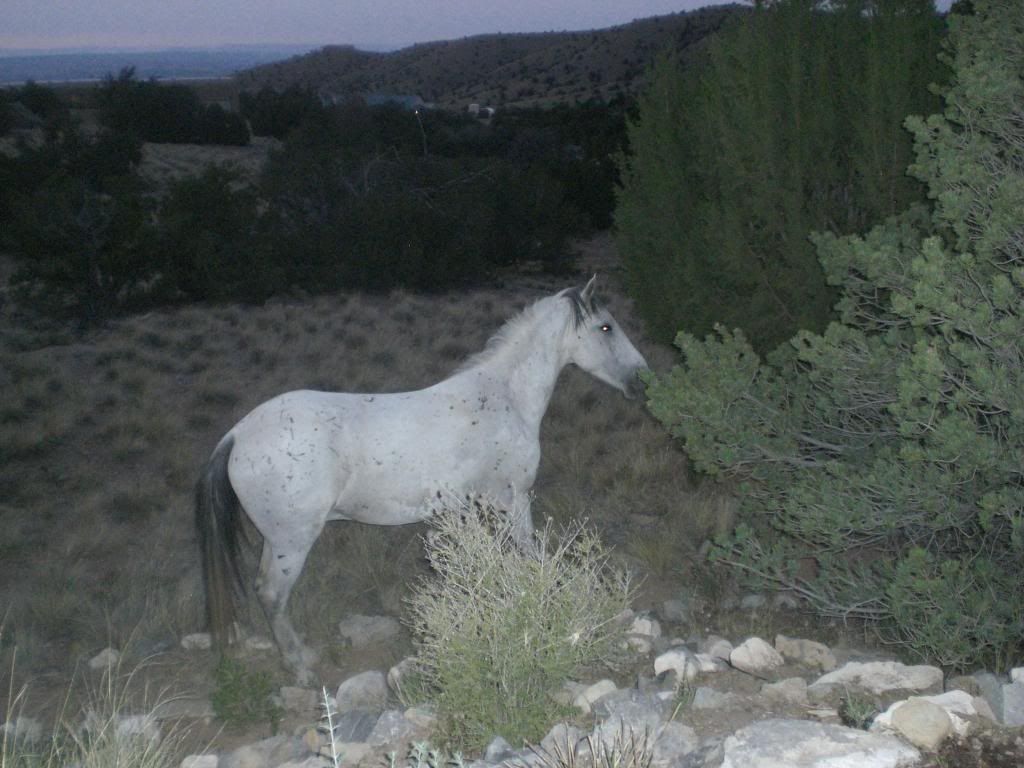 ---
| | | |
| --- | --- | --- |
| RE: Very OT - but thought you'd enjoy | | |
On it would be so wonderful to see a horse hanging out around our yard!
---
| | | |
| --- | --- | --- |
| RE: Very OT - but thought you'd enjoy | | |
How cool is that wild horse? My husband teases me about the wildlife I get to encounter while I'm out in the field.

So far I've encountered river otter, beaver, mink, fox, rabbits, deer, elk, bear, peacocks, wild turkeys, bald eagles, nutira (giant water rats!), raccoons, skunk, possums, blue heron and loads of amphibians and snakes. I've been fortunate NOT to see any cougar-I think that would scare me more than the bear! Not to mention the usual livestock plus a bit more unusual, including llamas, alpacas and even a couple of camel.

It's a lot of fun to see wildlife up close in nature. I have mixed emotions about seeing deer and other wild animals in neighborhoods. Development has encroached on their territory so people get impacted by them. I always tell rural landowners who want to build on their lots to be prepared to forget about having flowers and fish ponds. I met a guy who put in a $75,000 koi pond and stocked it with dozens of koi that cost several thousand dollars-only to find the raccoons and heron had a buffet while he was gone for the weekend.
---
| | | |
| --- | --- | --- |
| RE: Very OT - but thought you'd enjoy | | |
Just the other day while getting dinner ready to serve we saw a doe running down our street. We live in the city! There is a creek that runs behind our cross-street so they follow that. Somebody on our street has a yard that attracts them.

We also have barred owls and love their distinctive call. Luckily, I am a sound sleeper, but one night one was really close to the house.

Love the wild horse!
Here is a link that might be useful: barred owl call
---
| | | |
| --- | --- | --- |
| RE: Very OT - but thought you'd enjoy | | |
Love that horse, Lynn. Pesky, what a great job!
---
Post a Follow-Up
Please Note: Only registered members are able to post messages to this forum.
If you are a member, please log in.
If you aren't yet a member, join now!
---
Return to the Home Decorating & Design Forum
Information about Posting
You must be logged in to post a message. Once you are logged in, a posting window will appear at the bottom of the messages. If you are not a member, please register for an account.
Please review our Rules of Play before posting.
Posting is a two-step process. Once you have composed your message, you will be taken to the preview page. You will then have a chance to review your post, make changes and upload photos.
After posting your message, you may need to refresh the forum page in order to see it.
Before posting copyrighted material, please read about Copyright and Fair Use.
We have a strict no-advertising policy!
If you would like to practice posting or uploading photos, please visit our Test forum.
If you need assistance, please Contact Us and we will be happy to help.

Learn more about in-text links on this page here