Return to the Home Decorating & Design Forum
|
Post a Follow-Up
---
| | | |
| --- | --- | --- |
| Wedding party in jeans! | | |
Posted by
debrak2008
(
My Page
) on
Sat, Jul 12, 14 at 22:09
We are invited to a nephews wedding at the end of August. It will take place at a farm/winery. The reception will be in a new building done to look like the inside of a barn. After the reception there will be a bonfire with smores.

I have no idea what the bride will be wearing other than she said she is not changing her dress for the bonfire. If it gets dirty or burned, who cares. The men in the wedding party including the groom will be wearing (new) jeans with what I think is called "tweed" vests.

On the invite its says it is a simple affair with casual attire and that cowboy boots and hats are encouraged. I saw the bride today and she says everyone should just wear what they are comfortable in and that jeans are fine. Some people are mixing very casual with dressy. As in jeans and boots with a tuxedo shirt.

We are excited and have never went to anything like this. I will keep you posted on what we are wearing.

Anyone go to anything like this?
---
Follow-Up Postings:
| | | |
| --- | --- | --- |
| RE: Wedding party in jeans! | | |
My DD and her husband, both in their mid-30's, were invited last summer to a wedding like this, where they actually were expected to "camp-out" in tents after the wedding was over. The entire ceremony and reception was held in a field/forest area somewhere in the NC mountain area near Ashville. Dress was supposed to be casual. I never did ask her what she wore, yet she is not an especially "casual" dresser for typical wedding performances. It should be interesting to see what everyone wears.
---
| | | |
| --- | --- | --- |
| RE: Wedding party in jeans! | | |
Sounds interesting...I'll look forward to the post party report on what people wore.
---
| | | |
| --- | --- | --- |
| RE: Wedding party in jeans! | | |
Sounds super fun to me! I'm not a formal type of gal; dress shopping for my son's wedding was truly tortuous. I could totally get on board with mixing casual and dressy. Tent camping, not so much:)
---
| | | |
| --- | --- | --- |
| RE: Wedding party in jeans! | | |
| | | |
| --- | --- | --- |
| RE: Wedding party in jeans! | | |
The camping sounds fun but I'm not sure that is for everyone. I had no idea this type of wedding was so popular.

Here is the dress I was thinking of wearing. The wedding is Aug. 29 which means here we are heading to fall even though it is still summer. The temp could be 80's or 60's.The colors on my monitor are more vibrant then what is looks like in person.
If not this then I have no idea. I don't want to wear jeans but a summer dress just seems to summery for the date. I should decide soon as the summer clothes will only be out until the end of July and then all our stores switch to fall clothes.
What about just a simple black dress? too dressy? and then have DH wear jeans and a black shirt?
Or for something different but would fit right in with the type of crowd is camo. I just came across a cool looking camo wedding dress. Also saw some with just a little camo.
This post was edited by debrak2008 on Sun, Jul 13, 14 at 13:46
---
| | | |
| --- | --- | --- |
| RE: Wedding party in jeans! | | |
A lot of young girls and young women even wear casual skirts with cowboy-style boots. It's really a cute look and casual. Jean jackets never are totally out of style IMO so you could also go that route or with the sweater you have pictured, depending on the weather. Sounds like fun.
---
| | | |
| --- | --- | --- |
| RE: Wedding party in jeans! | | |
Black dress with jean jacket and some fun jewelry? Maybe have two outfits you can choose from when the date gets closer and you have a better idea of what the weather will be?
---
| | | |
| --- | --- | --- |
| RE: Wedding party in jeans! | | |
My BIL had a jeans, cowboy hats and boots wedding where the guests primarily wore jeans. I recall the bridesmaids wore cowboy boots with their short dresses-I think the bride was going to wear boots too but didn't for some reason (I didn't go to that wedding). At the time I attributed the attire at that affair to the trashiness of the whole spectacle (that's a whole other story).

But a friend got married at her parents back yard and the groom wore a similar set up-he was big into horse activities, and guests were very casual.

My eldest DD got married at a lakeside place where guests could tent camp if they chose to. Neither the wedding party or the guests wore jeans, but every one was dressed in what I would describe as urban casual attire. If the wedding is going to be a casual theme, then no big deal IMHO. My younger DD was married in a ballroom at an opera house-had anyone shown up to that affair in jeans I would have croaked.

I like the dress you've shown, I think it would be very appropriate.
---
| | | |
| --- | --- | --- |
| RE: Wedding party in jeans! | | |
I come from a long line of folks who have "dress jeans" just for this sort of occasion. Seeing jeans at a wedding, even in the wedding party, wouldn't even make me blink an eye.

My father is a country red-neck through and through. Here is a picture of him at my sister's wedding in 2010 (with my very adorable niece) - with his dress jeans and cowboy boots. I believe this is the only jacket that he owns - it has leather lapels and elbow patches :) .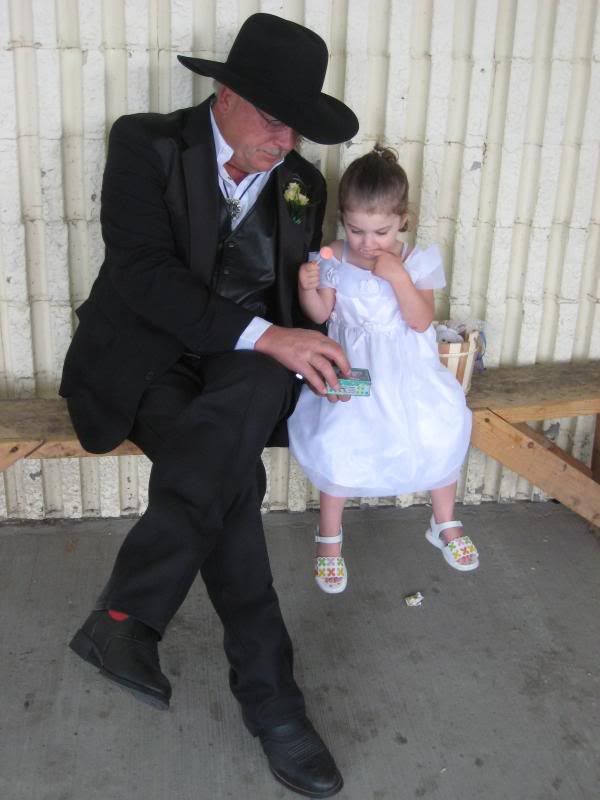 Carrie
---
| | | |
| --- | --- | --- |
| RE: Wedding party in jeans! | | |
I just attended a wedding like that ~my nephew's~ this past Saturday up around the Denver area. DH wore khakis with his dress Lucchese boots and one of his dressier golf shirts (and one of his dressier Western hats). DD and I wore nice sundresses . . . with sandals, as the both the wedding and the reception were outside in his mom's (huge) garden. Many of the younger guys (twenties and thirties) wore nice jeans. I even saw a few in shorts. The older men tended to dress similarly to DH. Pretty much all of the women wore sundresses. We were all glad that we brought along sweaters once the sun went down, too!
Lynn
---
| | | |
| --- | --- | --- |
| RE: Wedding party in jeans! | | |
Thanks for all the advice! I'm going to plan two outfits and then see which works better that day. The one in the photo above and then a black dress w/jean jacket and boots.

I can't believe it but I've never had a jean jacket and I am definitely a jeans and t-shirt kinda girl. So will go out shopping for a jean jacket, black boots, and some funky jewelry.
---
| | | |
| --- | --- | --- |
| RE: Wedding party in jeans! | | |
See if you can find a denim jacket with a touch of lycra-it makes it so much more comfy.

I bought my first jean jacket about 5 years ago and it's become a wardrobe staple for me. I also bought one in coral and have my eye on a lime green one. I rarely wear the blue denim one with jeans, tho-usually with black jeans or khakis and it's indispensible with sun dresses or maxis.
---
| | | |
| --- | --- | --- |
| RE: Wedding party in jeans! | | |
Debrak, I even have a white one for summer. Pesky is right; if you can find one with a little lycra they are very comfortable. You can really wear a denim one with just about anything. Many of them have decorative buttons that make them a little dressier. I just keep mine more plain. Try WH/BM or Lucky brand or even some of the consignment shops for something unusual.
---
Post a Follow-Up
Please Note: Only registered members are able to post messages to this forum.
If you are a member, please log in.
If you aren't yet a member, join now!
---
Return to the Home Decorating & Design Forum
Information about Posting
You must be logged in to post a message. Once you are logged in, a posting window will appear at the bottom of the messages. If you are not a member, please register for an account.
Please review our Rules of Play before posting.
Posting is a two-step process. Once you have composed your message, you will be taken to the preview page. You will then have a chance to review your post, make changes and upload photos.
After posting your message, you may need to refresh the forum page in order to see it.
Before posting copyrighted material, please read about Copyright and Fair Use.
We have a strict no-advertising policy!
If you would like to practice posting or uploading photos, please visit our Test forum.
If you need assistance, please Contact Us and we will be happy to help.

Learn more about in-text links on this page here