Return to the Home Decorating & Design Forum
|
Post a Follow-Up
---
| | | |
| --- | --- | --- |
| jewelry for wedding:) pearls? nothing? etc | | |
Posted by
sheilaaus122
(
My Page
) on
Sun, Jul 20, 14 at 13:37
I am trying to figure out the jewelry I will wear for DD wedding (in a few weeks!!).
Originally I had thought I wouldn't wear a necklace (because I am so good at visualizing and the store photos don't have a necklace:) and would wear a bracelet and earrings of some sort.
I decided to try the dress on again yesterday and tried out a pearl choker and also a very simple solitaire diamond... I then started thinking how I rarely see people wearing pearl necklaces any more. (this one is probably 16 inches or so).
I am still trying to decide but thought I would ask- not that I care much of what is on trend but I was wondering if you have noticed that as well.
Here is a link that might be useful: here's a link with pix of the dress and shoes
---
Follow-Up Postings:
| | | |
| --- | --- | --- |
| RE: jewelry for wedding:) pearls? nothing? etc | | |
Oh, I was thinking about you this a.m. Which shoes did you choose?
---
| | | |
| --- | --- | --- |
| RE: jewelry for wedding:) pearls? nothing? etc | | |
Depending on how much the V-neck was raised will dictate if a choker is appropriate. Generally a choker with a V-neck looks awkward as it leaves a chunk of chest bare - a pendant of some sort that follows the line of the V and fills the space a bit is better.

I found this info which might help. But really, it is whatever you are comfortable with wearing.
Here is a link that might be useful: choosing necklace for neckline
---
| | | |
| --- | --- | --- |
| RE: jewelry for wedding:) pearls? nothing? etc | | |
Great opportunity to bond with DD; ask her!
---
| | | |
| --- | --- | --- |
| RE: jewelry for wedding:) pearls? nothing? etc | | |
If you're wearing dangly, dramatic earrings, I don't think you need a necklace. If your earrings are more subtle, I think you need a necklace. Not a choker, though, but some kind of pendant.

Love the dress!
---
| | | |
| --- | --- | --- |
| RE: jewelry for wedding:) pearls? nothing? etc | | |
I could swear I just typed a whole long reply.
Yes I will of course ask DD but she does not live at home so it will have to wait about a week for that.
Very interesting about the neckline and jewelry. When I tried on the pearl 16 inch with the dress I thought it looked quite nice. I was just noticing that I don't see pearls very much any more and they used to be my go - to.
The neckline of the dress is still quite a v neck. The alterations really just made me be relaxed about not having any cleavage showing ; it raised the neckline maybe `1/4 to 12 an inch so its still plenty of skin showing ...
I can see the shape of the pendant (but its very delicate) complementing the vneck. very interesting.
Olychick- I am 98 percent sure I am going to wear the Lisette shoes you found for me. The wedge is definitely preferable for me, as I do intend to dance a lot (and we will be doing lots of hora's)... the only thing is the color is actually a tad "off" from the dress, but with the metallic and shimmery of the shoe, it actually matches the beaded shimmery edges of the tiers of the dress. (nothing is simple and I deliberate and agonize and stress over each and every decision.).
thank you for finding them!!
---
| | | |
| --- | --- | --- |
| RE: jewelry for wedding:) pearls? nothing? etc | | |
And yes Sueb that is originally what I thought no necklace, good earrings but I don't have any idea for the earrings......
---
| | | |
| --- | --- | --- |
| RE: jewelry for wedding:) pearls? nothing? etc | | |
Great dress and shoes!

The (flattering) lines of a v-neck are interrupted by jewelry; i vote no necklace.

Earrings should be large and appear costly (although costume is fine IMHO). You are not a kid and this is an important occasion, to me the jewelry should reflect that. I kind of dislike delicate dainty jewelry on grown-ups, KWIM?

As for pearls, I have been bashed for this before, but, yes, they are out. I say this as the bereft owner of pearls in many forms. I say this as one who believed them to be "timeless". The exception IMHO, and the only thing I wear now, is large grey Tahitians.

Anyway, have fun! And I hope you have lovely weather!
---
| | | |
| --- | --- | --- |
| RE: jewelry for wedding:) pearls? nothing? etc | | |
I've been curious about whether those shoes worked for you. Glad they might!

I agree with others about skipping the necklace. Earrings are hard to suggest for people you don't know, because I think the style depends on how you wear your hair and how long your neck is, as well as the shape of your face.

While I do think pearls would look nice with the blue and would neutralize some of the bling for an afternoon wedding, I think I'd wear them as earrings and not a necklace. I think too much sparkle in a drop earring might be just too evening wear-ish, but simple pearl earrings could look great.

What about something like this? They aren't real pearls, but I couldn't find them like this in gold, with my cursory search

(sorry, it won't let me post the pic)
Here is a link that might be useful: Pearl Drop earrings
---
| | | |
| --- | --- | --- |
| RE: jewelry for wedding:) pearls? nothing? etc | | |
Can we see a picture of the solitaire diamond, is it on a simple chain, how long ? it seems like just the right amount of bling to complement your neckline.

One thing to remember for your jewellery is how it will show in the wedding pictures, I would not do the pearls, it's too much of a contrast with your dress.
---
| | | |
| --- | --- | --- |
| RE: jewelry for wedding:) pearls? nothing? etc | | |
Wow you ladies are the best! I am going to take a pic later today of the solitaire ( it is very simple on a very simple chain.... ). I love those earrings olychick but I think I want a tad more bling or something. ... I am going through my mother's and mother in law 's (both passed) jewelr as well as mine of course. There are 2 great bracelets; one is substantial yellow gold, and one is more delicate (but not insignificant:) white gold so my options are open. I was actually at TJMAxx over the weekend and saw a pair of vintage looking yellow gold earrings with filigree and some "diamond chips" in it. I may buy them today and see what you all think. I can definitely wear substantial earrings, I think I want more of a dangle...(substantial but can't be heavy)....
---
| | | |
| --- | --- | --- |
| RE: jewelry for wedding:) pearls? nothing? etc | | |
Aww, I'd definitely include something from your Mom and or grandmom, how sweet.

FYI I came across this little guide and I think it's so cute, it makes me want to buy some necklaces.
---
| | | |
| --- | --- | --- |
| RE: jewelry for wedding:) pearls? nothing? etc | | |
I am assuming your hair is short and long earrings will be seen at all times. I am thinking about the pictures and having parts of an earring hidden etc.

With jewelry, sometimes less is more. Choose two. Bracelet and necklace, or earring and necklace or earring and bracelet.

Google red carpet looks to see what the celebrities do.

Mtn, I like that chart. But, it makes me realize that most of what I own is out dated. I don't have chunky jewelry and with my small frame, I think it will overwhelm me.
---
| | | |
| --- | --- | --- |
| RE: jewelry for wedding:) pearls? nothing? etc | | |
I still wear my pearls and have different lengths for different occasions/clothes. I don't think they are perfect for every occasion, but I do think they would be lovely for a wedding. Then, I am not exactly trendy :)

I think the chart Blfenton linked to and mtn embedded is a good jumping off point, but not necessarily the only choices.

I do love the idea of bling-y earrings and a bracelet, though! Your dress is fabulous and you will look wonderful no matter what!
---
| | | |
| --- | --- | --- |
| RE: jewelry for wedding:) pearls? nothing? etc | | |
Since your dress has some subtle bling, I'd be careful too about jewelry. A special bracelet would be great, and I think the choice of dangly, blingy earrings would be great. A necklace might detract from the dress.

Blfenton and Mtn, love your charts.
---
| | | |
| --- | --- | --- |
| RE: jewelry for wedding:) pearls? nothing? etc | | |
Okay...not sure what your budget is, or what you have in mind. Since there are 1,530,000,000 google hits for earrings, I suspect none of us will hit on "the ones". But Saks really had a nice selection of all prices. Nordstrom was a bust, I thought.

Are you thinking like this maybe? Gold or silver?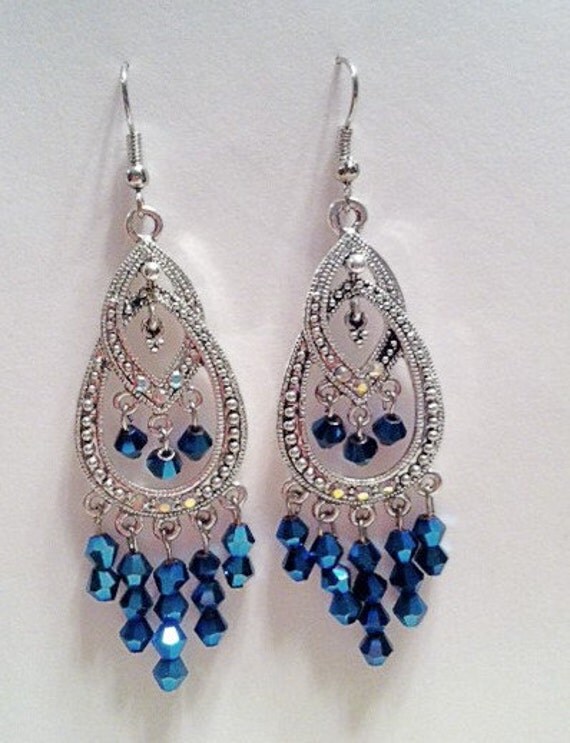 $20 etsy
$165 saks
$85 saks - I thought these had a similar flow to those shoes, if you decide to wear the wedges.
$125 saks
$150 saks
$225 saks
---
| | | |
| --- | --- | --- |
| RE: jewelry for wedding:) pearls? nothing? etc | | |
I have a couple of gold clips of various sizes (enhancers) that allow me to hang gemstone pendants from a string of pearls....best of both worlds :-)

I think your lovely V neck dress is crying out for a gorgeous necklace!
---
| | | |
| --- | --- | --- |
| RE: jewelry for wedding:) pearls? nothing? etc | | |
The wedding was last week- and although I did expect it to be wonderful it was actually way better than that.
Still floating from it- but wanted to thank you all for your help. I am really limited with people to seek advice from and you peeps were superb. I ended up wearing the diamond solitaire necklace which is quite understated but present, a thick yellow gold bracelet from my deceased mother in law, a beaded purse from my deceased mom, and gold filigree drop earrings with a bit of bling to them. My hair was up ( I had been undecided but it was the best thing as I sweat like pig when I dance a lot- which I did - and I still looked like I stepped out of a shower but it was ok- we all ENJOYED). And, yes I wore the wedge shoes which were terrific. Everyone was taking off their shoes and I was totally comfy and chic.
thank you
---
| | | |
| --- | --- | --- |
| RE: jewelry for wedding:) pearls? nothing? etc | | |
what a great update !!! so glad for you !!!
---
| | | |
| --- | --- | --- |
| RE: jewelry for wedding:) pearls? nothing? etc | | |
Wonderful! All the time you put into your outfit was well worth it.

"Still floating"--I know what you mean as I felt the same after our DS was married.

Congratulations.
---
Post a Follow-Up
Please Note: Only registered members are able to post messages to this forum.
If you are a member, please log in.
If you aren't yet a member, join now!
---
Return to the Home Decorating & Design Forum
Information about Posting
You must be logged in to post a message. Once you are logged in, a posting window will appear at the bottom of the messages. If you are not a member, please register for an account.
Please review our Rules of Play before posting.
Posting is a two-step process. Once you have composed your message, you will be taken to the preview page. You will then have a chance to review your post, make changes and upload photos.
After posting your message, you may need to refresh the forum page in order to see it.
Before posting copyrighted material, please read about Copyright and Fair Use.
We have a strict no-advertising policy!
If you would like to practice posting or uploading photos, please visit our Test forum.
If you need assistance, please Contact Us and we will be happy to help.

Learn more about in-text links on this page here