Return to the Home Decorating Forum
|
Post a Follow-Up
---
| | | |
| --- | --- | --- |
| Advice? Golden Retriever Diagnosed With Cancer | | |
Posted by
judiegal
(
My Page
) on
Mon, Jun 8, 09 at 19:19
Hi everyone,

I'm under my mothers account writing to you because I know that you are all very helpful and supportive. My 13 year old Golden Retriever had a tumor removed on Wednesday, and today I recieved the call with the results that is is cutaneous-epitheliotropic lymphosarcoma. Basically, a form of lymphoma on the skin. It is very rare. I was referred to a nearby oncologist and they will call me back to make an appointment. I'm lost here. I don't know what to do. There are so many websites, so many suggestions and medical lingo that I just can't understand. I need real advice. I recently started Savannah, my golden, on fish oil and Co-Q10. Coincidentaly, I've read both of these are good cancer supplements, especially the fish oil. I know now to give her 3 pills a day due to her weight, I was only giving her two. I also know, to switch to a low to no grain, high fiber diet. I'm thinking Wellness Core, the low fat type, since she is s senior. Any other advice? Anything at all. I will also take advice on preventative care for my 5 year old Border Collie. Thank you.
---
Follow-Up Postings:
| | | |
| --- | --- | --- |
| RE: Advice? Golden Retriever Diagnosed With Cancer | | |
I have no advice to give, but I will say some prayers for your baby. I hope the doctor can recommend a successful treatment.

(((Savannah & Judiegal)))
---
| | | |
| --- | --- | --- |
| RE: Advice? Golden Retriever Diagnosed With Cancer | | |
Oh!! What a sweetie-pie face!!

Also sending up best thoughts and wishes .....!!!

HUgs to all -- and I hope there are some good answers (or at least answers ......) here!

Jan
---
| | | |
| --- | --- | --- |
| RE: Advice? Golden Retriever Diagnosed With Cancer | | |
What a precious dog - I hope you get some experienced responses here - sorry, I have none.
---
| | | |
| --- | --- | --- |
| RE: Advice? Golden Retriever Diagnosed With Cancer | | |
I am so sorry to hear this. No advice but have a few questions. Are you willing/able ($$$) to treat her cancer? Is she in pain? If not, how long until she may start to feel pain? How long does this breed generally live?

(((A good home decorating hug from me too)))
---
| | | |
| --- | --- | --- |
| RE: Advice? Golden Retriever Diagnosed With Cancer | | |
First, I'm so sorry to hear about her diagnosis :(

I'm not familiar with that specific type of cancer, but in general, treatment for lymphoma is highly dependent on how advanced it is and the age/health of the dog. It's very common in Goldens, although the particular type you're dealing with may not be. Treatment for lymphoma usually involves chemotherapy. However, you may find out that for this type, removal of any tumors is the optimal treatment.

I'd see what the oncologist says, but also be realistic - 13 is a long life for a Golden these days. You'll need to weigh treatment options vs. the likelihood of extending her life vs. any side effects to her. And please be aware that there are some oncologists who will push advanced treatment no matter what - you must be Savannah's advocate and make the best decision for her.

Having been involved with Goldens for many years, my personal choice for a very senior dog with any type of cancer would be to treat the least invasive way possible. But only you know what's best for you and Savannah.

Feel free to e-mail me through GW . . .

Sue
---
| | | |
| --- | --- | --- |
| RE: Advice? Golden Retriever Diagnosed With Cancer | | |
So sorry to hear about your pup. It's so hard when they get older. When one of my kitties developed lymphoma, we went through the chemo. I was amazed at how many goldens and other strawberry blond haired dogs were in and out of the oncologist's clinic. I was told that goldens are actually very prone to cancer. Maybe the type yours has is just a rare type among them.

I would first try to find out the severity of that type of cancer and its prognosis. I'd also research both the cost and effectiveness of each treatment option, as well as their side effects. I was told my cat's treatment wasn't horrible like some of the people chemos can be.

When we started her treatment, the estimate was something like $100/week, as I recall -- surprisingly low. But it actually turned out to be more like $300/week, which is pretty tough for the average person. There is so much available today for our pets, but many just can't afford it, and the doctors want to do soooo many diagnostics along the way. I find that they are very sketchy and noncommittal in discussions about the disease and the cost to treat. So it's good to do your own research beforehand. I would just start reading in some of the pet cancer forums, for goldens if you can find one, even if you don't really understand it at first. You need to pick up on the vocabulary and familiarize yourself with the treatments, and best treatments, for her cancer type.

Yes, it is so terribly overwhelming and confusing to go through, and the docs can only spend so much time consoling and explaining things to their clients.

There are quite a few dog owners here, but you might also try the GW Pet forum -- over on the Garden side. I was trying to find a golden cancer forum, but am not finding any yet. Googling can turn up all sorts of useful information, often published by professionals. Below is a link to one forum for pet cancer.

Hopefully her skin cancer is a very treatable one, like people skin cancers can be.

Just keep thinking about what a happy dog she is and how lucky you were to have found each other. They can't live forever, but she always has your love and companionship. That's all that's really important to her.
Here is a link that might be useful: Pet Cancer Forum
---
| | | |
| --- | --- | --- |
| RE: Advice? Golden Retriever Diagnosed With Cancer | | |
Thank you everyone for the information and prayers. I'm taking all of it into consideration. To golddust, I am willing to pay whatever I have to for treatments that wont effect her quality of life. I do have pet insurance, and I'm so glad I never canceled it. My mom, judiegal, whose accout I'm using, is going to help of coarse, and the hospital offers payment plans. Right now she is not showing any signs of pain, she's acting herself as usual. She's snoozing in the other room and I keep checking to make sure she's breathing like I compulsively do. She's been losing her hearing which actually helps her sleep because our loud voices doesn't wake her up. She's the same as ever. I don't if/when she will feel pain. After researching a little I've found out that cancer treatments do not effect pets the same they do humans, and that they tolerate them better than we do. There's so many different lifespans listed for Goldens, one says 12-15, while some say there lifespan is decreasing and 11-12 is a long life for a golden. She is 13 but she is still very healthy otherwise, she just had her checkup and my vet was shocked when I reminded him of her age. I know, I know, people tell me 13 is great and to take that into consideration. But I live with her every day and she just has so much life left in her and neither of us are ready to give up. Sorry for the long response, I can't call my friends and talk to them or I'd start crying!
---
| | | |
| --- | --- | --- |
| Savannah | | |
Here is a clip that describes the tolerance of pets to treatments.

For many people the word cancer is terrifying and implies discomfort, pain, and eventual death. In general, pets tolerate cancer treatment better than people do. The treatments used depend on the diagnosis and treatment goals. In order to be therapeutic against cancer there may be a potential for some toxicity because healthy cells may be affected. For instance, chemotherapy attacks the rapidly dividing cells of the body not just the cancer. Because of this we see side effects involving the gastrointestinal tract and bone marrow.
---
| | | |
| --- | --- | --- |
| RE: Advice? Golden Retriever Diagnosed With Cancer | | |
Here's an excerpt from The Merck Veterinary Manual. Note paragraph 2.

Epitheliotropic cutaneous lymphosarcoma (ECL, mycosis fungoides) is the most frequently recognized form of cutaneous lymphosarcoma in dogs and arguably cats. It is a disease of middle-aged and older dogs, and Poodles and Cocker Spaniels may be predisposed. Classically, the lesions progress from patch to plaque to tumor; however, one or any combination of these 3 primary lesions may be present. For example, a form of ECL known as pagetoid reticulosis has minimal to no dermal involvement, and cutaneous lesions always appear as erythematous patches. Another common feature of the disease in dogs is the presence of areas of alopecia due to follicular atrophy caused by infiltration of neoplastic cells into the outer sheath and lumen of hair follicles. Although most cases are associated with diffuse cutaneous involvement, forms limited primarily to mucous membranes or the footpads have been identified. Because of the variable clinical appearance of this tumor, diagnosis based on clinical features can be very difficult, and early stages can be confused with allergic, autoimmune, endocrine, infectious, or seborrheic diseases. Most cases are limited to the cutis until late in the course of the disease. ECL with concurrent leukemia is known as Sézary syndrome.

In dogs, ECL is a slow to moderately progressive disease for which a number of therapies have been attempted. To date, all appear more effective in improving the clinical features of the disease than in prolonging an affected dog's life. Methchlorethamine (nitrogen mustard) has been used in the past as a topical therapy, but because large areas of a dog's body may be affected (including the mucous membranes) and because of its sensitizing potential in humans, it is infrequently used. The disease is often transiently responsive to steroids. Chemotherapeutic agents, such as combinations of adriamycin, chlorambucil, cyclophosphamide, doxorubicin, and vincristine, are variably effective. Retinoids with and without glucocorticoids may also achieve partial or complete remission.

In cats, ECL tends to develop in older animals. Lesions often follow a defined progression, appearing initially as a crusty plaque that is variably pruritic. Biopsies of early lesions are often diagnosed as lymphocytic mural folliculitis. In many cases in which this diagnosis is applied, the lesions evolve into unequivocal cutaneous lymphosarcoma. In contrast to ECL in dogs, epitheliotropism is often extremely subtle in cats. Little is known about therapy or whether therapy used in dogs would be effective if used in cats.
Here is a link that might be useful: The Merck Veterinary Manual
---
| | | |
| --- | --- | --- |
| RRE: Advice? Golden Retriever Diagnosed With Cancer | | |
There's another good, readable summary on the linked site. Cutaneous lymphoma is discussed in the last section of the document.
Here is a link that might be useful: Univ of Georgia College of Vet Med
---
| | | |
| --- | --- | --- |
| RE: Advice? Golden Retriever Diagnosed With Cancer | | |
Oh, how much we love our pets, huh? I've a dog on each side of me as I type and can't imagine having to deal with all this. Squirrel, thanks for your research. I think it's solid, science based.

Based on careful reading, I'd say, avoid Chemo and let her live out her best life. When her life quality is gone (and you know her well so you will know when she just can't be herself), I say hold her while she receives the injection that puts her out of her pain.

I say this only because I've done it to a dog I *never* wanted to lose. Her painless death gave me comfort, in a strange way. She had been suffering, on my account of not wanting to lose her. I went to all states of rescue. If her toenail hit wood in the night, I was wide awake, tending to her.

I finally freed her to die the same way she lived. She was having too many issues that totally got in the way of being who she was. In the end, it fit her personality exact, which gave me unexpected comfort along with a sheer will to give another pet the same kind of home, in her honor.

Just my experience.
---
| | | |
| --- | --- | --- |
| RE: Advice? Golden Retriever Diagnosed With Cancer | | |
If you can afford the chemo and if the doctor thinks it can cure the cancer without making the dog too sick, then do the chemo. But if the drugs make the dog very sick and depressed, then perhaps you might want her to live her last years as is. I would talk to the doctor about this and see if the doctor thinks the cancer can be cured. I went through radiation and chemo, then surgery, then chemo again and then more surgery. It was challenging but better I have to deal with pain or losing hair or being tired than just giving up and dying. If the vet says a fight is worth it, then go for it.
---
| | | |
| --- | --- | --- |
| RE: Advice? Golden Retriever Diagnosed With Cancer | | |
Sorry you are going through this, she's beautiful.
I know how hard it is to let go, at one time we had to make the decision for our Shepherd as she had hip problems.

I would be torn on what to do, it all comes down to age; from what I saw online the life-span is 13, maybe 15. Even though she is strong, she's older. How will treatment affect her quality of life? Then (and I'm sorry to say this) money. Hopefully what I've pasted in below will also help. Do as much research as you can. Make the appointment. I don't know if they can tell you what the prognosis would be for treatment for her.

A big question - will the chemo affect any of her organs?

The best site I found is Merck - I think you have the words mixed up, I could be wrong. This is what I see:
Epitheliotropic cutaneous lymphosarcoma - It is a disease of middle-aged and older dogs, and Poodles and Cocker Spaniels may be predisposed. Classically, the lesions progress from patch to plaque to tumor; however, one or any combination of these 3 primary lesions may be present.

In dogs, ECL is a slow to moderately progressive disease for which a number of therapies have been attempted. To date, all appear more effective in improving the clinical features of the disease than in prolonging an affected dog's life. Methchlorethamine (nitrogen mustard) has been used in the past as a topical therapy, but because large areas of a dog's body may be affected (including the mucous membranes) and because of its sensitizing potential in humans, it is infrequently used. The disease is often transiently responsive to steroids. Chemotherapeutic agents, such as combinations of adriamycin, chlorambucil, cyclophosphamide, doxorubicin, and vincristine, are variably effective. Retinoids with and without glucocorticoids may also achieve partial or complete remission.


(((HUG)))
Here is a link that might be useful: Merck - Epitheliotropic cutaneous lymphosarcoma
---
| | | |
| --- | --- | --- |
| RE: Advice? Golden Retriever Diagnosed With Cancer | | |
Wow, what a beauty! And what a wonderful pet owner you are...

Two pieces of advice: If you can find a veterinary pet school hospital near you, try them for the latest info on treating her. Just google veterinary schools and go from there. There is a great one at Texas A&M, at UC-Davis, at Tufts, in Florida, etc. -but I'm not sure where you live.

Secondly, go to the linked website for a great source on holistic health care, including food, disease prevention, etc. Dr. Fox is a wealth of information on pet care, specifically on foods, shots, etc., which are intended to be good for our pets, but often have cancer-causing or other horrible side-affects.

Good luck to you and you precious baby...
Here is a link that might be useful: Dr. Fox
---
| | | |
| --- | --- | --- |
| RE: Advice? Golden Retriever Diagnosed With Cancer | | |
Honestly (I'm I'm not a crack-pot I swear) how would you feel about incorporating a holistic or western influenced veterinarian to work in conjunction w/ your traditional vet? Would your traditional vet be open to that and do you think that there would be a holistic type vet near you w/ a good rep.?

How about a REALLY GOOD independently owned natural pet food store? Sometimes they have tremendously knowledgeable staff.

It's been a very long time since I've worked in that end of pets dealing w/ supplements, pet nutrition, vet's and such but there are some really good resources if everybody is able to work TOGETHER!

Also it's been awhile but see if you can get your hands on a publication called Whole Dog Journal. Again it's been a long time since I've read it and I'm sure that they are on-line too.

Lastly - good luck to you and you're beautiful sweetie! Thoughts are w/ you.
---
| | | |
| --- | --- | --- |
| RE: Advice? Golden Retriever Diagnosed With Cancer | | |
I don't know about the different chemotherapies avail for cats and dogs, but our 15 1/2 year old cat had tolerated whatever her chemo was without side effects (as far as we could tell).

Hers was given every three weeks intravenously at our vet's office, though I know some chemo drugs can be given at home in pill form. We would drop her off first thing in the morning, and then pick her up at lunchtime. She came home and made a beeline for her water dish, and wanted to eat. No hair loss. Again, I don't know what the different drugs do or don't do, just know how the one that was used on our cat affected her.

The type of cancer our cat had was not curable (had we known, we might not have opted for the surgery she'd had prior to starting her chemo), and I honestly don't know if the chemo prolonged her life (we had for 9-10 months post-surgery). At the very least, we know we did what we could. We opted against radiation for several reasons (distance from the facility, our cat's temperament and age); perhaps that might have made a difference. I don't know. I think in the same situation, we'd at least do the chemo again, but that's because her chemo was tolerated well.

HTH
---
| | | |
| --- | --- | --- |
| RE: Advice? Golden Retriever Diagnosed With Cancer | | |
Thanks again everybody. I ordered Savannah a product today that fits over her leg and wraps securely to her body so that she wont have to wear the dreaded e-collar anymore. She gets so upset and trashed it to the point that it split, and I don't want her stressed out!
The oncologist's office called today and she has an appointment on Thursday. I've been looking a lot into natural and holistic approaches and supplements. I'm going to ask the oncologist if its okay to switch her food to Wellness Core because everything I read keeps reiterating the high protein, no grain, low carb diets. I know a lot of people say don't change her diet but I will ask the vets, and if they say yes I will do it very gradually, probably over a two week + period. She is already on Wellness so hopefully it wont be too big of a change. A lot of people recommend this K-9 immunity medicine but it's $250 for only one month for her weight for the kit so I'm looking into more affordable immunity boosters. I found an article written by a vet that recommends using bertes immune blend. I put a link at the bottom. The article says all you need to add is the no grain diet and fish oil. Lots of fish oil! I think I'll go for the Core Fish type since it already has some fish oil and omega 3 fatty acids in it. Any more advice on some supplements or natural treatments? Thanks again everyone!
Here is a link that might be useful: Bertes Immune Blend
---
| | | |
| --- | --- | --- |
| RE: Advice? Golden Retriever Diagnosed With Cancer | | |
Before even giving her fish oil (or other supplements), I'd talk to the vet first. When my little girl had lymphoma, I looked into that and found information that its effect, being positive or negative, could be cancer-specific. Some cancers actually thrived on the fish oil. This is going on memory, without backtracking for the info. The doc also wanted to keep her treatment plan clean and well-controlled.

When one of my other cats was put on Cosequin, for cystitis I think it was, he started to have a general bleeding/fibrinogen disorder. It stopped after he was taken off it.
---
| | | |
| --- | --- | --- |
| RE: Advice? Golden Retriever Diagnosed With Cancer | | |
I lost my 6 year old Golden to chondrosarcoma (bone cancer in her shoulder) 4 years ago. After surgery to remove the tumor, we were told she would live 2 to 6 months. With lots of tender loving care, we had her for 18 more months. She limped for 6 months before I got fed up with my vet's inability to diagnose her, and changed to a new vet who figured it out right away. We were advised not to amputate the leg or pursue chemo -- just to keep her comfortable. I always regret that we weren't more aggressive since she was only 4 1/2 at the time of diagnosis. Perhaps if she had been diagnosed sooner, we could have saved her.

Based on my experience, I would suggest you get more than one opinion on treatment. Also, as others have said, 13 is a good long life for a golden, so you must balance that against the quality of her life during treatment, and her chances for recovery.

We were lucky that our Gussie died at home in our arms less than 24 hours before her appointment to be euthanized. I pray for the best outcome for your beautiful golden girl, and that you'll have lots more time together.
---
| | | |
| --- | --- | --- |
| RE: Advice? Golden Retriever Diagnosed With Cancer | | |
I can't thank you all enough for all the advice. I'm putting all my questions down on paper to ask the oncologist tomorrow because I know I'll forget something. My sisters friend was here yesterday and she said her vets gave her dog only a few weeks and that was last year, and he seems pain free.
Savannah still seems to be fine, still waiting for her "Strock" (the product that goes on her leg) so she wont have to wear the e-collar. She wants so badly to be able to run around outside, but I think that will have to wait until Saturday when her stitches come out. I still don't know what to feed her, I'll wait for recommendations from the oncologist and see if she knows what she's talking about. She ran out of food today so I think I'll just buy a small bag in case we need to switch over to a new food. Enough so that I'll be able to transition her though. I thought Wellness Core was good, but I don't think it has enough fat in it. Apparently, proteins and fats will nourish the dog, not the cancer, whereas carbohydrates nourish the cancer. They call high protein, high fat, low carb, no grain diets "cancer starvation diets" which sounds scary but it starves the cancer, not the dog. I think what I've read a few times was 30%+ protein, 30%+ fat and less than 20% carbs. Science diet has a prescription food n/d that was formulated to for cancer and fits those numbers, but it only comes in canned and I don't know how much I trust science diet. Other people recommend Tastes of the wild, Innova EVO, a homemade diet following the guidelines... I don't know if I have the time or resources for a homemade diet, we'll see, if it's the best option I'll probably go for it. My mom, judiegal, is picking up a book for me on natural ways to prevent and treat cancer in dogs. It has diet and supplement advice, among other things. I'm hoping to save my other dog from the same fate, but nowadays 50% of dogs over the age of 1 get cancer. I hope I can learn to do right by my babies! Thanks again everyone. My mom just handed me the book! Sorry for venting, but you are the the most understanding people of all! Here a picture of my boy Toby on his birthday last month. He loves Savannah, and I love em both.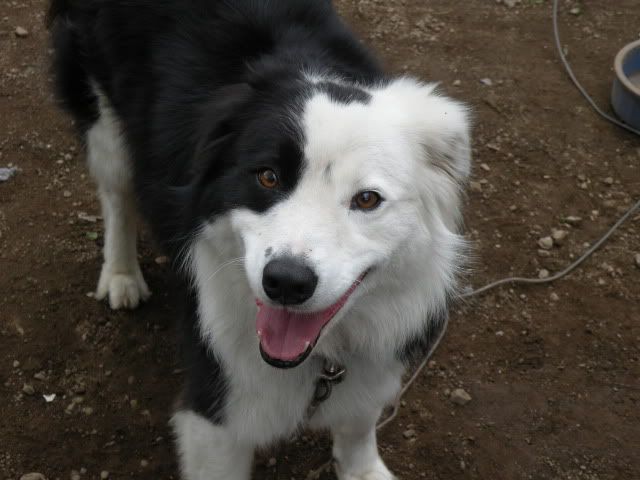 ---
| | | |
| --- | --- | --- |
| RE: Advice? Golden Retriever Diagnosed With Cancer | | |
Border Collies are generally healthier than many other pure bred dogs. One reason is that BC's are not bred for looks but for work.

My boy Border Collie Duncan just turned 13 on June 1st. He has a bit of problems with back hips if he has been laying down for a long time but if I get him to lose a few lbs. that would help him a lot.

Good luck with your Golden. God may allow her to stick around for a lot longer than the doctor's prediction.
---
| | | |
| --- | --- | --- |
| RE: Advice? Golden Retriever Diagnosed With Cancer | | |
I do recall from my pet mutritionalist days that Wellness was such a great food. Our store was one of the 1st to work w/ them in the area and they worked closely w/ us in regards to feedback. I recall (and I'm not making this up) a lady whose cat had diabetes. We talked to her about diet and decided to try Wellness. The poor cat ended up having to go to the vet after a daily dose of insulin because over time the Wellness diet helped regulate her diabetes and she didn't need daily shots anymore. I periodically check the ingredients of it and it is still great food. My little sis called me last wk. about it because she wanted to switch. I told her to go for it.

The company always seemed like they had really caring people working there.
---
| | | |
| --- | --- | --- |
| RE: Advice? Golden Retriever Diagnosed With Cancer | | |
My vet just told me the other day that, even though all pet food is garbage, Wellness is the best out there. And that he has no brand preferences, only looks at ingredients and quality.
---
| | | |
| --- | --- | --- |
| RE: Advice? Golden Retriever Diagnosed With Cancer | | |
I do have both of my dogs on Wellness now, Savannah is on Wellness just for seniors and Toby is on Wellness Lamb, Barley and Salmon meal. I switched them to it last year after I read a lot of horrible pet food industry issues and that Wellness was one of the only pet foods not included in the recall. However, I'm reading a lot more on why dogs should have grain free food, to prevent cancer and to give dogs with cancer a better quality of life. Also, Toby has allergies, even on Wellness which is supposed to be great for allergies, and grain free is supposed to be a good fix. I think it's like squirrel heaven said, all are garbage but Wellness is the best. I think that Wellness Core would be even better, because it more resembles what their ancestors ate, and they didn't eat grain. I just don't think its good for Savannah because as I said, the fat content is not high enough. It's only about 14% and some cancer diets go as high as 40-45%. I'm hoping for a good recommendation from the vets still, or anyone else. The science diet n/d doesn't specify if it is grain free and it's meat source is by products... gross... I'll keep looking. Thanks everyone. Feel free to post pics of your loved pets!
---
| | | |
| --- | --- | --- |
| RE: Advice? Golden Retriever Diagnosed With Cancer | | |
What store has best prices on this Wellness food?
---
| | | |
| --- | --- | --- |
| RE: Advice? Golden Retriever Diagnosed With Cancer | | |
Well I had a whole response written up then we lost power, so long response short:

For grain free diets have you checked out Innova EVO? We've been feeding that to our dog and cats since it came out a little while ago. Like I said it's been a long time since I've delved into the whole pet food diet thing since it hasn't been my fulltime profession for yrs now. Innova was the company that had DH & I went through extensive testing and traing w/ regarding pet food ingredients and a whole bunch of other stuff to sell their food. Sometimes we switch off to Instinct or Taste of the Wild, both also grain free. I haven't bothered to research the foods beyond what the owner of the store says (he's very knowledgeable and only sells all natural pet food). If you've never read it or checked it out I've included a link to The Whole Dog Journal. I have yrs and yrs worth of the hard copies saved in binders.

Threegrad - you'd really have to comparison shop to see who has the best prices. When it came out and we sold it they would only deal w/ smaller independant stores but that may very well have changed by now.
Here is a link that might be useful: Whole Dog Journal
---
| | | |
| --- | --- | --- |
| RE: Advice? Golden Retriever Diagnosed With Cancer | | |
Petco carries Wellness. Thanks.
---
| | | |
| --- | --- | --- |
| RE: Advice? Golden Retriever Diagnosed With Cancer | | |
PetValue (good prices) sells Wellness catfood for $1.39 per 5.5 oz can. Surprisingly, my vet has started to carry it and sells it for $1.29. So don't rule out vets for good non-prescription food prices. I always thought that would be the most expensive place. He says that vets/he's not that interested in making money off of pet food.

I noticed there was a grain-free variety also. My kitty is only eating certain proteins for allergies, so I haven't tried those. They are loving the new delicacies of lobster, trout, herring, salmon, crab, shrimp ... ! They seem so glad to eat something new.
---
| | | |
| --- | --- | --- |
| RE: Advice? Golden Retriever Diagnosed With Cancer | | |
Today my mom asked if I saw the price for the Wellness Core, 59.99 and I said yes, right now I'm paying $62.99 with out taxes! She thought it was crazy because back when she was more of Savannah's caretaker, she bought Nutro for about $44, I think for a 40lb bag. The thing is, it actually doesn't end up being that much more because you don't need to feed them as much as other foods. Before, Savannah was getting 4 cups a day of Nutro, but on Wellness she only needs about 3. The packaging suggest 2.5 for her weight, but 3 keeps her at a good weight, she's hasn't been prone to gaining weight as a lot of senior dogs are. I was so confused when I first bought Wellness, I e-mailed they saying my dog used to eat 4 cups, and why does she only need 2.5 now? They said there food was more concentrated and more nutritious. The 30lb bag lasts me a little less than 45 days. Plus at Petco when you buy 10 bags you get one free, so it's like 10% off each bag eventually.

ttodd, I have looked at Innova EVO and tastes of the wild, but I haven't found a place that sells either near me. I think that Innova EVO looks great, and its one of my considerations if I can find a store nearby, I don't really want to have to order online. I was thinking maybe sticking with the Wellness Core and adding some healthy fats to it. I've heard sardines are good, but that's about it. Any other healthy fats suggestions? That's pretty much all the core seems to be lacking. Again, I'll ask the vets tomorrow.
I'm not having a very good day... I had nightmares about Savannah all last night and I've had some hard moments. I try not to be sad around her. I love her so much, she's been my best friend since I was 7. I do have moments where I feel like everything is going to be alright, but I don't know if I'm just in denial. I just never thought this would happen. Savannah on the other hand is just her peppy self, thankfully. A woman forwarded this this to me on another forum that helps me feel better.

"Remember that your dog doesn't know that he/she has cancer. He will look up at you every day and not be thinking 'I'm going to miss you', but he's thinking 'Where's my dinner', or 'you smell funny'!! So enjoy your time with your pet. They will sense your angst however, so do try to be strong in front of them."

Well, Savannah's appointment tomorrow, and I've actually been hoping for it to come so we can get started with whatever it is we need to do. Mom's coming with me, she said she'll probably cry. Wish us luck! Thanks everyone.
---
| | | |
| --- | --- | --- |
| Savannah | | |
Threedgrad, I forgot to respond to you! I love that Border Collie's are bred for work. I actually picked Toby because he was different looking. I once read a comment by a woman who "trashed border collie's" saying that they were no where near as great as afghan hounds and said comparing the two was like comparing a pick up truck to a ferrari. I got furious, googled her name, found her e-mail address (I'm not a stalker, her name was VERY uncommon and consisted of three unusual names and immediately I found out that she is a vet!) I e-mailed her and said I hoped her clients knew how she felt about there dogs. I think all dogs are great in there own way and I just got mad that she put down another breed, especially since I have a great Border Collie. BUT! Back to the point, I never realized that was why they are so healthy (knock on wood) it makes sense! I don't really like to watch dog shows, no offense intended, because I feel like a dog shouldn't be faulted because of its looks, the way it walks etc. Savannah or Toby could never be show dogs. Savannah is short and has walked funny since she was a puppy. Toby walks and runs funny too, and his cute patch would probably be a fault! But I know that most, if not all show dogs are loved and pampered and that their owners are proud of them, and that's all that matters.
---
| | | |
| --- | --- | --- |
| RE: Advice? Golden Retriever Diagnosed With Cancer | | |
We feed our cats EVO. It's a great food. It's a very "calorie dense" food, so you end up feeding less. There's a 95% Chicken and Turkey, a 95% Beef and ???, a 95% Venison and ???, etc. versions of the EVO canned food for cats, in addition to the regular EVO canned. Don't know if they have that version for dogs as well. We give our cats a combo of dry EVO, and the 95% C&T canned (they didn't like the regular EVO canned food).
---
| | | |
| --- | --- | --- |
| RE: Advice? Golden Retriever Diagnosed With Cancer | | |
Judie, it was not until recently that Border Collies were even allowed in the AKC. Real BC people never wanted the dogs to be bred as show dogs. That's why BC breeders resisted the AKC registration. My dogs were registered with sheepdog organizations. I think there are two main ones. I will have to locate their papers one day. BC people like to get their puppies from the farm. Both of my BC's were born from working cow farm dogs which a bit more pushy than sheep dogs. I first decided to get my BC's when I saw them on tv. And the movie Babe was a great way to see our dogs in action.
In Ireland, where my dad was born, he had a collie, a greyhound and a terrier which he used for hunting. Each dog had a job. I think he hunted rabbits. I asked him if the collie was like Lassie. He said no. In Ireland, they called the Border Collie a collie. My aunt in Ireland also had this type of dog. The Border Collie tracked the rabbit and flushed him out, the greyhound chased the rabbit and the terrier dug the rabbit out and killed it. I think that is how he worked them.

BC's are not show dogs. They do like to have a job of some sort. Mine likes to herd the cats or get the tennis ball, even at 13. If you don't keep a BC challenged, he may invent his own games, like digging big holes in the back yard.

Enjoy every day with your precious doggies.
---
| | | |
| --- | --- | --- |
| RE: Advice? Golden Retriever Diagnosed With Cancer | | |
Our first golden, Cody ( a rescue) was diagnosed with a hemangiosarcoma on her spleen when she was 11. It was discovered at her annual visit during Christmas week. Her platelets were so low that we had additional tests and went to a specialist vet clinic in Annapolis as they had better equipment and actual specialists. This was in the span of a week. We were told that surgery( $5000) would prolong her life by 3 months and that she may be uncomfortable. We had decided before hand that if it would extend her life even a year and her quality of life would be good, we would take the 5K out of savings. There had been a slim chance that it was benign and once removed she would have been ok, but that wasnt the case.
She was not in pain but was in very grave danger of bleeding out, so we did not have the option of keeping her close and comfortable until it was time- she was already on borrowed time. So we took her home against vet advice, we all slept on the living room floor with her and then my DH and I took her back to Annapolis. She had her head hanging out the window the whole trip as always. We sat with her at the end.
6 months later we got Bailey and then a year later we got our other golden Cooper. We all decided we missed having a golden too much, and that Cody would think it ok. Cody didnt have a chance so Bailey's AKA name is " Baileys Chance of Osborne' in her honor.
Sometimes life isnt fair but we do what is best for our pups. You will know, after all of the facts are in what you need to do for Savannah.I hope the diagnosis is favorable for her!
---
| | | |
| --- | --- | --- |
| RE: Advice? Golden Retriever Diagnosed With Cancer | | |
What a beautiful dog, I wish you all the best of luck with her cancer.
---
| | | |
| --- | --- | --- |
| RE: Advice? Golden Retriever Diagnosed With Cancer | | |
We feed our dog, Goku, Innova EVO (canned, that old saw about how you should only feed kibble for their teeth is hokum because most dogs don't chew their food very much!). He was fed a very poor quality diet and not even enough of that for his first couple of years which basically destroyed his digestive system - he's totally grain-intolerant including the supposedly "neutral" grains like rice and barley, a single dog cookie will cause 2 days of truly foul diarrhea and terrible itching, and many meats like duck cause him problems too. We must have gone through a dozen different foods when we first got him before we realized that's what it was. Pet Food Direct (just add a .com) has a very good price on the EVO cans, competitive with local stores, and if you get on their mailing list they'll often send out coupons for 22% off. It IS awfully convenient to have the home delivery, although I'm sure the UPS man curses us every time we get a shipment! They have a huge selection of high quality natural grain-free foods. Any retail store that carries any Innova product can order the EVO for you even if they don't normally stock it. In fact, I'm going over to my groomer this afternoon to pick up the next month's supply!

There are so many grain-free foods now, it's wonderful - when we went grain-free with Goku almost 6 years ago there were maybe three brands, now there are dozens to choose from. Just make sure you read the labels to make sure it's a complete diet, not only for use as a supplemental food.

It's very easy to add fat to a dog's diet - just add a little oil or even butter to the dog food. Ask your vet which kind would be best for your dog. Start with a tiny bit and slowly increase because a rapid increase in fat can give a dog the runs and mess with the pancreas big time. We have to add oil to Goku's food in the winter because the hot-air heating is so drying even with a humidifier and it's almost impossible to get him inside when he's out playing in the snow so without supplementation he loses weight in the winter because he's burning more calories keeping warm and tearing around the yard. We have a pump bottle of his oil on the counter and he gets a squirt in the breakfast bowl and a squirt in the supper bowl, very easy.
---
| | | |
| --- | --- | --- |
| RE: Advice? Golden Retriever Diagnosed With Cancer | | |
Hello everyone,

Savannah had a good appointment at the oncologists. She was crazy excited, sniffing everyones cats and dogs. I'm glad we live nearby, the vet told us we're lucky and that some people have to drive hours to get there. The appointment was pretty much positive. The oncologist wants to have the tumor biopsied again at a lab that she prefers. I think I said before that the vet and pathologist weren't sure about the results, and that is might just be a histiocytoma, which is benign. That is what I thought it was originally and have been hoping for still. There is still a chance. They are going to take some stains and test for certain cells, I think she said T-cells and something else. She spoke in my and my moms language, yeah! So I wasn't sitting there nodding with no idea what she was talking about. If it's not what we hope it is, then more testing, chest x-rays and such to see if it's present anywhere else. Depending on what happens she may have to go in every once in a while to check for new lesions and swollen lymph nodes and just a general health check. She said even if we wait a while, she will get the same response from chemo later down the road than if we started now with no real reason too. No doom and gloom reports given, no 2 months to live... The only thing I didn't really like was she wasn't really into any complementary treatments, she liked the fish oil but said if it was her dog she wouldn't change her diet because she is maintaining her weight and has no digestive problems. I still feel though that I should change it. If I do, it would be the same brand so it wouldn't be that big of a change. Any suggestions? Almost every thing I read says to change the diet, and it even says you oncologist will probably disagree but research shows that cancer patients had longer remissions and quality of life on a cancer starvation diet. I think I might check with our regular vet when she goes to get her stitches out on Saturday.
Her strock came in the mail, the leg wrap thing, and she is so much happier without the e-collar. The vet thought it was a good idea. I think they sent me the wrong size though, it's a little small, so I e-mailed the company.
I feel a little better, more hope that everything's going to be alright.
I'm sorry to everyone whose written about pets with illnesses and to those whose pets passed away. When we had to put our cat to sleep, I had no idea how upset I would be, I was not as attached to him as I am to my dogs, and I was miserable for many months. My mom said today she loves animals but can't stand the emotional aspect of it. But I said the time you get with them is worth it.
Thanks again everyone. Oh, and check out the Nutro posting! I'm glad I switched from their food last year!
---
| | | |
| --- | --- | --- |
| RE: Advice? Golden Retriever Diagnosed With Cancer | | |
That's great news! I'd thought they already knew it was cancer. Glad to hear it might just be a benign lesion.

I believe in the we-are-what-we-eat line of thinking. So, if the oncologist isn't against a diet/supplement change and doesn't feel it will interfere with whatever treatment Savannah might undergo, I'd probably opt for the cancer-starvation diet. Maybe she doesn't believe in it, but if it can't hurt, why not. My new vet has also said a number of times, 'We're stable and things look good, so let's not change anything' too (also related to diet). He believes in backing off when possible.

Good luck with the test results. How long until you will know?
---
| | | |
| --- | --- | --- |
| RE: Advice? Golden Retriever Diagnosed With Cancer | | |
Well that's what I thought too, but my vet had said he wasn't certain with the results, and then the oncologist told me today that in the biopsy report there was a note saying they weren't positive and it could be a histiocytoma.
I agree with you, I don't think it could hurt to change her diet either, as long as I gradually switch. I'm just about sure I'm going too. I think I will do what you say and just make sure they're not against it. I don't think she was against it, just she rather thought if she's a good weight and was liking her food than switching wasn't necessary. But lately, she really doesn't like her food anymore. She has a killer appetite as always, she sits and breaths in your face while you eat and gives you paw. I feel so bad when she looks at me and gives me her paw, but I know if I love her I shouldn't give my food. She'll eat treats but I have to coax her to eat her food. Sometimes she'll only eat it off the floor, she's so silly.

I'm not sure about the results. The oncologist said she has a good connection with labs so she can usually get around any "third party" issues and get someone from the labs she prefers to look at the tumor. She said that they keep the tumors in paraffin and they keep them for 7 years. They would have to send the tumor to the labs she likes, and then they would take small bits of cells to make slides. She said it can last a long time because they only need tiny pieces for each slide. After that, she said 7-10 days.

When I first found the lump my vet scraped cells off and sent them out and we got results the next day ruling out a histiocytoma. So he recommended we remove it and get it biopsied. Then, the biopsy results came 5 days after her surgery, saying it was cutaneous-epitheliotropic lymphosarcoma, but that little note saying it might be a histiocytoma. It's so frustrating. But the lab its going to seems more professional. Hopefully it doesn't take that long. Overall she said 2 days to get the tumor, and 7-10 for the results. Whatever the results you guys have helped me so much so far. Thanks!
---
| | | |
| --- | --- | --- |
| RE: Advice? Golden Retriever Diagnosed With Cancer | | |
Your emotions must be like a roller coaster.
IMO, with her not appearing to like her current food, I would consider changing it; if she likes it better it might make a difference.

Good luck & keep us posted.
Maybe you'd like to make your own user account here?
---
| | | |
| --- | --- | --- |
| RE: Advice? Golden Retriever Diagnosed With Cancer | | |
First, congratulations on your adorable, beautiful new baby daughters! Twins -- how fun. Hugs and smooches to the wee ones! :o)

Awwww, Savannah is a beautiful girl with a very sweet face. I can feel your love for her in your words.

I wish like anything I could hand you a magic pill, but I can't, so I'm just going to call it the way I see it, and hope that brings you some strength. Over many years I have lost many very beloved dogs to death. With some of them we put up some valiant and costly battles against cancer. Many of my friends have done the same with their dogs. We may have gained a few weeks time, but in the end we all lost our dogs, and the dogs suffered longer and more when we refused to let them go. Although you wish it were different, you know in your heart that dogs DO suffer from chemo, surgery and other cancer treatments. In the end I and my friends all had this in common: we wished we hadn't put our dear old dogs through so much.

What I've learned over a lifetime is with a 13-year old dog it wouldn't be about me and what I want. It would be all about her; it would be about me looking out for her as a friend, the way I'd want someone to look out for me if I were old and had cancer. Seven times thirteen equals ninety-one years old, hon, she's 91. I would say no to her suffering, no to her being in pain, and no to her being unhappy. I would say no to surgery, no chemo, no radiation, no heroics, no to anything that might increase her misery.

I would say yes to whatever makes her feel better including rides in the car, walks on the beach, massages, cuddling, hugs and kisses, swimming, lots of kids petting her and fussing over her, favorite toys -- whatever makes her tail wag and puts a grin on her face.

I would put her on a raw diet, 3/4 veggies (ground up in the juicer if you have one, super fine in the food processor if you don't), and 1/4 raw meat, plus whatever supplements you decide. If you have to, to entice her to eat it at first, cook the meat just enough. That diet will make her system more alkaline, and less hospitable to disease. I'd say yes to alternate meds like Essiac (which could relieve her pain) IF she wants them. Yes to cottage cheese and flax seed oil if you want.

I would say yes to letting her go in her own time and her own way with her own quiet dignity at home, probably in her sleep -- not burned, poisoned, or cut up by the vet. Yes to pain killers when and if she needs them. If she needs it, yes to having the vet help her gently across the rainbow bridge to end her suffering.

Savannah has had a nice, long, wonderful, happy doggy life with you. For a dog, and a dog owner that's as good as it gets, isn't it? That's the deal you signed up for the day you brought her home, and you're both very fortunate you got it. You both made out like bandits. You've done your job and you've done it well. Your job description does *not* require that you be a miracle healer. It just requires that you be her true friend.

Sometimes the answer isn't to run around doing all we can think of and throwing money at a problem. We kind of have to put a young dog through a lot if there's a chance of a long happy life in front of her. But not with an old dog, even an old dog who feels good, because in our desire to keep her we can hurt her and that's not what we want.

Sometimes the answer is to just sit and hold your dog, thank her for what she's given you, acknowledge what you've given her, think about what she thinks, link hearts and quietly be with her, and tell her it's okay if she needs to go, and mean it. Sometimes we need to understand with an old dog that we've already had our our miracles. The time always eventually comes when we need to go our separate ways. It's a terribly, wrenchingly painful thing to lose such wonderful friends, friends who have been by our sides loving us unconditionally for years and years. Friends who fit with us like a glove. It's terribly hard to feel so helpless and not be able to save them no matter how hard we try. My heart really goes out to you. But I think we're only separated for a little while, and knowing that makes it easier, don't you think?
---
| | | |
| --- | --- | --- |
| add | | |
I wanted to add a couple of things. I hope that didn't come off harshly, as it was just meant to help if you must lose her. You're the one who knows when that "sometimes" is and when it isn't. I hope and pray she will get well now that the tumor has been removed. I have seen Essiac cure -- a human child, haven't seen it on a dog. I also have a friend who swears that Hulda Clarke's ummmm... her wormer medicine... the pills... which is in helth food stores and wasn't expensive last time I looked... cured his cancer.

Above all, I wish you the best and I hope you have her with you longer! My heart goes out to you.
---
| | | |
| --- | --- | --- |
| RE: Advice? Golden Retriever Diagnosed With Cancer | | |
I used Essaic tea last summer in addition to several other homeopathic meds. And I also had all the medical treatments - radiation and chemo before surgery, surgery to remove tumor, chemo after surgery and the more surgery to reverse ileostomy. To me the biggest help and cure was prayer and positive thinking. We will pray for your sweet doggie.
---
| | | |
| --- | --- | --- |
| RE: Advice? Golden Retriever Diagnosed With Cancer | | |
Hi everyone,

Savannah got her last stitches out today! She still has to wear her leg wrap for another week, but no more stitches for her to try and bite at. I asked the vet if I could change her diet and they said it was absolutely fine. I chose Wellness Core, the original formula, like I had originally planned. After she adjusts to that diet for some time I'll add some more fat to her diet. I don't want to make so many drastic changes at once. The dog food came with free treats and Toby and Savannah love em.
I still don't have the results back, but I will let you know when I hear.
At the vets everyone was fawning over her and saying she was so beautiful.
I took Toby for a run today and it was boiling! So they're both tired, hot and passed out on the floor. I can't wait until I can take Savannah for long walks again.
Thanks again everyone. I love all the alternative medicine ideas.
Oceanna, thanks for the congratulations on the babies, but I'm not the mother! Judiegal has 6 daughters, I'm the animal lover one. She's going to make me an account soon so that I can use my own name.
---
| | | |
| --- | --- | --- |
| RE: Advice? Golden Retriever Diagnosed With Cancer | | |
Glad to hear some things are behind you. Will be looking forward to hearing some good news on the test results.
---
| | | |
| --- | --- | --- |
| RE: Advice? Golden Retriever Diagnosed With Cancer | | |
Oceanna that was an incredibly loving tribute to pets of all kinds - very wise words about honoring the relationship we have with our pets. It gave me goose bumps.

I have a couple of questions about your dietary suggestions; is the 3/4 vegie 1/4 raw to be given only in the case of illness or is there value in that diet for any dog? And regarding the cottage cheese - is there a dietary purpose or is it just something most dogs like? I ask about the cc in particular because our dog LOVES it and my DH eats it daily, sharing a healthy dollop with our dog ;-)
---
| | | |
| --- | --- | --- |
| RE: Advice? Golden Retriever Diagnosed With Cancer | | |
I have been watching this thread but had nothing meaningful to offer other than good thoughts for Savannah.

Oceanna, your response was touching and eloquent. I so agree with what you have written. We all need to be our dog's best friend at times like this.
---
| | | |
| --- | --- | --- |
| RE: Advice? Golden Retriever Diagnosed With Cancer | | |
We got the call today and they believe that it is not cancer! The oncologist said that she was confident it was a histiocytoma, which is benign! That's what I had thought it was all along. I'm busy right now but will update you with more of the information later tonight. I just wanted to let you all know right away. Thank you for your prayers!
---
| | | |
| --- | --- | --- |
| RE: Advice? Golden Retriever Diagnosed With Cancer | | |
That's such great news! ! I'm so happy for you and your pup.
---
| | | |
| --- | --- | --- |
| RE: Advice? Golden Retriever Diagnosed With Cancer | | |
Thank God the sweet doggie does not have cancer. She is such a doll as is your boy Border Collie.
---
| | | |
| --- | --- | --- |
| RE: Advice? Golden Retriever Diagnosed With Cancer | | |
Sorry I never got back with more info. So, as I said the results of the second biopsy were that is was a benign growth. She'll still have to go in every few months to get looked over for new lesions, in case it is cutaneous lymphosarcoma. When we went to the oncologist she said the lesion she already had didn't fit the description of lymposarcoma, that Savannah would most likely have red itchy patches in multiple places. So that is what they will look for in the future just to be sure. I'm begging to gradually change both Savannah and Toby's food today to the Wellness Core. Savannah will not eat her food anymore unless I pour that pet gravy stuff onto it, so I'm hoping she'll like the new food.
Savannah seems to be doing fine, she is having a lot more accidents in the house! We might re-open the dog door she used to use. She still knows its there and runs there when she has to pee. If it gets bad I will call the vet and see about putting her on a bladder control pill. I think it's just old age. She did have a problem before and the vet said if she knows she's doing it, it's not incontinence, she just has to be taken out more often. But now she's getting taken out very often and still is going in the house. I actually heard though that grain free diets have helped dogs with bladder control, I don't know why or how, but maybe that will help.
Judiegal made me an account so next time I will post under my own name. Thanks again for everything!
---
| | | |
| --- | --- | --- |
| RE: Advice? Golden Retriever Diagnosed With Cancer | | |
What does the vet say about her appetite being bad?

She's had her senior bloodwork done, too, right?
---
| | | |
| --- | --- | --- |
| RE: Advice? Golden Retriever Diagnosed With Cancer | | |
My sister said that the Wellness food gave her cats diarrhea and a bladder infection.
---
| | | |
| --- | --- | --- |
| RE: Advice? Golden Retriever Diagnosed With Cancer | | |
Loose stools is common with a diet change in cats. It's recommended to do that gradually. If they are female and too heavy to clean themselves, that could be the reason for an additional bladder infection being related to the diet change. (Not sure about the susceptibility of males with this. I think their problems usually result from crystals and stones rather than bacteria).
---
| | | |
| --- | --- | --- |
| RE: Advice? Golden Retriever Diagnosed With Cancer | | |
3D, was thinking about the Wellness itself re bladder problems. They have some exotic flavors with a lot of seafood and fish flavors. For cats that are prone to crystals that can cause bladder problems, it's best to stay away from those, as the minerals in those foods can cause crystal formation in susceptible cats.

These posts are all per my vet.
---
| | | |
| --- | --- | --- |
| RE: Advice? Golden Retriever Diagnosed With Cancer | | |
I can't find my log-in information judiegal made for me so I'll post under her name again.

squirrelheaven, Savannah's appetite isn't bad she just doesn't like her food anymore. She still wants everyone elses food and treats. She's actually in the middle of getting her food changed over to the Wellness Core. She loves the Core and eats her old food just because it's mixed in with it. Her poops are good and firm which is a good sign.

You're right about loose stools being common with food changes. When I read reviews of foods so many people quit on a good food because they think it's making their pets sick. Some people even leave bad reviews because it smells bad! I opted for a two week changeover for my dogs and they're both fine.

I've been letting Savannah outside to run around and she has a ball. She runs and rolls in the grass, and when no one's looking she sneaks into the pool. When you go to check on her you can see foot prints leaving the pool and her rolling on the grass. I check on her frequently to make sure she's fine, she can get in and out of the pool easily but you never know. We do have a pool alarm that's been in its box for a while now, I might set it up.

I'm trying to find a good vitamin/supplement to give her, something like an everyday senior multi-vitamin. Does anyone know of any good brands or products?
She's doing well with the fish oil and co-q 10. I don't know if just a regular petco vitamin will do. I'm also looking for more natural flea and tick products.

Thanks everyone. I'll try and get signed on with own account and give my input on other posts.
---
| | | |
| --- | --- | --- |
| RE: Advice? Golden Retriever Diagnosed With Cancer | | |
when no one's looking she sneaks into the pool
Oh they're so funny. ! I'm so glad to hear she's feeling so well. Maybe her tastebuds are getting a bit old and her food just doesn't taste as good as it used to.
I'd look for a natural or organic vitamin, if there is such a thing.
Keep us posted : )
---
| | | |
| --- | --- | --- |
| RE: Advice? Golden Retriever Diagnosed With Cancer | | |
I didn't read past the first post... so don't know where you are on this with your beautiful furbaby - but I heard on the news a few wks ago they approved a new drug for cancer treatment in dogs.

google - dog cancer and see what comes up. it starts with a p I think. I don't remember if it's for a specific type of cancer.

my girl is 13 now and has Cushings. I dread the day ... she's my baby.
---
| | | |
| --- | --- | --- |
| RE: Advice? Golden Retriever Diagnosed With Cancer | | |
Hi everyone, this is Savannah's mom under my own name.

Savannah and Toby are a little bored today because its pouring and there are thunder storms and they're locked inside.

I on the other hand am very angry. I've been applying to tons of veterinary hospitals because I'm a pre-vet student and want to get experience. Plus, you basically have to have experience at a vet hospital to get into vet school. Anyways, I had a job interview on Monday and I got a letter today saying there aren't any positions for me and they'll "keep my resume on file." I'm mad because they basically told me I was hired and job interviewers always do that to me and then they blow me off. I just wish they would be honest with you at the interview. I mean a letter? Really?

So, to all of you who have gotten laid off and can't find a job, or are just looking for a new job, I feel your pain. Next time I will be more on topic about Savannah. I did get her a multi-vitamin and she doesn't like it unless I cover it with peanut butter. So I might have to find a new one if she doesn't warm up to it.

Sorry for venting! I just need a job :-(.
---
| | | |
| --- | --- | --- |
| RE: Advice? Golden Retriever Diagnosed With Cancer | | |
Sorry to read about your job struggles. I hated going on interviews when I was able to work; you have a feeling they go good, then nothing. Or you think it goes lousy and you get hired lol

Don't let it discourage you. Make sure you keep dropping off a resume/application every few months so they know that you are serious.

Glad to see you made your own account.

As far as venting, it's part of what this side is used for, off topic conversations. I started on the rose forums off topic side. If it wasn't for some of the venting I've done there; I wouldn't have had help for my daughter when she had problems in school. It taught me that you never know who is reading that may have the answer.

Good luck with your job search.
---
| | | |
| --- | --- | --- |
| RE: Advice? Golden Retriever Diagnosed With Cancer | | |
Miranda, sorry to confuse you with your sister. I'm delighted you got good news! I did make a dietary suggestion for Savannah. I hope you find that job you want soon.

DLM, thank you for your kind words. Sorry I didn't see your questions earlier.

About the diet... there is a gal who owns a small health food store near here. I have taken my sick dogs and a few of my own problems to her and she's very good. When she handed me her card I was astounded to read that she's a naturopath! She's also a master herbalist and a Reichi (sp?) healer. She also writes articles for some alt health magazine. She recommends this diet for all dogs, all the time.

The cottage cheese/flax seed cancer diet is advice from Dr. Joanna Budwig. You can google and read about it.

Graywings, thank you very much. We do, for our own sakes as well as for theirs.
---
Post a Follow-Up
Please Note: Only registered members are able to post messages to this forum.
If you are a member, please log in.
If you aren't yet a member, join now!
---
Return to the Home Decorating Forum
Information about Posting
You must be logged in to post a message. Once you are logged in, a posting window will appear at the bottom of the messages. If you are not a member, please register for an account.
Please review our Rules of Play before posting.
Posting is a two-step process. Once you have composed your message, you will be taken to the preview page. You will then have a chance to review your post, make changes and upload photos.
After posting your message, you may need to refresh the forum page in order to see it.
Before posting copyrighted material, please read about Copyright and Fair Use.
We have a strict no-advertising policy!
If you would like to practice posting or uploading photos, please visit our Test forum.
If you need assistance, please Contact Us and we will be happy to help.

Learn more about in-text links on this page here