Return to the Home Decorating & Design Forum
|
Post a Follow-Up
---
| | | |
| --- | --- | --- |
| Do you have your 'dream house'? | | |
Posted by
leafy02
(
My Page
) on
Mon, Jun 11, 12 at 18:04
Two recent events made me start thinking about women and their "dream houses". My friend's mother has reached the point in her aging process where she may soon have to move out of her much-loved condo--the first house she got to choose for herself and make just the way she wanted it. Another friend's sister moved into her own dream house after being widowed and leaving her "empty nest" behind.

I don't have my dream house and thinking about the changes these women have been through lately, I realized I am really afraid that I never will have it. Like, I could end up a bitter old woman because I never got to choose a house because I liked it--never got a house I could LOVE.

Our home purchases have been tightly constrained--at first by finances, and later by both timing and other factors. We've lived in a series of ugly ducklings, when all I've ever wanted is a "cute" house.

My dream house is not spectacular--it wouldn't be large or impressive or have fine finishes--it wouldn't even necessarily cost more than my current house-- it would just be attractive and with the right kind of garden and location for me.

Do you have your dream house? If so, how old were you when you got it, and what makes it your dream house? If not, do you still hold out hope of having your dream house one day?How will you know your dream house when you see it?
---
Follow-Up Postings:
| | | |
| --- | --- | --- |
| RE: Do you have your 'dream house'? | | |
No, I really don't, and I don't think I will ever live in my "dream" house but I also think I'm OK with that. We have been in our house for 16 years and will stay here until our youngest graduates from high school, which is still 7 years away. At that point, our plan is to move to a smaller house in a more urban location that is still very close to our current town. Knowing the area like I do, it's unlikely that the house will be our dream home, but my fantasy is to find a house that needs a ton of work, gut the interior, and at least make the layout a "dream" for DH and me. We have talked about it some, and it is really fun for me to think about designing a space that doesn't have to incorporate a "play room" and 4 bedrooms! My second DS will go to college in two years and I'm already freaking out at the thought of how big our house is going to feel with only one child at home! The house isn't even that big but we have a huge lower level space that I'm sure DH and I won't even enter once the kids are out, and we also have an attic bedroom for our oldest (who I hope will be long gone by the time my youngest goes to college!).

My dream home is a big old Victorian with a big porch, or an arts & crafts bungalow with lots of built-ins. My center entrance, 1920s Colonial doesn't meet those criteria at all!
---
| | | |
| --- | --- | --- |
| RE: Do you have your 'dream house'? | | |
I absolutely do not live in my dream house. I moved here many years ago thinking it would be a starter house that we would stay in for maybe five years. It has almost nothing of what I would love to have. The things that bother me the most are that the house next door is too close and that I have horrible people across the street that I look at every day. I could make the rest of it work for me but I can't do anything about those things.

The house has no architectural interest at all, which I would love. I wish I'd had the courage to pick up and move years ago, but I had other things to deal with then. I also am tied to this area because my very elderly mother lives here and I really can't move away.

I try to remind myself that I am lucky to have a house in a lovely area, that I can afford to maintain and be near good friends.
---
| | | |
| --- | --- | --- |
| RE: Do you have your 'dream house'? | | |
It's hard to find a perfect house either because of budget or location constraints. I love the house where I currently live, but I would be happier with a smaller one story cottage situated so that I could walk to amenities like the grocery store and restaurants. While my parents are living, I need the larger house, but I wouldn't mind downsizing later.
---
| | | |
| --- | --- | --- |
| RE: Do you have your 'dream house'? | | |
Yep, I'm in my dream home. It's not big--2,050 sq ft (I think). It's 150 ft from a hard beach that we can bicycle on. Not hard to maintain, and protected us during Hurricane Charlie, when my husband was in chemo. This wonderful home welcomes others who really like it, too. Many, many of them admire this place, even though it isn't extravagant or imposing.
---
| | | |
| --- | --- | --- |
| RE: Do you have your 'dream house'? | | |
I never bought a house with a "dream" in mind. Not sure what my dream house would be. Our current home was bought for the school system, amenities, and close proximaty to NYC. It is a 1950's split level, but it is on a third of an acre and backyard faces a wooded area.
We recently bought a house in Florida for "retirement". We are renting it now and I have to say it would not be my dream house either. Again, I like the location and amenities that come with the property.
Dedtired makes a good point and one I have learned. We often stay longer in a place then we inend to. Sometimes we don't think ahead to what life would be like if we had to stay.
I did buy the Florida house with this in mind. It is actually a condo, but it is a single family home. I realized that I did not want apartment living with people attached on either side and above or below. It is a single story home. It amazes me how many older people still buy homes are different levels. One friend said to me "We're in our fifties!" So she was fine with a full flight up to the bedrooms and not thinking about when she is in her eighties.
---
| | | |
| --- | --- | --- |
| RE: Do you have your 'dream house'? | | |
I don't have my dream house and while I may someday, it's not that important, because I don't let it be. I intensely dislike the term "dream" house too.

This forum can be beguiling and misleading as HOUSES don't make a life nor make one happy. It's those whom inhabit the homes that bring joy.

I hope you do someday get the chance to decorate, create your vision, but in the meantime, make the most with what you have!

It's a difficult struggle and an oxymoron, being content with what you have and striving for the things that would improve life. I know, I have the same feelings.
---
| | | |
| --- | --- | --- |
| RE: Do you have your 'dream house'? | | |
Nope but I no longer aspire to have my "dream house". When we bought this house (that doesn't have a master bath or main floor laundry) I thought there was no way I'd stay here long term. That was 20 years ago. I love the location - large, private, wooded lot with lots of nature - things that are more important to me than the house itself. At some point when we could afford to buy a different house we decided to buy a lake cabin and instead. That is not my dream house either but it's a wonderful gathering spot for family and friends - also more important to me than the house itself.
---
| | | |
| --- | --- | --- |
| RE: Do you have your 'dream house'? | | |
I feel I am home and have no desire to move so Yes I guess this is my dream house. It is probally no one else's dream home tho, and there are things I dream of changing but I smile every time I return home from a trip. We are fiscally at a point where we could easily upgrade but I am looking at second house ideas,either beach or mountains, instead. I think I would prefer two small digs to one larger or more "Ideal" than this one. My home is filled with wonderful memories and family firsts and that to me is what dreams are made of.
---
| | | |
| --- | --- | --- |
| RE: Do you have your 'dream house'? | | |
My 'dreams' or rather, things that I'm drawn to are in constant flux and my home is far more stable than that. There are homes that catch my eye, tempt me, make me swoon, but I do love coming home to my house. Sure, there are things that we tweak and update periodically as our needs change (we've been in this house 22 years - yikes!) but overall, I do love my home. My default setting is to make my space my own and I've done that since my childhood bedroom, college dorm rooms, first apartment and on and on. As a result, I fall in love with the place I call home at that moment and so it becomes my dream house for that time. It helps to be willing to compromise and adapt to what is before you and not continually fight the moment.
---
| | | |
| --- | --- | --- |
| RE: Do you have your 'dream house'? | | |
Our house is a dream in progress.

We built it in 1989-90, scraping the money together as we went. We built as big a house as we could afford on a 2 acre lot that we bought from DH's parents. We didn't finish it completely before we moved in, slept in different bedrooms as we went along. Of course, we finished everything as cheaply as we could, but managed to keep things fairly neutral (thank Goodness, it was practically the 80s...) Then we spent several years working on the yard too. Last year we did our first big renovation of the master bath and bedroom. We did a face lift to the kitchen a couple years before that. It seems like we sort of get one area cleaned up, then something else needs doing.

It would really be fun to win the lottery and fix this property up as it deserves to be done. I feel like we're still scrimping and half-assing things all over the place. Overall, it is an impressive property, the house is comfortable and full of laughter and love. I spend the majority of my money feeding a gaggle of teenaged boys and paying for the extras for DD who is at UNH and has a hard time living without a few "luxuries". DH talks about selling this house and moving to our condo in NH when we retire. I have to admit, I would have a really hard time leaving here. DH cut down every tree that needed cutting. Our friends laid the sod at cost because we helped them out of a jam. My mom planted the hostas out front to hide the fact that we didn't have lattice around the deck.

I guess the bottom line is, this really is our dream HOME. Not necessarily the dream house, but the perfect place for our us and our kids. And the other kids who come here to feel safe and loved. When they're gone and (hopefully) supporting themselves, I hope we can give this place some love. Unless, of course, we win big in the lottery. :)
Beth P.
---
| | | |
| --- | --- | --- |
| RE: Do you have your 'dream house'? | | |
We built our house and I do love it, but not sure it is my dream house. Not sure I even have a "dream house", but I would love an old stone cottage with the rounded door. However, in our area, those houses are found within the city - small yards, little privacy. I've always lived in a rural setting and don't want to give that up. I am happy with our home and it would take alot to entice us to leave. Either the right lake house - or that cottage. LOL

tina
---
| | | |
| --- | --- | --- |
| RE: Do you have your 'dream house'? | | |
No, I am not living in my dream home, but it is a dream home for DH. I have always been the one to find and purchase our houses but he chose this one for the location and grounds. I didn't want the twelve acres we have (he would have been happy with fifty). I did not especially like the house, either the exterior (that has recently had an architectural facelift front and rear) or the interior, which has been completely redone. It's more liveable now, but I still don't especially like the floor plan -- a lazy, crazy architect designed it, it is like nothing I have ever seen before and not in a good way! The land requires a LOT of upkeep. We spend a ridiculous amount of money on lawn services and gardeners, the sprinkler system for three acres, dredging the creeks where the sprinkler gets water, etc. I too would LOVE to live in a small stone cottage with few, carefully edited possessions. Instead I have a house full of inherited furniture, silver, china and alabaster urns! Sometimes I look around and think.....how did all this happen?

I feel guilty complaining (and do not IRL). We have a beautiful and comfortable house that our children love to come home to and that everyone who visits seems to really like. But every time someone says, "Don't you just love living here?" I smile and agree, and feel a little guilty that I don't.

Probably way more than the OP was asking for..l
---
| | | |
| --- | --- | --- |
| RE: Do you have your 'dream house'? | | |
I never owned a home until my mid 30s, and my first house was my dream house. 1904 3story brick georgian. I left a 1br UES apt for a 9br home! I always loved pulling up to it, I was proud to entertain in it, and it was where we married and where all three babies came home from the hospital. We had lot of wonderful times in that house with friends, family and each other.

When we came across this place on a total lark, we fell in love with the serene, private ountry setting, gardens and trellises and bridges and more, yet right in CT and a train into NYC. We bought it within days.

At first I would walk thru our old home and say, what was I thinking? I can't leave this house. I don't want to move!?

With the lengthy renovation and expansion of our new home, I had a long time to get used to leaving our old , first dream home. Now, I walk around our property or look out the windows and think, "what was I thinking? we are so lucky, this is so beautiful here. I can't believe i was chickening out!" We are starting to build our memories here now, too. My kids are very happy here, it is such a great place to be a kid,

But I have more than a few dream homes left in me! Someday I'd love to move back to NYC and have a cute pied a terre. Maybe a top floor of a brownstone in Bklyn. And Ive been posting about my beachhouse search. That has to be a small weathered shingle home with green lawns fringing a steep rocky, windswept shore line.
---
| | | |
| --- | --- | --- |
| RE: Do you have your 'dream house'? | | |
Hmm, I think I have my dream house. I just need more money to maintain it the way I would like to.

I met this house about ten years before I bought it. Passed it twice a day going to and from work. It was love at first sight. When we needed to move to a larger home, I looked in the paper and in the open house section, sat my house. Had $600. In the bank when I wrote the Ernest check for $500.

It had plaid wallpaper, harvest gold appliances and gold shag carpet. The two funky bathrooms upstairs and peeling outside paint couldn't dissuade me.

We're marking 23 years here on July 17th. My house is adequatelly funky. We have just stood back and thrown money at it. Like the Golden Gate Bridge, it will never be finished.
---
| | | |
| --- | --- | --- |
| RE: Do you have your 'dream house'? | | |
I have my dream home and a wonderful location, but not exactly the location I would have chosen if I could have had anywhere. I would love to live on a rocky beach w/ the sand out my front door. But I also want to have a large plot of land (at least 4 acres) and no neighbors and be close to fancy restaurants, so I don't know that my dream lot exists for anywhere close to a reasonable cost! If I did get my dream lot, I'd take my house with me since it designed exactly the way I want it and I obsessed about every detail!

I'm lucky b/c this is my first house (sort of- we were building this one so long, we closed on a house in Florida before this one got finished, so I guess technically it is my second house) and I'm only 29, so I have a long time to enjoy it.

Still, even now, I do envision ahead to retirement and think about buying a house on a beach in Belize somewhere where I can have my private beach!
---
| | | |
| --- | --- | --- |
| RE: Do you have your 'dream house'? | | |
Mtnredux, our 3br, 2 BA UES apt with southern views of the world trade towers WAS my dream home.... We traded it for a charming house in Ladue, MO when DH did a fellowship program there, then a large and wonderful florida home with an apartment sized pool! Then our Ga home, and a lake house in another state....all much, much bigger and better appointed than our NYC apt that we didn't even own, but was still the dream home. Location, location, location...ain't it the truth?
---
| | | |
| --- | --- | --- |
| RE: Do you have your 'dream house'? | | |
We've been in our current house for 23 years - moved in when our DS's were 21 months old and 6 weeks old. We had very specific ideas about the house that we wanted because we were never going to move again. We looked for 18 months and probably looked at 80 homes and we were looking for a "feel" when we walked into a house. The main constraints were that it couldn't be bigger than 3000 sq.ft (I hate house cleaning) and had to have a decent backyard (see: 2 boys).

One day we were just out driving around when I was about 10 months pregnant (or so it felt) and just drove up this random road and absolutely fell in love with the neighbourhood - the homes and yards were so well cared for, people were out walking, kids were playing street hockey, it is in the mountains with trails that you can get lost in, and swimming holes in the river for the kids. Then we just had to wait for a house to come up for sale - nobody ever moves and if they do it's down the block or across the street (yes, that is what our neighbours did).

We love our house because of what it has come to represent. It's a 1972 3000 sq.ft. post and beam (which in our city has gained a resurgence in popularity) and really nothing special but we gutted it 2 years ago and aren't moving anytime soon.

Our house is our dream home.
---
| | | |
| --- | --- | --- |
| RE: Do you have your 'dream house'? | | |
You all have seen my home many times over the years. An all-adobe home here in the mountains of New Mexico, between Santa Fe and Albuquerque. Filled with beautiful art. Great views in every direction. Wonderful neighbors. Peaceful, tranquil, quiet. We had this place built when DS was 8 years old. Moved in when he was 9. DD was born ten months later . . . our surprise miracle baby. I've raised my family here. My husband is happy here. Our children love the wildness and history of this place.

When I was growing up, I couldn't wait to get away from Michigan where I was born and raised. Now, I'd sell this place in a heartbeat and move back. To a huge, custom built place similar to this? No. My dream home has always been a smallish white cottage on a lake in Michigan, close to my family there. Three bedrooms, 2 baths, small cozy living room with a fireplace. Big shady porch overlooking the lake. Big shade trees and a nice private, little beach. Will I ever get it? I doubt it, but like the old saying goes, "I'm blooming where I've been planted". Here with my DH, DD, good friends and, maybe someday, our son again.
Lynn
---
| | | |
| --- | --- | --- |
| RE: Do you have your 'dream house'? | | |
"I never bought a house with a "dream" in mind."~ ellendi
Very true for me. I'm very practical, & not given to being "dreamy." Maybe in the final analysis, I will conclude that was my fatal flaw.
(Therapy session ahead...you may want to skip this!)

In a very real way (Cheese with my whine, anyone?) to my pragmatic mind, any house that I didn't buy in 2006 would qualify as a bona fide dream house. If I'd purchased like many of you, in the 70's, 80's, or even stayed in the house we bought in '92, well, I'd absolutely be in dreamland! But, we relocated in '05 & bought in '06.

Guess the "falling value" issue has obscured so many other things. I Obsess over how I paid too much, & yet, have put more money into the property. Wonder about my judgement. Beat myself up for making a bad choice, having bad timing, feeling like I did the wrong thing.

In the meantime, the house itself gets lost in my mental shuffle, if that makes any sense. Sometimes I wake up & "see" it, & recognize there's a lot that I like about it. I'd probably love it, it occurs to me, if I'd paid $50-75K less for it!

Then there are the snarky comments made by some people in my life about the kind of house I have: (not old, not charming, not full of character...that's just what people DO, you know!) What was I thinking? Jeepers, I have vinyl siding, every room doesn't have crown moulding, some of my neighbors are tacky w/conspicuous consumption decor. I don't live in one of the "right" tasteful, established older neighborhoods, & yet, for what I paid, I could've gone that route!

Bumblebeez is spot on about the psychology (& spirituality) of all this. We embrace what we have, bless what we have with love, & it is from that wellspring of positive energy, that further good things come. Negative energy merely attracts more negativity. (This is not just New Age thinking...it is very biblical as well.)

I must trust that I ended up here for a reason. Wasn't meant to have the charming old house this time. And...I even have to trust that I was meant to pay what I paid & do what I've done to this house.

Maybe this house is teaching me to surrender to the that fact that life is a mystery that is unfolding; not a problem to be solved. Even if I had the gift of impeccable judgement, I could never really be in control of it all!

---
| | | |
| --- | --- | --- |
| RE: Do you have your 'dream house'? | | |
S-G, It is funny, I have an older home with lots of character packed into its small frame and many people in my life question its appeal over new builds with big kitchens, baths and closets:). Every decision in life is a trade off one is not better than another just different. Your home has alot of appeal and you have added character and from where I sit it is dreamy!
---
| | | |
| --- | --- | --- |
| RE: Do you have your 'dream house'? | | |
NO.

And most unlikely never. ever.

We did not even expect to be here for this long -- nearly 20 years. sigh.
---
| | | |
| --- | --- | --- |
| RE: Do you have your 'dream house'? | | |
Wouldn't say this is my dream house, but it met my big wants and with a few tweaks could easily be the dream I had at the time we bought it.

My dream has changed now as our lives have changed. My house is perfect for a big family gathering, for having parties and BBQ's and all that entertaining stuff. Problem is, it's just DH and I and no grands. Kids are all out on their own or live far away, and we just don't do the entertaining we wanted to do. So now our house and property are too big for me. DH likes it, but I have dreams of a small cottage with no yard!

My ultimate dream house is in the desert, and I live in the PNW, where as I type this it's about 60 and drizzly. So, I can't really have my DREAM, but am happy with my dream.
---
| | | |
| --- | --- | --- |
| RE: Do you have your 'dream house'? | | |
Stinky! From what I have seen of your home and yard, your house is beautiful! Why on earth would you listen to what someone else says? All that matters is what you and your husband think. Bumble makes a really good point.

tina
---
| | | |
| --- | --- | --- |
| RE: Do you have your 'dream house'? | | |
Awww...Roarah, that is SO sweet of you! (I LOVE your old, charming house, btw.) Thanks for the very uplifting words!

Tina, thank you! Why listen to others? Well, I think it goes back to the price point issue. One comment in particular that bothered me was when the person just point blank said, "You could have gotten so much more for the money. I mean, your house is fine, in a perfectly fine neighborhood...you just could have done better for what you spent." That kind of haunts me. I pride myself on being sensible with money & getting a good value, then on the biggest ticket item of all, I seemed to have failed miserably.

I also DO appreciate the beauty & craftsmanship of older houses! But anyway, as I now realize, what's done is done and I must focus on what's right about my current scenario rather than dwell on what's wrong with it.

No matter what, my taste buds & sanity will always be questionable to some!
---
| | | |
| --- | --- | --- |
| RE: Do you have your 'dream house'? | | |
Stinky,

I cannot believe someone would have said that to you. Plus, it makes no sense, You could not have gotten more for your money when you bought it. You could have gotten more if you had a crystal ball and waited to buy. You also could have gotten more if you shorted Facebook on the IPO. I mean, it's just a stupid thing to say.

"failed miserably"?

You really need to ask yourself if that is you or some jerk talking. Goodness! Do you know what the average American's home looks like? Not like yours!

This may sound radical, or like "let them eat cake", but if you, yourself, feel you failed miserably then you should really think about if you want to move (thought I can't see why.)

I think, at any price point, people can find something that makes them happy. (unless they are spoiled brats).
---
| | | |
| --- | --- | --- |
| RE: Do you have your 'dream house'? | | |
Thank you all for the replies--so interesting to hear everyone's take on the dream house idea.

I am a "bloom where you're planted" person, too, and despite my lack of absolute love for my past and present homes, I have always worked hard to improve them as much as I could and to leave them in better shape and spirits for the next person.

(Stinky, I'll join you on the therapy couch to whine about what the next homeowner did to my garden at my last house. Short version: every single shrub and perennial removed and a single rectangle of bare red mulch installed. Three years later, still bare. My heart literally broke!)

So, I am grateful for my current home and I work hard at making it as dreamy as possible within the confines of it's location and structure; it met our needs at the time that we bought it, and it's a good house.

But. . . it can't be our last home (too many stairs) and I really hope that next time I can take the time some of the rest of you took and find something closer to my dream: smaller, sunnier, cuter, older, and on a quieter street. And if Liam Neeson was my next-door neighbor, that would be just fine, too!
---
| | | |
| --- | --- | --- |
| RE: Do you have your 'dream house'? | | |
I am definitely living in a "reality" house. I am also okay with that. We had the house designed and built for what our lives were. There are of course things I would do definitely if building again but I do hope to stay in this one place for a very long time.

If I won the lottery I doubt I would move from this place, I would probably just use the money to take what I have and turn it into my dream. I can dream a lot and I have fun doing so but more important to me than the dream is the process of accomplishing it. I still have hope of accomplishing the changes I want in the place I have. I look forward to seeing the trees I planted years from now being climbed by my grandchildren. I look forward to creating more of the garden. I also look forward to the day of having no sagebrush on my land!
---
| | | |
| --- | --- | --- |
| RE: Do you have your 'dream house'? | | |
Wow, Mtn, you are so nice to take the time to give me such a thoughtful, stirring pep talk! Thank you! I will think about what you're saying.

Leafy, your current home sounds great, but I hear you about stairs! Surely there will come a time when we will need to find one-story living quarters too. Small, sunny, cute & quiet sounds good...as does Liam Neeson for a neighbor!
---
| | | |
| --- | --- | --- |
| RE: Garden demolition.... | | |
Leafy, I also meant to say, I'm so sorry about your previous garden! To see that would break my heart too!
---
| | | |
| --- | --- | --- |
| RE: Do you have your 'dream house'? | | |
I'm on board the "don't say dream home" train only cuz my fantasy homes (yup, there would be at least 4) involve millions of dollars that we don't, and probably never will, have. We have a lovely house in a beautiful, one-of-a-kind setting, right on the water, which was the dream of both of us long before we met. However, living year round on the water in NNY, on a private, dead end road is a lot of work and without mr. sandyponder, who loves being a SAHD and all around maintenance man (snowplowing, cutting wood, etc.) it would be much, much harder to live here.

And stinkygardener, you are *consistently* the most uplifting person to others here, I think you should direct some of that encouragement right back at yourself and not let others get under your skin. Remember the old Ann Landers adage: "No one can be a doormat without their permission" (or something to that effect), no one can play with your head without your permission either. Just sayin'.

sandyponder
---
| | | |
| --- | --- | --- |
| RE: Do you have your 'dream house'? | | |
Kswl,

What a change from the UES to (rural?) MO! Goodness.

But that is the thing about dream homes. There really can't be just one. If you lived in NYC now, I am sure you would also want a country place!
---
| | | |
| --- | --- | --- |
| RE: Do you have your 'dream house'? | | |
I re-thought what I said about not having my dream home and realized actually, my summer place is my dream home. We bought this house a few years ago with the intention to "eventually" expand the second floor (it was tiny with a lot of slanted walls/ceilings and dormers, and you couldn't tell from inside that we had water views on three sides of the house). We bought the house for its location, up on a hill overlooking the beach about 1/4 mile away. Well, we waited only a year and a half before starting construction, which expanded to practically tearing down the house and starting over! The house turned out to be everything we wanted and never dreamed we'd have in a second home. Four great bedrooms, 2.5 baths, a screen porch (which is something I've wanted my entire life), and lots of windows. It's a very "airy" house inside -- we even have 4 windows along the upstairs hallway. Here's my dream beach house! We have hardly been able to spend any time here during the off season this year, just because our (read: the kids') schedules have been so busy, but this summer I'll be spending a total of 7 weeks here! I feel like all the weight lifts off my shoulders when I pull into the driveway here. All I want to do is sit on the porch and read, which I plan to be doing a lot this summer :)

Before: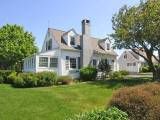 After: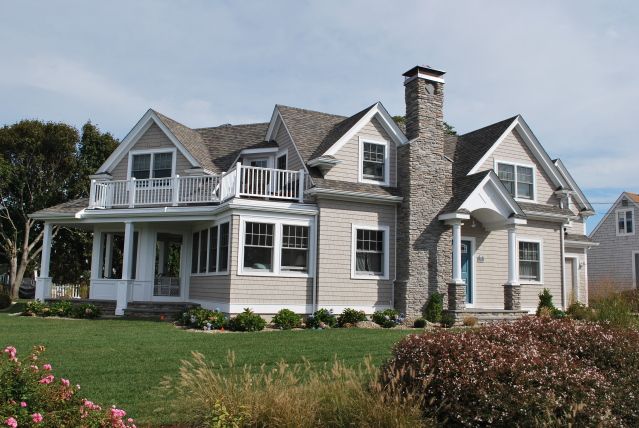 ---
| | | |
| --- | --- | --- |
| RE: Do you have your 'dream house'? | | |
Great job, SueB! I'd seen the view, it's great to see the house. You did such a nice job.

Thanks for posting the picture! I love seeing people's homes and hearing the story behind them. How long did your reno take?
---
| | | |
| --- | --- | --- |
| RE: Do you have your 'dream house'? | | |
Sandyponder, I appreciate the affirming words & good advice. You're so wise. Thank you!

Kswl & Mtn, I finally figured out UES stands for Upper East Side! I can imagine the the tiniest place there would be hard to leave. I love NY! My niece starts her junior yr. at Barnard this fall, while her sister begins her freshmen yr. at NYU. Two bright, beautiful young ladies living & studying in the big apple! "Dreamy!"

Wow, Sue, that's incredible. I really loved the house before, but the renovation is stunning! Dream house, indeed!
---
| | | |
| --- | --- | --- |
| RE: Do you have your 'dream house'? | | |
sueb20- wow that's a summer house, that would be my dream home! Gorgeous curb appeal, I would love to see the inside!

We just bought my "Dream Home" it is in town - no more dust from the dirt roads! We built our last home on 11 acres and lived there for 19 years and raised our 2 children (it was my forever home) when both our children moved away for college we both realized we wanted a simpler way of life, less to take care of and no more dirt roads. We are not spending all our extra time mowing and maintenance now our time is spent working on my newly remodeled house. I love it!
---
| | | |
| --- | --- | --- |
| RE: Do you have your 'dream house'? | | |
We built our house 7 years ago. I designed the house myself, after years of dreaming and planning, and for the most part I am satisfied with the way that it turned out, but there are definitely things that I would change. Most importantly though, it is really not in my "dream" location. I'm not sure exactly where that is, but I would love to live somewhere where I could go out my door and walk to shops, restaurants, etc. I don't care about having a large lot, give me a nice private patio for entertaining and I'd be happy.
---
| | | |
| --- | --- | --- |
| RE: Do you have your 'dream house'? | | |
RT, Terriks, how about some photos? I'd love to see.

Terriks, I agree about how pleasant it can be to live somewhere walkable. That is why there is no one dream house, IMHO. In our last home, I could walk to Whole Foods, the Art Museum, restaurants, spin class and foreign films. Here, the closest commerical enterprise is a 5 min drive. But here I have nine acres and a beautiful property,

That's why it has to be "dream houseS"
---
| | | |
| --- | --- | --- |
| RE: Do you have your 'dream house'? | | |
Sue, do ya'll have plans to ever relocate to the beach house full time?
---
| | | |
| --- | --- | --- |
| RE: Do you have your 'dream house'? | | |
Oh, thanks everyone. Mtn, the reno took way longer than planned! We intended to begin on Sept. 1 and finish before the following summer. Ha. Ha. I think they actually began around Dec. 1, and finished in late August. Let me tell you, that was a painful summer. Even after our "move in" date in August, there were a lot of odds and ends to be done so in actuality it was probably almost a year. But like I said, we basically rebuilt the entire house.

tina, I don't know if I could ever live there full time. We have a lot of great friends in the town we live in now, and I have always said I don't get how people can move to FL (or wherever) when they retire and leave their BFFs behind! I think when we retire, we'll probably spend about 1/2 the year at the beach house. Maybe May-Oct.? It's fun to think about!

rt, I took a bunch of pictures right after the house was done. Here are a few.
This was an addition (by PO) to the original house, and they left the exterior windows. We walled over one of them, but I had to keep this one (on the left wall). It's the only view from the living room (on the other side of the window) to the water. This used to be my favorite reading/napping spot before we had the screen porch!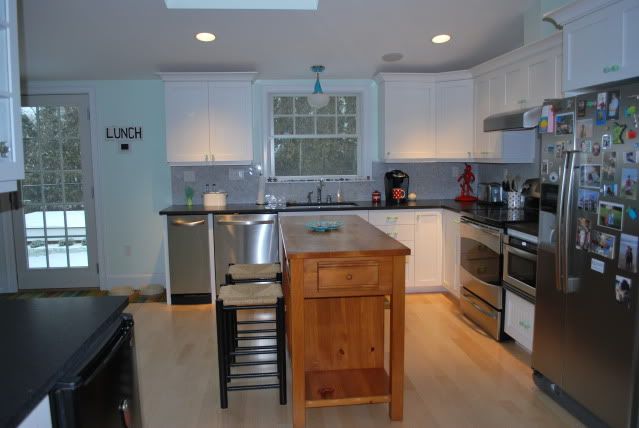 This used to be the dining room, then we used it as a guest room, but after the reno it became the TV room/den.

Part of our odd-shaped living room.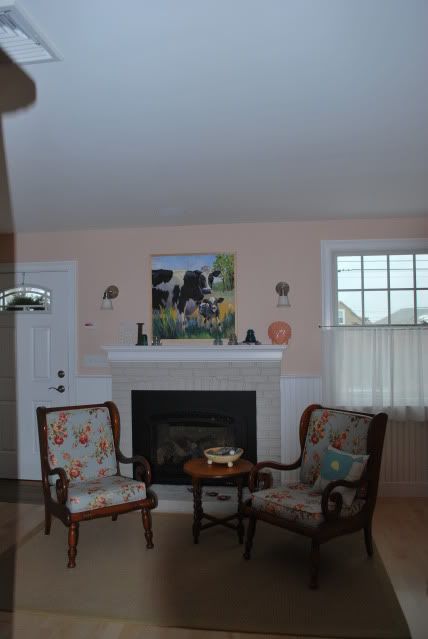 Master bedroom. It's a tiny room but it overlooks the beach and has a little deck outside that door! We also have a huge closet so we don't need any bureaus, etc., in the room.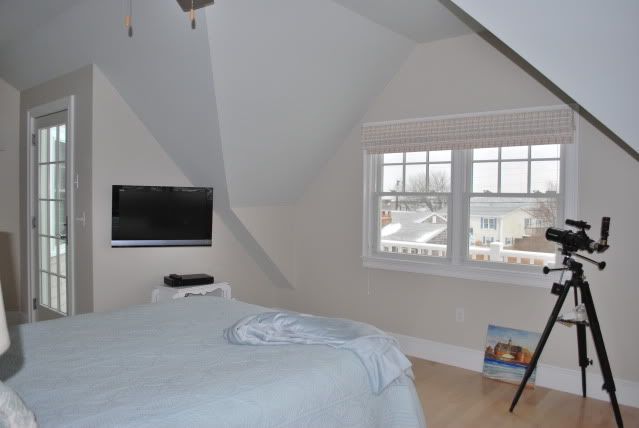 This is the only pic I have of my beloved screen porch!

Okay, that was more than a few.
---
| | | |
| --- | --- | --- |
| RE: Do you have your 'dream house'? | | |
I opened the thread and I though, ooh, someone found me a nice place! Oh drat, it is yours!

I love the sunroom and porch. I also really like the cabbage rose chairs in the LR and your cow painting!
---
| | | |
| --- | --- | --- |
| RE: Do you have your 'dream house'? | | |
Aren't those chairs great (if I do say so myself)? $40 on Craigs List. My best all-time CL score!
---
| | | |
| --- | --- | --- |
| RE: Do you have your 'dream house'? | | |
Dear stinkygardener-

I am not wise in the least, I am a bona fide PITA most of the time, but I do not let other people get in my head and play negative tapes or reinforce the negatives ones that are already there. Someone like you, who is so giving that you consistently bolster, say, strangers on a forum, has a right to demand that people in your real life are supportive of your choices or learn to shut their traps.

Stepping off my soapbox of self empowerment now.

sandyponder
---
| | | |
| --- | --- | --- |
| RE: Do you have your 'dream house'? | | |
I went on a garden tour this weekend, and one the homes was really my style architecturally, and had the most amazing grounds - very natural with a creek running through it. BUT, it was a bit of a drive to town. There was another home, that was right in town on a large lot in walking distance to theater, restaurants, shops, etc. And if I can just get a hold of $1.5 million it could be mine!
Here is a link that might be useful: House with great location
---
| | | |
| --- | --- | --- |
| RE: Do you have your 'dream house'? | | |
Sue- I can certainly understand you not wanting to leave "home" and friends! (Read my response to this question LOL, I feel the same way.)

Stinky - I agree with Sandy Ponder - Self Empowerment!!! You did what you did, it's water under the bridge now (I seem to be telling myself that alot lately HA!). Enjoy what you have. I think if someone is saying things like that to you, there is a reason. Something they are not happy with!

tina
---
| | | |
| --- | --- | --- |
| RE: Do you have your 'dream house'? | | |
Gorgeous Sue! I've seen all those pics before, but could never tire of looking at those rooms! Such pretty colors, charming furniture & neat accessories...you did a marvelous job!

Awww, Sandyponder! I feel like you just gave me a big cyber hug! That's very, very sweet of you. I appreciate the support & it really does make a difference (in case you wonder!) As I've been cleaning today with every task I've been mulling over what Roarah, mtn, Tina & you have said here. If y'all hadn't said those things, maybe instead I'd have been listening to "negative tapes!" So thanks for giving me "new music" to listen to!
---
| | | |
| --- | --- | --- |
| RE: Do you have your 'dream house'? | | |
sueb - the weren't 40 with that upholstery, were they??? they chairs are perfect

terriks, That is a great home, especially love the surfeit of bookcases throughout
---
| | | |
| --- | --- | --- |
| RE: Do you have your 'dream house'? | | |
you know i've been here for years but today is the first time i've ventured into the conversation pit.
wow, i feel like i have found my people!
so many of you articulate the thoughts and feelings i have about being in this place at this time, it sort of blows my mind!
so am i in my dream house?
in many ways yes, but i need to move. it's just time, and i long for salt water. unfortunately i lost half the value in my home in the past few years, so it appears i'll be here for a while longer.
however i have a bedroom which delights me constantly with it's new corner faux fireplace. maybe some day i'll even build my wardrobe wall and make a new twig bed for myself.

my local (fresh water pond, not salt water) dream location just came on the market and is already under deposit, way before i could it get it together enough to make a move. i can only assume the universe has something better in mind for me!
i'm thinking it may even be a group situation, such as a cohousing place. belfast cohousing in maine may be the answer for me someday. my husband is older and chronically ill, it is likely i'll be a widow within a few years.
we actually had some loose plans to move to prince edward island when he was dx and the economy tanked, so here we are still. not that it's not a fabulous location on a mountain brook with waterfalls and swimming holes right out the backdoor. we are very lucky to have such a place and i have to keep being grateful.
everytime i ride my horse i give thanks for my life, so many have so little comapred to me.
---
| | | |
| --- | --- | --- |
| RE: Do you have your 'dream house'? | | |
Tina, I missed your last post! Your encouragement means so much...you're such a sweetie!

Fallingwaters, I love your attitude & your sense of deep gratitude. Yes, only assume the universe has something better for you! Sorry to hear that your husband is ill. Maybe the situation in Maine will meet your needs down the road. Sounds very promising. In the meantime, your current property sounds delightful! Enjoy all that natural beauty that's in your backyard, horseback riding, and time with your husband. Peace be with you.
---
| | | |
| --- | --- | --- |
| RE: Do you have your 'dream house'? | | |
This is a very enlightening topic, and I've learned quite a bit about all of you!

My story is kind of long, may be boring. I was born. lol. We're in the same house we built in the country 32 years ago. Except for the bedrooms, the house did a 180 on the outside and in.

Rewind to 1980. We were poor as Church mice while DH was in law school. This 1300 sf house was the only thing we could afford. We couldn't even afford a sidewalk or garage. Cue the violins!

The house was a plain ole' brick rectangle ranch..I guess. Not one architectural detail. My friends were either being given new homes (wealthy farm/oil town here), or they were building new homes that were beautiful. I'd get in a bad mood and call my house a "matchbox." Then I'd feel guilty. And I was a closet decorator, but what the he!! did I have to decorate?

It was NOT my dream home. We only had one full grown tree on this acre.

The farmer who sold us this acre became very close to us and he loaned us the money to build a 700 sf. garage/shed. A hundred dollars a month was all he asked, may he rest in peace. Our grandson is named after him. Henry. :)

When DH and I were in our late 20s, we'd sit at the bar and draw plans for the house when we could afford to build on. After 28 years I gave up hope. I was forever going to live in a matchbox.

Rewind again. When we moved here DH planted lots of trees. Now we have many 32 yr. old Oaks and an orchid, and various other trees. An Oasis!

FF. Finally we were able to build on! The house went from a rectangle to an L shape. And it's a LONG walk from the back bedroom to the front door. I love it! We have our dream fireplace, dream living room, we tore down walls, gutted the kitchen, used part of the old LR for a large utility room.

The best thing? We added a lot of architectural detail inside and outside the home. The best compliment we got was when a painter asked me "Is this your parent's house?" I knew right then my mission was achieved.

We now have a large front porch, where it's deep on one side, and still wide enough on the other. I also have a sidewalk! LOL.

But the real Dream came true a couple of weeks ago. Something we've wanted since the boys were born. We acquired another acre next to us, and DS1 is going to build a house on it! We have a small row of Oaks between our acres, so we won't be able to see each other's houses which is good for privacy. It will take all of 60 seconds for my grands to come visit me for some cake. :)

The "Oakley Compound" is taking shape. That was my dream.

So don't give up guys. It took me 28 years to get my mostly dream home. Now if I could have bigger bedrooms, but that will be in another lifetime. :)
---
| | | |
| --- | --- | --- |
| RE: Do you have your 'dream house'? | | |
Oakley I got chills and tears reading that! Our dream is to have land enough for our boys someday, too!

The moment I finished reading your post, my DH walked in and said he's had a very emotional day because of a text our DS1 sent him this morning.

He wrote *** I need my dad to work out with me early in the morning before I go to work, to motivate me and spot me. I need my dad to teach me about mechanical things I wasn't interest in learning before. I need my dad to go for a run with me at the end of the day, to hike a new trail. I need my dad to teach me about home repair and remodeling. Did I mention I need my dad?***

Then I read your post to my DH and he got teary because the idea of someday having your kind of compound is so important to him/us. You give us hope!
---
| | | |
| --- | --- | --- |
| RE: Do you have your 'dream house'? | | |
This has been a fun and interesting read. It sadly reminds me of how far behind on the schedule of life my DH and I are when compared to our contemporaries. :c)

This is our first house and while it may not be the most perfect house, at 47, I was just thankful to finally see my life long dream of owning a home come true.

Like Stinky we relocated in late 2005 and bought our house in the first half of 2006. While we qualified for a lot more house and could now buy 3 times the house with what we paid for this place, I am so glad we made the decisions we did to buy a fixer and fix it ourselves. As a result, we're in a home that is very reflective of who we are and we are not house poor.

I'm a Realtor so I know exactly what we've lost from a financial perspective and yes, it is frustrating but on the flip side when you compare that to the joy the house has brought us, it's really not worth worrying about. The way I see it is, if you can't change it you might as well accept things for what they are and focus on the positive. Our neighbors are not on top of us, obnoxious or inconsiderate, it's not an ugly place either, very park like and there's lots of lakes and wild life, so if we end up being here longer than we expected to be, I'm okay with that as long as my daughter is around here too.
---
| | | |
| --- | --- | --- |
| RE: Do you have your 'dream house'? | | |
I don't have my dream house, and I don't think I want one. The house I just bought is not my dream house but it meets a lot of the criteria a had, and even some I didn't know I had, and I think that will be enough.

I found that, during the lengthy renovation of the place I live in now, as long as certain needs were met I could be pretty happy.
---
| | | |
| --- | --- | --- |
| RE: Do you have your 'dream house'? | | |
Never had a vision of a dream house. Just wanted something with a little character and small. That's exactly what our little cottage is. We lived in 1100 sf for 25 years and then added a whopping 500 sf. Can't imagine living in something any bigger.

The location is perfect. Convenient to everything. Have enough of a yard to satisfy my gardening urges. Anything bigger would be overwhelming.

My only wish is that we might someday move to a less humid climate, but I don't really see it happening.
---
| | | |
| --- | --- | --- |
| I should add... | | |
This is a bit different, but at one point, my father, who headed one of the most solvent and least problematic departments, was very senior on the staff, (and eventually was chief of staff) pissed off someone in administration and they moved his office from inside his department to the basement a flight of stairs away from his department, and into a former staff men's lavatory. There were literally mending plates over where the toilet, urinal and sink had been, and although his name was on the door, people who were not normally in that part of the building stuck their lavatory keys in his doorknob for months.

I think he was supposed to be so angry and insulted that he kissed up to whoever he annoyed and beg to be moved into a better office only to be told "no", so they could yank his chain some more.

He wouldn't because it didn't really matter, --most of your life is not about the physical space you occupy, it's about the psychological space you occupy. And I think as long as your environment meets certain basic needs (*some of which are surely esthetic in a house) --all the rest is just a bonus. Give me a room that is the right temperature and has comfortable lighting and can be kept organized, and I am most of the way there.
---
| | | |
| --- | --- | --- |
| RE: Do you have your 'dream house'? | | |
Until I started reading this website I had never thought of a "dream" house and I still find the concept a bit strange. I'm happy to have a house. Our priority was land over house when we bought many years ago. Do I love the house? No. I'm okay with that. Sure, we could knock it down and build a better place but that's not where I want to put my money. So we remodel bits and pieces of the old place and are thankful that we don't have a mortgage.

Seeking that "dream" house rather than accepting what we can comfortably afford is part of what has led to oversized houses and underwater mortgages. MHO. I realize that doesn't apply to many, if not most, people here. So many of you want cute cottages! That's rather nice.
---
| | | |
| --- | --- | --- |
| RE: Do you have your 'dream house'? | | |
Oakley, that is the best description of a dream home I've ever heard. Idyllic

Rose,
I think a lot of people have realized that they were marketed large homes with large rooms and large entry halls etc etc, but that these things are not really inherently desirable. Small scale streets, buildings and homes are more naturally appealing. One of my fave rooms in my house was built by the PO and it is really "too small". But it has lovely clerestory windows and is about the size of a railroad car. It is so pleasant to be in, so cozy. I have a day bed in there and I love to hide from the kids there!

Pal,
Well, this could veer into all the happiness research. They say that large achievements or expenditures are things that you eventually acclimate to and their ability to make you happy diminishes and then disappears as it becomes the new status quo. Whereas frequent small expenditures or indulgences orachievements, occurring over time, can actually make you happier.
So, your dream house won't make you an happier in the long run. You will adjust to it. And a converted men's room won't make you unhappier.

I always argue that most of us live in studio apartments, no matter what space we have. Isn't a great room a glorified studio apartment? We'd probably sleep in them if we could. In other words, we use and need far less home than most of us own. We need a place to eat, to watch TV, to use the computer, to sleep and a place to get some fresh air. Oh and a bathroom. That's it, and it's not much space.

Pal, great story. Some of the anecdotes about your Mom, and now your Dad. They'd make great short stories. They have a very singular POV.
---
| | | |
| --- | --- | --- |
| RE: Do you have your 'dream house'? | | |
"I always argue that most of us live in studio apartments, no matter what space we have. Isn't a great room a glorified studio apartment? We'd probably sleep in them if we could.. . We need a place to eat, to watch TV, to use the computer, to sleep and a place to get some fresh air. Oh and a bathroom."

mtnrdredux, this is it exactly, I think. I could do away entirely with the lower level of my house and never look back (and my house, with that lower level is only 2400 square feet). I would happily trade it all for a screened in porch that opened off the living or dining room!
---
| | | |
| --- | --- | --- |
| RE: Do you have your 'dream house'? | | |
Wonderful story Oakley! Keep the faith, Dlm.

Natal, your house sounds ideal to me too!

Palimpsest~ "...most of your life is not about the physical space you occupy, it's about the psychological space you occupy." Of all the wonderful, illuminating observations you've shared on these forums, that is the most brilliant! When it comes down to the nitty gritty, isn't that the truth?

The story you shared about your father brings to mind the story of concentration camp survivor Victor Frankl. True, Frankl's ordeal was far more arduous, but the essence of both mens' stories is the same: the beauty and power of the human spirit can transcend external conditions, even the most seemingly intolerable ones.

Your father must have been a man who had a clear understanding of who he was. He didn't lose sight of his priorities, and rose above the cruel competitiveness that often marks the corporate world. No doubt he was very bright, & quite likely, he stimulated jealousy among his peers.

His graceful, dignified, disciplined response to petty game playing is inspiring. It demonstrates that external conditions & circumstances don't define us; what we think about & how we respond to challenges is what defines us.

Ultimately, externals of any sort have little control over our peace & contentment, unless we choose to give them that power. Your father, and Victor Frankl, refused to let the "suits" or the Nazis, steal their joy!

Thanks for sharing such a touching, powerful story, and for providing the most enlightening quote I've ever seen on GW!
---
| | | |
| --- | --- | --- |
| RE: Do you have your 'dream house'? | | |
DL, my son's are close to their dad too, so I know how you all feel. When my DS built the house he's now in, not ONE farmer would sell him a lousy acre near us, (and they're our friends!) so he had to build on 5 acre lots about 20 min. away. The 2nd acre kind of fell in our hands.

My son is 34, so don't give up hope at all. I could live in a shack and call it a dream home if my boys and their families lived next door. And it speaks volumes about how good of fathers our DH's are for the kids to want to be near them. :)
---
| | | |
| --- | --- | --- |
| RE: Do you have your 'dream house'? | | |
Don't get me wrong, though: my parents could be infuriating (thus my dad's banishment) but many people who have a strong sense of containment and where they belong in the world can be, (and I know I can be infuriating too :))

I think that my dad has stayed the person whose parents lived in a house without running water for 30 years. And not because they were that destitute, but by choice. So, while he (still has) a strong desire for a comfortable house, it's more a sense of permanence that he was after. He never became the sort of person to whom more things or more environments became "beneath" him as his income went up. I have never understood the person who suddenly *had to take cabs or stay at the Ritz because they could now afford it.

I think this is why I might be driven for a certain amount of esthetic perfection, but the idea of doing something to create an impression for someone else, the idea of "dated" and things like this can bug me.
---
| | | |
| --- | --- | --- |
| RE: Do you have your 'dream house'? | | |
I was going to do a thread about living next door/near relatives a couple of weeks ago and forgot until reading this one. However, I still can't start a thread on the conversations side!!! Not sure what is going on but maybe I'll start the thread someday. LOL
---
| | | |
| --- | --- | --- |
| RE: Do you have your 'dream house'? | | |
Pal, yes, I've never understood the "I can afford it, by golly, so I'm going to buy it!" lifestyle. Of course, that's better than the "I can't afford it, but by golly, I'm going to buy it anyway lifestyle!" lol.

My next door neighbor just bought a piece of land in GA (we're in VA). She's going to sell the modest house she's been living in for 25 years (& has sunken untold sums of money in, in an effort to "stand out" from the other modest houses on the block) so she can build a trophy house on the land in GA.

She knows not a soul in GA, has no connections or roots there, but GA is the promised land where she can afford to build the Mcmansion of her dreams on a scale that would not be affordable here. She researched other areas, but GA won the jackpot of her business.

So, the goal seems to be to have a huge house (*I* think 7,000 sq. ft. is huge anyway) with an elevator & other snazzy stuff so that people who don't even know her will be impressed, & will deduce beyond a shadow of doubt, that she is R-I-C-H. She's 61 years old & is married, no children.

Seems kind of sad, doesn't it? I know, I know, but this is her DREAM house!!! A girl can dream, can't she?
---
| | | |
| --- | --- | --- |
| RE: Do you have your 'dream house'? | | |
When I was growing up, we lived in a plain, small farmhouse. There was nothing spectacular or charming about it, though I have decent memories of growing up there. Still, I had family members and friends who lived in these prairie box/four square style homes and as a kid, I always thought that these were the coolest houses and I wished I could have lived in one. I can't even pinpoint what things made it cool in my mind, these houses just always felt like "family" to me. I didn't even know back then what kind of house style it was. I did especially love the ones that had a back staircase though, back staircases are so cool! Anyway, we are now raising our family in a four square and to me it is totally my dream house for raising kids, because that is what I always wanted as a kid. Not sure if my kids think it's a dream to live here, but they do mention things they love about growing up in this house. There is no beach front, no huge yard, no lake, not necessarily a charming neighborhood though not bad, not even a cool town, but to me, it still feels like a dream to live here with my family. It is just solid. I didn't get a back staircase though! LOL When we retire, I have a dream of owning a bungalow. That style of house is very cool to me too.

Stinky, mentioning the comments that others make reminds me of when we bought this house, and actually still to this day, the crap we took and continually take for paying asking price for our house. We love to laugh about it, knowing how happy we are here. You can't make people understand these things, they just love to judge and think that they could have done it better. It was an awesome decision for us, and we knew that it was worth every penny to us.
---
| | | |
| --- | --- | --- |
| RE: Do you have your 'dream house'? | | |
In my younger days, when I had nothing better to do, I would sit and sketch out plans for my dream house. It's a good thing we couldn't afford to build it, because it looks nothing like what I would want today. Lives change--dreams change to keep pace. After we bought this fixer-upper, I realized that it would probably be the last house we'd buy, so we set about making it into the best place to suit our needs. LOL, after almost 22 years it's still a fixer-upper, but I wouldn't trade the memories of raising our children here, of enjoying sunsets, and holidays, and working together.

I'm sitting here now, waiting for paint to dry on beadboard. My little grandson asked me one day why I'm changing things (I'm working on the DR, and trying to finish an addition that was started in 2008), and when I said that I'm tired of stepping over paint cans and piles of lumber, he wailed, "But I love this house the way it is!" If that doesn't make it a dream house, what does? ;)
---
| | | |
| --- | --- | --- |
| RE: Do you have your 'dream house'? | | |
Yes, I am in my dream home. It's a tad over 2,000 sq ft (I HATE big houses) and a single story. Rooms are lovely but no big--all my friends love it! Big screened-in lanai in the back, small lot because we are a block from the beach. Tile roof, stucco walls. We often go to sleep to the sound of an angry Atlantic Ocean. Our home and our yard is small enough that I'll be able to take care of it as I age. Love it.

Neighbors? Neigh. Those on one side cut down one of the biggest trees in our yard (while we were out of town) because it dropped acorns into their yard. And onto their metal lean-to on their home. The city fined them $3,000 for doing it and we donated the money to the city for trees. Their are elderly and both have mental issues. I'll wait them out.
---
| | | |
| --- | --- | --- |
| RE: Do you have your 'dream house'? | | |
Oh gosh, no, but I am a "bloom where you are planted" person or the motto of RetroRenovation "Love the house you're in".
---
| | | |
| --- | --- | --- |
| RE: Do you have your 'dream house'? | | |
Absolutely, we bought our dream lot in 1999 and after years of working, planning, and me daydreaming about what kind of life we might live and designing a home with that life in mind, we built and moved into our dream home the year I turned fifty.

Life sometimes takes different paths than what we envision; both daughters now live far away pursuing careers, and my dear husband only enjoyed retirement less than five years before suddenly and unexpectedly dying.

So it's just me in a rather large dream home.
But you know what? I'm beginning to enjoy it more again, I've always been comfortable here.

Each day I admire the walnut floors I fought so hard for (they had to be replaced after we moved in), I admire the way the staircase landing looks exactly as I envisioned each time I climb the stairs, and every morning I pass the guest room I walk in and place my face in front of the window to let the morning sunlight pass through the Scottish Lace curtains onto my face--it reminds me of when I was a child visiting my grandmother.

Dream homes are worth imagining even if we never get them--the dreaming about it was still the best part of it all, for me.

As long as our homes are shared with people we love and that love us, that's really a dream home.
---
| | | |
| --- | --- | --- |
| RE: Do you have your 'dream house'? | | |
Lukki, I had no idea you were a realtor! Fun! When you say, "from a financial perspective it is frustrating but on the flip side when you compare that to the joy the house has brought us, it's really not worth worrying about..." I think you sum of the difference between the two of us! (I need to be more like you!) Another hang-up: I think I'm still reeling from the sticker shock I experienced when we first arrived here! Housing was sky-high compared to prices in the state we were previously living in. But what's done is done. We live here now! I need to get over it.

Foursquare, it's the same thing. You didn't mind what you paid, because you are so thrilled with what you have, you have focused on that, & that's super! (Remind your pals that a lot of people paid thousands OVER the asking price not so long ago!)

I also admire all you dreamers here, btw. This thread has made me think about how being a "visionary," daring to dream, to believe that you deserve something good, even great, and will achieve it, is a wonderful attribute. This is something I want to learn how to do!

Demifloyd, your description of having a vision and making it happen & living with the reality of it, and now rediscovering it with new eyes, is so special! Good for you!

As Oakley said, this has been an enlightening thread.
---
| | | |
| --- | --- | --- |
| RE: Do you have your 'dream house'? | | |
Mama goose, in my experience there's no house more in need of fixing up than one that's "move in ready."

Any House = fixer upper for life!
---
| | | |
| --- | --- | --- |
| RE: Do you have your 'dream house'? | | |
| | | |
| --- | --- | --- |
| RE: Do you have your 'dream house'? | | |
Stinky, Thanks! It is fun, I love seeing the different homes some of which have been really amazing. I have to say though that out of all the hundreds I've been in only 1 or 2 have really made me say, wow, this is a place I could love. Just goes to show ya, there really is no place like home.

I think it's all in the way you look at it. Real Estate here was much more affordable than California, thank goodness but I can totally relate to your surprise of the sticker shock. I think the term "dream house" is just another fairy tale. As someone very wisely pointed out our tastes and needs change so what may seem perfect today may not be so perfect a few years from now. Instead, we need to just embrace what we have and focus on the positive, it really doesn't help to be negative about something you have no control over.
---
Post a Follow-Up
Please Note: Only registered members are able to post messages to this forum.
If you are a member, please log in.
If you aren't yet a member, join now!
---
Return to the Home Decorating & Design Forum
Information about Posting
You must be logged in to post a message. Once you are logged in, a posting window will appear at the bottom of the messages. If you are not a member, please register for an account.
Please review our Rules of Play before posting.
Posting is a two-step process. Once you have composed your message, you will be taken to the preview page. You will then have a chance to review your post, make changes and upload photos.
After posting your message, you may need to refresh the forum page in order to see it.
Before posting copyrighted material, please read about Copyright and Fair Use.
We have a strict no-advertising policy!
If you would like to practice posting or uploading photos, please visit our Test forum.
If you need assistance, please Contact Us and we will be happy to help.

Learn more about in-text links on this page here